Umberto Lenzi's Eyeball is Getting a 2K Blu-ray Release
Take a good look at this beefed-up edition.
By Jay Gervais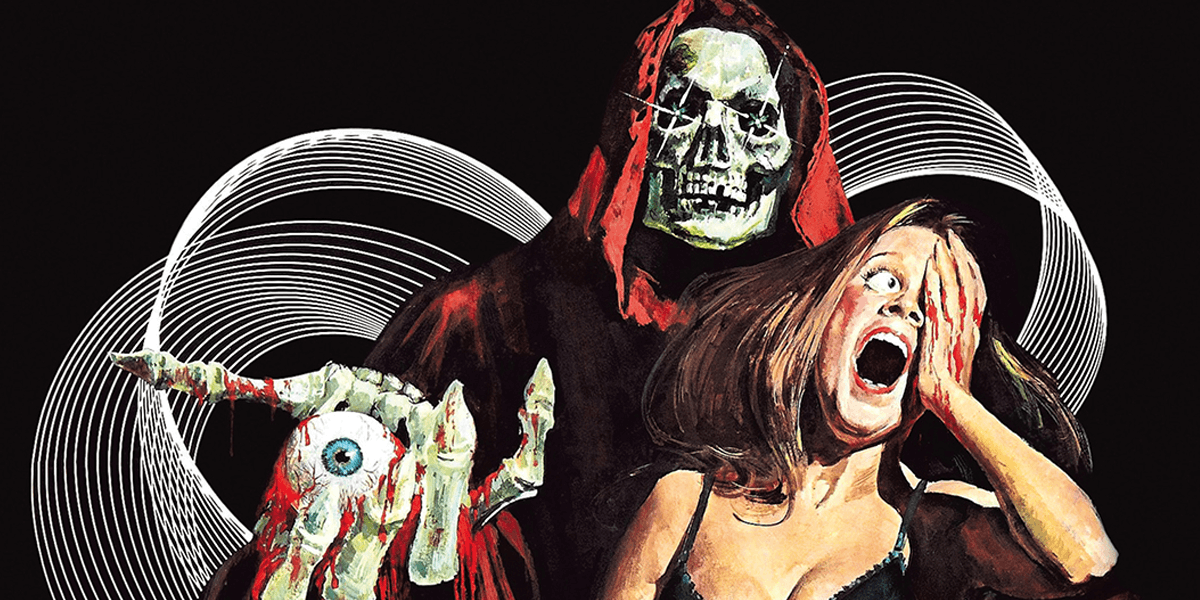 88 Films has got the superior version of Umberto Lenzi's 1975 film Eyeball up for pre-order right now. This is one of Lenzi's greatest giallo films and you won't want to miss out on this one. Have a look at the press release and Blu-ray specs below.
Released in 1975, Eyeball might just be the late, great Umberto Lenzi's greatest giallo! Gruesome and gruelling, this torrid tale of a black gloved killer with a fetish for plucking out the peepers of his unlucky victims is a personal favourite of Pulp Fiction genius Quentin Tarantino and it is easy to see why. Boasting plenty of bloodshed and some beautiful Catalonian locations, Eyeball is a murder-mystery that stands up to the best of Mario Bava and Dario Argento and, with its messy arterial mayhem, even anticipates the later excess of such American slasher staples as Friday the 13th! Dare you open your eyes to Eyeball? This essential Italian terror totem is finally available in horrifying HD thanks to the body-count Kings at 88 Films!

LIMITED EDITION CONTENTS (3000)

Gloss Lamination Slipcase
4 Matt UV Collectors Post Cards reproducing Original Lobby Cards
Dual Format Edition, Contains both Blu-ray and DVD Editions of the Film
40 Page Booklet Featuring All About Umberto, An extensive and intricate look back at the work of an Italian genre-bending legend.... Plus! Cats and Eyeballs: An Interview with Umberto Lenzi

SPECIAL FEATURES

Brand New 2018 2K Transfer and Restoration with Extensive Colour Correction exclusive to this Release.
DTS-HA MA Dual Mono English and Italian Soundtracks with newly translated English subtitles for the Italian track.
ALL EYES ON LENZI: THE LIFE AND TIMES OF THE ITALIAN EXPLOITATION TITAN - Brand new feature length documentary (80 minutes) detailing the work and legacy of Rome's most prolific grindhouse nightmare-maker. Features never-before-seen interview footage with Umberto Lenzi himself and comments from critics John Martin,Manlio Gomarasca and Rachael Nisbet, academics Calum Waddell and Mikel Koven, actors Danilo Mattei and Giovanni Lombardo Radice and director and writer Scooter McCrae!!
Eyeballs on Martin Brochard: 2018 Interview with Actress Martine Brochard
Audio Commentary by the Gialli loving Podcast, The Hysteria Continues
Eyeball Locations Featurette
Trailers

TECHNICAL SPECS

Region Code: ABC
Audio: DTS-HD MA Dual Mono
Picture: 1080p HD 2.35:1
Runtime: 92 mins approx
Language: English & Italian
Subtitles: English
Certificate: 15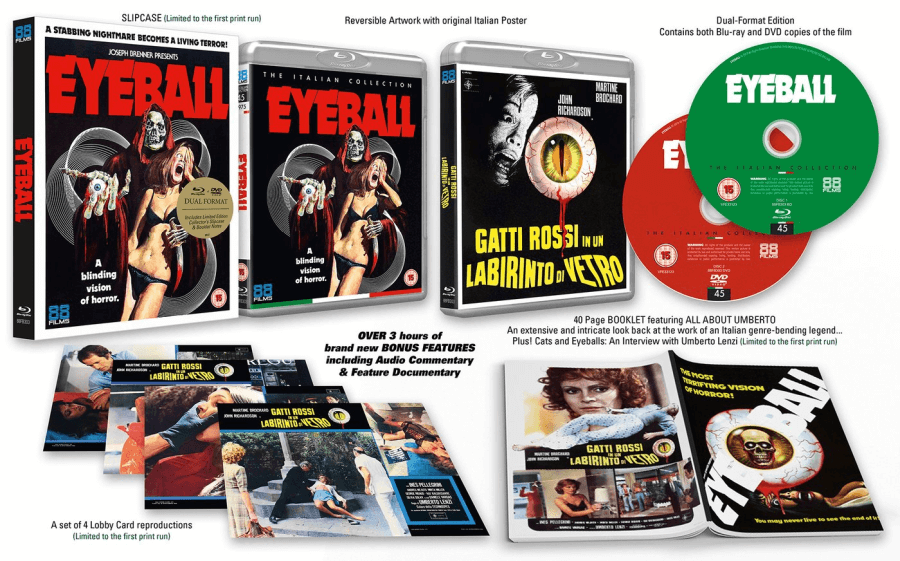 This is a limited edition and only 3,000 units were produced. Get it early since 88 Films has indicated they are getting overwhelmed with orders, which caused their site to crash. It's priced at just £15.99 euros, which is around $19.99 USD, plus the cost of shipping.
If you're interested in ordering this, head on over to 88 Films today. Let us know if you're adding this one to your collection in the comments and on social media!