Retro Horror Film Weird Fiction Needs Your Support
The team behind this indie film needs some help to reach their crowdfunding goal.
Back in May, Dead Entertainment was invited to visit the film set of Fame Cinema's indie horror anthology film Weird Fiction. We wrote a feature piece detailing what we saw that night and shared our excitement for the film's completed version. Around the same time, director Jacob Perrett launched an Indiegogo campaign in order to fund a print run of the movie on DVD.

That campaign is still ongoing with 15 days remaining and is currently at 52% of its $3,000 goal. Consider supporting them if you like what you see and are a fan of horror anthologies such as Tales from the Crypt and Creepshow, since you'll be getting four tales of terror hosted by creepy Collector.

[blockquote-0]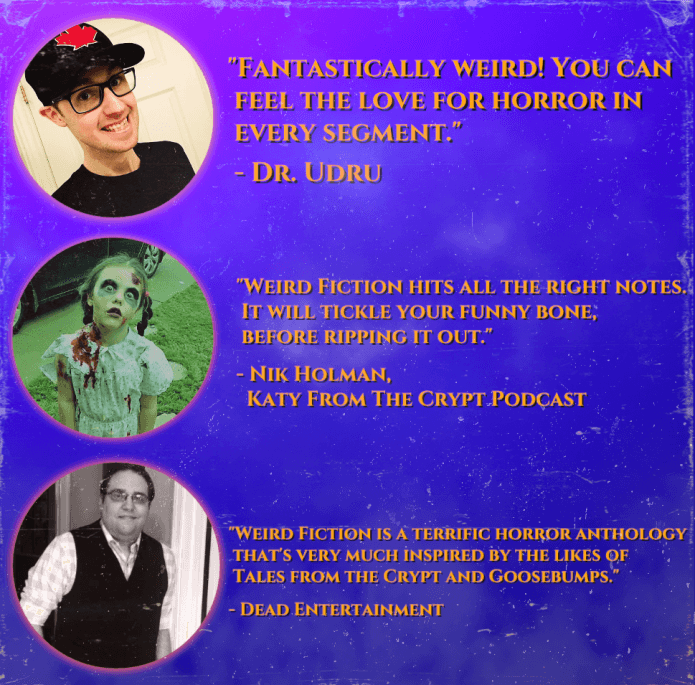 Only $30 will get you an exclusive copy of the DVD signed by Perrett and the crew over at Fame Cinema, but I recommend the $50 bundle that also comes with a sweet T-shirt. Just $10 will grant you a digital copy of this film, which will not be released on YouTube like their previous works, and rightfully so.
Director Perrett stated himself that "Weird Fiction was filmed completely without a budget. It's a passion project. Now that it's finished, we want to share with the world this remarkable thing we have created, and we want the horror movies we took inspiration from to live on." We here at Dead Entertainment want to see these young horror filmmakers succeed and continue to thrive. The horror community is a tight-knit and supportive group, so let's show these guys and girls some love!