Alien: 40 Years 40 Artists Brings Together Some of the Best Alien Artwork in One Amazing Collection
This art book offers fans of the franchise plenty to feast their eyes upon.
By M.T. Bates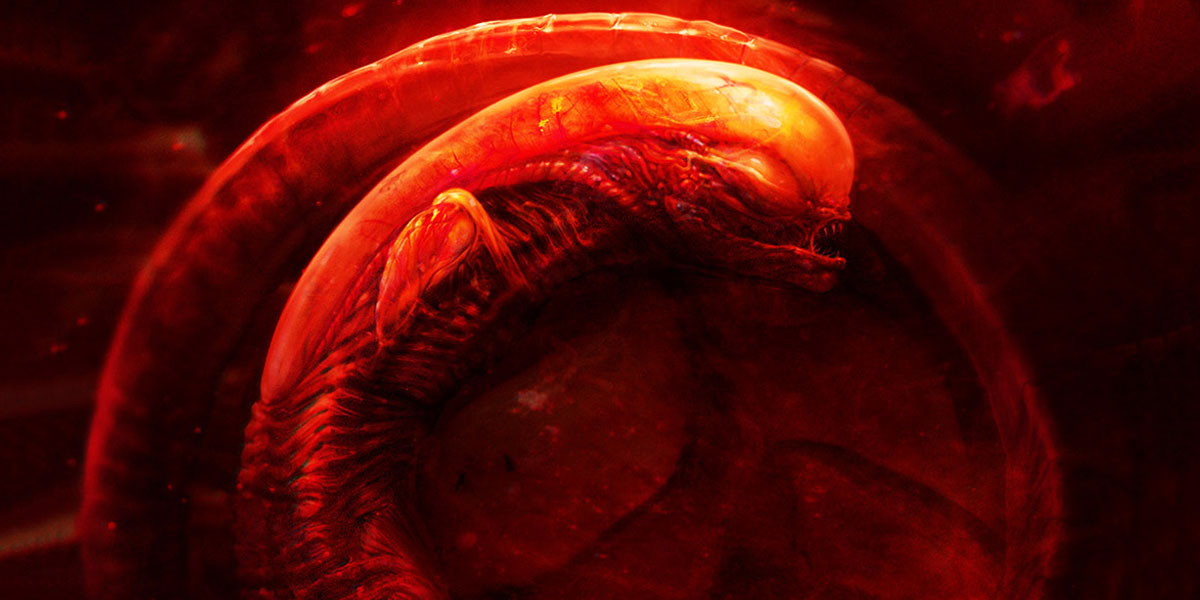 If you were to walk down into my studio, you'd immediately notice nearly every inch of my walls is covered in some form of art. Horror, comics, sci-fi, and pop culture images flood the room simply because they make me smile. There is something about quality art that just makes any nerd's den just pop.
Some franchises, though, lend themselves to art more naturally than others. Combine such a franchise with 40 amazingly talented artists and something like Alien: 40 Years 40 Artists is born. Alien, as an entity, is a never-ending well of creative inspiration. The visuals are built for artists' takes and renditions, and this book is a collection of those wonderful takes.
Before you even dive into the cornucopia that this book has to offer, science-fiction illustrating legend Chris Foss writes a beautiful foreword. A master of his craft who still only uses paints and airbrushes, he talks briefly of his time working on Alien and his inspirations coming into the industry (including some of his concept art from the film).
So, where do we start with this tome of talent? Well, I think the array of different mediums needs to be highlighted. It is 2020, after all, and digital artwork is the new hot thing. This book offers no shortcomings of insanity in the digital format. Some showings are simpler, such as the opening piece from Tom Humberstone titled "Waiting." The piece is simple in design and execution, but deep in what it captures overall. It's the perfect, almost foreboding, appetizer for what's to come.
The digital pieces continue for the next few pages and they are all glorious to the point where they could serve as cover art and one sheets for the movie. Then, once you hit "Mesoamerican Alien" by Jorge "Quetza" Garza, you realize you never needed something so much. In an ancient Aztec style of pictograph art, it perfectly encapsulates what makes Alien terrifying in possibly the most unique way in this book.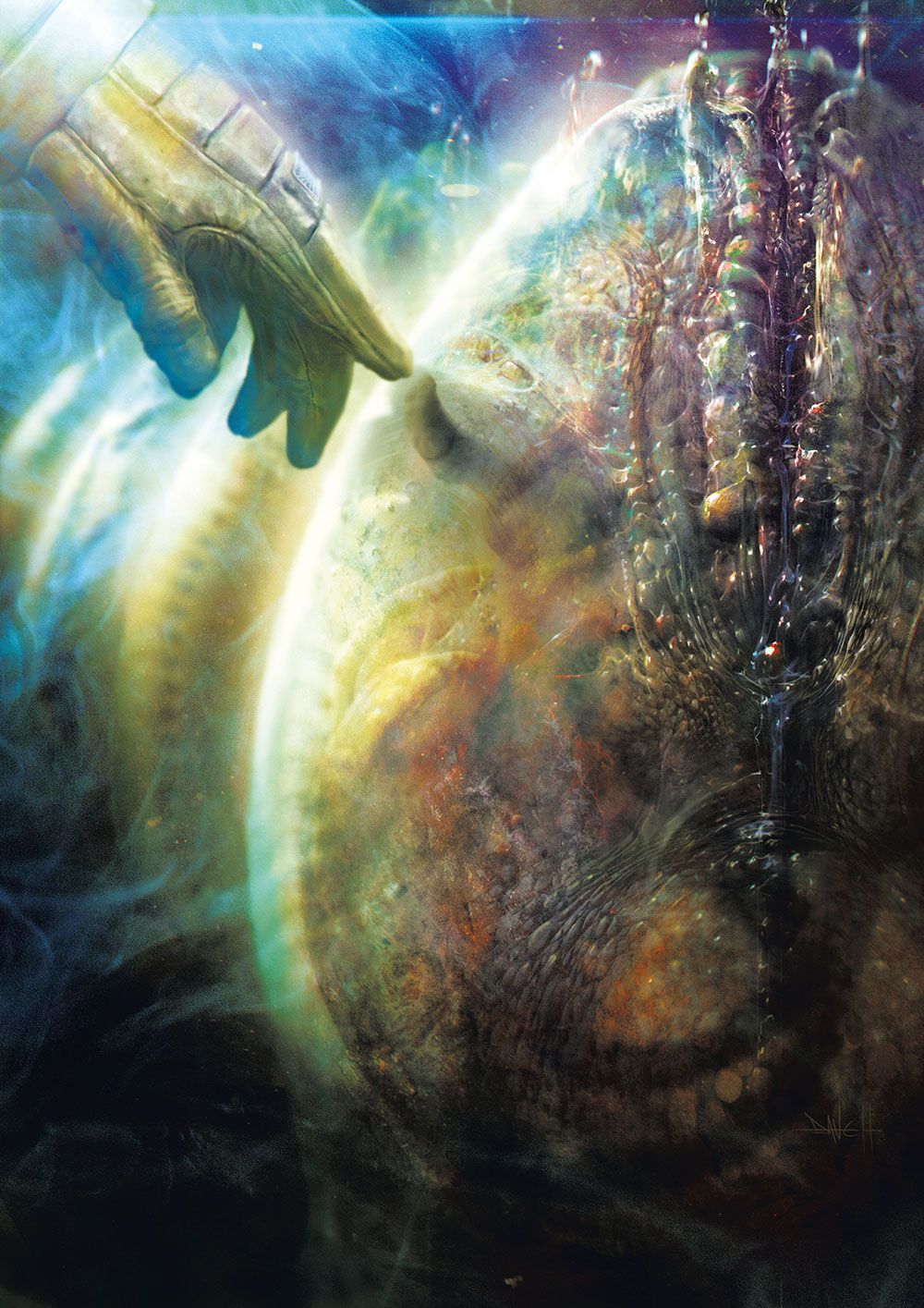 Art by Dane Hallett taken from Alien: 40 Years 40 Artists, published by Titan Books.
Alien ™ & © 2020 Twentieth Century Fox Film Corporation. All rights reserved.
Continuing on the digital path brings you to Dane Hallett's "Adam," which is a mosaic of almost muted colors portraying horror in its infant stage. It's a surprise there is so much to look at despite the overall work being a zoomed-in focal piece. Hallett took a minimalist viewpoint and decided to less loose while expanding on it, and the resulting effort is breathtaking.
Other digital highlights (they are all wonderful) are "Big Chap Finds a Friend" and "Xeno Morph Born Again" done by RJ "Arvalis" Palmer and Justin "Vberkvlt" Bartlett, respectively. "Big Chap" is downright chilling and one of the only pieces in this book to feature some juicy gore. It's nightmare fuel through and through, so obviously it is one of my favorite works. The "Born Again" piece probably speaks to me the most simply because it is a riff on the Black Sabbath (one of my all-time favorite bands) album cover art for "Born Again." It's not intricate or complicated, but it is simple and effective. The original album cover is creepy on its own, so it was a great choice to take inspiration from.
Not every piece of art in this book is an overly serious piece; some are lighter in tone or even in style, like Sweeney Boo's "Ripley." It's a cartoon, almost anime-like art style which still lends to the source material very well when you look at the number of Alien-based comics that have been released over the decades. Also in a lighter, more traditional cartoony style is Katherine Kuehne's "Alien." It's cute and airy, and the perfect way to break up everything else around it.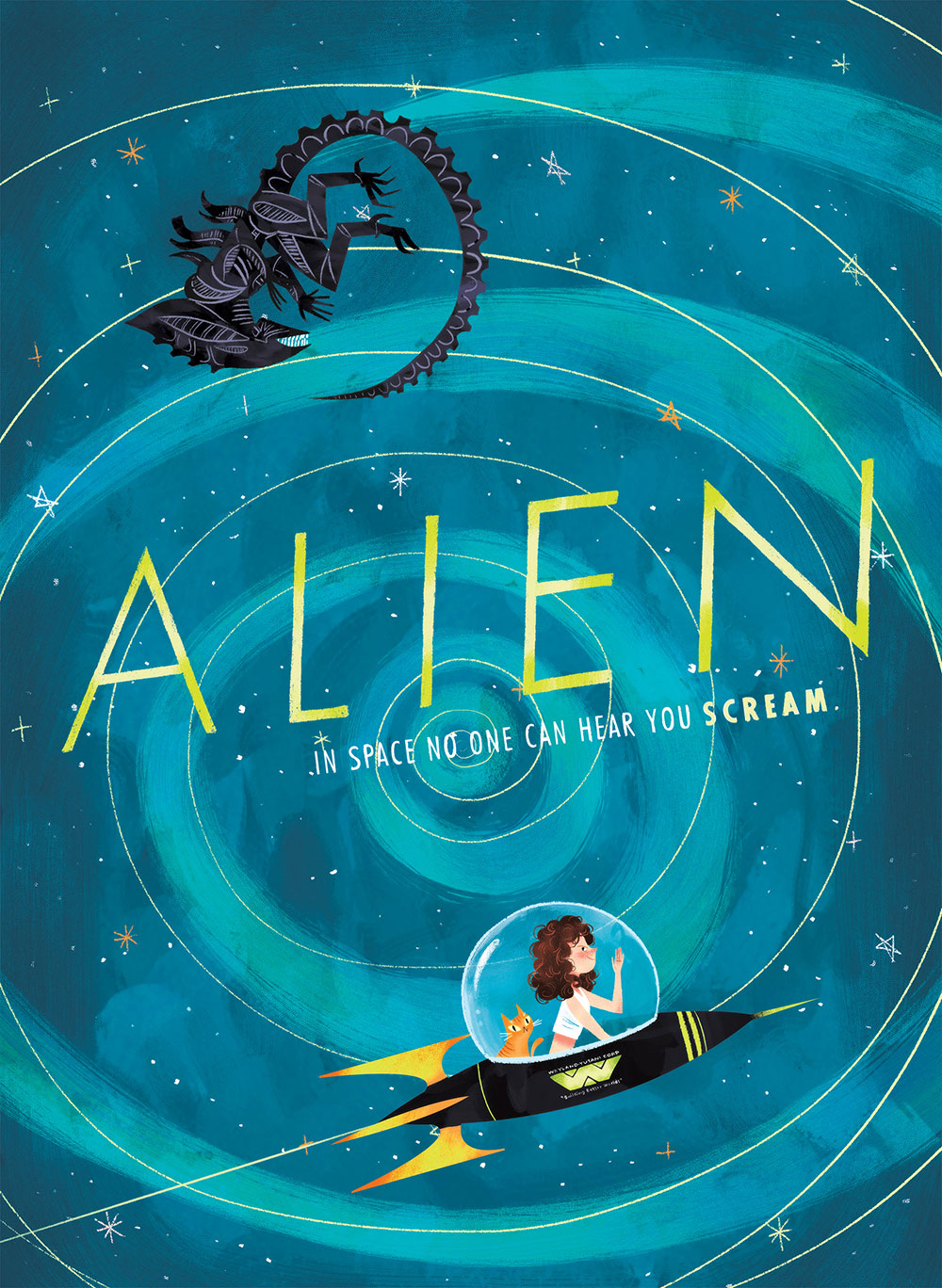 Art by Katherine Kuehne taken from Alien: 40 Years 40 Artists, published by Titan Books.
Alien ™ & © 2020 Twentieth Century Fox Film Corporation. All rights reserved.
Now, obviously, I could write pages on all the wonderful digital works of art in this book, but then I wouldn't have any time to talk about more traditional pen-to-paper pieces. The first one featured in the book is David Lupton's "Brett's Demise," and boy is it a treat. The contrast in style from the previous digital pieces to this ink-and-paper piece is immediately seen and felt. There is a sense of dread and emotion that only physical medium pieces can attain and it is front and center in this hauntingly beautiful rendition of Harry Dean Stanton's character.
Another piece that captures the emotion so dead-on is Jacqueline Gallagher's "You Are My Lucky Star." The use of lighter colors in this acrylic paint piece allows the darker tones that dominate the art to really be pulled forward and highlights the distress of Ripley as the focal point.
Chris "Zhourules" Shehan's "Xenomorph" is a pencil-and-ink-on-paper side profile of terror, full of deep, rich blacks throughout to form a coherently frightening blotchy rendition of the Xenomorph. Blotchy, in this sense, is in a praise-worthy sense, as it complements the bleak existence these creature lead. But don't let this style fool you into thinking that it lacks detail, as it lies underneath all those rich blacks throughout the entire piece. Stunning is the best way to describe this one.
When Alice Meichi LI drops a beautifully done pencil-and-paint piece titled "Yin-Yang," you realize that it might be the best representation of the relationship that Ripley has with the Xenomorphs. Fear is absent from this art and in its place a sense of understanding shines through. You'll ponder over this one for a while, but you'll enjoy doing it.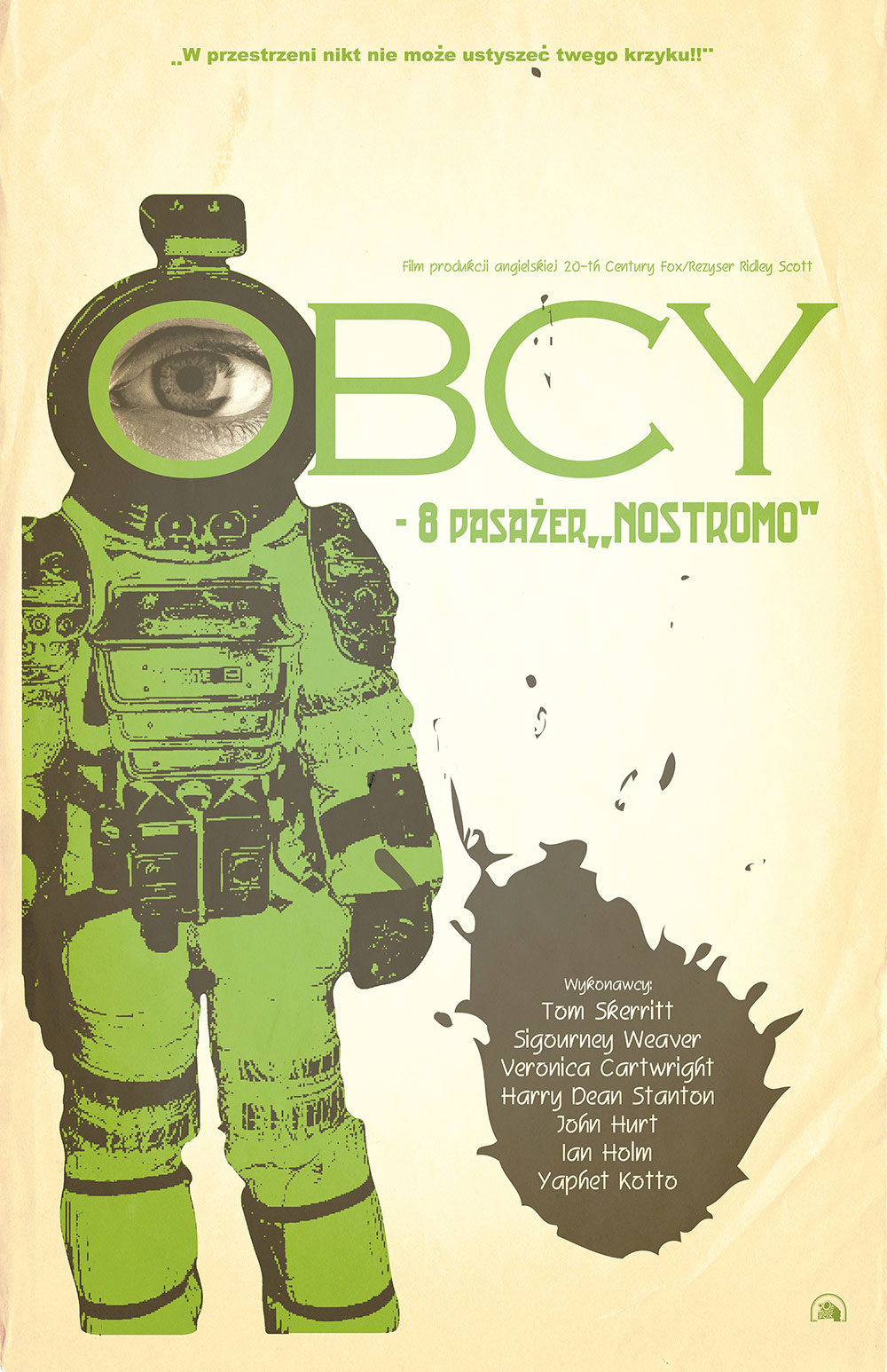 Art by Juan Ortiz taken from Alien: 40 Years 40 Artists, published by Titan Books.
Alien ™ & © 2020 Twentieth Century Fox Film Corporation. All rights reserved.
The oil and acrylic combination is not left out of this collection as seen in Dave Dorman's "Alien." This is one of those sense-of-scale pieces that manages to capture so much. The meshing of colors lends to the overall vastness this art conveys. It's such a satisfying piece to gaze at.
Closing out this collection of perfection is "Happy Fortieth Birthday" from Joey Spiotto. It's the kind of way you want to end 90 pages of terror and dread, which is to say on a lighter note. Xenomorphs can absolutely be cute given the proper artistic touch!
I am no professional book reviewer or art connoisseur, but I am an avid collector of quality pop culture art, so trust me when I say this book is 100% full of quality. I could write pages on each artist and their works, and I hate to not mention all of them in this review because all of the art is amazing. If I did, however, this piece would get way too long. Regardless, the array of talent gathered for this collection is nothing short of superb and every artist deserves to be spotlighted.
The bottom line here is, if you are an Alien fan, there is no debating that you need to own this visual feast for the eyes. Alien: 40 Years 40 Artists is available now in hardcover format.