Chilling Adventures of Sabrina Part 3 Review: Bad Decisions Lead to Good, Witchy Fun
The latest batch of episodes tread into new territory and conflicts surprisingly quickly, in a refreshing sort of way.
By Chris Morse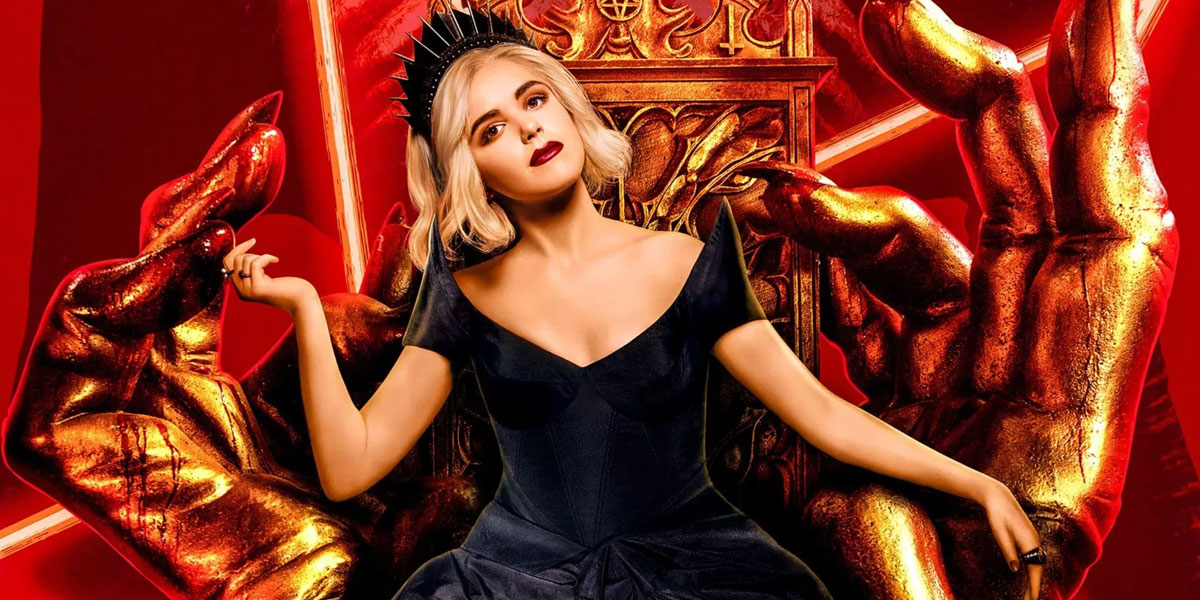 The Part 2 conclusion of Chilling Adventures of Sabrina made it rather clear where the series was heading, both literally in terms of location and figuratively in terms of narrative, but I didn't quite expect Part 3 to flow quite as efficiently into new territory as it did. The latest eight episodes of Netflix's much-darker take on Sabrina the Teenage Witch dropped last week, so it's time to take a look at what went right, what went wrong, and what we have left to look forward to in Part 4.
If there's one takeaway I have from watching this season, it probably has to be the fact that the plot is driven forward almost entirely by Sabrina making horrible decisions. Everything might happen for a reason, but that reason is usually our teenage witch completely screwing something up. While that's not to say this recipe doesn't make for plenty of fun throughout these chilling adventures, it's almost frustrating to watch so many totally-avoidable things happen in a row. At least Sabrina's overall adolescent incompetence makes for plenty of good entertainment for the viewer.
What's relevant about this observation is a point Zelda touches upon in the story, which is that she thinks Sabrina has a bit of a savior complex. The overall dialogue surrounding this point is quite poignant, but the mixed results of our teenage witch's attempts to solve everything in sight is a testament to the truth of Zelda's words. Add in a little impulsiveness and you have an endless source of drama and conflicts to keep this story interesting. At times, a great many problems could be avoided if Sabrina wasn't trying to solve everyone's smaller issues while already trying to deal with the big ones, often shooting her own primary objective in the foot in the process. But if our characters were perfect at all times, there wouldn't be much of a story to tell, would there?
I was expecting Part 3 to be dominated by the mission to rescue Nick from the fiery clutches of Hell, but I was pleasantly surprised to see that particular arc not overstay its welcome. The aftermath of the effort resonated throughout the remaining episodes, particularly with Nick's trauma and much greater consequences being thrust into motion, but the season had plenty of new to offer as well. With the coven's power waning and the arrival of the Pagan witches, not to mention the challenge over the Throne of Hell and what Faustus Blackwood has been up to, there was a great variety of story threads in motion that made for a solidly good time.
As usual, I still absolutely love the corny expressions like "Rome wasn't burned in a day" and those fun reversals on other common phrases. They never fail to make me smile. The monster design was pretty great too, especially Herod, even if some of the other denizens of Hell looked more like members of monster rock bands like Gwar or Lordi than full-on demons. It would have also been nice to see more of Hell while we were there, similar to the different locations shown off in the beginning of the season, because those were very well done with great dark imagery.
I wasn't too big on the new addition of random musical numbers, but I can't fault the show for changing things up and adding a little variety like that here and there. I wouldn't say that aspect was targeted at a viewer like me anyway, but I'm just glad it took a bit of a backseat once the story really started to move forward. There were, after all, much bigger fish to fry at that point.
In terms of characters, Gavin Leatherwood was great working through Nick's trauma and his struggles against the Dark Lord, but I have to hand it to Michelle Gomez for flipping the switch between Lilith and Ms. Wardwell so well throughout the season. Of course, Zelda and Hilda were also great as usual. The rest of our Fright Club progressed pretty much as expected, but they didn't leave quite as much to talk about compared to the previously-mentioned standouts. While at first I thought Theo's progression with a relationship was positive but not all that remarkable, the truth behind Robin made it much more interesting to the story, so I was pleased about that as the season moved along.
Naturally, Part 3 concluded with perhaps Sabrina's biggest screw-up yet and even darker omens of the eldritch variety on the way, thanks to one particular loose end. As usual, Greendale has no shortage of impending problems to deal with and our teenage witch will continue to be at the center of them as the story continues. We wouldn't (and couldn't) have it any other way.
The Good
The story quickly moved on from Part 2 in refreshing and sometimes surprising ways, the monster design oscillated nicely between fun and gory, and both Michelle Gomez and Gavin Leatherwood did a fantastic job doing more with their roles than previous seasons demanded.
The Not-So-Good
Random (but not terribly-overused) musical numbers, some characters progressed better than others throughout the season, and it would have been nice to see more Hell outside of the early locations and throne room.
Chilling Adventures of Sabrina continues to be a great time through its third batch of episodes and it's clear the stakes are only going to get even higher in Part 4, which should also premiere later this year if the gap between the first two parts is any indication. Even if we hope our teenage witch will eventually learn a little wisdom, her missteps have made for plenty of entertainment so far. Expect more Sabrina on Netflix before too long.