The Purge Season 2 Episode 5 Recap: House of Mirrors
Despite the annual event, actions have consequences every day of the year.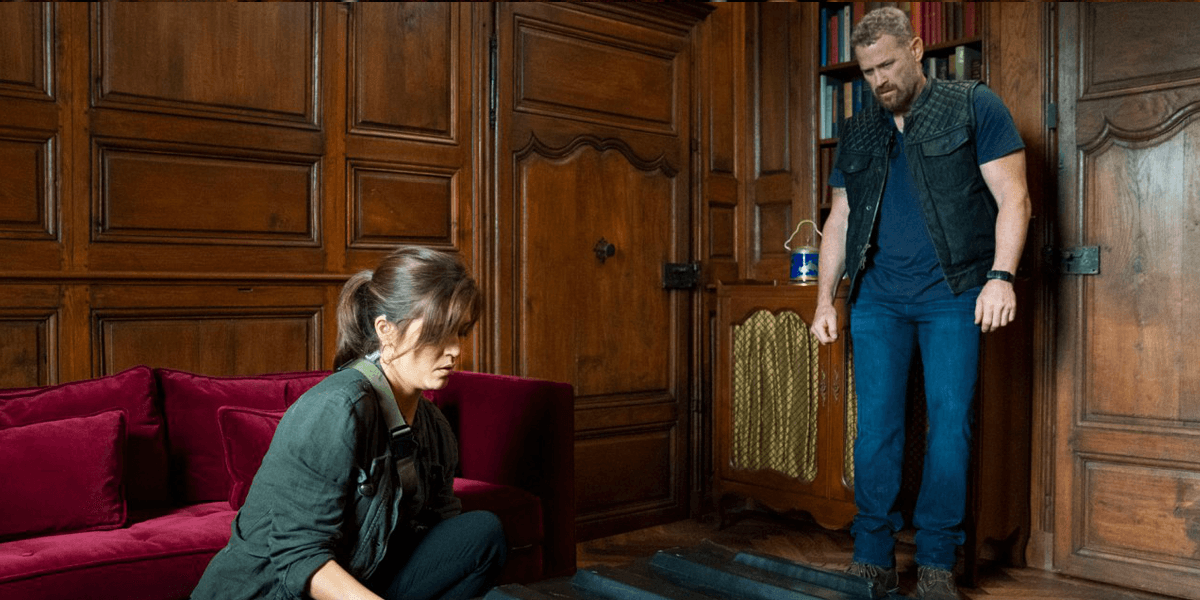 This week's new episode of The Purge TV series continues to peel back the layers of our characters as the season explores the possibility that even with Purge Night, just as much violence happens the rest of the year when it is supposed to be curbed. Corruption, disloyalty, and greed are fueling some of our cast as we see this week in "House of Mirrors."
The episode opens with a bride surprising her bridesmaids with a trip from Brazil to the U.S. for Purge Night. I mean, who doesn't want to celebrate their forthcoming nuptials with a bridal shower during the annual Purge? Just as people flock to Times Square for New Year's Eve celebrations, some would rather schedule their big day around the deadliest night of the year.
Complete with weapons, hotels booked, and guards, one bridesmaid against the trip asks an important question: What do they do if they can't get back? The twist in this opening sequence is that one sister doesn't know the other is taking her there to kill her.
Ben
With each passing week, Ben's sanity shatters a bit more. It's clear that the premise of the Purge curbing people's desire to commit crime the rest of the year doesn't seem to apply to our frat-guy-turned-murderer. Last week, he met a fellow Purge enthusiast at a gun shop. They discussed how the NFFA is wonderful and the annual event is all for a great cause.
As the friendship grows, Ben sees that Andy is more talk than action. They decide to go on a double date, which doesn't go over too well with the girlfriends due to Ben's enthusiastic and supportive talk about the Purge and all it stands for. Later, while the two guys are playing a video game, Andy encourages Ben to tone down the Purge talk. Angered by this, Ben blurts out that he has killed someone.
Ben realizes his mistake and since there is now a witness to his frightening behavior, not to mention how it's against the law to murder outside of Purge Night, he kills his new friend. After a fire alarm evacuates the dorm, Ben returns to Andy's room to get his cell phone and discovers that someone moved Andy's lifeless body from the room into the elevator. How long will he be able to keep his secret that he is the murderer on the campus? This still remains one my favorite storylines in Season 2 thus far.
Esme
Our NFFA surveillance member experiences a role reversal this week after she realizes she is now being watched. It's troubling that here we have someone who is behind knowing every citizen's movements, yet she fails to check her own purse for any tracking devices. Her scenes don't pack as much of a punch as, say, Ben or Ryan's, but we learn the difficult choice she had to make one Purge Night.
Through a flashback, we see how she chose her sister over their father, who we learn is an awful man to the younger girl. Esme is seen locking him out on Purge Night while some folks swiftly take care of him. We also find out that Dr. Adams was working with Esme's sister. Reunited, the women need to get inside the NFFA for answers, but unfortunately thanks to the bug, they know what Esme is up to.
Ryan
Ryan and his merry men of bank robbers are again attempting a heist. This time, however, to avoid severe punishments for committing crime outside of Purge Night, they resort to breaking into a mansion and setting detonators to crack the family's safe to steal valuables.
With a plan in place to not use guns, get inside, plant the device, and get out without being caught by the homeowners, Ryan sends in Tommy's friend, who becomes a liability when he pulls out a gun, much like Tommy. I'm thinking by this point that Ryan needs better help. First Tommy and now his reckless friend.
Failing to do the one job he was supposed to do, guard the door and be a lookout, the family returns only to find the attempted-yet-botched theft taking place. He then gets a bullet to the head and Ryan and Sarah find themselves locked inside after the Purge alarm is triggered. Having to call in a favor to get them out, it's just another episode where Ryan's plans never turn out the way he had hoped they would.
Marcus
Still trying to get answers on who his hitman is, he decides to explore Ivory Road again, a place much like the Dark Web for all things sinister. After having to help out some troubling men, they provide him with the name of the person who wants him dead.
Upon hearing the name Sam Tucker, Marcus' wife Michelle is shocked. She had an affair with Sam. We had a feeling that she was hiding something and now Marcus believes the pair are behind the hit. She tries to convince him that isn't true, but will he get to the bottom of it? And when he does, will it be the answer he wants to hear?
---
The Purge TV series is ramping up as we are halfway through the second season. Much like the first, there are still some unanswered questions and we can expect a few twists and turns lying ahead. Be sure to stay tuned for next week's episode, "Happy Holidays," airing at 9/8c next Tuesday on USA.

[relatedArticle-0]