It: Chapter Two Writer Talks Changes from the Book, Humor, and More
Hear from Gary Dauberman on how the final version of this story came together.
By Chris Morse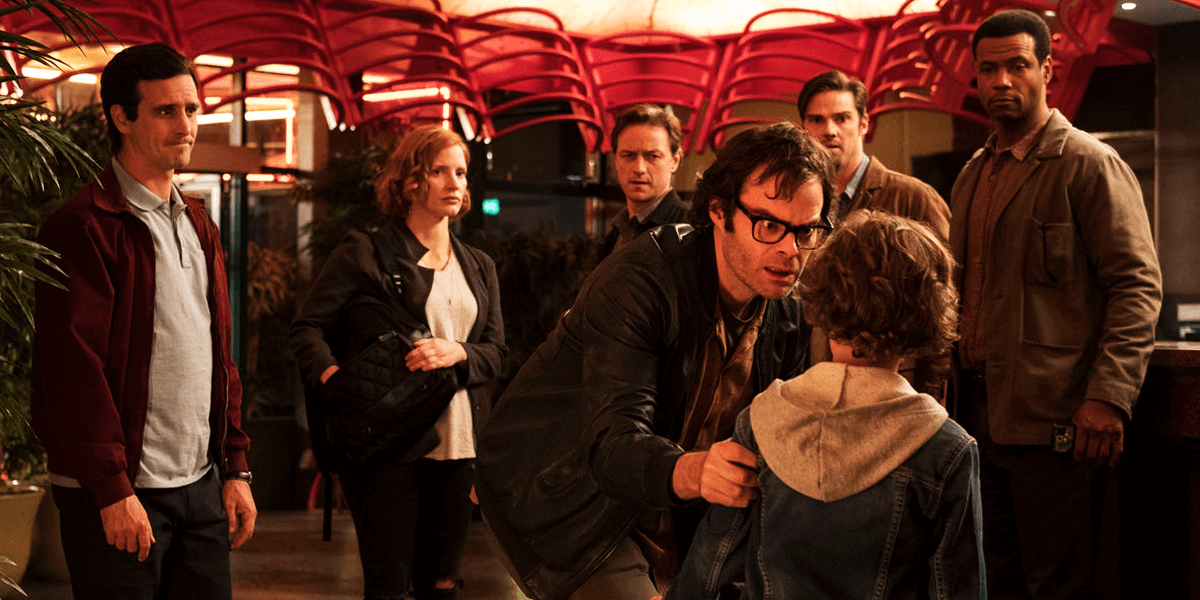 The opening of It: Chapter Two proved to be a successful one, with the film taking the second highest-grossing horror debut honors following a $91 million weekend showing stateside. With this story officially coming to a close, it's a good time to reflect on how it all came together and writer Gary Dauberman did just that in a new chat with Variety, discussing the overall story, changes from the book, the use of humor, and plenty more.
With respect to honoring the Stephen King source material, Dauberman believes doing so is paramount to making a successful adaptation. "The ones that don't work are the ones that usually take a bigger departure from the source material," he explained. "I try to keep the book as the North Star and write towards that. My approach was always: I love the books; let's go back to the basics. Which can be difficult when it's a long book and you can't do everything. You try to do as much as you can."
A few of the departures from the original story just happen to make a whole lot of sense, according to Dauberman. Take Eddie, for example, who goes on to become a risk-management analyst instead of owning a limousine company like in the book. "That was [a director Andy Muschietti] thing, too and a stroke of genius," he said. "It felt like a natural progression of the character. He's a hypochondriac and always questioning the risks in every situation, so it played out beautifully."
Even with a 2-hour and 45-minute runtime, the sequel film couldn't quite fit in all the story from the book, which Dauberman says is just the nature of writing adaptations like this. He explained, "It was just one of those things where it's so great in the novel, but you have some concern that you can't fit everything. While you go in with the best intentions of trying to include everything, it's just not possible."
"There were drafts with Tom," he continued. "But you just want to get back to the mission and the kids. Same thing with Audra, we wanted to keep the focus on our core group we've known from the first movie. It felt right. We also didn't want to take away from Henry – we wanted him to be as much of a threat as possible. You start spreading it around and it kind of dilutes the evil of Henry."
Dauberman also addressed the use of humor throughout It: Chapter Two, which he says was done in the spirit of the first film. Having such funny people in the cast only makes the addition of comedy even more of a no-brainer as well. He gives actor Bill Hader a lot of credit for this, such as when his character Richie imitates Pennywise's dancing.
"Those are things I wish I could take credit for," he commented. "That was totally Hader. What a gift. I was writing drafts where you know it's going to be Hader and you're like, 'How am I going to out-funny this guy?' It's nice knowing someone is going to take it and run with it. That was a thrill for me to see what the cast could do with ideas."
Although Dauberman is happy about being able to fit everything he wanted to into this film, some scenes were tough to crack with respect to translating them from the pages of the novel to the big screen. "You have so many characters and you want to give them all their due," he explained. "That was a challenge. And you have to let some others go so you can focus on the core group."
"There's also the scene in the film where the Losers all split up to find their tokens and flashback to important memories from their youth," he added. "In the book, it's really them going off and wandering around Derry and having these memories. It's very internal so in order to show that in a cinematic and visual way, we gave them the drive of searching for these tokens. We needed some representation of how they remembered and are connected to their youth. It's a remarkable cast and you want them on screen as much as possible."
It: Chapter Two brings the Losers' Club into adulthood with James McAvoy as Bill, Jay Ryan as Ben, Bill Hader as Richie, Isaiah Mustafa as Mike, Jessica Chastain as Beverly, Andy Bean as Stanley, and last but not least, James Ransone as Eddie. Bill Skarsgård reprises his role as Pennywise the Dancing Clown.
The film, which is in theaters now, is directed by Andy Muschietti with a screenplay written by Gary Dauberman. Both features are based on the 1986 bestselling novel It by Stephen King, one of his most notable works.