Mortal Kombat 11 Kombat Pack Full DLC Roster Revealed
A "leak" from observant fans prompted NetherRealm Studios to make with the goods and announce the full slate of upcoming new characters.
By Chris Morse

We have been following the steady reveals of each new character coming to Mortal Kombat 11 in an upcoming DLC pack, but today NetherRealm Studios has opened the lid on the entire big reveal with a new trailer. The characters came to light a little early as the studio had originally posted a countdown video leading up to the announcement, but astute viewers noticed the video thumbnail contained all the new fighters anyway. Whoops!
Either way, there are a few new reveals here on top of the characters we have already known about. As widely discussed previously, Todd McFarlane's Spawn is back and he will be fighting alongside Terminator T-800 and the Batman franchise's Joker. As for the other characters, Shang Tsung and Nightwolf are already available while Sindel was teased by series co-creator Ed Boon last month. See below for the full reveal, along with each character's respective release date.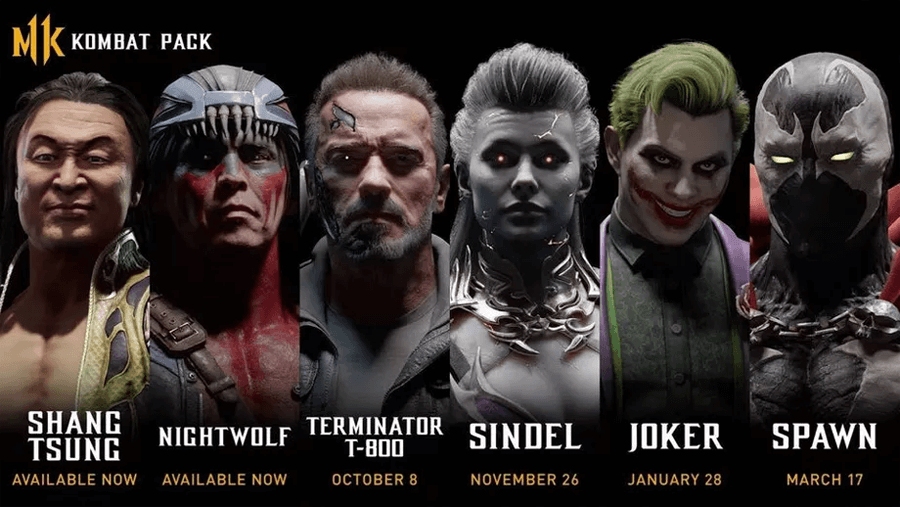 As you can see, the new fighters are spaced fairly generously apart, with Spawn not arriving until March of 2020. That's quite a long wait, but this is certainly one way to keep the game relevant in the months ahead. Joker is an interesting addition as well, along with the Terminator, complete with Arnold Schwarzenegger's likeness.
Sadly, neither Bruce Campbell nor Ash Williams are anywhere to be found, despite the actor giving fans very mixed signals about the possibility. I mean, come on, who denies this character will be included then goes on to comment on a chainsaw revving in the teaser without delivering?! We'll have to keep holding out hope for this one somewhere down the road, it seems.
Mortal Kombat 11 is now available for all major platforms, which includes PlayStation 4, Xbox One, Nintendo Switch, and PC. Stay tuned to Dead Entertainment for all the latest news on Mortal Kombat and the latest entry in the series!