Interview: Actor/Producer James Fisher Takes Us Inside Shed of the Dead
We had an interesting chat with one of the creative minds behind the upcoming zombie-comedy.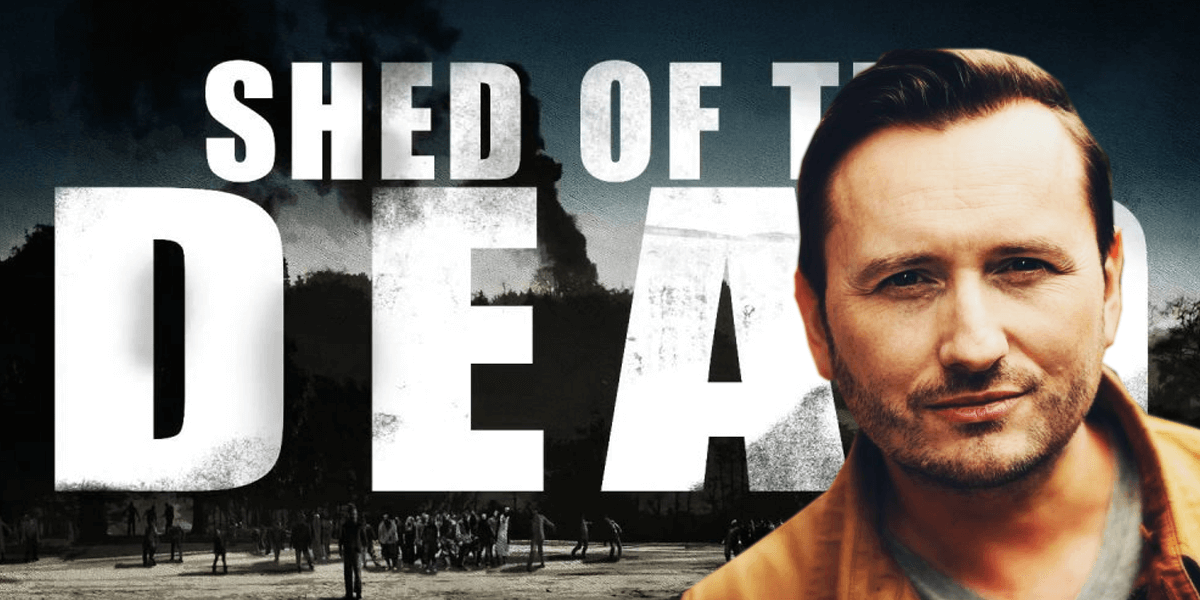 The upcoming zombie apocalypse comedy, Shed of the Dead, is full of witty humor, with its cast featuring the likes of horror icons Kane Hodder, Bill Moseley, and Michael Berryman. The film follows an unlikely hero named Trevor (Spencer Brown) as he escapes reality inside his neglected garden plot's dilapidated shed. With the help of his friend, Graham (Ewen MacIntosh), he attempts to save his friends and survive the zombie attack.
We recently screened the film and shared our review on it, but we also had the chance to have a few questions answered by producer and actor James Fisher, who played the role of Peter on top of his creative duties within the production.
---
Michelle Kaotic: Could you share with us any on-set experiences you had with fan favorites Kane Hodder, Bill Moseley, and Michael Berryman?
James Fisher: Although I wasn't exactly sure what to expect, you always hope that working with professionals who have the size of careers as Kane, Bill, and Michael do will be memorable experiences for the right reasons, and above all be right for your project, but you just never know. The clichéd answer, though, is they were all utterly professional and delightful to work with. You could literally see how infectious their dedication and personalities were around a set, and seeing a broad smile on Michael's face in particular after some of the things we put him through on Shed was priceless.
Michelle: I read that the movie was announced in 2015 and filming began shortly after in the UK. As you approach the release date, are you nervous about how the final product will be received?
James: Absolutely. We've worked so hard on this for so long and had some unfathomable obstacles along the way, but at the end of the day, what will be will be. We're in a tough genre and rightly so, but I think what we've managed to achieve on a fraction of the budget than, say, Shaun of the Dead was made with is to put a slightly different slant on things and show that this is a genre that still has huge numbers of fans at all levels of budget, a real family, and hopefully when the dust settles we'd have entertained and maybe even inspired a few to think about another new take on the genre.
Michelle: Are there any other projects that you are working on that you could share with us, either producing or acting?
James: From an acting perspective, whilst we were moving Shed through post-production, I was also acting in a few UK television shows and commercials to keep the bills paid. I also produced a documentary called There's a Hole in my Bucket, which follows the great-grandson of J.R.R. Tolkien, Royd, on his mission to fulfil his late brothers' bucket list on his behalf after he tragically lost his battle against Motor Neuron Disease.
That was some departure from Shed, but we're hoping to get it out there real soon and raise a ton of awareness for MND. We were really lucky to get people like Peter Jackson, John Rhys-Davies, and Billy Boyd involved, and even got Benedict Cumberbatch to narrate it. Meanwhile, 7DM (Shed's production company) has some grand plans that we can't say too much about yet, but Nick Lean (the film's other producer and 7DM CEO) is currently building up a big VFX arm of the company, and is also a prolific screenwriter as well. He's in the middle of something exciting right now.
Michelle: Now that I've watched it, what was it like to be a victim in your own movie? Not to mention having Bill Moseley take you out.
James: Funnily enough, when we were originally planning this, I was going to play the lead (Trevor), but we quickly realized that there was absolutely no way I was going to have the time to commit to the lead role and do my job as producer. Also, we thought casting someone with a proper comedy background would ultimately benefit the film, which we think was the right decision as Spencer did such a great job.
The role of Peter, however, was a small-time commitment and a fun character. And yes, it didn't go unnoticed to me that I'd have a pretty cool, iconic little scene with Bill Moseley as well, so it all worked out in the end!
Michelle: Will the film be available on Blu-ray/DVD?
James: Yes, it will be available on DVD/Blu-ray in the US to begin with.
---
Shed of the Dead will make its world premiere at the London Sci-Fi Film Festival on May 18th, followed by a worldwide digital release on May 20th.

[relatedArticle-0]