Zombieland: Double Tap's Woody Harrelson and Jesse Eisenberg Tease the Sequel's Production
The cast and crew are dedicated to making this follow-up every bit as funny and personal as the first film.
By Chris Morse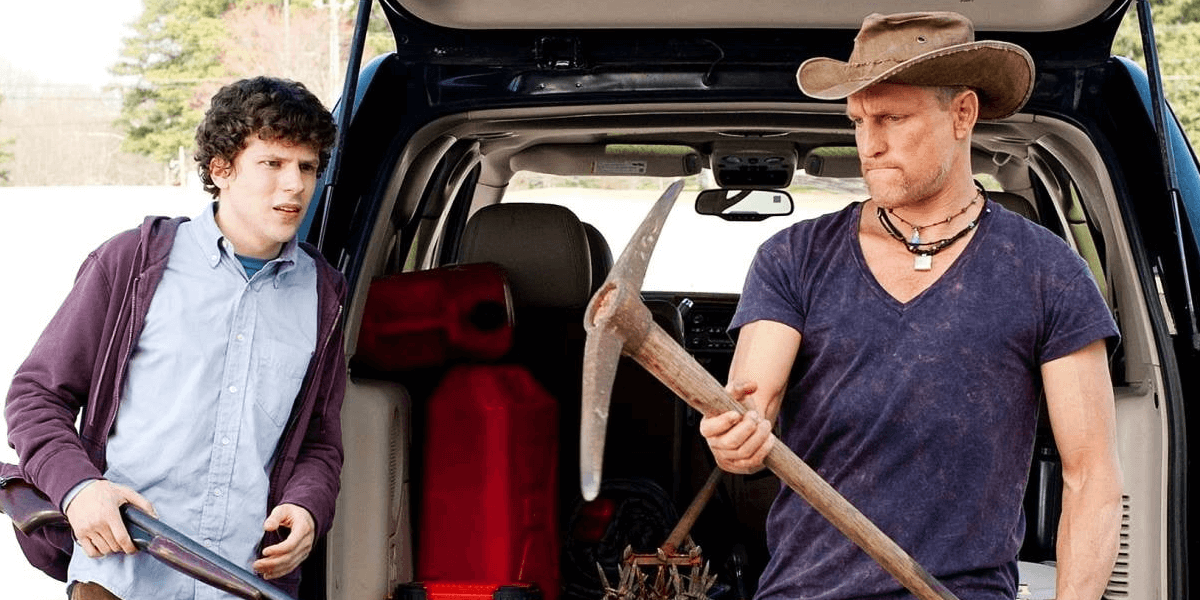 Production is currently underway on Zombieland: Double Tap and two of the film's stars recently spoke up to tease a little bit about what the sequel will offer when it makes its debut this fall. The latest update we've had on the project prior to today was of the casting variety, with comedy veteran Luke Wilson coming on board for a little post-apocalyptic fun, but the returning cast members are certainly not to be forgotten here either.
Star Jesse Eisenberg kicked off the fun by commenting on the film over the weekend at the SXSW Film Festival in Austin, TX. Speaking to MovieWeb, the actor offered an update on how the production is going so far and teased a little bit about what fans can expect from the new movie. You can read his comments in full below.
It's going really well. Just resting on our laurels and really cocky [laughs]. No, the opposite. We're working so hard. It's one of these movies that, people loved it for personal reasons. So it's not just a big hit movie. People love it for personal reasons so you want to make sure it's as funny and as personal as the other one.
As for Woody Harrelson, he had his own chat with EW earlier this week and spoke of just how much fun he's having on set with this project and his fellow cast members. He also mentioned how impressed he has been with what has been shot so far. You can find his comments below.
What we've shot so far, I'm really impressed with. Getting to hang out with these guys — Emma, and Abbie, and Jesse, and Ruben — I feel so lucky, really, really lucky. You know, it's literally laughing all day long, and that's your job. Like, my job is, I laugh all day long? It seems unbelievable. So, I feel really lucky right now.
The cast of the Zombieland sequel includes original stars Woody Harrelson, Jesse Eisenberg, Emma Stone, and Abigail Breslin, as well as newcomers Zoey Deutch, Rosario Dawson, Thomas Middleditch (Silicon Valley, The Final Girls), Luke Wilson (Old School, Anchorman), and Avan Jogia. It was also reported that Dan Aykroyd and Bill Murray have joined the cast, both playing fictional versions of their real-life actor selves.
Ruben Fleischer is returning to the director's chair while the first film's screenwriters, Rhett Reese and Paul Wernick, penned the new script as well. Production on Zombieland: Double Tap is currently underway and the film is scheduled to hit theaters on October 11th, 2019. Stay tuned for all of the latest updates on the sequel here on Dead Entertainment.