Zombieland Was Almost a TV Show and Other Fun Ramblings from the Writers
A new interview shed some light on the past and present in the popular zombie-comedy series.
By Chris Morse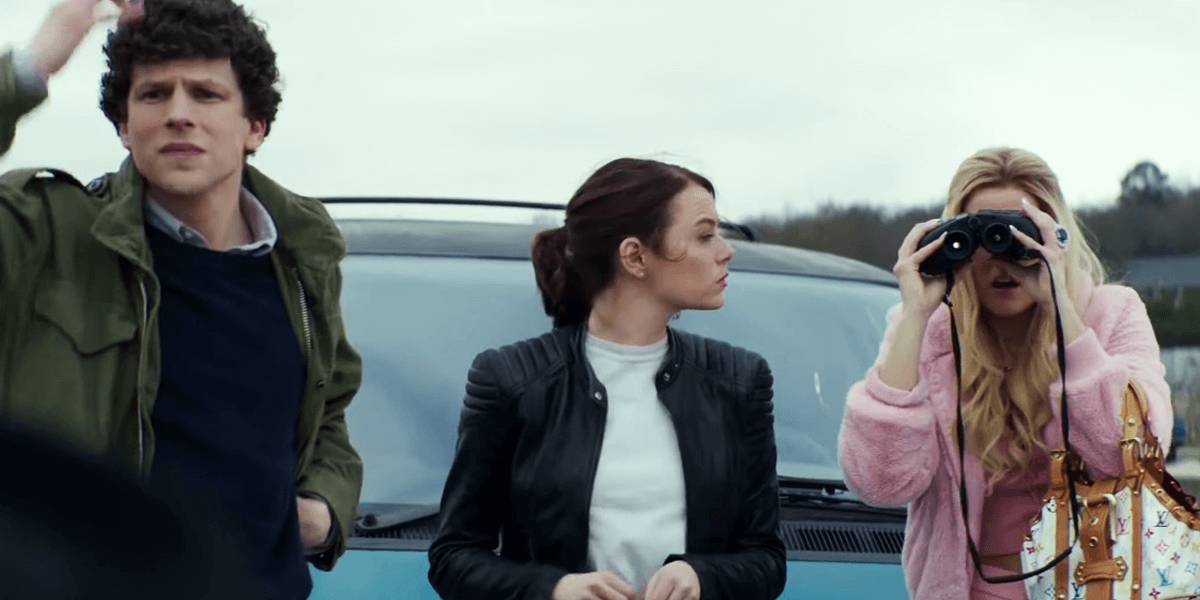 Did you know that Zombieland was almost a television show before it ended up as a movie? If that were the case, there would be no Zombieland: Double Tap to speak of and maybe even no The Walking Dead as fate might have it, at least according to series writers Rhett Reese and Paul Wernick in a brand-new interview with the folks over at Deadline.

"We sold it to CBS in 2005 before it became a movie," explained Wernick. "We had the idea of zombies on TV before The Walking Dead, believe it or not, long ago, but obviously CBS didn't move forward with the pilot. When that didn't happen, Zombieland became the feature we know today."

Why would that have an effect on The Walking Dead, you might wonder? To put it simply, the commercial success of Zombieland helped convince studios the zombie subgenre was worth the risk, which might have played into AMC's decision to adapt Robert Kirkman's all-time classic comic series.

"It was a Deadpool screening many years ago and he came up to me and said that Zombieland really opened the doors for The Walking Dead's transition to television and to AMC," said Wernick, referring to an encounter with Kirkman. "Zombieland really was one of the zombie genre's first commercial hits. The movies before us mostly had cult followings."

"Great movies like 28 Days Later and Shaun of the Dead had come out but they really hadn't hit that commercial spectrum in a way that would inspire studios to take those risks that they're always fearful of taking. He said that Zombieland's commercial success actually gave AMC the courage to move forward with the show so he was very complimentary and thankful."

Reese went on to emphasize that he relationship between these two properties works both ways, as The Walking Dead has done plenty for the subgenre as well as television and cinema as a whole,

"I think it's a little easier for everyone because The Walking Dead sort of firmed the runway for zombie stories for people who didn't understand them, or get them or really know what they were all about," he added. "A lot of people thought of it as a fringe or cult thing but then The Walking Dead pushed zombies into the mainstream even more then we did. I think that's going to help us with box-office overseas in some places that didn't really know what zombies were before."

As for whether or not Zombieland could make its way back to television at some point in addition to the movies, that much seems extremely unlikely right now.

"I doubt it, we went down that path twice already," continued Reese. "We did it as an original pilot that sold [to CBS] but then did not get made. And then a pilot for Amazon a few years back [after the first feature film] and then that also didn't happen. So I think we're sticking to the movie realm for now. Although we joke that there could be a great Zombieland Broadway musical, too, but I think we're only half-joking. It could be fun. Or it could be terrible, too. It's fun to think about but for sure It's a high-risk, high-reward proposition."

All in all, this has been a rather interesting look into what could have been and the unlikely relationship between Zombieland and The Walking Dead, aside from the whole zombie thing of course. That much is undeniable. There are a few other interesting topics touched upon in the discussion, so be sure to check out the full interview at your leisure and soak it all up.

[relatedArticle-0]

Zombieland: Double Tap sees our returning characters moving to the American heartland as they face off against evolved zombies, fellow survivors, and the growing pains of the snarky makeshift family.

The cast includes original stars Woody Harrelson, Jesse Eisenberg, Emma Stone, and Abigail Breslin, as well as newcomers Zoey Deutch, Rosario Dawson, Thomas Middleditch (Silicon Valley, The Final Girls), Luke Wilson (Old School, Anchorman), and Avan Jogia.

Ruben Fleischer returned to the director's chair while the first film's screenwriters, Rhett Reese and Paul Wernick, penned the script. Zombieland: Double Tap is in theaters now.