Latest Devil May Cry 5 Trailer Teases Bad Blood Between V and Dante
This new teaser shows off some gameplay and raises a lot of questions in the process.
By Chris Morse


A brand-new gameplay trailer for Devil May Cry 5 has surfaced via IGN and this one raises a few more questions than it answers with respect to the plot of the game. For the most part, this latest trailer continues the trend of the previous and shows off a decent chunk of combat from series newcomer V. The character's fresh fighting style is put on display even more as he summons (and sometimes speaks to) his three demon companions, Shadow, Griffon, and Nightmare.

Later in the trailer, a story scene featuring V and series mainstay Dante is teased and left on a bit of a cliffhanger as the newcomer plunges a blade into the half-demon demon-hunter. What exactly is going on here or whether this spells the end of Dante remains to be seen, but this is quite the strong tease to leave off on after diving deep into some of the new gameplay that is coming to Devil May Cry 5. Give the trailer a watch above and read on for more details on the release and collector's edition.

[relatedArticle-0]

To recap, picking up the collector's edition of Devil May Cry 5 will get you a replica model of the motor home in which our heroes take their demon slaying on the go. Also included is an art book that contains imagery from the game as well as notes from Nico's Workbench. In addition, the collector's edition includes a pin, bumper sticker, and 11" x 17" cloth print featuring our full cast of characters. Finally, it all comes in this very special box designed to look like an item trunk, matching what you might find in the game being used by series newcomer Nico.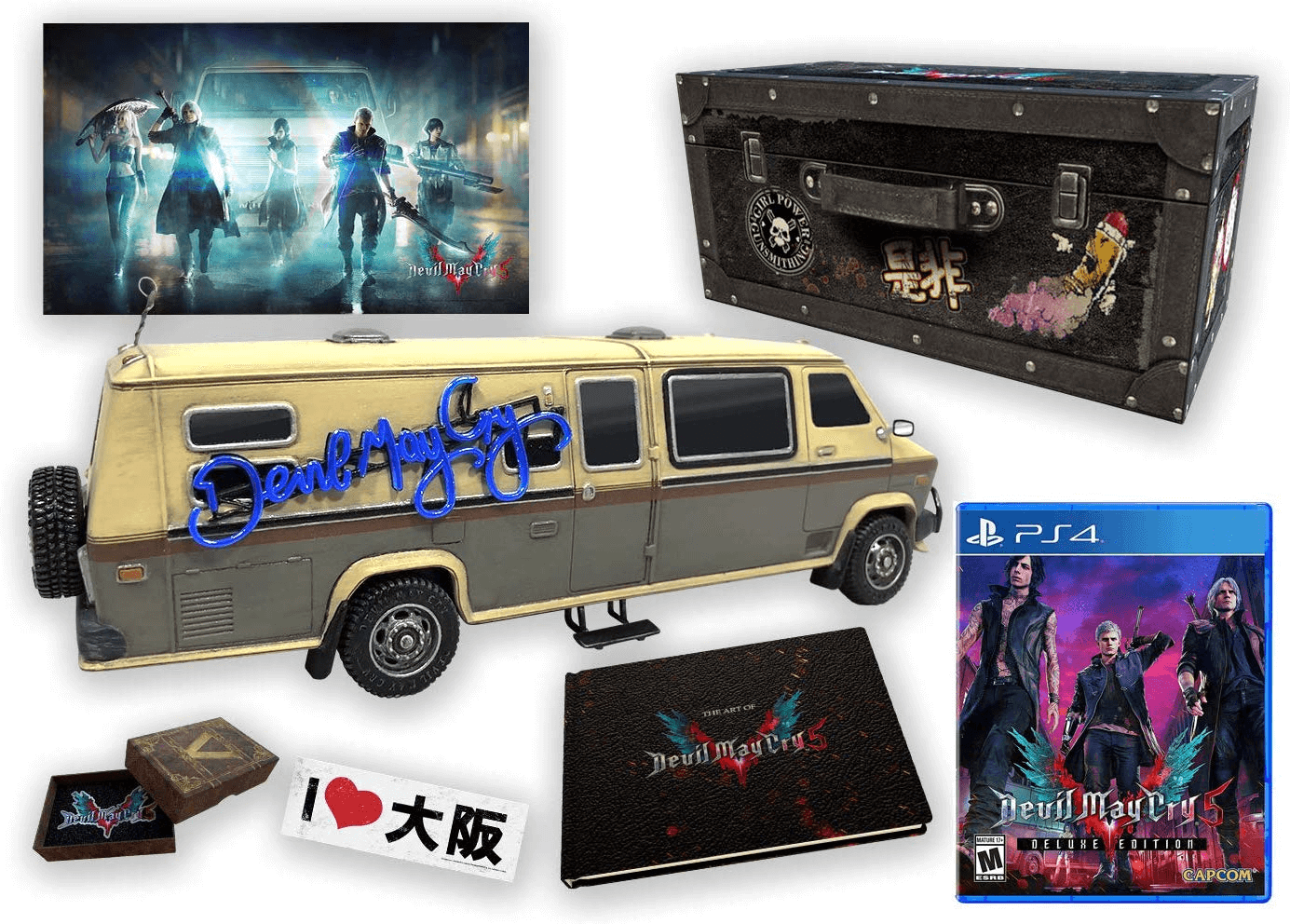 This collector's edition is so far available for only PlayStation 4 and Xbox One players, with no PC version of this collection to be found at this time. If you're not quite ready to shell out extra money for a collector's edition of the game, you can order up the standalone regular and deluxe editions to get your demon slaying fix that way. Be sure to select your platform of choice.
Devil May Cry 5 arrives on March 8th, 2019 and will be available on PC, PlayStation 4, and Xbox One.