Devil May Cry 5 Gets Extended Trailer, Xbox One Demo Announcement, and New Details at The Game Awards
Capcom has revealed more about the mysterious V and detailed a new game mode coming after launch.
By Chris Morse

It's time to kick some demon ass, or so says Nico through the Devil Breaker arms she builds for Nero. To that end, Devil May Cry 5 had a little bit of a showing at The Game Awards last night, featuring a live performance of "Devil Trigger" by Casey Edwards with Ali Edwards and Cliff Llore, which is Nero's theme, along with a new trailer and feature details for the upcoming game.
Each of the three playable character has their own theme, although Dante's track, "Subhuman" by Suicide Silence, brought in Michael Barr for new vocals after the band's main vocalist, Eddie Hermida, became wrapped up in allegations of sexual misconduct. As part of the release of the game's extended trailer last night, which took a closer look at the mysterious V, the character also had his very own music reveal with "Crimson Cloud" by Jeff Rona as performed by Rachel Fannan.
As we mentioned above, this new showing finally revealed more details about V, who comes to Dante and Nero to get them to investigate the city's latest demon-related incidents. Gameplay-wise, a character wielding a book and a cane might not look very good for fighting but Capcom has detailed just how this new playable character will work and you will not be disappointed.
V's unique fighting style involves summoning three different demons in battle: Shadow, Griffon, and Nightmare. Shadow is a swift, panther-like creature that attacks in close range by partially shifting form into blades and needles to strike enemies. On the other hand, the bird-like Griffon attacks with lightning from above and can even carry V around the city. Finally, Nightmare is a massive, monstrous demon that can crush enemies and fire powerful beams of light to destroy anything in its way.
Another big highlight of the presentation is the announcement that an Xbox One-exclusive demo would arrive today, on December 7th, allowing players to take control of Nero and preview a bit of the action and gameplay from Devil May Cry 5. If you have any version of the Xbox One, you can download this demo now and get an early look at what's to come when this game hits stores in March.
Capcom has also announced that the Bloody Palace Mode would be making its return to the franchise in a free update that will arrive in April, shortly after the game's launch during the month prior. This is kind of a quick-elimination mode that puts you up against waves of enemies and bosses – a fun addition that will surely allow you to squeeze a few more hours of fun out of the game.
Finally, a new Cameo System was also revealed as an online component of the game. With this mode enabled, you can occasionally see other players make guest appearances in your game and rate their moves as stylish (or not) based on how well they're pulling off some of the game's combos and moves. This seems like more of a fun feature than intrusion that could make the world feel a little bit bigger. We are assuming that this Cameo System can be toggled on or off but nothing official on that front has been stated by Capcom at this time.
To bring all of this full circle, don't forget to check out the new, extended trailer that was released last night, which we have provided for you above, and get ready to bring down some demons in style.
To recap, picking up the collector's edition of Devil May Cry 5 will get you a replica model of the motor home in which our heroes take their demon slaying on the go. Also included is an art book that contains imagery from the game as well as notes from Nico's Workbench. In addition, the collector's edition includes a pin, bumper sticker, and 11" x 17" cloth print featuring our full cast of characters. Finally, it all comes in this very special box designed to look like an item trunk, matching what you might find in the game being used by series newcomer Nico.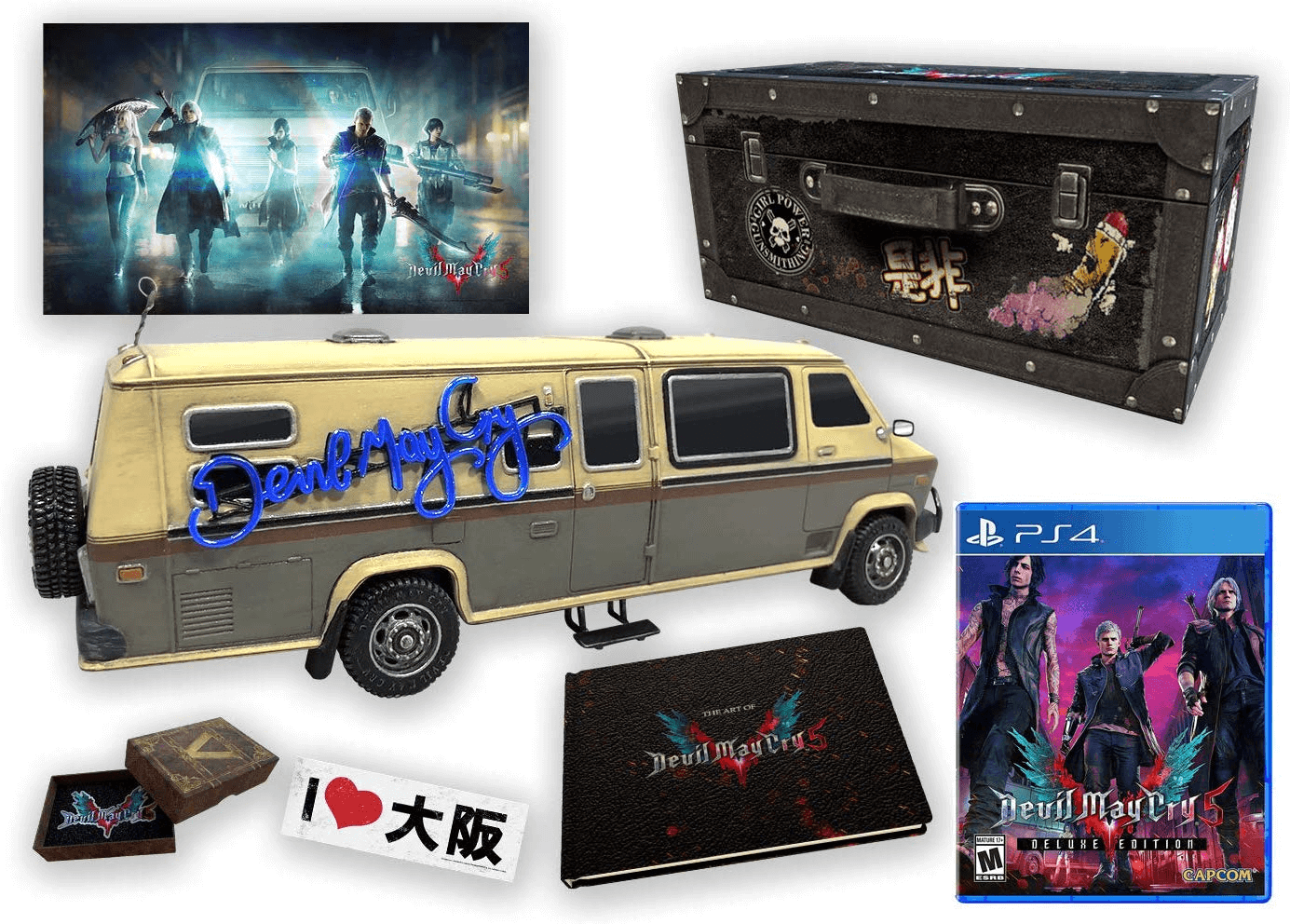 This collector's edition is so far available for only PlayStation 4 and Xbox One players, with no PC version of this collection to be found at this time. If you're not quite ready to shell out extra money for a collector's edition of the game, you can order up the standalone regular and deluxe editions to get your demon slaying fix that way. Be sure to select your platform of choice.
Devil May Cry 5 arrives on March 8th, 2019 and will be available on PC, PlayStation 4, and Xbox One.