Child's Play Remake Teases New Buddi Doll in Commercial, New Website
He wants you for a best friend. How creepy.
By Chris Morse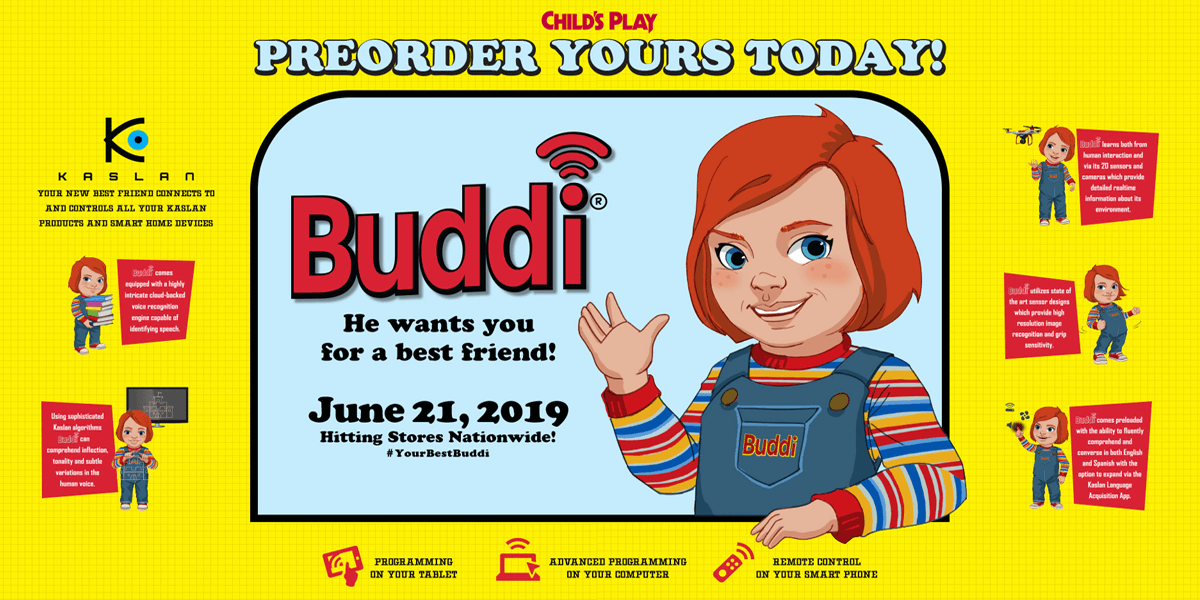 Promotion for the upcoming MGM-produced Child's Play remake is beginning to ramp up with this latest preview. In the first half of the month, a new poster introduced us to the Buddi doll, which is the new brand filling in for the Good Guys brand from the original. Earlier today, we got an additional tease in the form of a commercial for the doll, detailing such high-tech features as... WiFi compatibility. Not quite the AI spin we were sort of hoping for but check out the full video for yourself below.
At the end of the clip comes a small tease of the film itself, with a glimpse at the doll looking more sinister and a creepy laugh that will presumably be its new trademark giggle. Alongside this teaser, a brand-new website for the movie also launched, once again focused on the Buddi doll branding. There's not much from the actual movie just yet but this is a start. Stay tuned for more updates in the coming months when we will surely hear more on this.
In Child's Play, a mother gives her son a toy doll for his birthday, unaware of its more sinister nature. The cast includes Aubrey Plaza (Parks and Recreation, Legion) as the mother, Karen, Gabriel Bateman (Light's Out) as her son, Andy, and Brian Tyree Henry (Atlanta) as a detective named Greg, who will be investigating the mysterious deaths surrounding the doll.
The film will be directed by Lars Klevberg, who is known for his upcoming horror film, Polaroid, with a script penned by Quantum Break and Kung Fury 2 writer Tyler Burton Smith. KatzSmith Productions' David Katzenberg and Seth Grahame-Smith (Stephen King's It) will produce as the film is slated to arrive early next summer on June 21st, 2019.