The Walking Dead: Our World Puts Zombies in a Pokemon World with Some Flaws
The premise is simple, but the execution requires some effort and patience.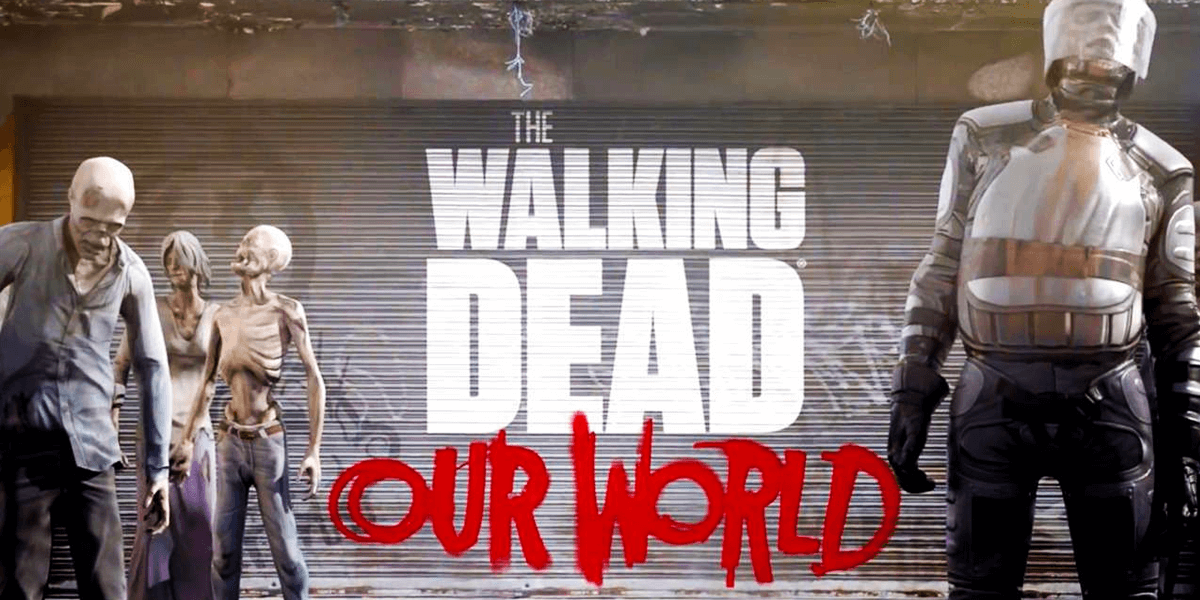 When AMC and Next Games announced earlier this year that they were trying their hand at an augmented reality game, folks were excited to get off the couch to begin killing walkers. On July 12th, the game was released as a free download on both Android and iOS platforms with the option to purchase items within the app to enhance gameplay.
Pulling data from Google Maps, players are encouraged to get out, explore their environment, and be on the lookout for missions. The main objectives, indicated by yellow and orange yield signs, are to fend off a variety of walkers in three different modes. Encounters, Infestations, and Rescue Missions make up the goals of the game. Next to the yield sign is a number representing the level of that specific encounter. The higher the number, the more difficult the objective is to successfully complete.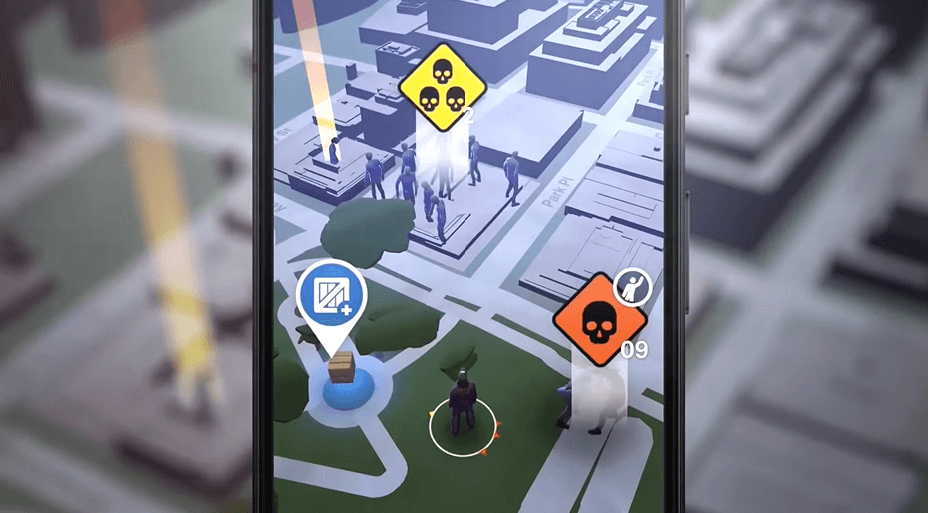 Each infestation is comprised of three or more different stages that you will need to complete to get the final reward. There are also rare and epic challenges. The same yield signs will be highlighted in either pink or blue to notify the player that this is a challenge that rewards rare or epic cards and items. Normal rewards are typically ammo, new character cards, and other boosts which can increase your ability to take on the higher level missions. Rare or epic rewards are rare heroes, perks, and weapons.
The game encourages you to team up for bigger and better rewards by creating or joining groups. With the addition of a built-in chat system, game stats, and weekly tier challenges, it does prevent monotony if you are a daily player. The spawn rate for supply crates is favorable. Unlike Pokemon Go, where for the most part the only way to get a "stop" is to leave your home, this game has spawn locations pretty much everywhere you go.
The draw distance is quite vast, but to encounter the better rewards and complete challenges, you will need to leave your home. One of the neatest tricks is the ability to teleport to other players thanks to a flare. You must be in a group for this to be functional. A flare is only valid for a limited time, so make sure you take advantage of it while you can. They can be purchased in the store for 5 coins.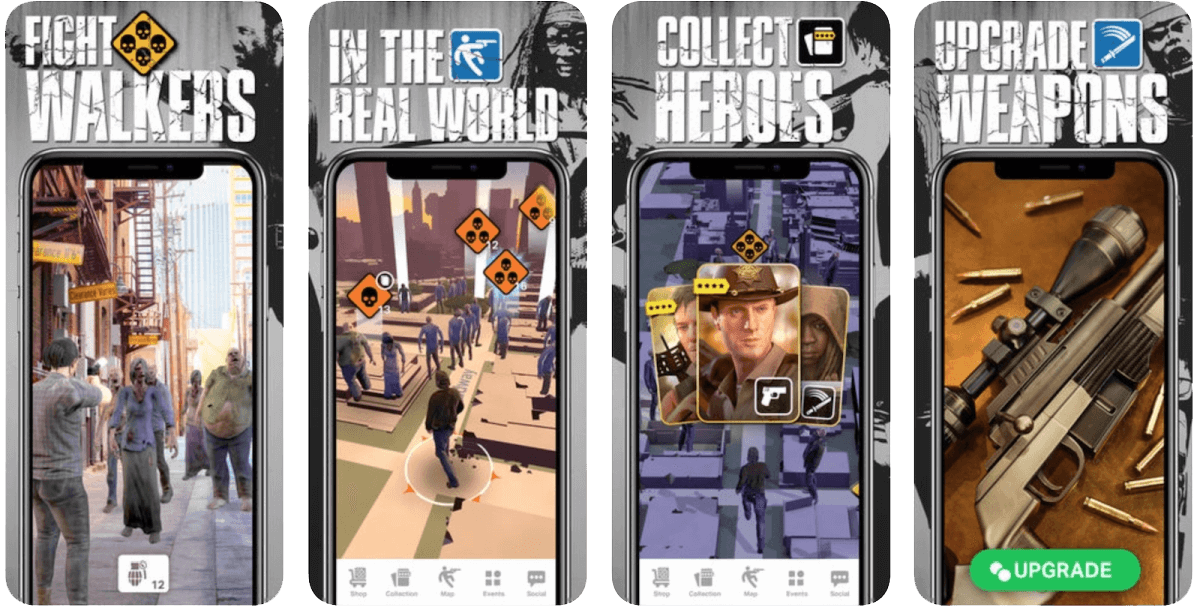 Each hero has their own strengths and weaknesses. Some will stand next to you and shoot while some are more hands-on and will take off running towards the walkers. Before each encounter, you can choose your weapon and hero, depending on the level of the challenge. By collecting cards, your heroes can level up. Their strength and hit points increase, but that means their healing time increases as well. For example, a level 6 Michonne takes over an hour to heal once she's been defeated by walkers.
Building and collecting is a key focus in this game. You will want to build shelters that you can take rescued survivors to. Depending on the type of shelter you build, you get cards reflecting that choice. If you want weapon cards, you can build an armory. Collecting cards will ensure that not only your heroes, but your arsenal of weapons and perks level up as well.
The Good
The app's battery efficiency is quite impressive. This game has noticeably less drain than Pokemon Go for the same amount of time played, which is a huge plus. The developers also did a great job recreating the heroes to look like the stars from the show. The always-entertaining walker deaths feature blood, decapitations, and arms being blown off. Finally, if you don't want to leave home, you can still enjoyably play the game. If you want a challenge, join a group. There are many different levels of play for all types of players.
The Not-So-Good
The game has multiple issues with connecting to the servers and will sometimes crash during intense gameplay. The loading screen freezes at times when you turn your phone screen off or on. AR mode is not always functional. In testing the feature for this write-up, this feature failed 75% of the time, making it far less functional than Pokemon Go's AR mode. If you are lucky enough to get it to work properly, it automatically begins to record the encounter. There is no option to turn this off or to even take a screenshot. In addition, the in-game purchases are ridiculously overpriced. One cannot justify spending $119.99 on a bundle for a free game.
In conclusion, after many hours spent playing and trying out different missions to get a feel for the game, The Walking Dead: Our World does have a cool concept. The graphics are bloody and character appearances are quite true to the TV show. It might even have the potential to become as addicting as Pokemon Go if it weren't for the consistent server issues, game crashes, and overpriced in-game items. Because of that, it doesn't quite measure up to Niantic's gem just yet.
Here's hoping that the developers can iron out the bugs and release fixes that will encourage people to continue playing. Otherwise, the game might be in trouble. If you're looking for something different, The Walking Dead: Our World will certainly occupy some of your free time.