A Closer Look at Carl's Letter to Negan on The Walking Dead
Series creator Robert Kirkman offers some explanation on why Carl felt the need to leave a message for Negan.
By Chris Morse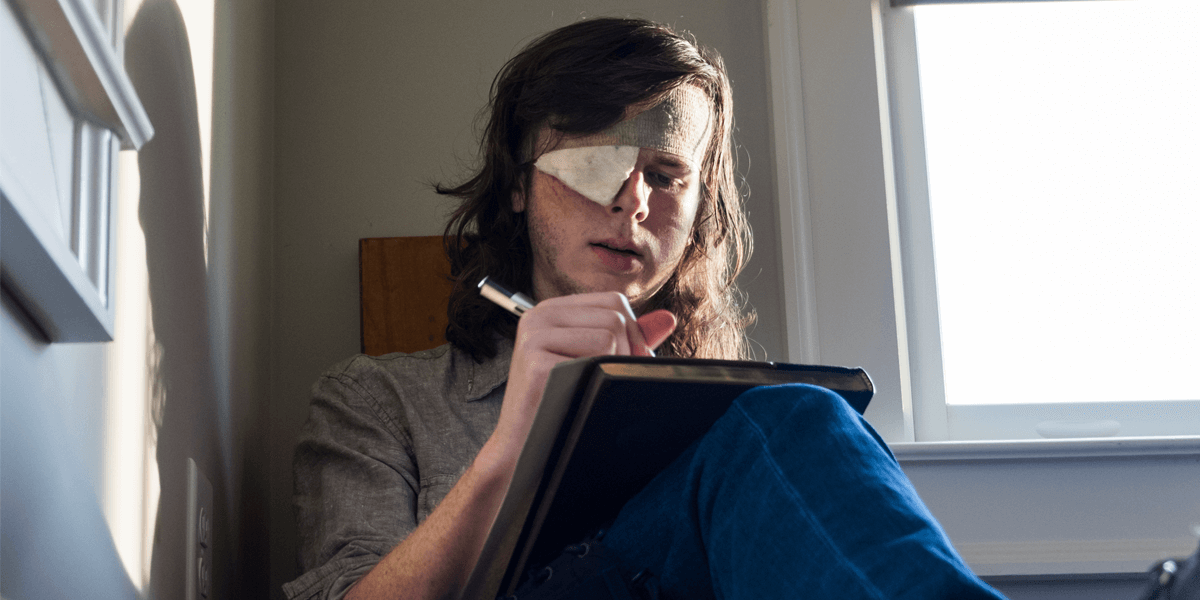 The final moments of Carl Grimes were punctuated by his belief that there is still a chance for peace, even in the very end. When The Walking Dead returned from its midseason hiatus, we learned that the bitten son of Rick made the most of his time, and spent a little time writing letters with a final message for each of the other characters he was closest to. Among those letters was one addressed to Negan himself, whose Saviors are currently at war with our survivors.

So what exactly did our younger hero have to say and why? The creator of The Walking Dead, Robert Kirkman, had a bit to say on this on the zombie drama's after-show, The Talking Dead. "I think Negan and Carl have this really unique relationship," he said. "It's a little more developed in the comics but it's definitely present in the television show. When you look at those thoughts that Carl is having in the future, Negan is very much a part of that. He sees the good in Negan, even if no one else does."

The previous episode ended with a heated conversation between a not-so-calm-and-collected Rick, and Negan, who expressed genuine sympathy and disappointment after learning of the grim news. In this moment, Rick is still processing the loss and isn't really living up to his promise to his late son in finding a better way to do this. The confrontation leads Negan to blame Rick for the death of Carl. On whether he really means that, here's what Kirkman had to say:

[blockquote-0]

So what exactly did Carl's letter say to Negan that set Rick off so much? A user on Reddit posted up the following enlarged picture for other fans to look closer and share whatever they could make out. Here's the quick shot we saw of the letter: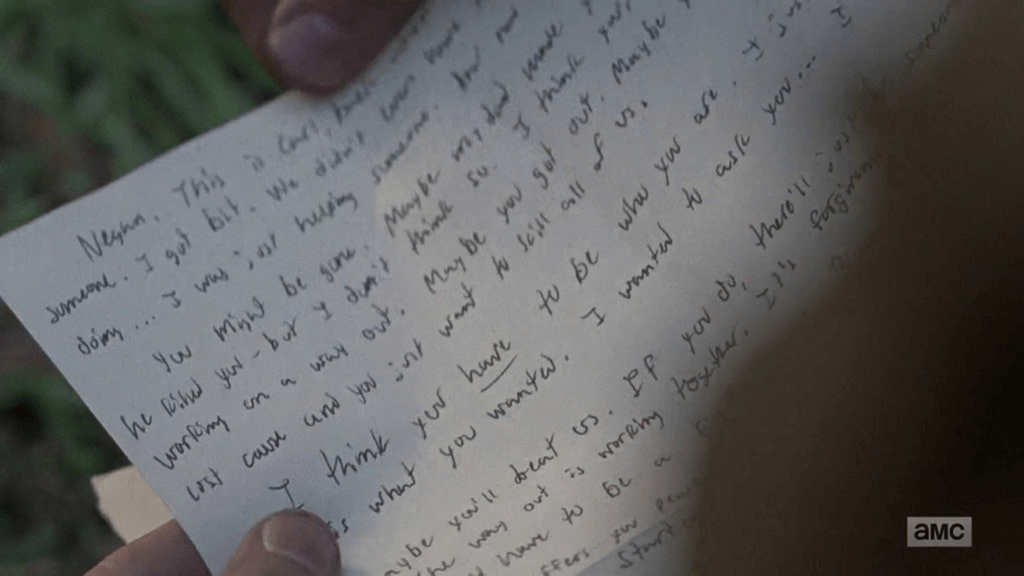 Another user, awakeningosiris, offered up a pretty good transcript of what could be made out. Parts of the letter are covered up in the shot, but we can make out a few sentences and get a decent picture of what Carl had to say to the enemy on the other side of this war:

[blockquote-1]

We can see the general sentiment of coming together in peace in this message, just as the late son of Rick Grimes expressed shortly before his death. While it seems unlikely both sides are about to give up, this is an important point that might guide a few critical moments before the season is over. We have about 6 more weeks to find out where we're heading. As for us here at Dead Entertainment, we're still hoping we'll get a tease at the future before the season is over.