Unmotivated Gamer Now Taking Donations for Resident Evil 3 Remake He Won't Play for Years
The ultimate fate of Raccoon City rests on the perpetually procrastinating shoulders of this one poor fool.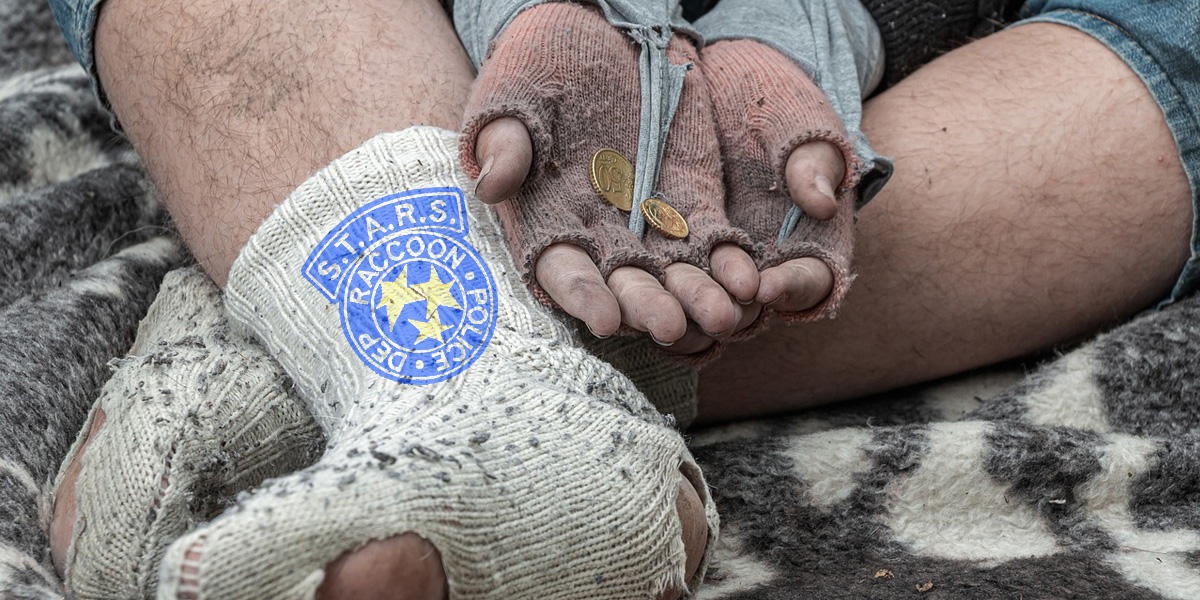 The Rotting Corpse is a weekly satire column dedicated to poking fun at our many horror favorites. For daily horror news and updates, be sure to check out the Dead Entertainment home page.
---
Updated 10/20: Ray is no longer seeking funds for the purchase of Resident Evil 3, as a desperate, conveniently-timed birthday plea for the game at long last bore fruit. While the title is now in his possession, he remains firm in his commitment to let it collect dust for years before giving it a try, if he ever does. Ray notes that he would still be happy to receive money to chip away at his crushing debt and numerous defunct loans he took out to barely stay afloat, though those matters were decidedly less important to him than acquiring the video game. On second thought, maybe he could use a few bucks to pre-order a PlayStation 5. Original story follows.
Original story: Well, it finally happened! Dead Entertainment's very own Ray Morse at long last completed the critically-acclaimed remake of Resident Evil 2, nearly two years after its release. Even while playing the game on Easy difficulty, our team was on the receiving end of his endless complaints of struggling with the relentless Mr. X, not to mention how he had to restart the game several times over after wasting away his supplies trying to kill it again and again. Terrible!
Fresh off the wagon, it looks as though Ray is somehow motivated enough to hit his next big target: the Resident Evil 3 remake. However, there's just one major obstacle in his way, which is that he's flat broke for the foreseeable future and he needs your donations to help him purchase the game. It's sad it has to come to this, but you can be sure Ray has exhausted all of his other options at this point.
He's already tried begging for change at a busy intersection, but his efforts failed to bear fruit as nobody seems to be carrying around physical money due to the pandemic. Even his plans to just pinch the game from the store were foiled after two loss prevention officers tackled him to the ground and roughed him up, an encounter that caused several of his teeth to pop out of his mouth. Yes, he even tried putting the shattered chompers under his pillow in hopes of the Tooth Fairy tossing him a coin or two. Suffice to say, this man could seriously use your help.
Also, before you decide to generously open up your wallets, it's worth noting that if the goal of raising enough funds for him to purchase RE3 is ever reached, he is not likely to play it for several years or more. Instead, the game would sit collecting dust somewhere in his bedroom until this so-called gamer works up the energy to finally fire it up. There's always the possibility he'll never play it at all, too.
So, are you ready to donate? Well, we would have linked you to a GoFundMe page if Ray had not been procrastinating all week on setting it up. He's currently debating whether he should include a black-and-white photograph of himself looking particularly downtrodden, and he is still writing a brief description of why he needs your money. It doesn't seem like this lumbering gamer is any hurry to escape from Raccoon City at all, much to nobody's surprise.
By the time he's done with all of this, we'll probably have remakes of both Resident Evil 4 and Resident Evil Code: Veronica available. And yes, you can be sure he'll need money for those too. Poor guy!