Black Christmas Remake Director Sophia Takal Talks What Sets Her Version Apart
The movie is set to play more like a complete modern reimagining than a shot-for-shot remake.
By Chris Morse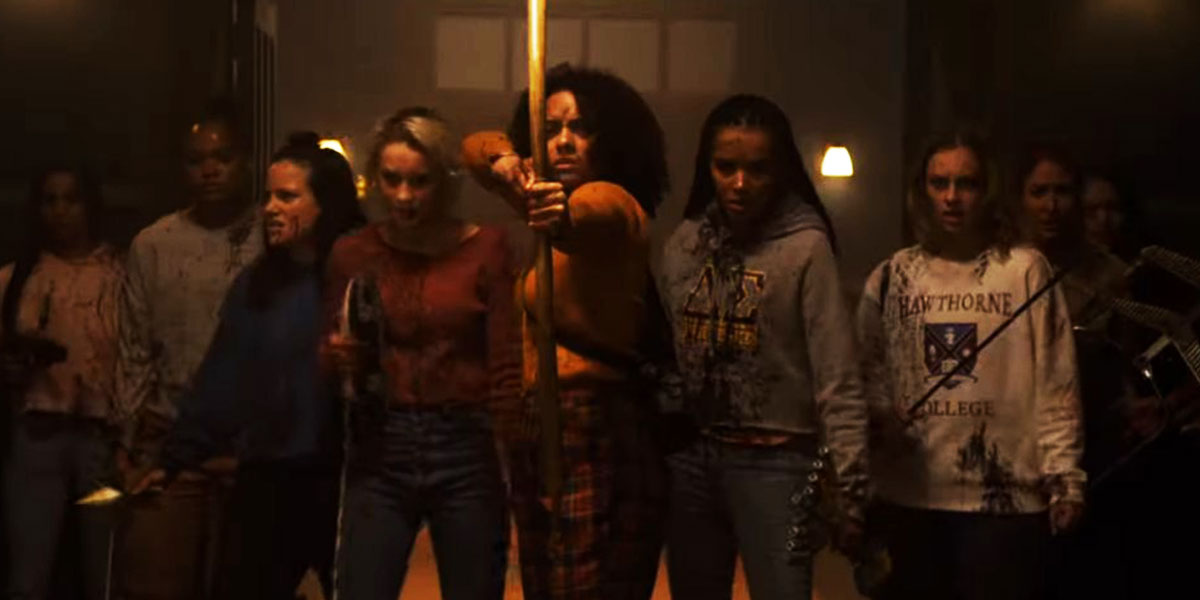 By now, it's no secret that the upcoming Blumhouse remake of Black Christmas is taking a bit of a different approach to the classic holiday slasher flick, leaning on more of a female revenge angle with a modern touch. In an interview published this week on EW, director Sophia Takal discussed her approach and why the reimagining took the concept in such a different direction.
"My version of Black Christmas is about a group of women who are sorority sisters at a college, who start to disappear one by one," she began, introducing the overall premise. "The remaining sisters have to figure out why these women are disappearing and who's responsible for it. And eventually, once they figure out who the bad guy is, they have to fight for survival."
"Even though it's very, very loosely based on Black Christmas, I'd say the plot is extremely different," Takal explained. "It's more inspired by the feeling that Black Christmas made me feel watching it, this idea of misogyny always being out there and never totally eradicable. So that was the jumping-off point for how I came up with this plot. I'd compare it more to how Luca Guadagnino remade Suspiria than to a straight-ahead remake."
"The original Black Christmas feels so contemporary and modern for the time," she continued. "Since then I feel like there have been so many movies about sorority sisters where the women have been portrayed as dumb, bimbo-y idiots. What I love was this was a group of women who, even though there was some conflict and strife — you know, Margot Kidder was a real spitfire [laughs] — they were all very much three-dimensional, strong female characters. I wanted to make something that reflected our time right now, drawing more from what the original evoked for me rather than great plot points. For me, it was about what does it feel like to be a woman in 2019?"
While paying respects to the feeling and tone of the original, which came out in 1974, it's clear Takal wanted to do something different and turn the concept on its head a bit. There is plenty of relevance in that approach, especially with some of the societal conversations happening today.
Whether or not a moviegoer wants to hear a filmmaker talking about an important underlying message in their work, it's impossible to deny the importance of speaking out through art and films have been a consistent place for commentary for decades. This one is no different.
"I feel like another part of why I kind of shifted the direction that this version took was because, in 2019, I didn't just want to make a movie about a bunch of women getting slaughtered," Takal commented. "It just gave me a pit in my stomach. This is not to say that a man might want to see that. I just think I felt very much a responsibility not to perpetuate this idea of disposable female characters, because of how it makes me feel when I watch that. I call this movie a fiercely feminist film, so I don't mind being asked about that at all."
"I hope to work with Blumhouse some more," she added. "But I'm also interested in maybe shifting away a bit from straightforward horror and finding other genres to work in, and also maybe making movies about some men and exploring that. I think some of the greatest movies about men are directed by women, just as some of the greatest movies about women are directed by men. I actually think this movement of bringing female directors into the fold isn't just about women telling women's stories, but telling stories about people who are different from them too, just as men have done for hundreds of years."
That final bit is particularly well said. It's not anybody's fault now that the norm was what it was, but all people can do today is put their effort out there and buck a few trends in the process. At the end of the day, more perspectives in storytelling are good for all of us, criticism and all, and seeing the world through the eyes of others, even in a fictional setting, is only a good thing.
It sounds like Takal is keeping it pretty real on that front, even if her version of Black Christmas takes the concept in a totally different direction. While faithful adaptations and retellings are often fan pleasers, I never fault somebody for trying something new. After all, why make the same exact movie that's already been made? Change it up! Or don't. Whatever makes for a good time.
The film will hit theaters on December 13th, 2019. As always, stick around with us here on Dead Entertainment for all the latest news and updates on Black Christmas and everything else horror.