The Walking Dead's Angela Kang Talks Whisperers Conflict, Thora Birch's Gamma
Here is the latest discussion on what's in store for Season 10.
By Chris Morse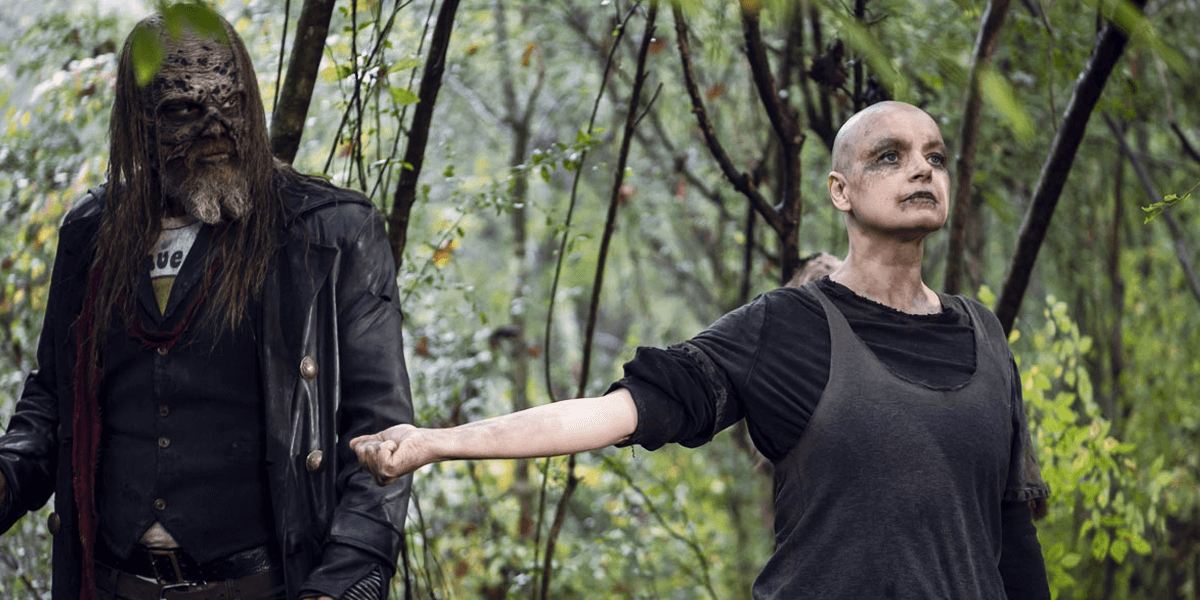 With just over a week to go until The Walking Dead returns for its tenth season, the previews are continuing to ramp up with the latest being a new chat with showrunner and executive producer Angela Kang, courtesy of EW. Among the topics discussed are Whisperers newcomer Gamma, played by Thora Birch, and how the communities are dealing with life after Alpha's big warning.
"I think it's been true for centuries that people get into conflicts over borders," said Kang. "And who decides what the border is, where it is, do you respect it or not? In some ways, borders are sort of arbitrary, right? It's like just people decide like this is the border. And it leads to tension between our people and questions about what is the tactic? When is the timeline to take care of the problem? How do we take care of the problem? And people kind of land on different sides of it as is true just in life when it comes to anything having to do with life and death and war and neighboring groups."
"So, we find that there's people who are taking a more measured response. You see people who are much more hawkish, you see people who are just confused about what to do. And I think that that's part of the interesting human landscape that's happening as everything starts to play out, and as just paranoia starts to grip these communities, and as there are war moves being made on both sides."
Regarding Gamma, the intent is to give a different sort of view of a regular member in the group who gradually finds a more prominent role among the leadership. According to Kang, it's an important perspective for the show to touch upon as this conflict continues to escalate.
"Gamma is a character that we'll get to know in the season," she explained. "I'm such a huge fan of Thora Birch's work prior to this show. I particularly love Ghost World, but she's done such amazing stuff all around and she's been a wonderful addition to the cast. She has such an interesting take on this character because when you have a group that's wandering around wearing skin masks, you have to kind of be in a particular sort of space to kind of decide, 'This is the only way that I can survive or this is the right way.'"
"And so, we're going to explore a story of somebody who's just part of that group who rises into leadership," added Kang. "It's complex. I think the thing that we wanted to show with the Whisperers is that we know quite a bit about Alpha and Beta at this point. We'll learn more as the season goes on. But who are these people that are just part of the followers and what are their stories? I think that there's a really powerful story to tell about the soldiers on the ground. And so that's what the story of Gamma is, and I think Thora brings such humanity and also badassery to the role. I'm just enamored with her work and hopefully other people are too."
Finally, with respect to the Whisperers as a whole, Kang says it's a fair comparison to make to see the group as a sort of cult. "I think that there is a cult-like aspect to it," she commented.
"Alpha is such a charismatic leader and Beta is a true believer. So, I think that there is an element to it that I think will feel that way. Certainly Samantha Morton has said that that's an element that's similar to what she's channeling. Because these people have to be true believers in a philosophy that's really pretty extreme in some ways."
"Just to say 'It's survival of the fittest. If you got to leave your baby behind, you got to leave your baby behind,'" continued Kang. "We have to sort of forget human ties and human emotion as much as possible. It's weak to cry. All these things that are so counter to the way that our heroes in the show have dealt with the struggles of survival. So yeah, it takes a particular mind-melding. But even within a cult, is everybody 100 percent with it? Or are there people that are just kind of drifting along, you know? So, I think those are some of the questions that we're exploring."
After the previous season, the stage is set for plenty of conflict, both within the communities and at war with the Whisperers, who just finished sending a deadly message to anyone who would dare cross over into their territory. All things considered, the Whisperer War is only beginning to heat up with plenty of epic story beats ahead, but we'll have to see what moments the show follows the comics on and what is all-new for the television adaptation.
Season 10 is welcoming a few new characters, such as Javier Cardenas' Dante, a comic book love interest for Maggie, while preparing to say goodbye to others. During this summer's San Diego Comic-Con panel, it was made official that this is the final season for Danai Gurira, who will be making her exit after playing Michonne since the tail end of the second. Nonetheless, the series continues to shamble on, even without a few of its former mainstays.
The Walking Dead will return for its tenth season on Sunday, October 6th.