New Details Emerge on Patrick Lussier's Upcoming Halloween-Themed Horror Film, Trick
The Omar Epps-led production receives a first photo and new details from the director.
By Chris Morse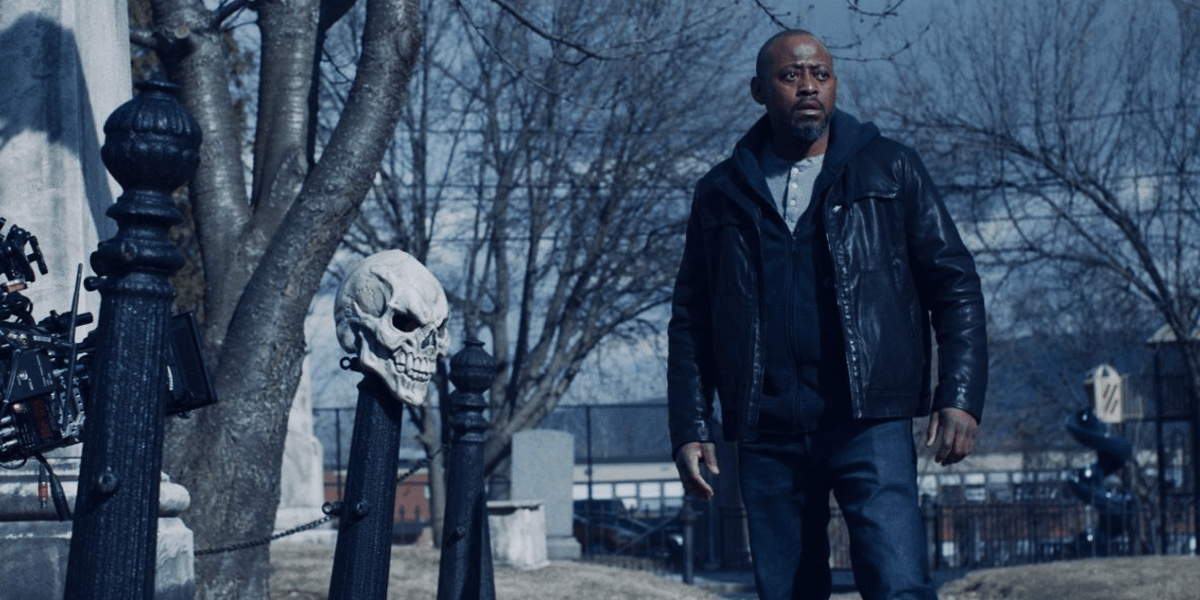 The Cannes Film Festival is a busy time of year for the industry, with premieres and screenings galore, not to mention the work needed to shop various projects around for international markets. The festival has also given us a new look at Trick, the Omar Epps-led horror film we reported on back in March. For starters, the first image from the film was released, which is featured above.
Director Patrick Lussier recently talked with Bloody Disgusting about the project and revealed more on the film's plot as well as its cast, including what role the legendary Tom Atkins will be playing in this production. You can read the director's comments in full below.
Reyes is Cheryl, the survivor of Trick's first rampage, her innocence slain along with the lives of her friends as she finds herself caught in the battle between Trick and those who hunt him. But who is hunting whom? Jamie plays Dr. Steve, a recovering hipster medico and Tom Atkins, the silver fox himself, is back as the gruff Talbott, restaurateur and horror film aficionado with a soft spot for charity, church and shotguns.
Lussier elaborated more on the plot of the movie, revealing a little bit more than the initial synopsis did. In short, the story centers around a killer who is playing the long game and sees his crimes as more of an art form, taunting the police along the way.
Trick is, for lack of a better term, "slasher-noire" horror set in upstate New York, spanning five consecutive Halloweens where serial killer Trick Weaver taunts police up and down the Hudson River practicing murder as performance art. The Benton Township, where Trick's murderous journey begins, has fallen into decay, almost like Trick's initial killings didn't just claim individual victims but killed the town itself.
Naturally, where there is horror and Halloween, there are kills, and the director wants genre fans to know this film is going to take those seriously, hinting at a more realistic and practical take on serial killers. Read his closing thoughts below.
We've gone out of our way to make the kills as grounded and practical as possible. Gary J. Tunnicliffe, who has been my partner in murder and mayhem since 2000, has once again returned to craft a festival of ferocity, drenched in bloody steel.
Trick centers on an elusive serial killer, who descends upon a small town annually and is responsible for gruesome murders year after year, each seemingly unrelated. No one believes this could be the same killer, but Detective Denver has faced Trick once before, having shot and killed him, or so everyone keeps telling him. However, Denver knows Trick is still out there and he's coming back for revenge.
The film also stars fan-favorite Tom Atkins, who has appeared in countless classic horror films, with his role in Night of the Creeps being this author's personal favorite, as a character named Talbott. The cast additionally includes Ellen Adair (Homeland, Billions) as Sheriff Lisa Jayne, Kristina Reyes (Blindspot, Shades of Blue) as survivor Cheryl Winston, and Jamie Kennedy (Scream franchise, Malibu's Most Wanted) as Dr. Steven. Further casting details will be revealed at a later date.
Trick is directed by Patrick Lussier, who also recently took on the Thanksgiving episode of Hulu's Into the Dark anthology series, and is written by Todd Farmer, whose credits include Jason X, The Messengers, and My Bloody Valentine. Film Bridge International is producing with Chimney Group's Fredrik Zander partnering up for post-production.
Stay tuned to Dead Entertainment for all the latest on this project as it comes together.