The Walking Dead Showrunner Unwraps Latest Alpha-Focused Episode, Titled "Omega"
The latest episode of the AMC zombie drama tackled many important issues, but where do the Whisperers go from here?
By Chris Morse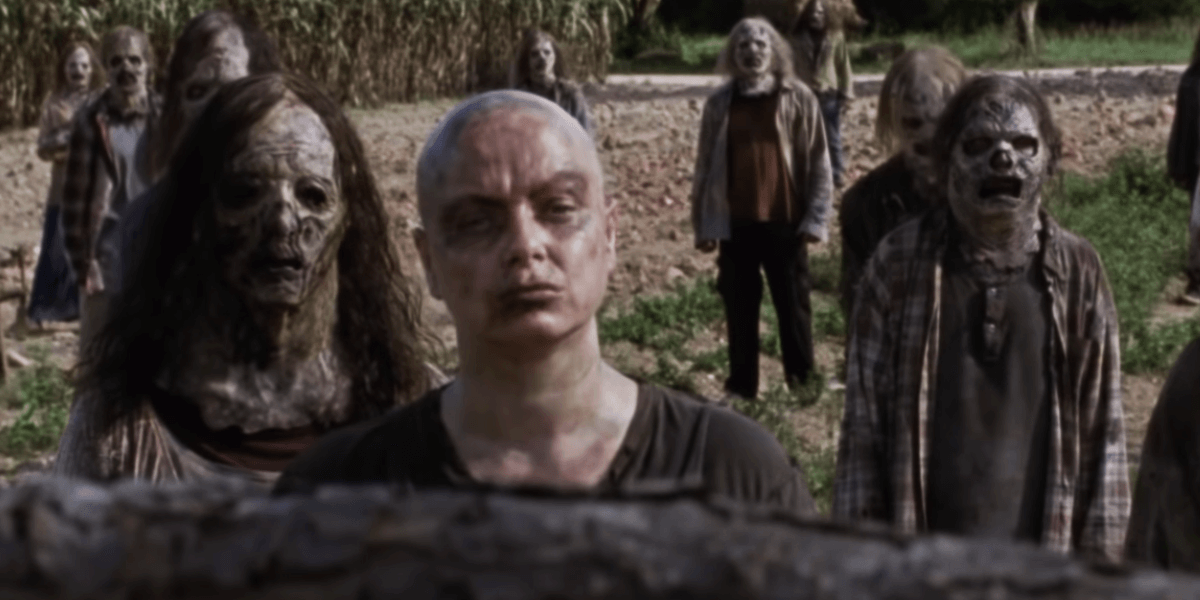 The central focus in the latest episode of The Walking Dead was to shine a light on just who is in charge of the mysterious Whisperers group our communities seem to be on a collision course with. Cleverly, much of our understanding on who Alpha is comes through her daughter Lydia, whose story of trauma and abuse paints a very clear picture on what the characters' road to the present time has looked like.
Our prisoner's insight into her group tells the story of people who have embraced a "survival of the fittest" lifestyle that rewards strength with survival and weakness with being left behind or even cast out. It took some work to get there, but we were left with a very clear understanding of just who the person was that showed up at the Hilltop seeking the return of her daughter.
Series showrunner Angela Kang recently spoke with EW to unwrap the episode even further and teased a little bit of what lies ahead in the coming episodes as it looks like this current conundrum will surely lead to conflict. Regarding the decision to take a look at Alpha's backstory, which was not explicitly done in the comics, here's what Kang had to say.
As we were working on the stories, we're like, what kind of a person decides that the way to go through life is to put on the skin of dead people and then gathers people around them to do the same? And what is that psychology? What kind of things are in that person? Who were they before the apocalypse? As we were talking about it, we just felt like: Oh, man, we have Samantha Morton, who's this incredible, incredible actor. It would be fun to kind of show a little bit of who this person was, and to also show that unlike some of our other characters who maybe were trying to kind of be good for a long time in the apocalypse and before they became a "villain" — maybe there was something always a little broken in her.
When asked about Lydia's decision to stop her sneaky maneuvering and lies after hearing the cries of a baby, Kang explained how the difference in culture between our communities and the Whisperers will soon become very apparent. What something like a healthy baby suddenly means to someone who has held a very particular worldview for most of her time growing up is something that will surely be explored in the coming episodes as we learn more about the survivors behind the masks.
Here's what I'll say: We'll find out a lot more about the Whisperers and babies very soon. There's an aspect related to the culture of their society that's probably running through her mind. But I also think for somebody who's been told the world is over, there's no such things like communities behind walls that are safe and where people can live — all of that's a lie, all of it will fall apart always. To be in a place that is clearly thriving, where they have crops, where people have homes, where people can have families, and the baby cries, and the baby is safe, these are all things that are just breaking every sort of truth that she believed that she knew about the world. So it's like the hopefulness of being able to raise children in a post-apocalyptic world — I do think that there is something to that for a lot of our characters.

Lydia spent her entire childhood that she really remembers in the apocalypse, and that's an emotional thing to think, like, "I've been wandering around outside the walls, wearing this skin of a dead monster, and here's this baby that just is safe behind walls, loved by somebody, taken care of by a community." That's something that's a triggering moment for her. We thought that that was an interesting way to simply dramatize that moment, but there's also something very specific about babies, and the way that they deal with babies, that we'll learn about in the next episode. (Interview continues on next page.)
During the episode, Lydia seemed rather certain that her mother would not come back for her, based on what she knows of her group's way of life, and that was one of the few times she may not have been lying. Kang confirmed this was indeed the case, as the young hostage was all but sure she was on her own, and discussed what that could mean for what's to come in the next episode and beyond.
Yeah, this becomes a story point that we deal with moving forward because we actually thought about, okay, do they go back for people who are left behind, or if they get lost? What happens? We felt like, in their extreme philosophy, I don't think so, because that's weak for the pack. They don't put themselves in danger to go back and retrieve somebody who's fallen behind. They have an extreme survival-of-the-fittest sort of mentality.

Just the fact that Alpha does come back to her daughter, which is an event based in the comic book story, we just felt like, okay, what complications does that cause for Alpha? What actions spring out of that? I think there's some really strange and interesting story turns we were able to take as a result of this kind of thing happening. But yeah, it's like when Lydia says, "They don't come back. My mom's not going to come back." That is the truth. She's telling the truth about what she believes her mother is not going to do, so it's a surprise to her as well.
Finally, perhaps the most intriguing aspect of the story going into the next episode is the conundrum that the Hilltop is now facing. Alpha has arrived and is asking for her daughter back with hostages of her own, yet Lydia has opened up about a number of facts that might give our survivors pause to make a deal with this mysterious woman. Kang left us off with a tease of this standoff as well as a look at what's ahead in the episode to come after that.
The next episode is a really fascinating episode. Obviously, we're going to be doing the story of Alpha and the standoff at the gates. I think there's a lot of different ways that that could go, but it goes a particular way. There's some interesting action, and excitement, and mystery, and tension that come out of that.

Then we'll also see a really interesting story that has to do with the Kingdom, and sort of in contrast to the philosophy of the Whisperers. We'll see a philosophy of radical joy at work that I think winds up being a very interesting intercut in the story. So we're just delving into what does it mean to various people to be alive in this apocalypse? What's important? I feel like that's where we've always gotten really interesting stories because it's just a meditation on what's important to people, and how they think it's best to survive.
That is about all the preview we are going to get for now, but it's rather clear at this point that plenty of interesting dynamics will be overlapping to make this a very difficult and interesting conflict as the second half of this ninth season continues to play out. The Whisperers are here to stay for now and the events of the coming episodes will chart out plenty of exciting episodes to come.
The Walking Dead continues its ninth season Sunday nights on AMC.