The Walking Dead's Tom Payne Discusses Exit, Frustrations with Character Direction
In light of the show's latest development, the actor behind Jesus had plenty to talk about.
By Chris Morse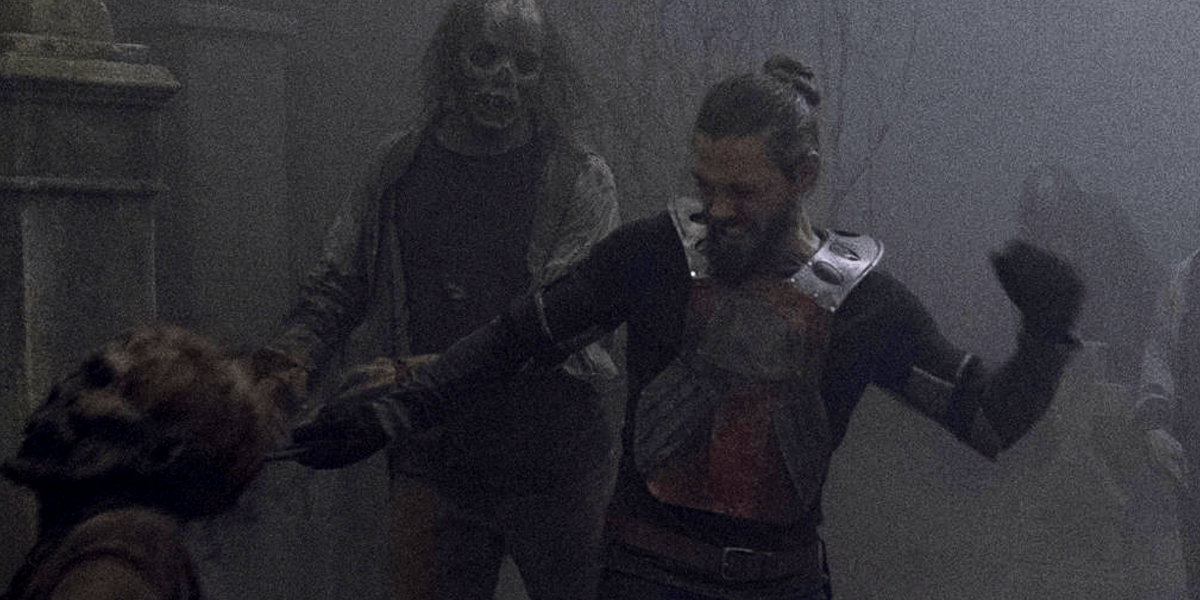 Spoilers for the midseason finale of The Walking Dead follow so turn back now if you don't want any specifics on what went down! We've reached the midway point of the show's ninth season and The Whisperers have made their first formal introduction to our viewers and characters alike. It was one of the finer episodes of the series, utilizing elements of horror and tension of the likes we haven't seen on the show in, well, basically ever. However, not all of our heroes escaped unscathed.
In another deviation from the comics, Tom Payne's Paul "Jesus" Monroe met his early end while fighting off a group of walkers to allow the others to make their escape. It was business as usual until one of these "walkers" ducked and stabbed him, eventually revealing himself to be a person wearing the skin of the undead to blend in with the herd. It was a masterfully done introduction after only teasing what reason may be behind that herd acting differently from the rest.
Unfortunately for our group, Jesus did not survive and we are left with this fresh, new (and not to mention creepy) threat without him. With this being his official exit from the series, Payne spoke with The Hollywood Reporter and discussed his ending, the role as a whole, and more in light of his departure. The actor got rather candid about the series with a few of his answers, especially with respect to some disappointment about what the character could have been.
I'm excited for everyone to see it. I just wanted to be part of telling a good story that shocks people. That's what the show has been about for me. When they came to me with the idea, I said, "As long as it's a really cool moment, let's do it!" I know a lot of people are going to be bummed about it, but I've been bummed for the last two years, that the character hasn't gotten as much cool stuff [on the show] as he has in the comic books. They gave me a really cool ending, and I'm happy with that.
When pressed on whether it was his decision to leave the character behind or something that came from the writers, he again dove into what made him frustrated and how the character was underutilized compared to the source material. All in all, it could be considered a mutual split and he's glad this is setting up something so thrilling in light of moving on in this new storyline's wake.
They were aware I wouldn't be unhappy if they got rid of me. I expressed unhappiness last season. I was very frustrated with what the character had been doing. He arrived in a very cool way, and then he floundered at the Hilltop. During the war with the Saviors, the only person he had a fight with was a man who was on his side [in Lennie James' Morgan]. In the comics, he has this massive fight with Negan (Jeffrey Dean Morgan). He catches a grenade, and throws it back [at his enemies]. He's the most capable member of the entire group! And he wasn't used at all [on the show]. In the background, I was training every single week. I was ready and raring to go. You can't help but feel a little bit despondent when you're not released to do some cool stuff. It was mutual and they knew I would be OK with it. It's an amazing show and I was so honored to be a part of it, but at the same time, being the same character without anything fun to do is a bit frustrating.
Some fans of the show who are unfamiliar with the comic series may have also missed the subtle revelation that Jesus was gay. That was teased a little bit this season and is a nod to the character's relationship with Aaron in the comics. Originally, Payne wasn't sure he wanted to see that transpire on the show but he has glad to see a little bit of that in his final episodes.
I liked that they had a friendship, but I felt like a further relationship wasn't necessarily required. I thought it would have been a bit lazy: "Here are two gay characters. They should get together!" But someone else asked me about the six-year time jump [that followed Lincoln's departure], and I was like, "Maybe they did hook up once or twice in those six years!" Maybe that contributed to their [friendship], but as you do, you just become friends afterward. I could see that happening. But a long-term [relationship]? I'm not sure about that. They have a lot in common, and they did connect in a few different ways. It was nice to have them chatting; their sensibilities were similar. They were quite natural friends.
Although he has no plans to reprise this role unless there is some really interesting story involved, it would appear that Payne is happy to close the book on Jesus and move on to something else. He emphasized that despite loving the character, the show version of him just never reached his full potential and that seems to be a lingering point of frustration and disappointment, as evidenced in his final comments in the interview.
I loved the character. It's sad to say goodbye to the character. But there was just so much potential in the character that wasn't realized. I was frustrated by that and wished we had explored it further. I wasn't sad to say goodbye to that frustration. It was constant. I had been training for two years. I was so prepared for this character and what he was capable of. There was just lots of unrealized potential. That was very frustrating for me. When we finally showed off this year what he was able to do, that was great. I have no wish to go back to being frustrated by a character. (Laughs.) It's really just part of being on an ongoing series. You're constantly hoping the next episode you get, something will happen for you. You're on the edge of your seat all the time, pressing your hands together and hoping that something cool will turn up. You can only do that for so long. I'm looking forward to doing something now that has a beginning, middle and end, so I can see the character in front of me. I spent a long time hoping my character was going to have more to do. I was happy to have a great beginning, a great bit [in the middle] with Lennie, and then a really great ending. That's enough for me. I'm happy it rounded off in a fun way, with a great impact on the story. But at the same time, I'm ready to move on.
There's no denying there was some serious frustration being let out here following his departure from the series, but it was a solid exit all around that is setting up something very cool in the back half of the season. Both Tom Payne and Jesus will be missed, but as always, this series will shamble on.
The Walking Dead will return for eight more episodes on February 10th at its usual time on AMC.