Short Film Reunites with Original Actor to Answer "What if Georgie Survived It?"
You can help Georgie Denbrough return to the screen.
An Indiegogo campaign was recently launched for an ambitious short film called Georgie, an unofficial sequel to the original '90s TV mini-series It, based on the novel of the same name by Stephen King.

Georgie will star Tony Dakota, the same actor who played the titular young child in the original incarnation, now all grown up and ready to confront Pennywise the Dancing Clown one last time. The project is being led by writer and producer John Campopiano, whose works include the documentaries Unearthed & Untold: The Path to Pet Sematary and Pennywise: The Story of It, along with seasoned writer, producer, and director Ryan Grulich.

[blockquote-0]

The campaign page goes on to describe how the idea of bringing back Georgie came to be.

[blockquote-1]

There is a wide variety of different reward tiers available, ranging from $10.00 to get your name in the credits to dropping $300.00 for a personalized phone call from star Tony Dakota. Likely to be one of the most popular rewards, however, is the exclusive Georgie T-shirt being offered in partnership with Fright-Rags, featuring a stunning artwork design by Zachary Jackson Brown. This shirt will not be made available outside of the campaign, so be sure to support Georgie for $35.00 if you'd like to own one.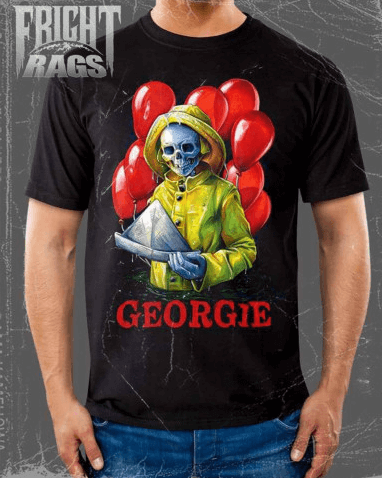 Campopiano and Grulich need around $20,000 to make Georgie a reality, so spread the word to your family and friends and pick up some cool merchandise before they become unavailable for good. The Indiegogo campaign will continue for another 25 days and has raised a little over $2,000 at the time of this article's writing. Here's hoping that they are able to make their vision a reality so that we can all float in the glory of the return of Georgie Denbrough.