Fear the Walking Dead Cast Member Talks Show Exit
The spin-off series delivered viewers a shocker with the surprise death.
By Chris Morse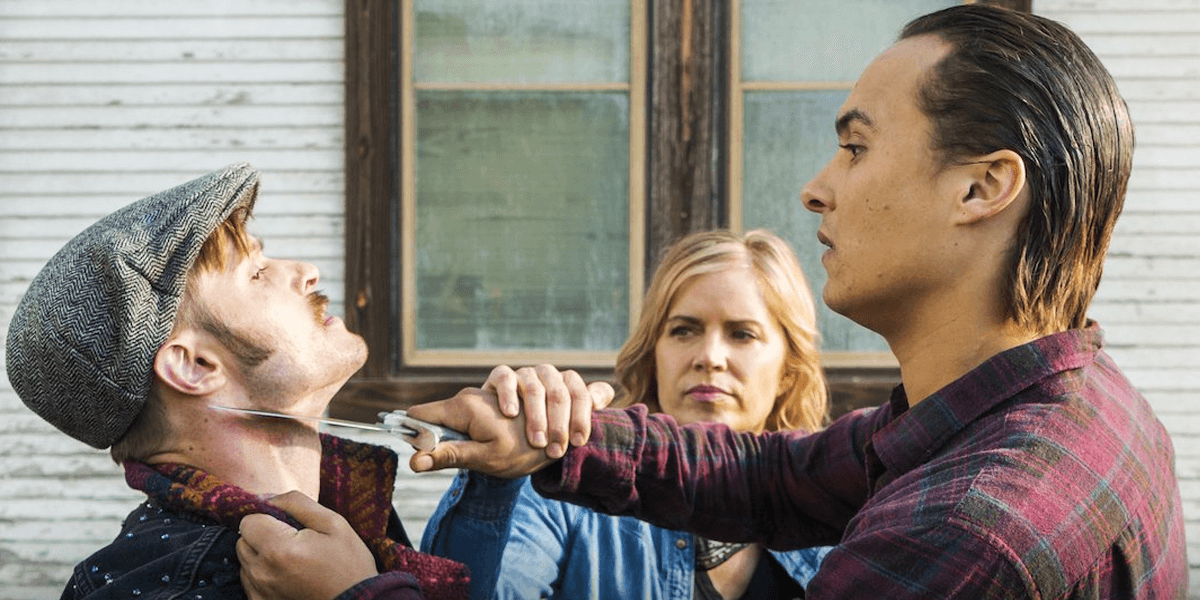 Well, that was unexpected! Spoilers follow. This past episode, Fear the Walking Dead delivered quite a shock as it revealed the final fate of Nick Clark. There are no tricks or cliffhangers here: Frank Dillane will be leaving the show. According to reports, the decision to move on from the series was the actor's own as opposed to a creative decision by the showrunners.
The new season of the series has been a big change from the previous ones, but this was not a change we saw coming. Fans have a lot of questions about this sudden exit from the series and Dillane fortunately spoke with EW to answer some of those burning questions. According to the actor, a number of factors went into his decision to depart the series, among them being homesick for Europe.
I had been doing it for three or four years, the show has undergone many changes in terms of different people in charge, all of this stuff, and I just felt like the beginning of this season kind of felt like the end of an era with this show. And television is hard work, and you have to shoot a lot. I also missed Europe very much. I'm not American, so after a while I get quite homesick and all of those things. I also felt like we had achieved what needed to be achieved in the first few seasons, so I thought it was time to keep moving.
When asked if he was looking for a new challenge in his career, Dillane couldn't help but to agree. "Exactly," he said. "That was very much it as well. I had been playing Nick for four years and I was ready to play some different characters." You won't hear him complaining about his death scene either, which he describes as beautiful. "I really loved the ending," he continued. "I thought the character Charlie was great and a lovely death scene. I was very happy with it."
Although Nick is dead in the present, this was not his final episode due to the two timelines currently playing out. It was an interesting decision for us to know his fate now before the rest of the story plays out. Over the past 3 seasons, Dillane's character has changed quite a bit, but the actor can't help but to rank the first season as his favorite for Nick.
I liked Nick season 1. I think season 1 Nick as the most interesting as an actor to play. The longer it went on, the more the rules of the apocalypse were established and we take things for granted and Nick gets clean so it's a lot easier. I remember in season 1 it was such a weird show. First of all, playing a junkie you had so much work to do and so much stuff to get into, and so much drugs to take. And then obviously as the apocalypse happens, everything becomes normalized and the stakes aren't as high and there's another dead person and there's another dead person. I kind of miss that initial horror of the whole thing. 'Cause once it went on, everyone becomes accustomed to it. Also, television, we shoot so much. It's long.
The interview concluded with a look at what it was like to say goodbye after these past few years. Dillane summed it up well.
Mixed emotions, always. Very sad to go, but I'll stay in touch with them. They're just people and friends now rather than work associates. So I have no doubt the actors will stay in touch. As you said, the crew changed so much that by the time I finished this season a lot of the crew were quite new to me since we moved locations. But I will certainly miss everyone.
Although we know the fate of Nick, there is still more story to be told. We certainly will be watching Fear the Walking Dead to watch it all unfold, considering how well this season kicked off. How about you?