Dead By Daylight's Future Shines Bright
The game's developer sheds some light on the road ahead.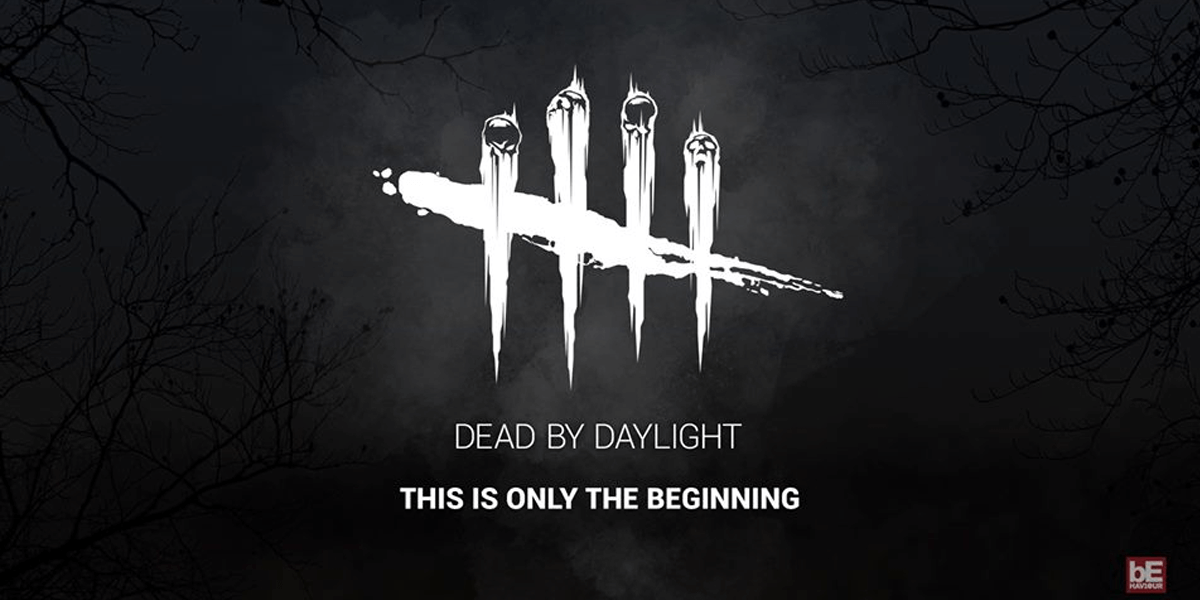 Image via Behaviour Interactive / CC BY
---
If Behaviour Interactive, the developers of popular multiplayer horror game Dead By Daylight, are to be believed they have a bright future planned for their dark creation. An in-depth news post recently made available details the game's past, present, and future content and how they plan to handle things moving forward.
"Today, we want you to know that we are more committed than ever to continue supporting Dead by Daylight for years to come. June 2018 will mark our 2 year anniversary, and we believe that this is just the beginning.
To start this third year right, we want to share with you our goals and ambitions and discuss a series of changes we want to bring to the game."
Dead By Daylight will be getting a steady stream of new content throughout 2018. "4 new chapters. That means 4 new killers, 4 new survivors and 4 new maps. The goal is to always keep you entertained and to set aside time to keep the game balanced," the post read. Additionally, all non-licensed killers and survivors will now be able to be unlocked for free over time utilizing a revamped progression system refered to as a "global player level."
Behavior also explained more changes. "The ranking system is going to be revamped to offer a more interesting, longer and more inclusive progression. We want all players to be able to feel a constant, significant progress within the ladder." On the flipside, likely to make up for this potential loss of revenue, Dead By Daylight will begin offering premium cosmetic items and skins that can purchased with real money or unlocked over time:
"Those skins will be purely aesthetic and 100% optional. We're really enthusiastic about the idea of having many more outfits available in-game. Our survivors and our killers deserve to look awesome when they're running around the trials and we want you to be able to personalize them and show your true colors.


We also want to make sure that there is something for everyone, so the vast majority of the outfits will also be accessible with playtime, whether you play casually or crazily. In the same line of thought, there will be outfits for everyone's budget so you can find the stuff you're looking for at a price that's right for you."
Behaviour Interactive even treated fans to a little taste of what some of these cosmetics might look like, which you can see below.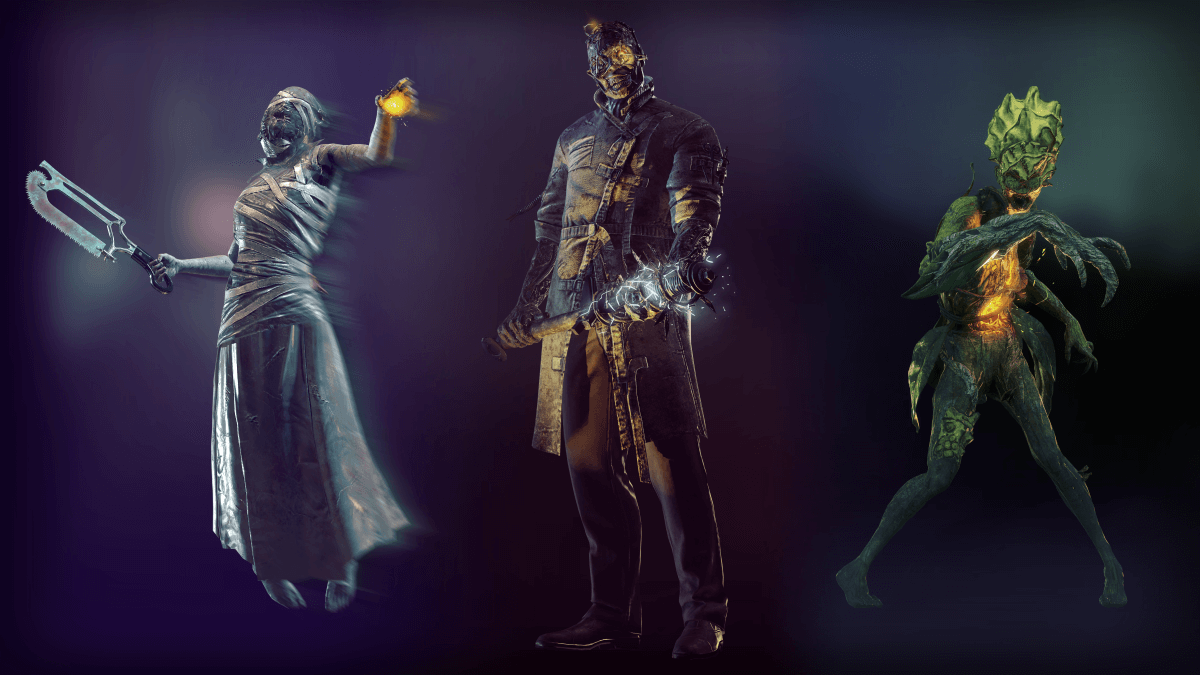 Along with this new content announcement, the developer released a content roadmap to help fans keep track of everything, which we also have right here.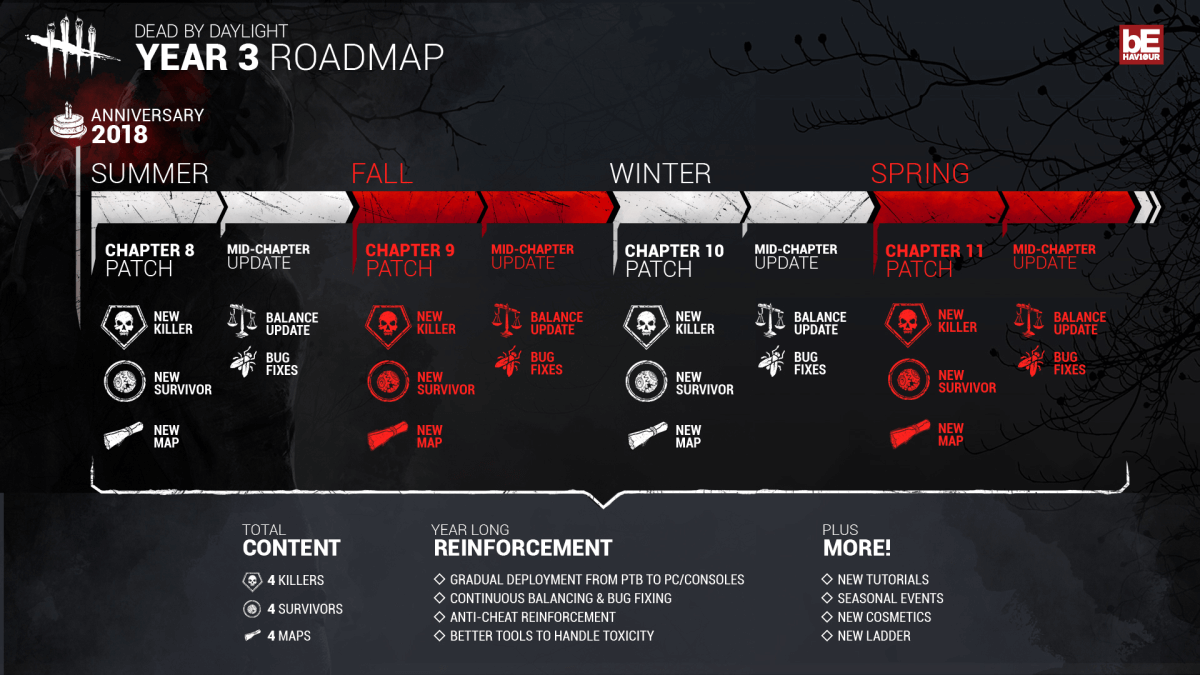 Behaviour Interactive then went on to detail a number of game tweaks and changes that are coming soon. They are mainly quality-of-life updates designed to prevent cheating, eliminate toxic players, and fix game various bugs, most notably the save game bug many PC gamers have been experiencing. They stated that "every change is important and keeping everything well balanced requires a lot of attention" and that they "want to put a stronger emphasis on this moving forward."
The developer also stated that going forward they want to ship new content at the same time on all three available platforms so that console gamers especially are not left out in the cold. One other important addition will be a tutorial for new players. This is a much-needed addition since jumping into Dead By Daylight, especially against seasoned killer players, can be extremely intimidating. I've seen many gamers quit after their first few rounds simply because they did not understand the game's mechanics.

With so many different announcements in this one news article, Behaviour was nice enough to summarize it all briefly:
In summary, over the next 12 months, Dead by Daylight will be expanded and improved with:

4 new survivors

4 new killers

4 new maps

A new progression system allowing players to unlock non-licensed survivors and killers by playing actively

New paid cosmetic items that won't impact the gameplay with most of them unlockable by playing too, whether you play a lot or more casually.

A new ranking system for a more meaningful, more inclusive and more rewarding progress.

A new deployment process to trial new features and content on PC first, using PTB, meaning we can push it to all platforms as soon as it feels ready, rather than as soon as we can.

An anti-cheat reinforcement to help make Dead by Daylight a better place for all players.

A tutorial mode to improve new players' onboarding and allow anyone to brush up their skills before going into ranked games.

Better tools to handle toxicity

Dedicated mid-chapter patches to make sure the content is as clean as possible, to look at some of the balancing element, but also to add quality of life improvements and polish when needed
Are you excitied for the future of this 4v1 asymetrical horror game? As a player myself, I am personally looking forward to seeing all of these changes go into effect and especially to see which new licensed characters will join the killer roster. If nothing else, the developers have done an amazing job in securing so many iconic horror icons to appear in a single game. Here's to hoping for a possible appearence by Pinhead or maybe ChromeSkull going forward!