Robert Kirkman Talks About That Death in The Walking Dead
That departure from the comic series has been in the works for a while.
By Chris Morse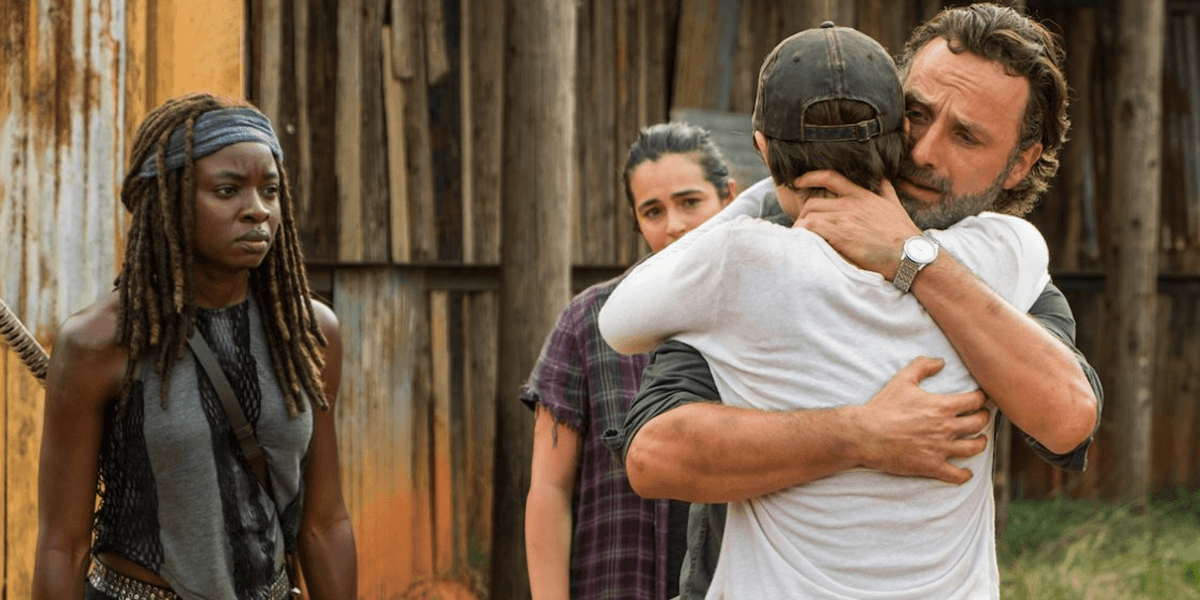 Editor's note: If you aren't caught up on The Walking Dead ahead of its midseason premiere next month, turn back now! The rest of this article contains major spoilers.
The midseason finale of The Walking Dead's 8th season was a bit of a shocker for fans of the show and comic series alike, as it represented a huge departure from the source material. Carl has been bitten and next month's premiere will likely be the last time we see him among the living, not counting any possible flashbacks or dream sequences that may lie ahead. Series creator Robert Kirkman recently sat down with EW to discuss this bombshell plot change and what it means for the series going forward.
I think Scott first brought it up to me as a possibility probably about a year ago at this point. At first, I was kind of like, 'Well, that's a big one, you know?' I might have had a little bit of trepidation. But once he laid out to me exactly what his long-term plans were, and the things that come out of it, and the things that it leads to, it was something I got on board with.
Similar feelings seem to be echoed from another major player in the TV show, executive producer Greg Nicotero. He spoke about the upcoming midseason premiere and hinted at what this death might mean for the show and characters.
"I really do believe that a lot of people will put those feelings aside when they watch this episode, because they're really going to get an opportunity to make some peace with it."
Making peace just might be the overarching theme they are going for in light of Carl's downfall. Recently, his character has been urging Rick to take more of a wise approach, to consider life after the war with the Saviors. I believe we are going to see this theme pop up very soon and influence how the rest of the season plays out. In the meantime, we can expect the midseason premiere to be a bit of an emotional goodbye for Chandler Riggs and his character before we move on and get back to the all-out war. Kirkman also spoke about the upcoming episode.
It's a great tribute to Carl the character, and Chandler the actor. It's definitely Chandler's best work. His work in this episode is absolutely amazing. It's something he should really be proud of. I think it's something people will be talking about for a good long while. We're just really excited to share with the audience.
Lastly, when asked to elaborate on the fan backlash for making such a huge change for Carl, Kirkman expressed that they want people to worry about what's ahead and to keep the plot interesting.
I know that some fans online have been very upset, but that's by design. We're not supposed to be happy when these characters die. We are supposed to be worried about what comes next, and anticipating what comes next, and stressing about what comes next. That just shows that you're engaged and you're interested. Our job is to now pay that off and fulfill that interest, and prove that this was a decision worth making. That's what we've got to do.
Viewers familiar with what happens in the comic series tend to assume certain characters are safe and get bored with a lack of real danger for them, but this curveball only proves the show's commitment to keep you guessing in some areas while they try new things. Will it pay off? That's the big question heading into the second half of season 8 and the overall future of this show. Are these departures enough to keep fans engaged or will the negative effects outweigh any potential narrative good? We'll be sure to share our thoughts as the story unfolds, but feel free to share yours now in the comments below.