Vendor Spotlight: Grey Matter Art
We unbox some Grey Matter Art Mystery Tubes and take a look at what makes this company so great.
By M.T. Bates

What can I say about the guys over at Grey Matter Art? They put out quality licensed art and prints that rival (and a lot of the time beat out) MONDO, and they are actually obtainable unlike MONDO. If you are ever at a convention and they have a booth set up, don't walk by them. Just take out your wallet because you are going to find something you love.
I've been buying from GMA for a few years now, mainly every time I see them at Monster Mania. They are always so friendly and willing to cut you deals if you buy more than 1 print. When I lost 2 of my GMA prints in my house fire back in April, they were more than willing to help me out price-wise in replacing the prints I lost. I'd say I probably own 12+ Grey Matter Art prints, with my eyes on a few more.
These guys are the best when it comes to high-quality posters and art. They have amazing prices, superb designs, and a great staff. They will sit and chat with you at a show for hours If you let them. They have quickly become my favorite vendor at the conventions I go to because I am consistently buying their merchandise. They use many different artists who each have their own style, which really makes GMA's poster selection and lineup extra special.
Below is a recount of the 8 prints I pulled from my 2 GMA Mystery Tubes that showcases 8 different talented artists.
"Ant-Man" Regular Edition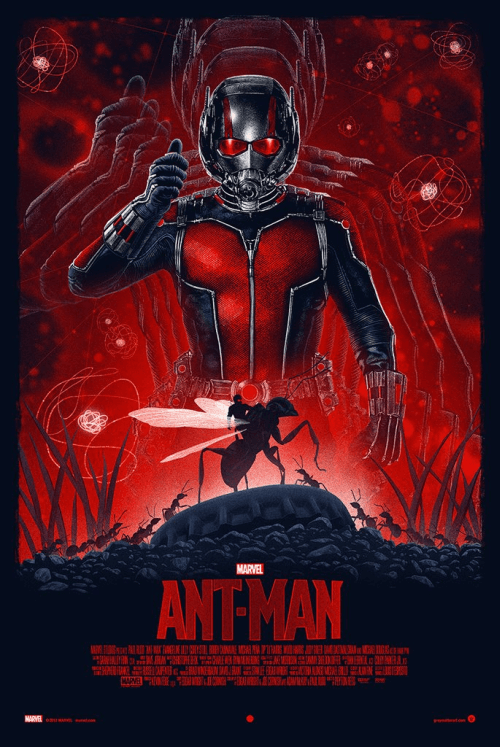 Artist: Marko Manev
Already owning the first Ant-Man poster GMA put out, I was more than happy to add this one to my collection. This will be the 3rd Ant-Man poster that hangs from my walls, but since it is my favorite MCU film, I am all for it. The art is bold and full of deep reds that blend well with darker tones of the art. This is 1/175, 24x36, and screen-printed. Marko did an amazing job capturing the Ant-Man suit perfectly. I definitely can't wait to get this in a frame.
"Punishing"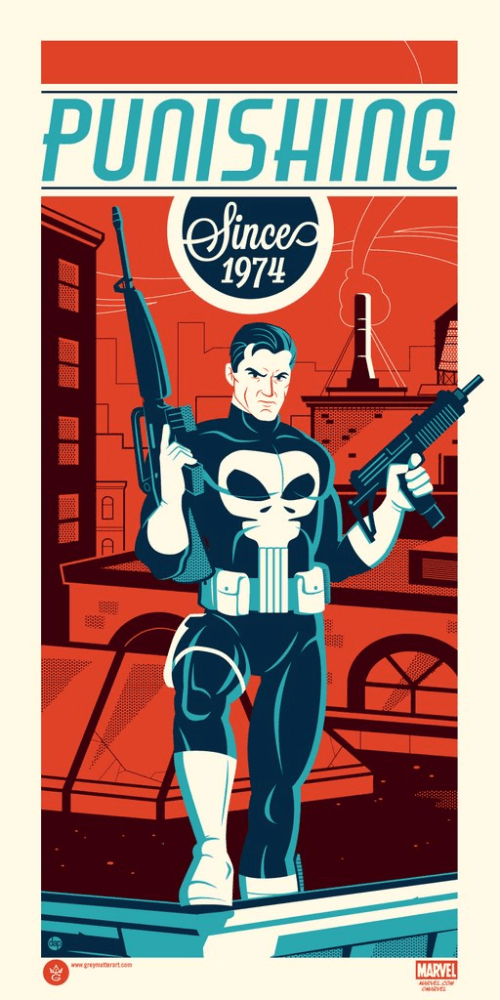 Artist: Dave Perillo
I have seen these retro 70's style Marvel prints from GMA plenty of times at their booths, but never really wanted to grab one as they aren't exactly my style. Now that I have one, though, I can see the appeal. Bold and simple is the name of this game, as the Punisher pops brilliantly from the red background. 1/150 and 12x24 is this screen print. I know exactly where this one is going in my basement/studio.
"Star-Lord"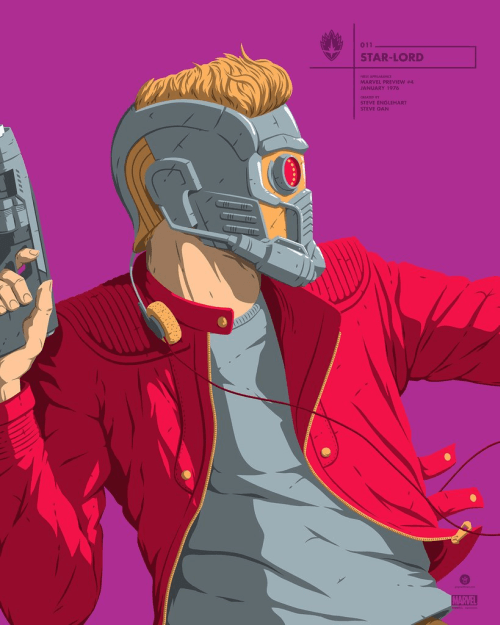 Artist: Florey
Is it just me or does that purple background suit Star-Lord insanely well? Upon closer inspection on this piece, you can see it definitely has more detail in it than meets the eye. Star-Lord will feel right at home next to some of my other Guardians wall art. 1/175 and 16x20 on this screen print. Florey's art style is very unique and instantly recognizable on his other GMA work.
"Spider-Man Vs. Doc Ock" Foil Variant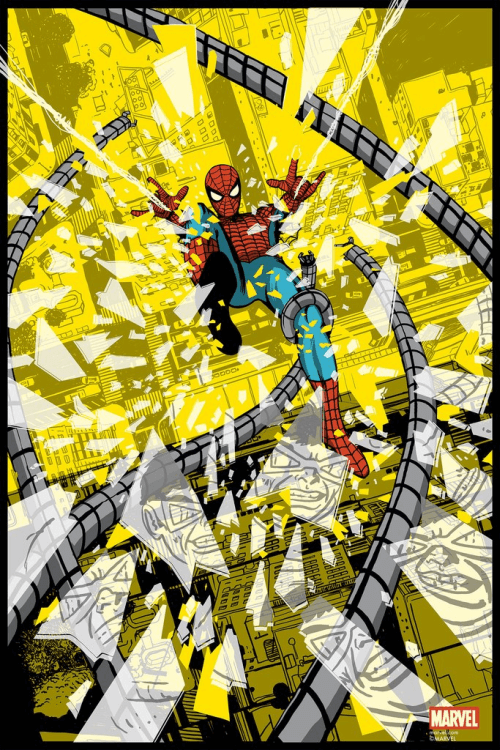 Artist: Raid71
This is definitely my favorite piece in this haul. While I was hoping it was going to be one of the ones signed by Stan Lee, I just wasn't that lucky. Regardless, this is still a rare print, as I am not even sure of its edition size. The variant non-foil of this work was 55 so this one is even lower. This was 1 of my 2 special prints that were thrown into every Mystery Tube. The yellow backdrop of the city makes Spidey pop something fierce. The overall art is worthy cover art on any issue of Spider-Man, and the foil aspects are done just enough to really add something special to this art. 24x36.
"Dr Jekyll & Mr Hyde" Green Regular Edition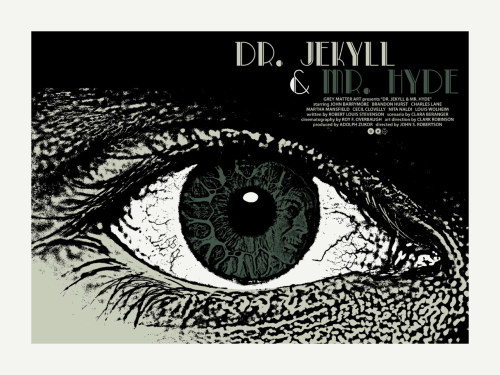 Artist: Chris Garofalo
Simplicity at its finest. While the Spider-Man print was my favorite overall piece in this haul, I think this piece stands out the most. I am going to have a hard time finding the right place for this 1/40 24x18 screen print, because it deserves to be the centerpiece wherever I put it. I think next to my GMA "Haxan" print will do nicely.
"Prometheus" Regular Edition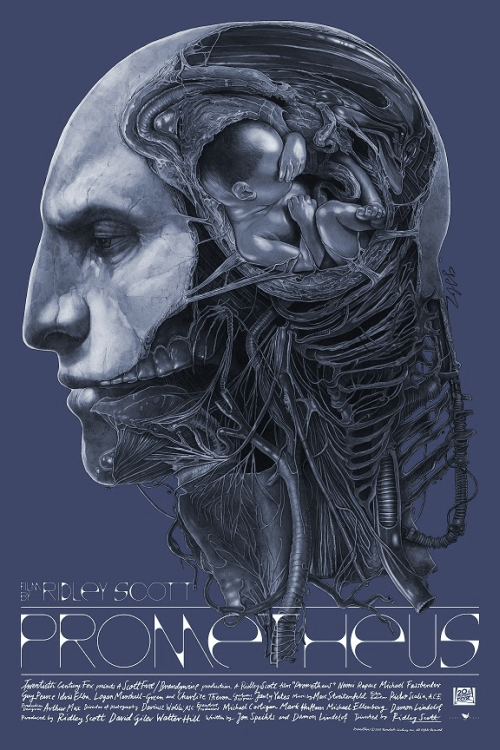 Artist: Gabz
While not a movie I enjoyed at all, the art is visually spectacular. Giger influenced through and through, but different enough to stand on its own. 1/225, 24x36, and screen-printed. This might be the most detailed and impressive piece of the haul, but alas, this is not one I will be framing, which again has nothing to do with the fantastic art. Be on the lookout for this prize in an upcoming giveaway on my YouTube channel.
"Edward Scissorhands" Regular Edition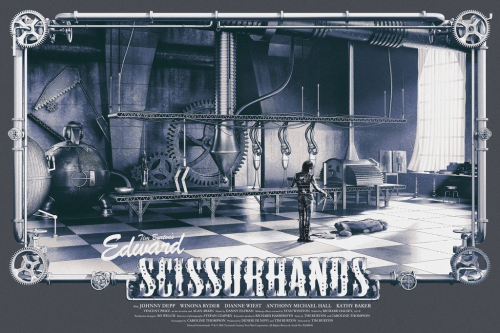 Artist: Chris Skinner
There is a lot going on in this beautifully-depicted piece. A sad piece showing the passing of Vincent Price's character as Edward can do nothing but look on. A truly marvelous piece of art. 1/200, 36x24, and screen-printed. However, this too will not be going up on my wall, and will also be a prize in a future giveaway on my Youtube Channel. Any Tim Burton fan would go crazy for this piece.
"Pride" Silver Foil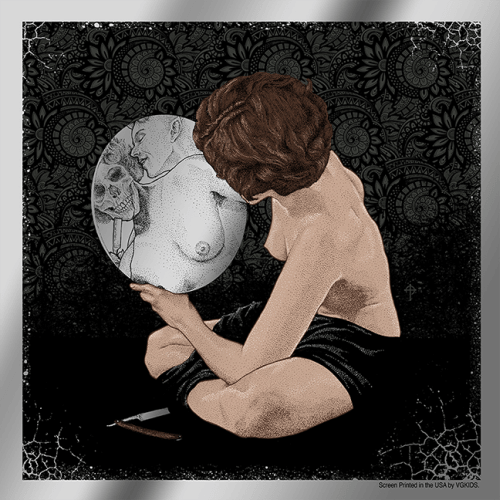 Artist: Timothy Pittides
This 12x12 1/40 print had me baffled at first. I couldn't place it or find anything on it. It's beautiful, and as far as I can tell might be just an original piece by this artist. Regardless, it seems to be the 2nd rare/sold-out print in my order, and I am not disappointed over it. It was part of the "Vices" gallery and project. The more I look at it, the more I love it. It's a small print and doesn't quite fit in with anything else I have, but this is something I could see going right over my computer on the wall. I looked over some of Tim's other work and this dude has talent.
Wrap-Up
So there you have it. We'll be doing more vendor spotlights periodically, so be sure to stay up-to-date with us and we'll be sure to share more favorites in the future.