Horror Fan with Full Shopping Cart Has Fleeting Thought About Future Impact of Consumerism
While the thought made a timely appearance for Earth Day, it faded away as quickly as it manifested.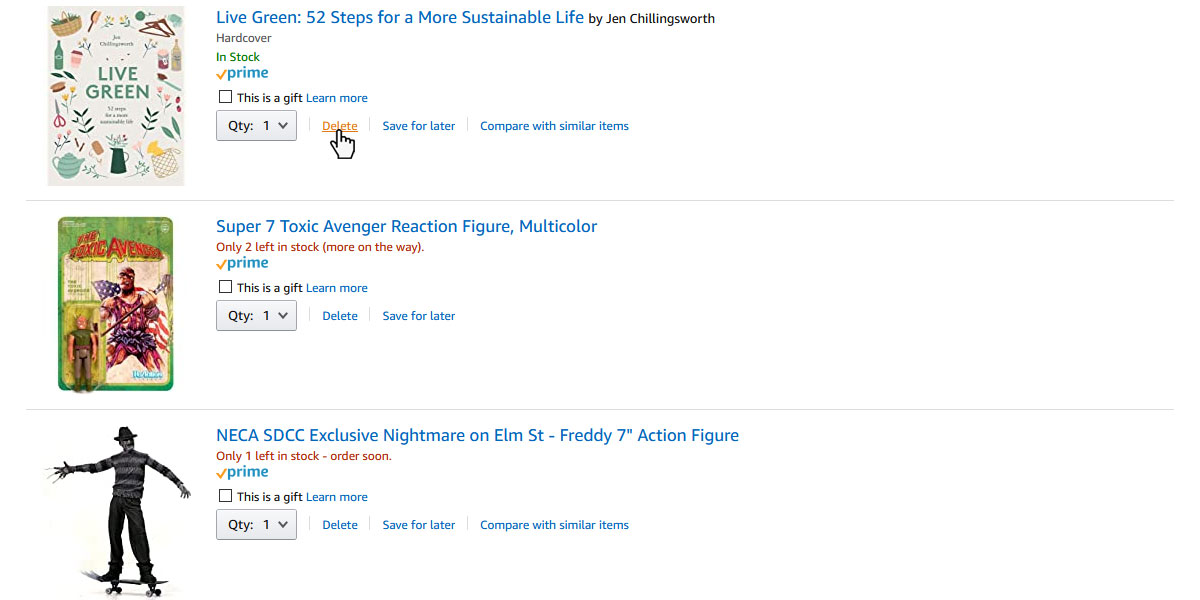 The Rotting Corpse is a weekly satire column dedicated to poking fun at our many horror favorites. For daily horror news and updates, be sure to check out the Dead Entertainment home page.
---
In a brief gesture of unity with other supporters on Earth Day, longtime horror fan Levar Bellucci stopped to reconsider the environmental impact the items in his shopping cart will have on the future generations that will inhabit this planet. The man, who reportedly hasn't showered in days, sat in deep reflection while intermittently gorging on some Flamin' Hot Cheetos.
"I don't really need these items, do I?" Bellucci asked himself after a few minutes of silence. His cart included items such as a substantial amount of Funko Pop! figures, Blue Underground's twelfth re-release of Lucio Fulci's Zombie, some overpriced NECA collectibles, a copy of Live Green: 52 Steps for a More Sustainable Life by Jen Chillingsworth, and more. The latter item was likely added to counterbalance the otherwise large and unnecessary order, but he ultimately decided against purchasing it.
It was truly bewildering why Bellucci felt the need to add even more items to his overflowing horror collection. How long would it take for those items to biodegrade, one might wonder? That outlook does not look good. Additionally, as it stands, reports indicate he barely has enough room to move around in his basement, which is where his wife forced him to isolate this absurd assortment of items to avoid the feeling of embarrassment when guests visit their home.
None of these considerations seemed to cross the man's mind as he boasted about the expensive Mondo prints hanging from his ceiling (after running out of wall space), a pungent-smelling, screen-used Hatchet outfit worn by Kane Hodder himself, and the extremely uncomfortable skeleton-themed armchair he was seated on. He even had on display eight Arcade1up cabinets, which he always kept on for some reason… even on Earth Day. So much for that eco-friendly consideration.
At press time, Levar Bellucci chuckled at the environmentally-conscious thoughts he had earlier and doubled down on his commitment to invest in a competitive horror collection with a new set of purchases. He even decided to throw a Styrofoam take-out container in the recycle bin, dooming it to a destiny of ending up in a landfill and spending over 500 years breaking down. Oh well, right?