Horror Convention Guest Clearly Didn't Wash Hands After Using Restroom
It would appear sanitary considerations are not high on the list of priorities.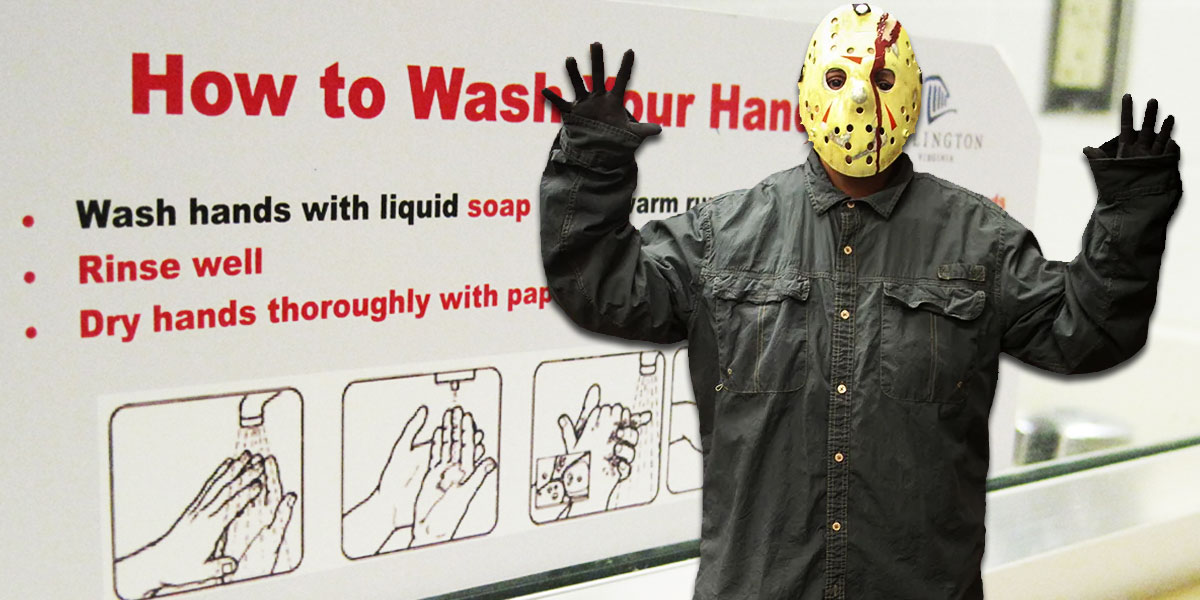 The Rotting Corpse is a weekly satire column dedicated to poking fun at our many horror favorites. For daily horror news and updates, be sure to check out the Dead Entertainment home page.
---
NEW YORK – The show must go on, or at least that's what some horror conventions are saying in light of still-growing pandemic fears across the country. With hand washing on the rise and store inventories of hand sanitizer dropping to an all-time low, guests using the restroom facilities at this week's genre convention were shocked and bewildered to witness an attendee who very clearly did not clean up after concluding his business therein. The individual in question currently remains at large.
"Earlier today, we had a full row of occupied stalls in the men's room here at the con and it's hard not to notice when something is amiss," convention guest Leandro Borrás explained. "One fellow—none of us got a good look at him—finished up and was out the stall then straight out the door after just one tear of the toilet paper. It was obvious to all of us sitting there that he didn't take the time to get properly cleaned up. He didn't even stop at the sink and run the water for a second or two to save face. Nothing."
Other convention-goers shared a similar story, detailing how one could always just tell what's going on in the next stall over and what sanitary measures another guest may or may not be taking. While there may be some level of anonymity in such a setting to protect those who avoid washing their hands from being identified, the distinct lack of hygiene passively witnessed at these events doesn't go unnoticed, and that sentiment isn't strictly limited to what happens while exiting the restrooms.
"It's bad enough we have the coronavirus to worry about," Borrás lamented. "But the callous disregard for hygiene has not improved one bit here. I mean, if you have money for all these autographs, meet-and-greets, and horror merch, surely you could afford a couple sticks of deodorant and to spend a few minutes cleaning up before getting back to the fun. Is that so much to ask?"
It would seem that may be the case for some at these horror conventions, as almost everybody we spoke to had similar complaints about other unhygienic guests. Those who refused to comment, however, can be reasonably assumed to be among those with dirty hands and otherwise poor sanitary habits. If the threat of an ongoing pandemic isn't enough to convince attendees to use a little soap and water here and there, we're not sure what is.
In light of recent events, it was also announced that New Jersey's very own Monster-Mania Con opted to postpone its upcoming weekend festivities until later this year due to a sharp increase in the number of complaints about guests who opt to not use deodorant or wash up after using the restroom. It is unknown at this time whether the convention will deploy staff or other measures to enforce new hygiene rules at the rescheduled event. We've reached out for comment on what the official policy will be moving forward, but did not receive a response by publication time.