Horror Fan Spotted at Shopping Mall
Yep, there's no denying we have a horror fan here.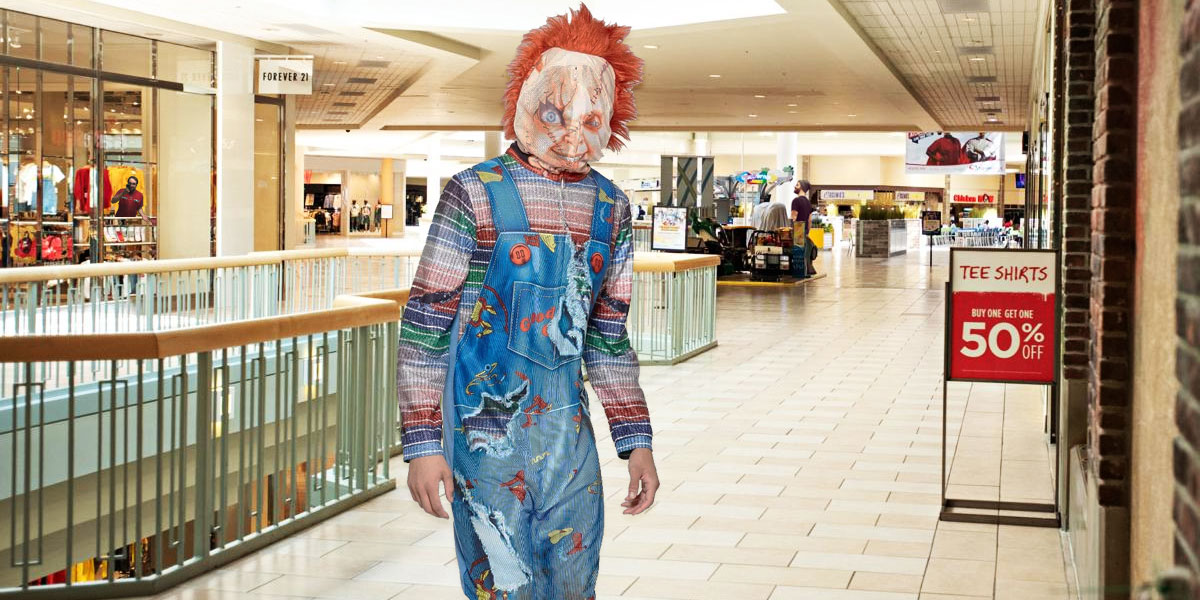 The Rotting Corpse is a weekly satire column dedicated to poking fun at our many horror favorites. For daily horror news and updates, be sure to check out the Dead Entertainment home page.
---
SPRINGFIELD – When visiting a premier shopping center, you are bound to come across many familiar sights. Parents and their children share a meal in the food court as an elderly couple goes for an afternoon stroll, and when you're lucky, your eyes might catch the glimpse of a horror fan venturing around for good movie deals. It's not every day mall guests spot a horror fan in the flesh, but it's almost always an exciting time when that rare opportunity arises. Earlier today, shoppers at Eastfield Mall in Springfield, Massachusetts count themselves among the fortunate.
"I decided to come to the mall at lunchtime and do a little shopping at Soma," one guest commented. "I came around the corner by Macy's and saw him from across the way. The unkempt hair and beard almost gave him away, but he was wearing a Friday the 13th T-shirt and carrying an FYE shopping bag so I knew right then and there he was a horror fan. It was a sure thing."
It's true. Multiple mall-goers confirmed to us they spotted the horror fan leaving FYE, which is going out of business and boasting great clearance deals of up to 90% off, and walking towards the food court. Could his shopping haul be comprised of newly-released horror films on 4K Ultra HD? Or perhaps the fan picked out a few Funko Pop! or NECA figures to adorn one or more of his collection's shelves? Visitors could only speculate on the contents of his bag but it was a breathtaking moment nonetheless.
"I did hear about that FYE location closing down," said John Knights, who spent his afternoon drinking coffee and blogging at the Eastfield Café. "I heard a commotion when that horror fan was walking around, but I couldn't catch a glimpse of him myself. Somebody told me he went over to Burger King and read Fangoria over a BBQ Bacon Whopper and large fries. I wish I could have witnessed it, but I was doing a little writing about this new cereal that came out. Spoiler alert: if you're a fan of Boo Berry, then you're going to love this. Be sure to visit my blog and follow me on Twitter and Instagram!"
After hearing from a number of other, more interesting mall guests who did not ramble on about sugary cereal, it's clear that today's sighting was that of a genuine horror fan who made a genre-appropriate purchase at FYE. We have only been able to speculate on important questions such as what movies he picked up or what his favorite franchise is, but those inquiries perhaps may never be answered. Just as quickly as he was spotted heading for lunch, he had vanished—presumably back to a more natural setting such as a horror convention or in front of a television set streaming Shudder.
At press time, over two dozen onlookers crowded around the FYE entrance as another fan entered the store and casually strolled over to the Funko section. While one sighting is plenty rare, two in the same day is almost unheard of. We could only wonder what kind of frighteningly good deals are happening today to bring so many horror fans into the collective maelstrom of our lives, but we are savoring this moment while it lasts. You should too.