The Rotting Corpse Presents the Best Horror Movies of 2019
Have any of these lesser-known gems slipped under your radar this year?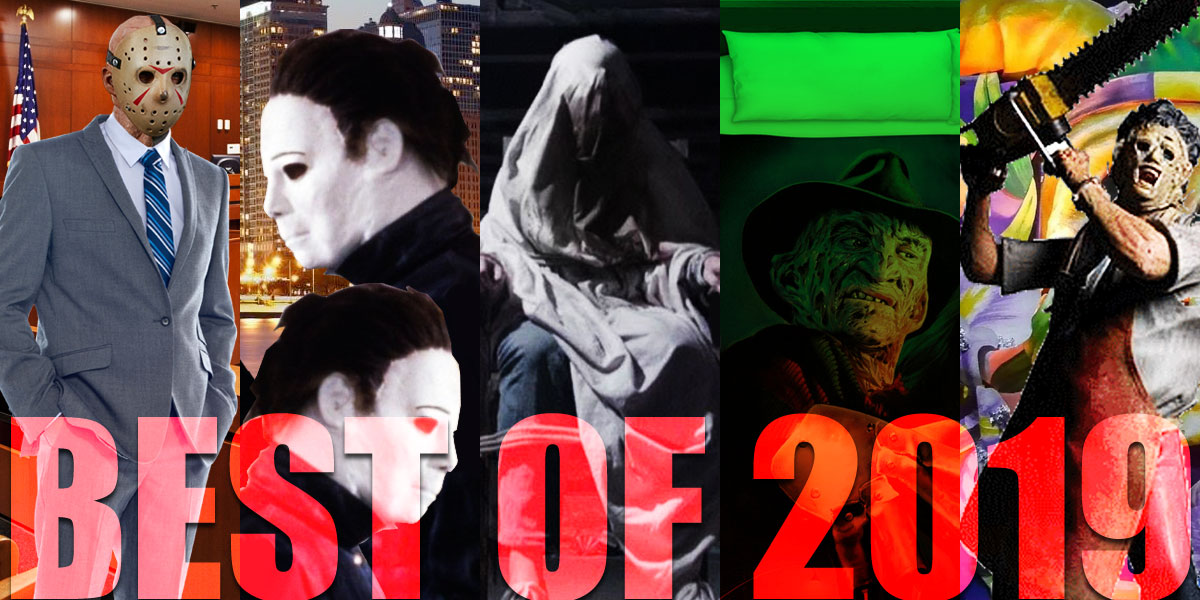 The Rotting Corpse is a weekly satire column dedicated to poking fun at our many horror favorites. For daily horror news and updates, be sure to check out the Dead Entertainment home page.
---
It's nearly time to turn our calendar pages to the new year and what better way is there to move forward than to take a look back at what 2019 brought us? It's been another strong year for horror, much like 2018, but five movies stood out among the rest as something special. Without further ado, here is The Rotting Corpse's top five favorite horror films of 2019.
5. The Texas Chainsaw Massacre: Leatherface Takes Louisiana
Few were hopeful Leatherface could make a strong return to the big screen this year, but the latest Texas Chainsaw Massacre movie accomplished the feat in stunning fashion. From the astoundingly clever setup bringing the story to Louisiana to the myriad creative kills from beginning to end, Leatherface Takes Louisiana has a little something for every horror fan.
While nobody expected Leatherface to foil Paul's escape by firing up the '67 Cadillac DeVille in the farmhouse to chase down the ATV-riding victim-to-be, our top scene has to be when Karen reaches the riverfront and hails down the small boat traveling upstream. Who would have guessed our killer was aboard and ready to hurl his chainsaw like a discus to shore, perfectly decapitating Karen in Olympic fashion? We are still waiting for Leatherface to take home the gold for that one!
The Texas Chainsaw Massacre franchise is clearly alive and well. Here's hoping we get that Mississippi sequel that was alluded to in the post-credits scene.
4. A Nightmare on Elm Street: Freddy's Bed
While many were skeptical about exploring the backstory of how Freddy Krueger is able to enter the nightmares of his victims, the latest A Nightmare on Elm Street film is a ghastly reminder that the truth might be even scarier than what came before it. Like many fans expected, Kevin Bacon was stellar in taking over the hat, glove, and sweater from Robert Englund. Add in a strong screenplay and acclaimed director Guillermo del Toro, and you can't really ask for much more out of a movie.
The revelations in Freddy's Bed were particularly interesting and avoided diving into too much exposition, but to see the place Freddy himself lays down before entering the dreams of unsuspecting victims changes the way we will see the franchise for decades to come. This is one of those films that came out of nowhere and left moviegoers stunned even well after leaving the theater. Hopefully we won't have to wait too long for another sequel from the camp of Wes Craven's estate.
3. The Conjured
James Wan's latest Conjuring universe spinoff, The Conjured, was a definite treat this year. Naturally, Patrick Wilson and Vera Farmiga reprised their iconic roles of paranormal investigators Ed and Lorraine Warren to perfection. However, the focus this time shifted to the perspective of the entity that was conjured, as opposed to focusing on the act of it being conjured in the first place. Kudos to the team for changing things up in a franchise that's still going strong after its first twenty installments.
This film really shined during the scenes taking place down in Hell, offering some insight into the reason why these demons and spirits often find their way to our world. We have spent so many years investigating the unknown that we forgot to get to know it along the way. This movie does just that and has more than earned its place on this list.
2. Halloween: Back 2 Back
When folks at Blumhouse were misheard saying they were going to film Halloween sequels back-to-back, nobody thought they meant they were working on a new installment literally titled Back 2 Back, which is part slasher and part '90s nostalgia trip. Fortunately, it landed really well as David Gordon Green, Danny McBride, and Scott Teems delivered the goods on a tight deadline and budget.
It took some getting used to seeing Michael Myers with a new hairstyle, but we have to admit it worked rather well and this was one of our favorite movies of the year. The explanation for how The Shape survived the fire was particularly clever, throwing back to earlier movies after the effective red herring of the firefighters pulling out a body and crying out that the man was alive.
As it turns out, the person saved was only one of many contractors Laurie Strode hired to work on her traps with the others on staff that day perishing in the blaze. But Myers had already moved on, continuing to work towards his malevolent endgame. The ending gave us chills, perfectly setting up the upcoming sequels, Halloween Kills and Halloween Ends. We can't wait for what's next.
1. Jason Goes to Court: The Next Friday
Perhaps the most surprising horror event of the year, aside from Victor Miller and Sean Cunningham setting aside their legal differences, was the latest installment of the Friday the 13th franchise, Jason Goes to Court: The Next Friday. As is the case with many of these movies, the running theme for this one is trying something new, much like our lead character Tommy Jarvis in his decision to press charges against Jason Voorhees of Camp Crystal Lake fame.
Our hero has been up against Jason numerous times throughout the years, even going as far as taking matters into his own hands in an attempt to stop the killings for good. Unfortunately, that approach has proven ineffective and Jarvis instead opted to deal with the problem by the books—calling the police and pressing charges against the infamous slasher—and boy oh boy are the proceedings eventful.
While we won't ruin the story's twists and turns here, the drama and tension are very real in this movie, especially during the second act when the defense drops that major bombshell. This is our top pick for must-watch horror film of the year and if you happen to have missed it, stop reading this article right now and fire it up on your streaming platform of choice. There are no excuses!
---
That concludes The Rotting Corpse's top five horror movie picks of 2019. Do you agree with this list or do you have any honorable mentions to add? Any snubs we shouldn't have left out? Feel free to share your picks with us down in the comments below or on social media. Thanks.