Bloodthirsty Christmas Bell Ringer Will Get Donations One Way or Another
This local man is fed up with the complete lack of giving and is taking matters into his own hands.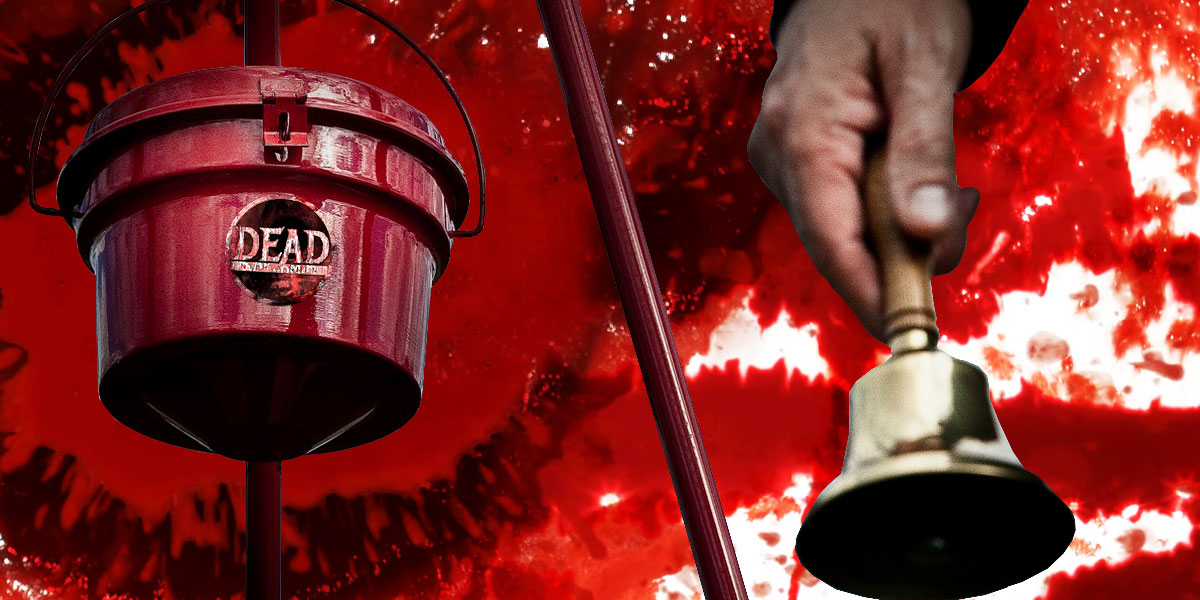 The Rotting Corpse is a weekly satire column dedicated to poking fun at our many horror favorites. For daily horror news and updates, be sure to check out the Dead Entertainment home page.
---
The holidays are usually a joyous time filled with cheer and precious moments with friends and family. We typically hate those guests year-round, but still find the time to come together in some strange gesture of unity to overstuff our bellies with amazing dinners and baked goods. It's also a time of giving for many, not out of obligation but to see smiles on the faces we love most as they unwrap the perfect gift. However, for local bell ringer Lawrence Bellomo stationed at a busy shopping district collecting donations, the holiday spirit and the gift of giving are simply non-existent.
"I've been ringing this damn bell for like six hours now and I haven't had a single donation," Bellomo said as he sat down on a chair to take a break. The man thought he'd give back to his community and volunteer his time for Red Cross, his favorite charitable organization. "It's not like I set up in some terrible part of the mall," the frustrated man added. "As you can see, this is a rather ritzy area with a jewelry store and a Hugo Boss beside me. What gives?"
Surveying the mall from his location, we could see various shoppers dressed in suits and at least one woman wearing a luxurious-looking fur coat. She shot a rude glance at Bellomo as he lazily rang his bell while seated. He let out a heavy sigh and then continued, "It's people like that who take no issue with trampling over shoppers on Black Friday if they have to. Everybody is pissed off here. Where is that holiday joy we hear so much about?"
Bellomo then quickly stood up and started ringing his bell cheerily as a man approached his donation box. "Excuse me, but I want to know how much of my hard-earned money will go to Conrad Sauve, the CEO of Red Cross?" asked the well-dressed man as he stood there waiting for an answer. "Doesn't he make six figures or something? I've sacrificed blood, sweat, and tears to get where I am today and I'm not about to donate unless I know where it's going. I expect a clear answer from you, bell-boy."
At press time, Bellomo was seen with a peppermint-flavored mocha in one hand and a donation box filled with blood and intestines belonging to the ill-mannered man in the other as he walked into his local Red Cross office. He even had the decency to wrap the box and tie it with a bow! The receptionist graciously thanked him as she took the donations and he left the premises shortly thereafter.