"Mentally Unfit" Patrick Bateman Ousted as VP of Pierce & Pierce Following Impeachment Inquiry
The longtime investment bank executive has been removed from his post.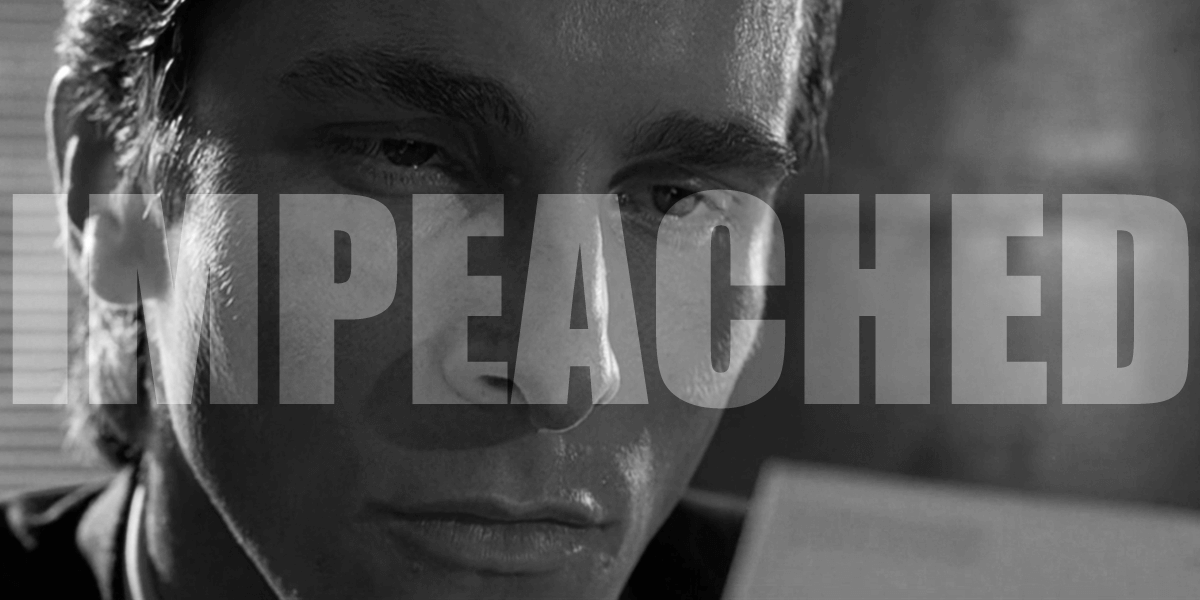 The Rotting Corpse is a weekly satire column dedicated to poking fun at our many horror favorites. For daily horror news and updates, be sure to check out the Dead Entertainment home page.
---
NEW YORK – Patrick Bateman, longtime Vice President of Pierce & Pierce Mergers and Acquisitions of Manhattan, has exited his role after an impeachment inquiry was opened against him by the company's board. Per Pierce & Pierce's articles of incorporation, such a move can be carried out after an individual has proven to be damaging to the corporate entity's operations, reputation, or bottom line. To wit, the former VP was determined to be mentally unfit to perform his duties.
Hearings were held this week and unfolded in bizarre fashion, with Bateman seemingly going off the rails as he confessed to a series of crimes he did not appear to commit and was never even accused of. In fact, such unhinged rambling during business meetings both internally and with clients were the true reason for the corporate impeachment inquiry to even be opened at all.
"I'm into, well, murders and executions, mostly," he reportedly stated during the proceedings. When asked for clarification on his remarks, he continued, "Mergers and acquisitions. This is my livelihood... the clothes, the furniture, the career. If you try to ruin me, I will hack you to pieces just like Paul."
Bateman was thought to be talking about Paul Allen, the co-Vice President of Pierce & Pierce, who was actually in attendance for the hearings. The board pointed to such ridiculous remarks as examples of the type of conduct it was ousting him for.
While the former executive claimed to have murdered a homeless man, multiple women, four police officers, and several others, it was not apparent that any of those crimes even took place. In fact, it was incidents like this that were at the center of the complaint. Aside from inappropriate behavior, Bateman was also said to be quite abrasive, even going as far as inciting a heated argument over business cards.
"Patrick is clearly spiraling in his life right now," said colleague Luis Carruthers, who testified that Bateman tried to start a romantic relationship with him after he broke up with his fiancée, Evelyn Williams. "I'm not sure what's going on in his personal life, but his presence is harmful to the business and it's in everyone's best interest for him to move on."
Shortly before the impeachment ruling was issued, Bateman used his closing statement to come clean by describing in great detail a series of grisly murders he committed, hoping to finally face justice for his actions. Since the corporate hearings have no such legal ramifications and there was no evidence to even support his claims, the confession meant nothing as the proceedings came to a quiet close.