It: Chapter Two Adult Losers' Club Joins MMORPG, Forgets All About Derry
Pennywise quickly became a remnant of the past for this group of World of Warcraft-addicted losers.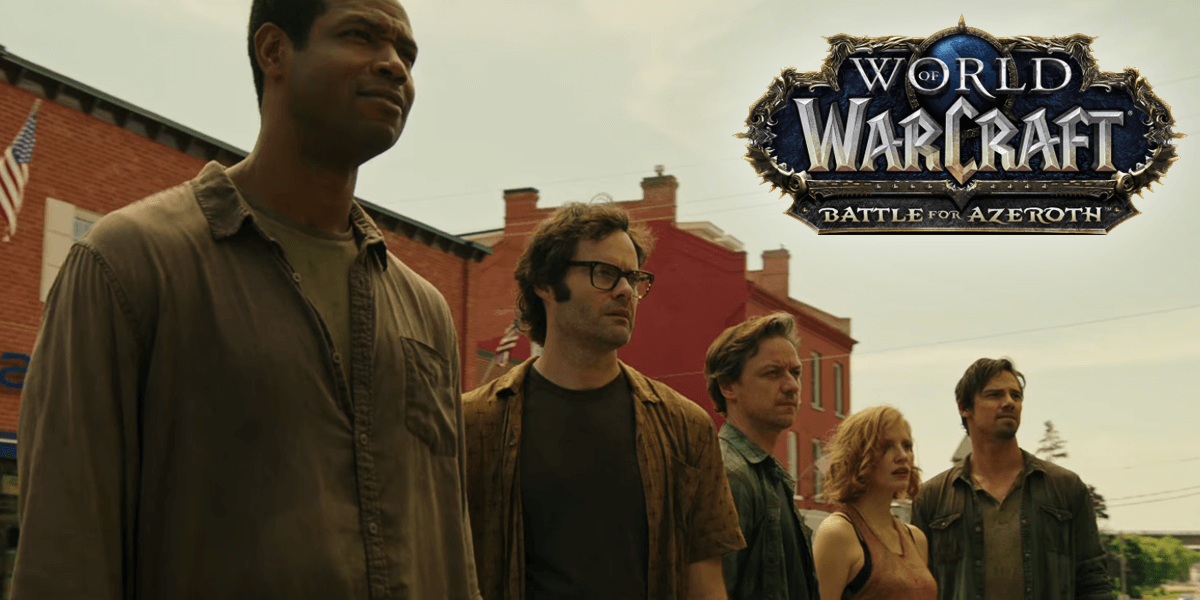 The Rotting Corpse is a weekly satire column dedicated to poking fun at our many horror favorites. For daily horror news and updates, be sure to check out the Dead Entertainment home page.
---
DERRY – It looks like a group of childhood outcasts who called themselves the Losers' Club have truly embraced their identities into adulthood. With each of them coming of age facing their own slice of trauma, these real-life losers have turned to online gaming as a means of healing and banding together in the wake of their troubled pasts. World of Warcraft has been quite cathartic for these individuals.
Although it took some time for Bill Denbrough, Ben Hanscom, Beverly Marsh, Richie Tozier, Mike Hanlon, Eddie Kaspbrak, and Stan Uris to ultimately reconnect, doing so through the mutual interest of online gaming has proven to be a positive and healthy development for the group. Shortly after signing up for the Activision-Blizzard MMORPG, the seven long-time friends worked together to create the official [Losers' Club] guild to play in.
The situation isn't looking quite as positive back in Derry, Maine, where It has awoken right on schedule, 27 years after terrorizing the children of the Losers' Club back in the late '80s. Pennywise the Dancing Clown has made his triumphant return, full of anger and hatred towards the kids who bested him the last time he appeared. He soon began his attempts to make the losers remember him, with the ultimate goal of bringing them back to Derry to enact his vengeance. However, the group's online gaming habits have made these efforts all but futile.
"I mean, I've been pulling out all the stops to entice these losers to come back to Derry," Pennywise told us, his somber tone evident. "Red balloons, creepy illusions, you name it. But they won't stop playing this damn game long enough for me to get them to even come close to revisiting their old trauma."
Denbrough had a totally different take on the situation, offering a more optimistic spin on recent developments. "This game has been good for us," he explained. "All of us were brought together by our shared childhood trauma, but we stayed for the fun times and epic loot. We just downed The Restless Cabal in Mythic Crucible of Storms, so we're feeling pretty great about that."
Much to It's dismay, our chat with the Losers' Club contained not a single reference to Pennywise or any of the torment he enacted on them during their youth years in Derry. It would seem that the addictive online multiplayer game has really given the group a chance to move on from the past and focus on the good times in the present now that they are all together again.
At press time, Uris made the shocking decision to retire his main character in the middle of the raid progression race, opting to level up a new class altogether from the very beginning. Although the group eventually accepted that their beloved Stan would no longer be a Mage, he had his Warlock at max level within a week and was well on his way back to the core raid team.
Recent reports indicate that [Losers' Club] received a membership application from a character named Pennywise, but due to a lack of appropriate gear and a minimal history of serious raiding, he was quickly denied by Marsh, who serves as the guild's recruitment officer. She never even considered for a moment that this application was anything out of the ordinary, proving just how far this group has come in their efforts to heal and move on in the world of Azeroth.