Concerned Neighbors Have No Idea Gates to Hell About to Be Opened
DOOM Eternal's Mick Gordon has other plans for his open invitation to recruit heavy metal screamers.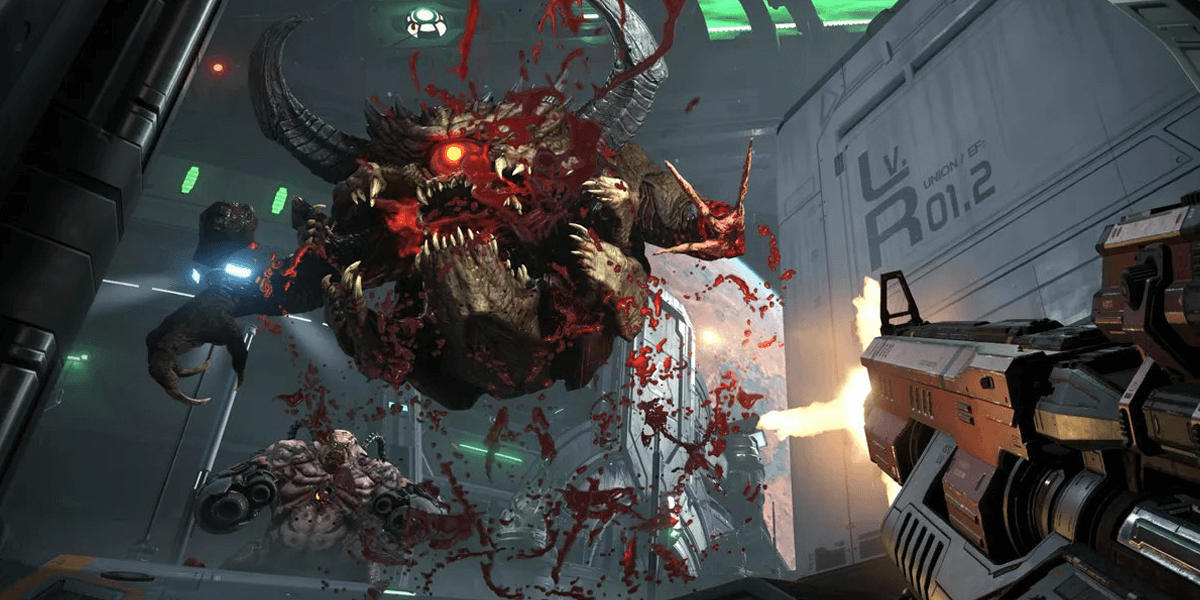 The Rotting Corpse is a weekly satire column dedicated to poking fun at our many horror favorites. For daily horror news and updates, be sure to check out the Dead Entertainment home page.
---
Earlier this month, the man behind the music for the upcoming DOOM Eternal, Mick Gordon, dropped an open invitation to all the heavy metal screamers out there interested in lending their talents to his project. Upon reading the guidelines for entering, one would immediately assume the invitation appeared perfectly normal in writing. However, as you are about to learn, the musician was interested in recruiting a heavy metal choir to read satanic scriptures in order to open the gateway to Hell.
After going through most of the submissions, Gordon ultimately decided on a final selection of thirty people to extend his invitation to. These are the submission he felt most confident would help him successfully complete his endgame of literally recording his latest soundtrack in Hell. As a matter of fact, this was the musician's original vision for the first game in the rebooted DOOM series, but due to budgetary constraints and obvious legal repercussions, he was restricted from doing so.
With the recording session beginning earlier this week at Gordon's suburban home in Austin, Texas, many of his fellow neighbors came forward to express their legitimate concerns about the worrisome events that have been unfolding all throughout the week.
"Damn," said Steve Mauro, who grabbed a bottle of Saint Arnold Fancy Lawnmower from his large-sized water cooler and cracked it open. "Some red-skinned bastard with horns has been hiding out around my shed the past couple of days. I shot at it a couple times but he's too fast for an old fellow like me." Mauro's concerns were nearly confirmed when we heard some rustling in the trees behind his shed, but it turned out to be a Maine Coon. We then proceeded to speak with another resident of the neighborhood.
"There are usually all sorts of obnoxious noises coming from Mick's home at any given time," mentioned Rose Johnson, who has lived in the community for over two decades and is a member of the neighborhood watch. "When my husband and I started to hear high-pitched screaming for hours on end, we figured enough was enough and called the police."
On Wednesday, local law enforcement did indeed pay a visit to Gordon's home and spoke with him directly. However, after a thorough inspection of the home and conducting interviews with his choir of heavy metal screamers, they ruled out any wrongdoing on his part.
After more of less getting the same bits of information from other neighbors, we decided to speak with Mick Gordon himself, who was more than happy to sit down with us for a quick chat.
"Yes, I'm already aware of the things that have been happening this week," Gordon told us. "Nobody knows this yet but I'm on the brink of opening the gates to Hell. Hence why I needed a choir of heavy metal screamers who could complete the requirements of these ancient scriptures I found in a cave years ago, which must be roared out loud by a large group of people. We came close a couple of nights ago, which explains the unusual sightings."
After raising our concerns to him, Gordon was quick to provide us with a very reasonable explanation for his motive behind all of this. "In order for the experience to feel as authentic as possible from a musical standpoint, it just made sense to record the soundtrack for DOOM Eternal in Hell itself," he added. "You'd do the same thing if you were in my shoes." He's right, we absolutely would.
While it's unfortunate an unsuspecting community, and possibly the entire planet, is about to be turned upside down when the gates to Hell are opened here on Earth, we completely agree with Mick Gordon's creative decision on this matter and anxiously await whatever terrifying and kick-ass music is about to come our way in DOOM Eternal.