It's Time for Twisted Christmas in Killing Floor 2
'Tis the season for Season's Beatings in the multiplayer horror game.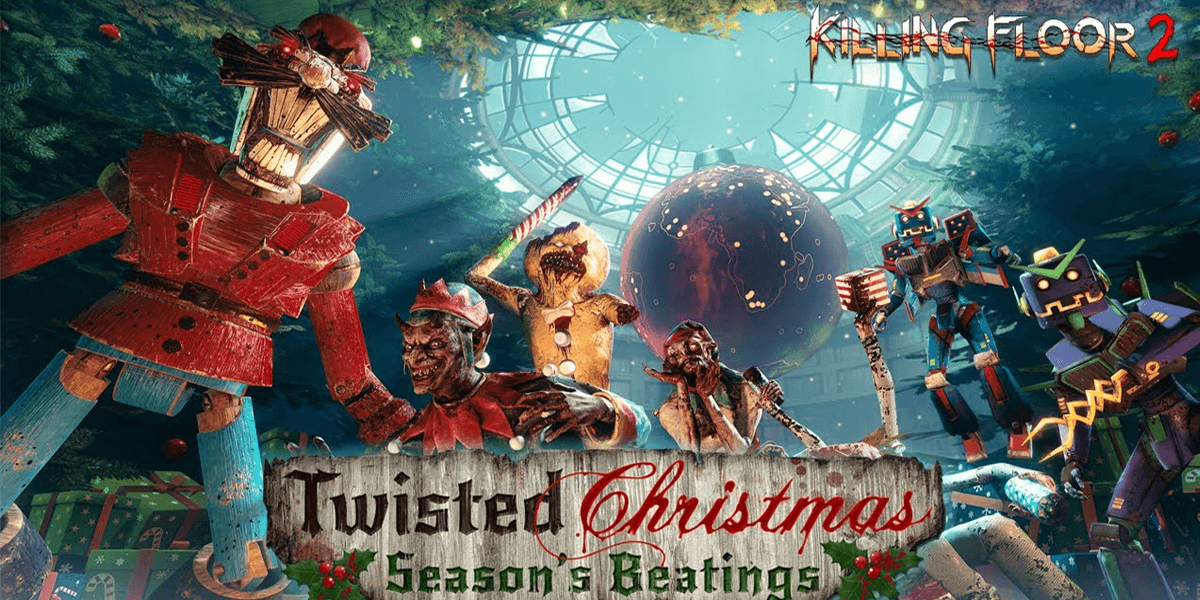 The Christmas season is in full swing which means it's time for the next seasonal update for zombie survival first-person shooter Killing Floor 2. This year's holiday-themed update is titled Twisted Christmas: Season's Beatings and features new weapons, achievements, a fan-favorite map, and a new Badass Santa playable character voiced by actor Gary Busey.
Check out the full update below for all the details as well as the event's trailer to see all the awesome new "holi-sleigh" mayhem being unleashed. As always, players can also expect reskinned zeds to fit with the holiday theme.
It's beginning to look a lot like Christmas... in Hell! Oh no, it looks as though those mischevious Zeds have invaded Santa's workshop. There's certainly no question as to whether they have been 'naughty' or 'nice' this year!

Luckily, our heroes are here to save the (Christmas) day from complete disaster! And as you may have heard, they have much-needed assistance from a new addition - none other than Santa himself! Only, this isn't any ordinary Mr. Klaus, because he has been working out (and putting aside those milk and cookies) in order to get his workshop running again. Ladies and gentlemen, we give you none other than Badass Santa! You can catch a glimpse of this (not so jolly) fellow later on...

Badass Santa is a purchasable playable character voiced by legendary actor Gary Busey. Busey also lends his voice to the Trader in the Santa's Workshop Map – and this "gift of Gary" will be free for all players throughout this Christmas themed event.

As a special holiday treat, we are also introducing the fan favorite community map Shopping Spree for the duration of the Twisted Christmas: Season's Beatings update. Experience the true horrors of consumerism as players slay Zeds throughout a nightmarish and mangled shopping mall.

In addition to the Shopping Spree map, players will be introduced to Santa's Workshop. Beat back waves of zeds in this brand-new objective survival map. Compatible with Weekly, Survival, and Endless modes.

Ho Ho Ho...Hell

'Twas the night before Christmas, when all through the house, not a creature was stirring... except for some Zeds of course! Deck the halls with blood and monsters. This year's winter update marks the return of zesty Christmas-themed Zeds. So, mark your (advent) calendar and make a date to go (Christmas) shopping for your favorite monsters!

STOCKing Fillers

At least some goodies made it out of the workshop before the invasion! Just in time for the season, we have four new weapons to unwrap. Players can enjoy the return of the Fire Axe, plus the addition of the M-32 Grenade Launcher, the Thompson, and the Krampus Battle Axe. There might also be another little surprise in store... see if you can spot it!

So, there are plenty of new toys for you to play with. We really hope that you, ahem, put the "slay" into the sleigh bells this year!

Badder Than Ever

The Killing Floor 2 - Twisted Christmas: Season's Beatings update promises to end the year with a bang, with the new playable Badass Santa purchasable character voiced by Gary Busey himself! As mentioned before, this isn't your average St. Nick, as you can probably see...

No Duplicate System for Crates And Ticket Drops

The system now records items granted from a crate, USB, or ticket. While the same rarity drop percentages apply, it will be guaranteed to grant one of each cosmetic (ware-variants included) until you have the full item set. Once you have obtained all the items from a crate, USB, or ticket, it will clear the records of that item set and begin recording anew.

New DLC Bundles

The Christmas sales will be starting early this Holiday Season! All new miscellaneous bundles will be for sale in-game on Steam, plus the Playstation Store and Xbox Marketplace. Just remember - the more you buy, the more you save.
Killing Floor 2 players can enjoy Twisted Christmas right now. Are you excited to do some last minute holiday chopping alongside Gary Busey?