Ratings for The Walking Dead Ratings Drop Articles Drop to an All-Time Low
Visitors just aren't reading these pieces like they used to.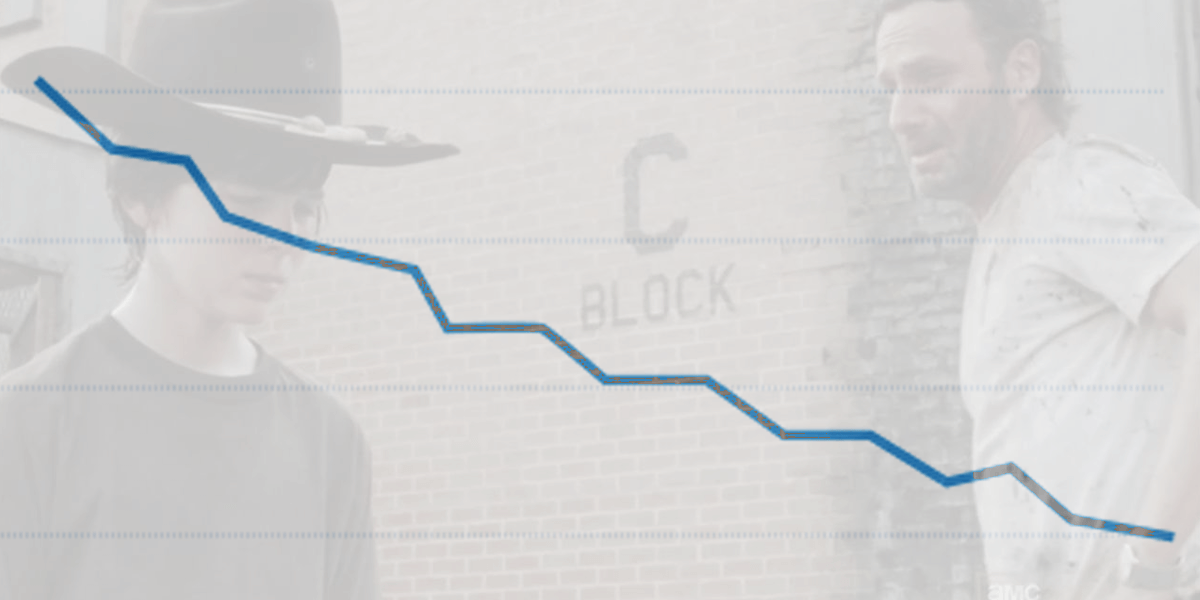 The Rotting Corpse is a weekly satire column dedicated to poking fun at our many horror favorites. For daily horror news and updates, be sure to check out the Dead Entertainment home page.
---
The Walking Dead ratings decline articles continued their downward slide this week after another episode of the zombie drama aired on AMC. Even though viewership was up from the previous week, there is always some metric to use in these articles to paint the ratings in a bad light, such as comparing it to other similar episode numbers or titles. This past episode may have been the lowest rated midseason finale to air or the least-watched episode which has a title starting with the letter E, but readers are tuning out and skipping over these hot takes anyway.
"I gotta be honest, I just don't care that much about how the latest episode of Walking Dead is hitting a new low this time," said Facebook commenter Joey Filner. "I haven't even watched the show since season three. I just come here to write about how much it sucks anyway." Many other self-described fans we spoke with echoed a similar sentiment, noting that while they previously enjoyed reading about the series sinking to new lows, even though they haven't watched it for the better part of the decade, they're just no longer that invested in reading about the show's ratings.
Curiously, if recent data is any indication, it would seem that the majority of The Walking Dead fans who comment about the show do not watch it at all. They mostly just appear in discussion threads after an episode has aired to point out how terrible the show is doing, despite not even watching it. The thing is, these very same fans used to love these low ratings articles but recently have all but stopped reading them. Many publications are left wondering, what is the reason for this sudden decline in clicks?
"Just the other day I came across an article about the show hitting its lowest mark for females in a certain age range who live at odd-numbered street addresses," another commenter told us. "And, honestly, I just kept scrolling and didn't even stop to write 'lol that show sucks' like I would normally do. It's like I no longer feel an uncontrollable rage when I think about The Walking Dead, and it's a rather liberating feeling, to be honest."
The numbers don't lie. Based on recent analytics, there has been a measureable decline in the readership of such articles, even when the authors go out of their way to find some creative way to talk about how The Walking Dead has fallen short this time. Publishers everywhere are forced to go back to the drawing board to figure out new ways to engage their lackadaisical audiences, who used to just eat up this kind of content even as recently as last month. We're not sure if these kind of ratings articles will ever make a comeback considering how far they have fallen, but we will continue to monitor the situation when the show returns next February.
At press time, several hundred websites that were writing half-season ratings recaps for The Walking Dead all came to a screeching halt out of fear that their work might be for naught. A handful of bold sites published their articles anyway and soon learned that they too have hit their lowest numbers yet.