Fast Food Chain Unleashes Crunchy Black Widow Burger, Just in Time for Halloween
People are dying to try out this new burger.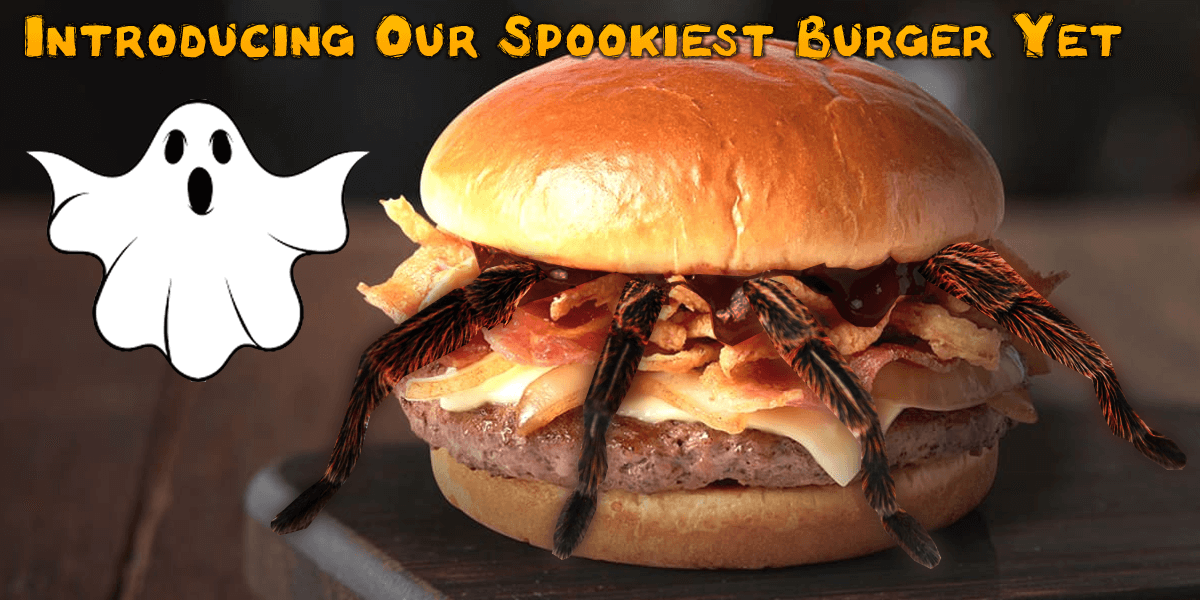 The Rotting Corpse is a weekly satire column dedicated to poking fun at our many horror favorites. For daily horror news and updates, be sure to check out the Dead Entertainment home page.
---
From frappuccinos to nightmare burgers and frozen drinks, brands are going all-out for Halloween this year by creating the spookiest food items they can dream up, but one fast food chain is taking this trend to the next level with an offering of their own. Burger Den, known for their all-natural patties and fresh-baked bread, unveiled this killer new menu item, the Crunchy Black Widow Burger.
Ghosts, zombies, and werewolves aren't the only creatures that go bump in the night this year. Burger Den is making sure this Halloween has room for everybody's favorite creepy-crawly critters. This limited edition burger is topped with a deep fried black widow spider, lightly seasoned and all-natural, much like the rest of the quick service restaurant's robust menu.
"People are dying to try one of these," said Burger Den marketing director Jonathan Pryor. "I mean that literally. The black widow is a highly-toxic species of spider and this burger is filled to the brim with potentially-lethal venom. We do recommend that all patrons bring a vial or two of antivenom to counteract the effects of this deliciously-deadly sandwich."
When asked why the fast food chain would serve a dish that could prove fatal to its customers, all the while advertising its all-natural ingredients, Pryor added, "Well, even arsenic is natural. I wouldn't put too much thought into the semantics here. The Crunchy Black Widow Burger is both spooky and delicious. Do stop by Burger Den and try one for yourself before rushing to judgment."
With less than a week to go until Halloween, consumers all over the country are eager to get their hands on whatever spooky food and beverage items they can find and this just might be the spookiest one of them all. Let's just say that we know what we're having for lunch today. How about you?
At press time, federal regulators were investigating a surge of spider-related deaths in all 50 states, proving once again that Americans just can't say no to holiday-themed fast food items.