Famous Horror Writer Can't Finish First Draft of Latest Book
You may want to cancel your pre-orders after reading this.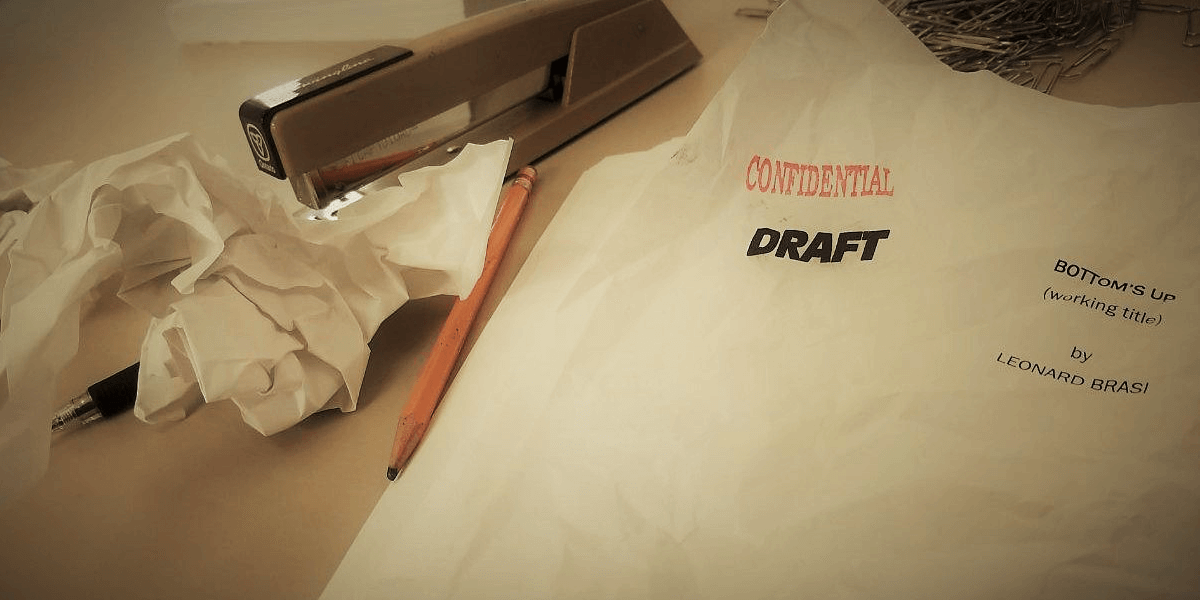 The Rotting Corpse is a weekly satire column dedicated to poking fun at our many horror favorites. For daily horror news and updates, be sure to check out the Dead Entertainment home page.
---
Leonard Brasi, a multiple best-selling author who specializes in horror fiction, has unfortunately found himself in quite the predicament. As it turns out, the novelist is unable to finish his latest and highly-anticipated new book, which is set for release in just a few weeks. As a matter of fact, he hasn't even gotten past the title page, which lists the tentative title of the book and his name as the author.
This may seem quite surprising to some of you, considering the famous author has written 27 published works, notably titles such as Conky, Drowning, Infectious, Silent Custody, and Deep Inside You. His latter works have all made The New York Times Best Seller list and earned him a place as one of the greatest horror writers of all time.
With the tentative title Bottom's Up, one must wonder what direction this book was intended to take. Is it about an immature, selfish, and foul-smelling dirtbag who put the bottle before his lady? Or, could there be some sexual innuendo to its content? Whatever the case may be, it's clear that Brasi has no fucking clue what it's about.
In fact, he's done absolutely no writing at all in months, instead dividing his time between constantly staring at a blank page in his word processor, fiddling with his thumbs, taking long walks around his gate-enclosed neighborhood, and napping sporadically throughout the day. When those close to him questioned his behavior, he simply brushed it off and explained that he was having a creative block. This has been going on for nearly 9 months now, which is the reason why those close to him were eager to cooperate with our investigation.
Thanks to their help, we can now absolutely confirm that Brasi was spreading fake news to the public earlier this month when he announced on his Twitter that he was in ill health and may have to delay his new book, the suspicious timing of which prompted our investigation.
The tweet has since been deleted simply because we informed him he was full of shit and threatened to go public with the information we retrieved, that is, unless he would agree to send us a large sum of money, which he did right away. What? You'd do the same thing too after learning that same day there's a pirate ship adventure you can embark on for a great price in the Cayman Islands.
We're only coming out with this news now because Brasi has now crossed the line, where he recently sent numerous offensive tweets to a fellow best-selling author of an even greater stature than him. Have a look below for this truly unacceptable display of savagery.





Instead of writing his new book, Brasi has clearly found the time to harass and threaten Stephen King. After we cautioned him once more about going public, he decided to publicly apologize for his behavior.

We simply weren't buying into this halfhearted apology and felt that Brasi needed to learn the hard way how to be a respectful human being. We made a single phone call to his publisher, Trinity Books, and gave them the scoop on what was going on. Needless to say, they weren't very pleased with his lack of professionalism and were enraged at the fact they were paying him a rather generous amount of money to write this new book.
The icing on the cake was when Brasi tweeted the following.

We believe this is a desperate attempt to find the inspiration to hammer out a 5- or 600 page novel at the very last minute and everybody has truly had enough of this charade. Let's be honest, he was never a very good writer and excessively recycled themes and characters from his other books.
It's obvious that Leonard Brasi has run out of gas and our advice to him is that he should quit while he's ahead and find a new job. He just doesn't have what it takes to stay afloat and should let more successful writers like Stephen King do a better job at staying relevant.
More on this story as it develops.