Blumhouse Reveals First Trailer For Romantic Comedy Halloween Reboot
Prepare to laugh and cry this October with Halloween.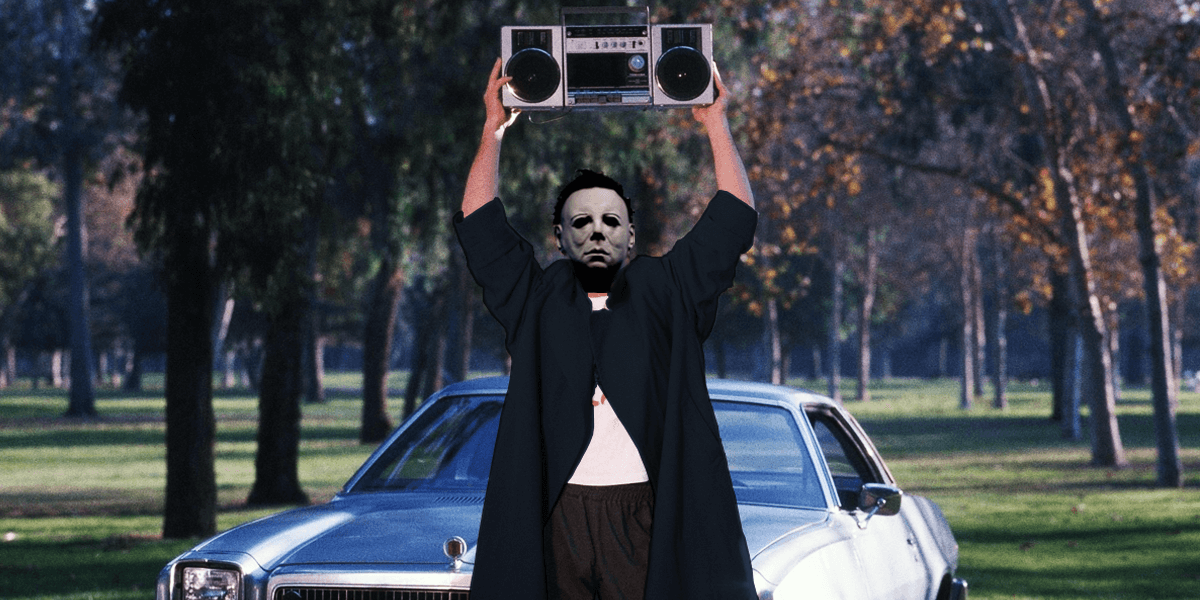 The Rotting Corpse is a weekly satire column dedicated to poking fun at our many horror favorites. For daily horror news and updates, be sure to check out the Dead Entertainment home page.
---
CinemaCon attendees got an incredible surprise last week when Jason Blum took to the stage and revealed the first trailer for Halloween, the latest romantic comedy from Blumhouse Productions. As fans of the long-running franchise are already aware, this new film will be a rebooted sequel of sorts that is set after the original and ignores all of the other movies. This means that us Michael Myers fans may finally get some closure on our favorite heartthrob and his pursuit of longtime crush Laurie Strode, who will be once again played by Jamie Lee Curtis.
Fortunately, we were in attendance and had the pleasure of getting a first look at Halloween. A full description of the trailer follows.
The trailer begins with a sound check and video recording of a couple who are madly in love and making their own fun documentary. They talk about how they met and other milestones, leading to them to the present, madly in love and enjoying life together. They walk out into a beautiful courtyard, designed in a checkerboard pattern, and approach a sad-looking man who they instantly recognize as their old friend, Michael Myers.
A heartbroken shell of his former self, he is approached by the couple and their crew. "Hello Michael," one of them says. "I have something you might like to see." He reveals an old photograph showing Michael and his former high school sweetheart, Laurie Strode. The raw emotion in this scene is truly overwhelming as you can feel what Michael feels, utterly devastated at leaving things off on such a bad note with the woman he couldn't live without.
Back in Haddonfield, Halloween season is in full swing and Laurie Strode is still around, looking as though she is perhaps missing something in her life. We learn through visual cues that she has been preparing for the moment Michael returned to her, from the photographs she has placed around the house to a bottle of wine she may be saving for a special occasion.
"I pray every night that Michael would return," she explains to another character, "So I can love him again."
Soon, Laurie learns that Michael is indeed on the way and her heart skips a beat. This is obviously the moment she has been waiting for. The trailer cuts to another, more lighthearted scene where our Romeo makes one of his classic blunders and accidentally wanders into a women's restroom. By the time he realizes his mistake after an occupant explains the situation with some funny quips, he had already finished brushing his teeth so he heads out the garage and continues his romantic journey, fresh breath and all. This is classic Halloween humor at its finest.
A love song kicks in at this point to really set the tone for Michael's arrival back in Haddonfield, where he hopes to finally reunite with his former sweetheart. It's Halloween and the town is alive with children trick-or-treating as the cool autumn breeze makes you yearn to see Michael and Laurie hold each other once again. Audience members audibly gasped when our sweetheart first catches a glimpse of her man back in town. She tries to call out to him but her voice gets lost in the commotion.
The trailer hits its peak with shots of Laurie's preparations for her reunion with Michael, showing a set table with candles lit, rose petals spread around, and a truly romantic ambience all around. There are some obviously emotional scenes mixed into the trailer here and you could tell the audience was completely gripped, watching the tears and raw emotions put forth by the cast of this film, even in this short preview. The moment where Laurie calls out Michael's name cements the fact that this could be the most intense emotional roller coaster ride of the year, hands down.
Finally, we see the inside of a room and hear music playing, somewhat muted as though it was coming from outside. A young boy walks up to the window and opens the curtains to take a look. There's a man outside, holding a boombox in the air playing "In Your Eyes" by Peter Gabriel. It's Michael and he's at the wrong house! The trailer ends on this much lighter note when the Halloween title card pops up, leaving us all laughing but still wondering what will happen next.
We can honestly say this new Halloween might be the romantic comedy of the decade and it's a true return to the roots of the franchise. We love what Blumhouse is doing with the franchise and genre in general. October 19th can't come soon enough!