Local Swimmers Take Part in Crystal Lake's Annual Polar Plunge
Swimmers from all over take a plunge into the icy waters of Crystal Lake.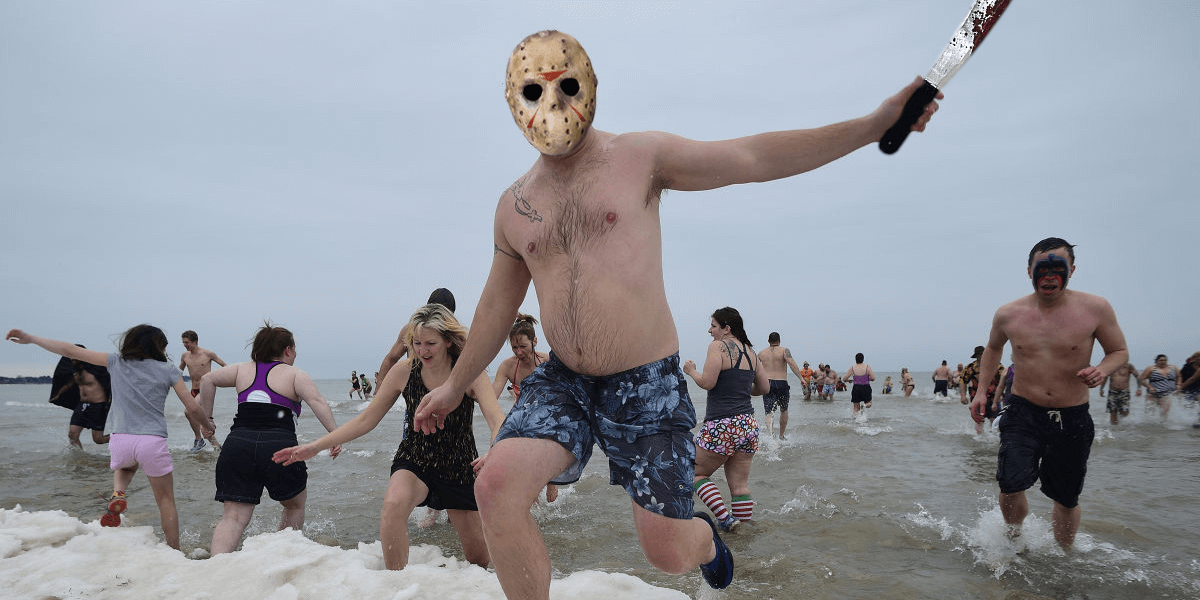 The Rotting Corpse is a weekly satire column dedicated to poking fun at our many horror favorites. For daily horror news and updates, be sure to check out the Dead Entertainment home page.
---
CRYSTAL LAKE - It's that time of year again and swimmers from all over are flocking to Crystal Lake for one of their favorite traditions. For most people, winter means spending more time indoors and keeping warm in front of a fireplace with a hot beverage, but for a few adventurous local residents, winter means only one thing: it's time for the annual Crystal Lake Polar Plunge! Each year, determined swimmers flock to the popular campground to take a dip in the cold waters just for bragging rights and to say they did it. For what is normally a very slow time of year at Camp Crystal Lake, there's an unusual surge of visitors flocking into town to take part in this year's event.
Local swimmer Jason Voorhees decided to join in on the fun after initially planning to skip this year. "I just do it for the thrill, mostly," he told us. "Plus, it gives some exposure to the camp, so I just come out here for the excitement and I'm still doing my part." The other Polar Plunge regulars tend to recognize him right away with his trademark hockey mask as they prepare to take a dip in the chilly waters of Crystal Lake. For some swimmers, it's just doesn't feel the same unless Mr. Voorhees is there to hit the water first to kick things off. Some newcomers are amazed by how well regulars like him can dive right in without hesitation.
"I just don't know how he does it each year," said Bonnie Cooper, a resident of a neighboring town. "He's got his hockey mask and just dives right in like it's nothing. I'm still afraid to get my feet wet!" Water temperatures hovered above freezing point this afternoon, but not by much, making anything more than a quick dip in the cold lake dangerous and even potentially deadly. "When the water is around 40 degrees, it only takes about 15 or 20 minutes for hypothermia to become fatal," one of the lifeguards on staff explained. "Safety is our number one priority here, so even though everyone has a lot of fun here each year, and I know our masked friend over there is quite fond of the Polar Plunge, we are taking all necessary precautions to keep everyone in good shape."
Swimmers are also limited to a short dip in the water and given everything they need to recover from the cold quickly, including heavy towels and a warm beverage back at the campground. It's clear that the dedicated staff is making sure this event goes off without a hitch, and it's refreshing to see veteran paricipants like Mr. Voorhees do everything they can to help newcomers stay safe as well. Although Camp Crystal Lake has an unusually high number of fatalities each year, on average, you can be sure that this event will be among the safest of 2018.