Pray for This Premium Format The Nun Figure
The demon Valak returns as a 1:6 scale action figure.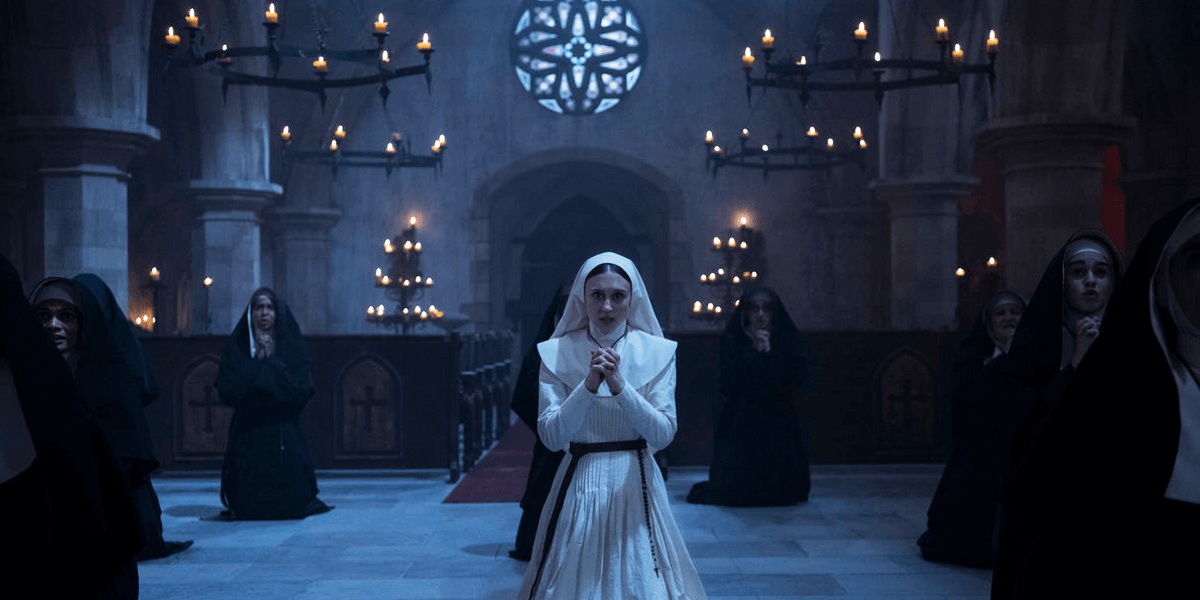 Even if you aren't the biggest fan of The Conjuring film series, its impact on modern horror cinema cannot be denied. With five films released so far, grossing over $1.5 billion, the cinematic universe based on the exploits of real-life paranormal investigators Ed and Lorraine Warren isn't going anywhere.
In fact, it seems to only be gaining more steam with last year's spin-off featuring the demonic nun Valak, who was first introduced in 2016's The Conjuring 2, being the highest-grossing film in the franchise thus far. It even had its own YouTube ad controversy that may have had a positive impact on its box office success. Collectible company Quantum Mechanix is banking on this popularity with its latest 1:6 scale action figure based on The Nun.
"An speakable evil walks amongst us" 

Warner Bros. "The Conjuring Universe" springs from the terrifying true stories of the demonologists Lorraine and Ed Warren. In The Conjuring they faced the malevolent spirit of a murdered witch, and in The Conjuring 2 Lorraine has a horrifying vision of a demon, Valak, that takes the form of a nun. Now in the movie prequel The Nun, that demon stalks the holy sisters of a convent in Romania – it's an ancient site that holds a dark secret -- and a portal to Hell. 

At 30 cm tall this collectible figure has over 36 points of articulation and features two different heads – one with her scary "I'm going to get you" stare and another head in "attack" mode with her wide-open mouth revealing terrifying fangs. 
Her nun's habit and veil are authentically reproduced as seen in the movies and she wears a silver cross. Also included are multiple hands for your choice of horrifying poses. She comes with Ed Warren's haunting portrait of her from The Conjuring 2 and a round logo base.

WHAT'S IN THE BOX?

The Nun Sixth Scale Figure specially features:

Female body with 36 points of articulation
Detailed likeness of the Demon Nun, Valak, from The Nun
2nd head with a screaming portrait of Demon NunTailored nun's habit and veilSilver crossEight (8) interchangeable hands including: 
- One (1) set of splayed hands 
- One (1) set of relaxed grip hands 
- One (1) set of attack hands 
- One (1) set of hands to hold the painting
- One (1) pair of nun shoes
- Painting of the Nun from The Conjuring 2
- Round logo base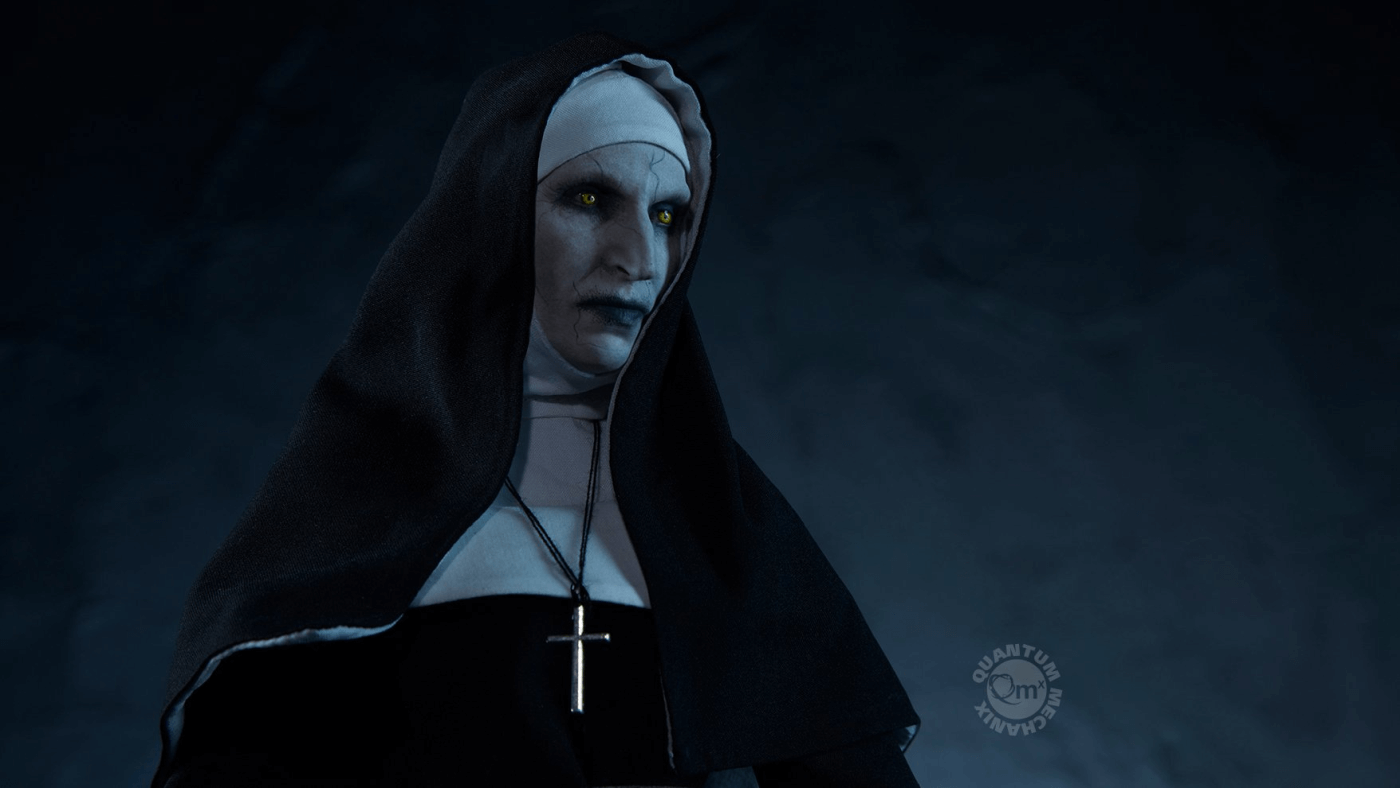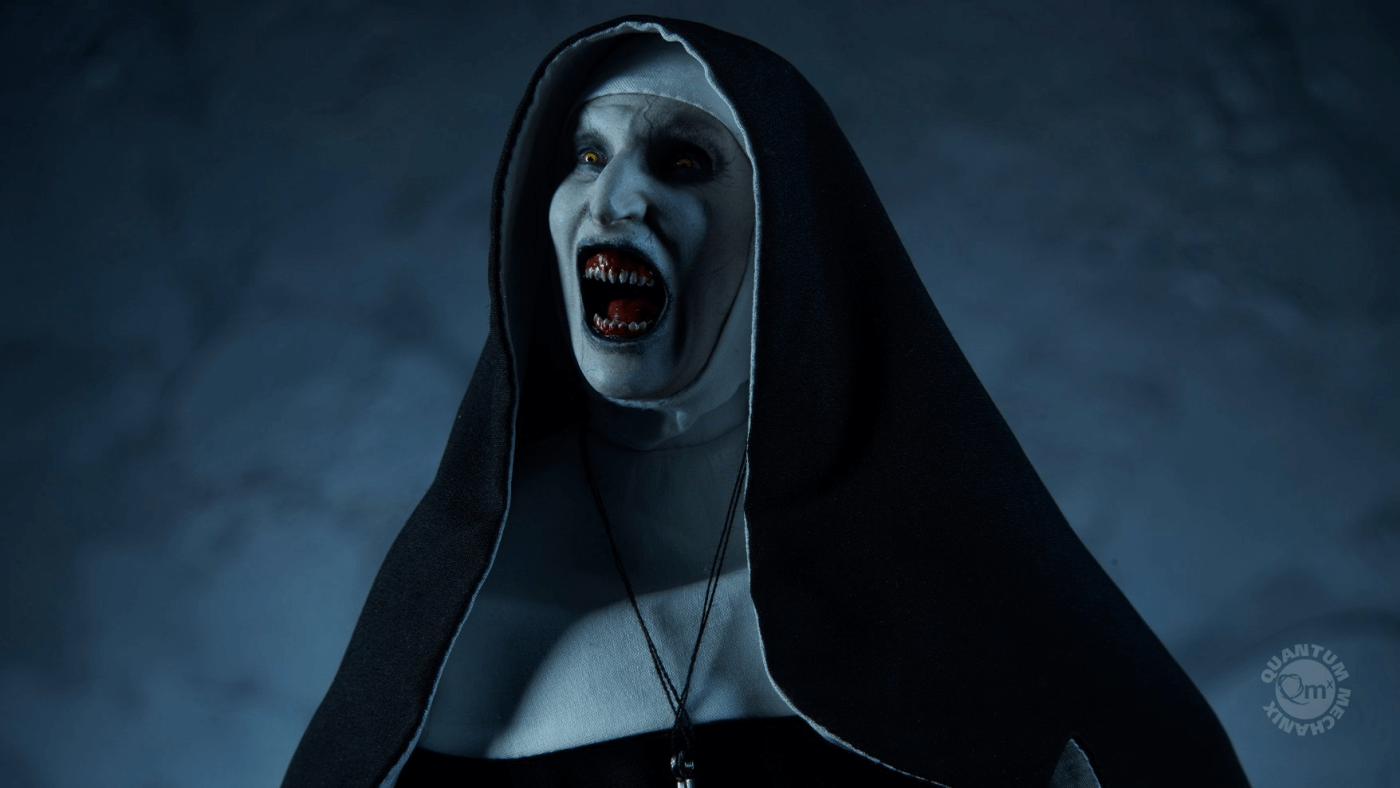 The Nun 1:6 scale figure by Quantum Mechanix will soon be available for pre-order at the cost of $199.95 with an estimated release during the third quarter of 2019. Head on over to the official listing for the product to sign up for the mailing list and receive word when you can place your order.