7 Days of May: Day 7 - Drones
For our final day of our May event, we take a look at the work of Angela Bettis outside the realm of horror.
By M.T. Bates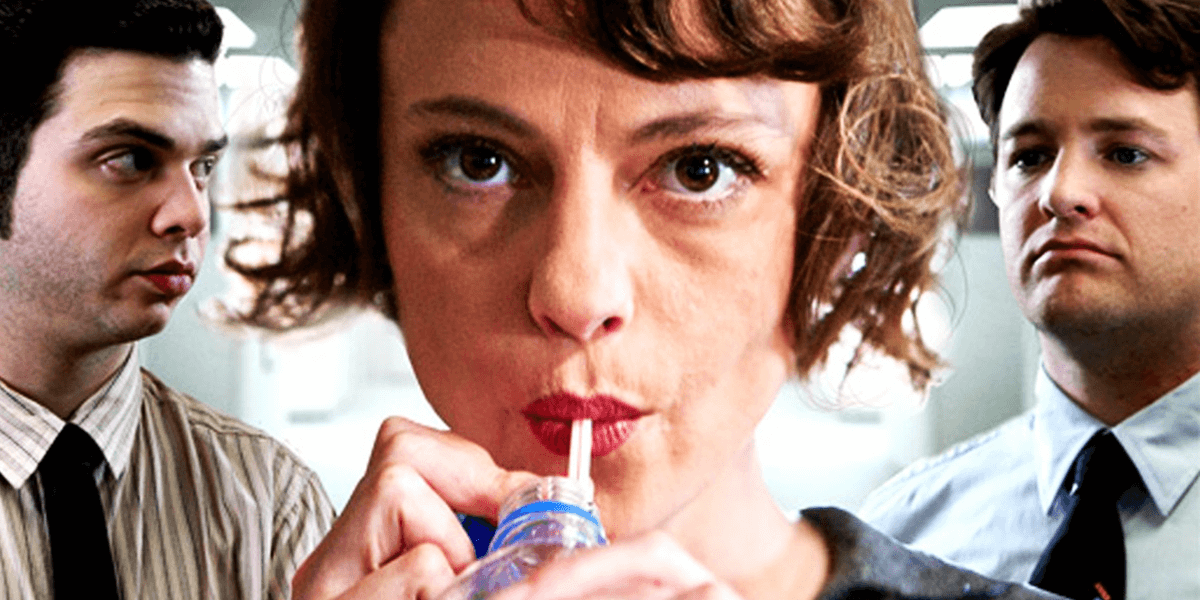 For the final day of 7 Days of May, we are going to look at Angela Bettis in a personal favorite of mine called Drones. If you've never heard of this film, that might be because it isn't horror, but instead more of a satirical office comedy in the vain of The Office or Office Space... with a twist. So, if it isn't horror, why are we ending the event on it? Well, this movie is a testament to Angela's acting range and demonstrates how she can handle the world outside of horror, so I believe it deserves to be recognized.

Angela plays Amy, your run-of-the-mill cubicle farm alien, which is possibly my favorite character she has ever done. She somehow manages to play an awkwardly straight-laced alien, if that makes any kind of sense. Although the beginning is light on Amy, the rest of the cast is thankfully highly likable. Samm Levine and Jonathan Woodward, Clark and Brian respectively, have a one-of-a-kind on-screen chemistry that makes up for Amy not always being on screen.

Amy has a very stern disposition that somehow draws you in every time she speaks. Her facial expressions are very intoxicating and will keep sucking you in as the movie progresses. She has seemingly mastered the art of acting through facial expressions that we first saw back in Carrie and it is also on full display here. It's almost strange to see her take a plunge into such a vastly different genre, but because every facet of this movie is articulated and executed masterfully, she looks right at home. 

The character of Amy is new to human emotions, so she is able to travel that spectrum in such unique and clever ways, but that is due in part to the wonderful cast around her as well as the superb script. The humor jumps around from whimsical to dry and Angela manages to hit the beats poignantly, as does the rest of the cast. It is like a well-oiled machine that is able to bounce everything off of each part and that is why this movie is an absolute joy from start to finish. 

The overall tone of the film is very light and airy so that nothing ever seems overly serious, but not to the point where it comes off as silly. It's a melodic balance of everything that makes a centralized situational comedy work. The main characters go on a roller coaster of emotions and each one is more gripping than the last. It almost feels like an entire clever sitcom season compressed into 100 minutes of well-placed dialogue and expression.     

The final 30 minutes allow Amy to crank up her emotions and aggression a bit and it kind of catches you off guard. It's a side of the character and the actress that we rarely get to see. She continues to use her emotions to bounce off of other characters and it propels her own character into new heights. The overall story comes to a hilarious impasse as multiple alien species butt heads over the fate of Earth.

[relatedArticle-0]

There are so many nuances and lighthearted themes being strung along in this movie, with each character representing something else about human emotion. It's a fun and isolated flick that, instead of leaning heavy on laughs, relies more on just making you smile until the end. None of the characters feel wasted, which might be my favorite part about this movie, because they are all incredibly likable. 

What makes the character of Amy work so well is that the filmmakers allowed Angela to be her quirky self, which it makes you realize she is a top-tier character actress. Not being a horror movie shouldn't stop any fan of her work from seeing this film, as it might be her best to date.

When you don't restrain her talent behind uninspired characters like Joan from Scar, she is able to open up, explore, and bring her characters to life in a way that only she can. Her particular acting craft is honed in so finely that it is almost sacrilege to not allow her to inject her own spins and takes on the characters she portrays. An Angela set free is the best kind of Angela.
The Good
Instantly likable characters in an isolated environment are all given their time to shine.
The Not-So-Good
Some might feel that the movie fails as a comedy because it lacks in laughs, but I am not one of those people.
Angela Rating: 10/10
Drones is a lighthearted pick-me-up that serves as nothing more than a smile generator. With a wonderfully diverse cast of characters and a whimsical story, it is almost impossible not to fall for this movie. Angela Bettis shows that she might have made her career from horror, but she can tackle anything you throw at her without issue.
With that, we wrap up our 7 Days of May special event. We hope you enjoyed this week-long celebration of the superbly-talented Angela Bettis, and that you, the reader, might seek out some of the films we highlighted if you haven't seen or heard of them before. They all deserve at least one viewing. Finally, we hope that everyone had as much fun reading through these pieces as this author did writing them.