New York Toy Fair 2019 Wrap-Up: Action Figures, Collectibles, and More
These upcoming horror collectibles will soon be coming for your wallet.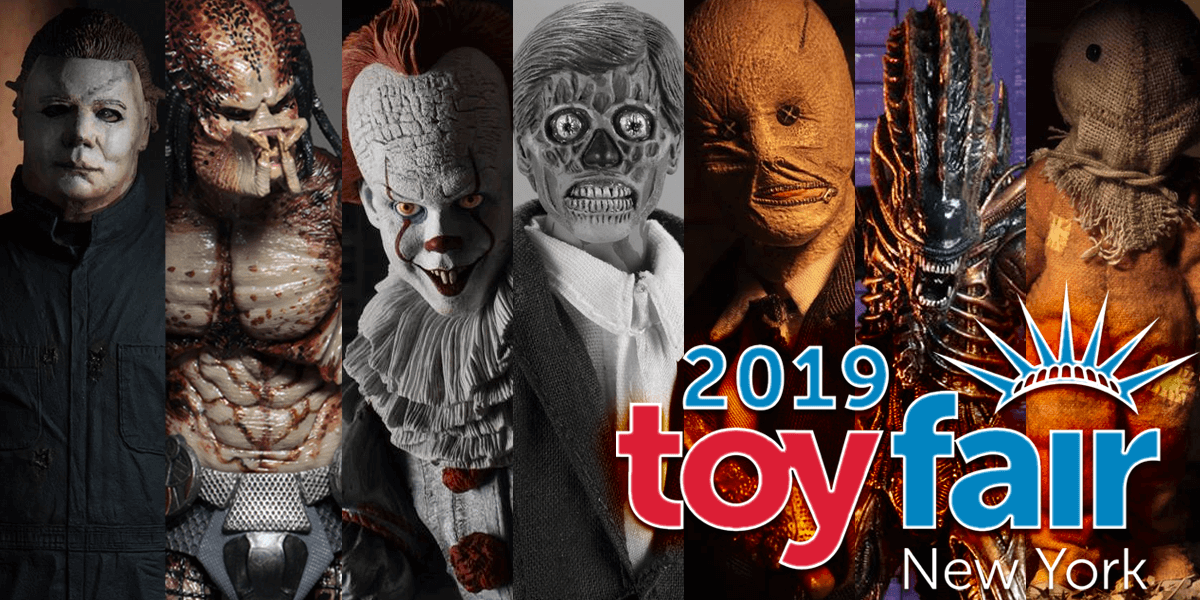 The New York Toy Fair, which took place over this past weekend, is the industry standard when it comes to the top toy and collectible companies showing off their wares. This year was no exception, with giants such as NECA, Funko, and McFarlane Toys giving collectors a taste of their upcoming figures for 2019 and beyond.
Much like last year's event, horror figures and collectibles stole the show with a huge number of franchises and offerings on display. As such, we have compiled our full wrap-up of everything worth mentioning from this year's New York Toy Fair as it pertains to the horror genre.
NECA: Halloween
After having lost the Halloween license for many years, 2018 saw NECA at least gaining the rights to produce figures based off last year's sequel reboot. At that time, the company did not have the rights to make any figures based off of the older films, although it would seem that has changed for this year!

First off, we have a Halloween 2 (1981) Ultimate Michael Myers that will be sure to please nostalgic fans who are looking to add that NECA flair to their Halloween figure collection. The addition of the iconic "bloody tears" head sculpt is also very appreciated in this release.

[blockquote-0]

The Halloween 2 (1981) Ultimate Michael Myers figure will see a release in the third quarter of 2019 with a suggested retail price of $32.99.

Next up, we have a new version of The Shape from his latest appearance last year in the Halloween (2018) Clothed Michael Myers action figure. This one is very similar to NECA's previously released figure with the exception of his retro-style cloth jumpsuit and a few less accessories. However, it's still awesome that they are giving fans some different options and continuing to promote this classic Mego-style of retro clothed toys.

[blockquote-1]

The Halloween (2018) Clothed Michael Myers figure will also see a release in the third quarter of 2019 for $36.99.

NECA will also be releasing a trio of figures based off Halloween III: Season of the Witch, specifically three trick or treaters wearing the memorable witch, pumpkin, and skull Silver Shamrock masks. It is awesome that we are getting these figures at all, especially since the film is so often overlooked, having been Carpenter's attempt to take the franchise in a new direction by not including Michael Myers at all.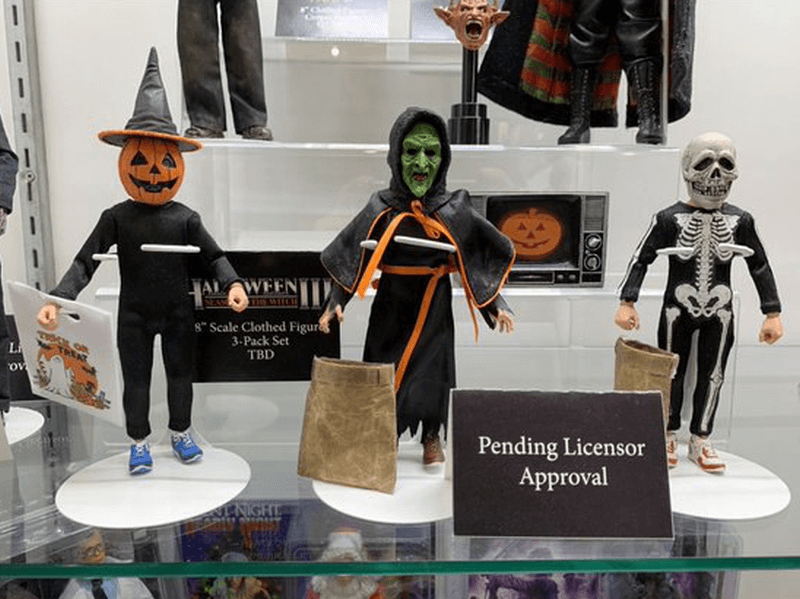 We had recently reported on the Tom Atkins figure being released as a part of Scream Factory's Night of the Creeps Blu-ray, so here's to hoping we can get another (Dr. Dan Challis) to go along with this trifecta. We always need more Tom Atkins in our lives and his performance in this film was a memorable one.

[relatedArticle-0]

NECA's last Halloween offering showcased at the New York Toy Fair is a 1/4 Michael Myers figure based on his 2018 appearance. As an 18" figure, this Michael has even more detail and articulation than the 7" figures and will be a must-have for serious collectors and fans of the franchise alike.

[blockquote-2]

The 1/4 Michael Myers figure will see a release in the 3rd quarter of 2019 with a retail price of $149.99
NECA: Stephen King's It
NECA continues to show love to Stephen King's It with another figure based on the original 1990 miniseries and Tim Curry's portrayal of Pennywise. The Ultimate Pennywise v.2 action figure switches things up with some new accessories, including a monster hand and "Turn Back Now" balloon. It appears that all of the new interchangeable hands and accessories are compatible with the original Ultimate Pennywise release, giving collectors a plethora of new posing options.

[blockquote-3]

The Ultimate Pennywise v.2 action figure will release in the third quarter on 2019 with a retail price of $32.99.

Bill Skarsgård's version of Pennywise the Dancing Clown from 2017's It is also getting a new release in the highly-detailed 1/4 scale. This release features a number of different hands and the menancing red balloon in order to recreate almost any horrifying scene from the film.

[blockquote-4]

The It 1/4 Pennywise figure will release sometime in the 3rd quarter of 2019 with a retail price of $149.99.
NECA: Friday the 13th
The toy company continues to expand its ever-growing line of Friday rhe 13th figures by taking a stab at the fifth film, Friday the 13th: A New Beginning. Spoiler alert: Jason Voorhees is technically not in the film with a copycat killer named Roy Burns instead pretending to be the infamous Crystal Lake slasher.

The lack of Jason isn't stopping our favorite toy makers from releasing a something based on this iteration, however, with the Utimate Part 5 Roy Burns action figure. The man behind the blue hockey mask finally can stand toe-to-toe with the real Jasons in your collection.

[blockquote-5]

The Ultimate Part 5 Roy Burns action figure will see a release in the second quarter of 2019 for $32.99.
NECA: Alien & Predator
The Alien and Predator franchises also made an appearance at NECA's booth at the New York Toy Fair, showing off a ton of upcoming releases. On the Alien side of things, NECA revealed a new figure of Parker (Yaphet Kotto), an engineer from the original film featuring his trademark jumpsuit, blue bandanna, and flamethrower.
Also seen in photos from the event was a "classic" small-scale Neomorph Queen from Alien: Covenant. The placards for these figures state that they will see a release in the 3rd and 4th quarter of 2019. Of particular interest is the placard in front of Parker, which states he will be part of an Alien 40th anniversary collection, so we will likely see more figures from that line in the coming months.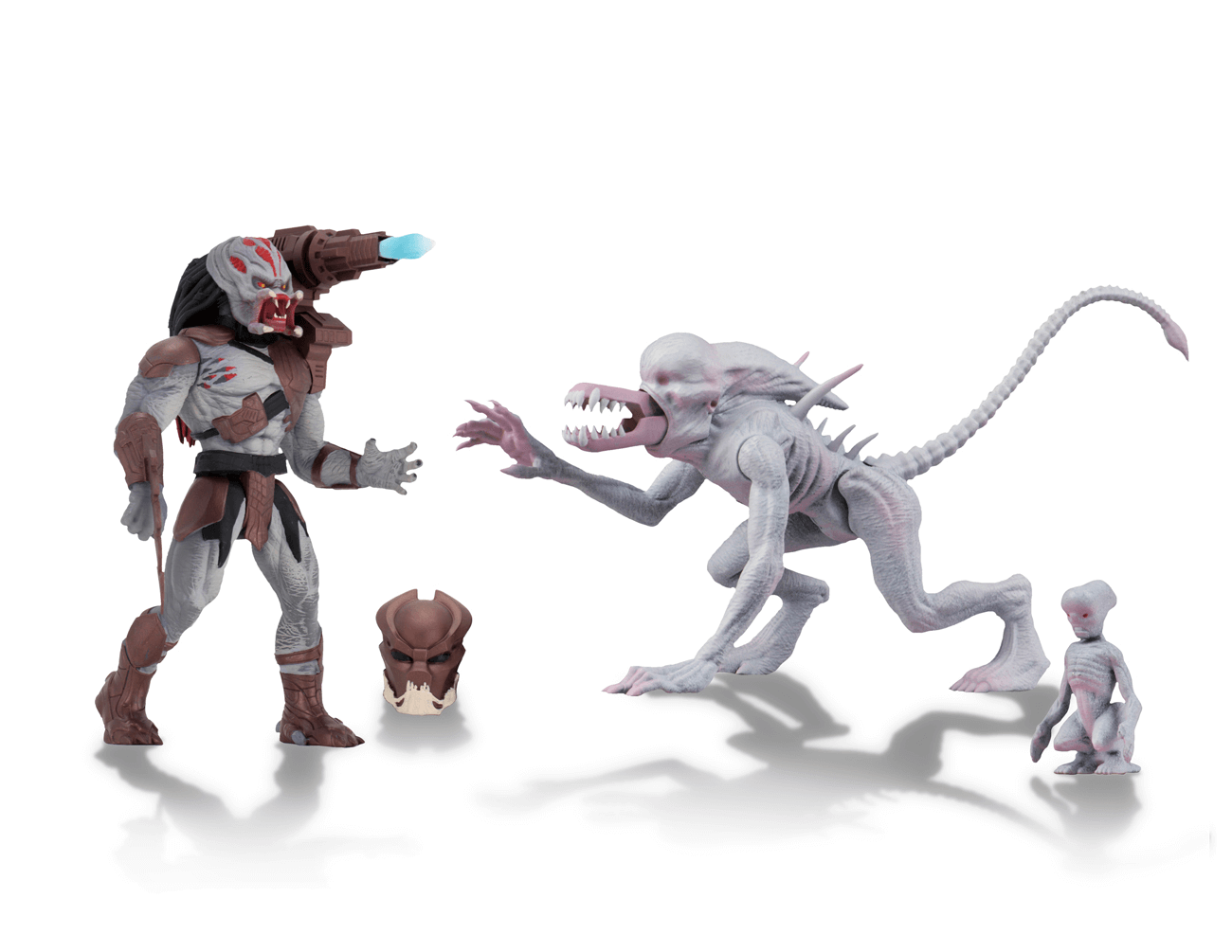 Predator also had a great showing at NECA's booth. First up, we were treated to two Emissary Predators from Shane Black's The Predator, one of which we have already seen before as well as a new one, which presumably will be named the Ultimate Emissary #2. The first emissary is due to be released sometime this month, while the second should be out in the near future.
Also showcased was an impressive Alpha Predator, also from The Predator, which was marked as a "Special 100th Edition Figure" with no estimated release date. We're not sure exactly what that means, but NECA has our attention. The last figure on display was another "classic" Berserker Predator that is slated for a third quarter release this year.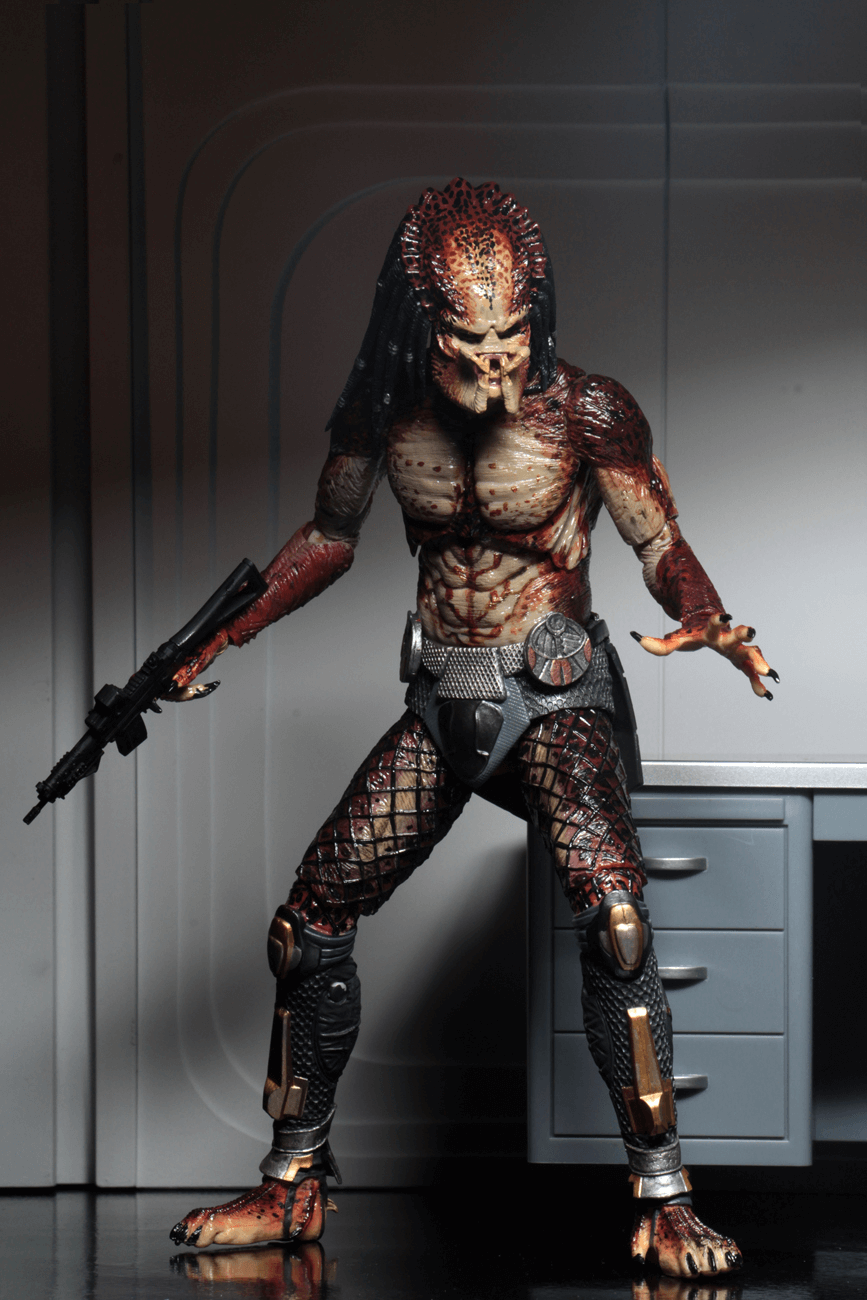 NECA: Toony Terrors
Perhaps the most interesting line of new figures shown off at New York Toy Fair is what NECA has dubbed "Toony Terrors." Prototypes of these cartoon-stylized figures included Jason Voorhees, Freddy Krueger, and both versions of Pennywise. Each figure comes with its own base and backdrop display, further emphasizing the Saturday morning cartoon vibe they seem to be going for with these releases.

[blockquote-6]

The Toony Terrors will release in the 3rd quarter of 2019. Pricing is unknown at this time, but should be made available soon.
NECA: Godzilla
The toy company showed off previews of new action figures based on the upcoming sequel, Godzilla: King of the Monsters. This included the big lizard himself blasting his atomic breath, based on his appearance in the new film.

[blockquote-7]

Also on display was a figure of Mothra, featuring a display base with a support rod to simulate flight.

[blockquote-8]

Rodan is getting a figure from the new film as well, featuring the same support rod system, allowing collectors to create some truly epic battle scenes.

[blockquote-9]
NECA: Other Horror Figures
Trick 'r Treat mascot and Halloween defender Sam is getting the NECA treatment once again. This time around, he's getting a Mego-style cloth jumpsuit and a removeable mask made out of burlap. This updated figure will see a release sometime in the 3rd quarter of 2019.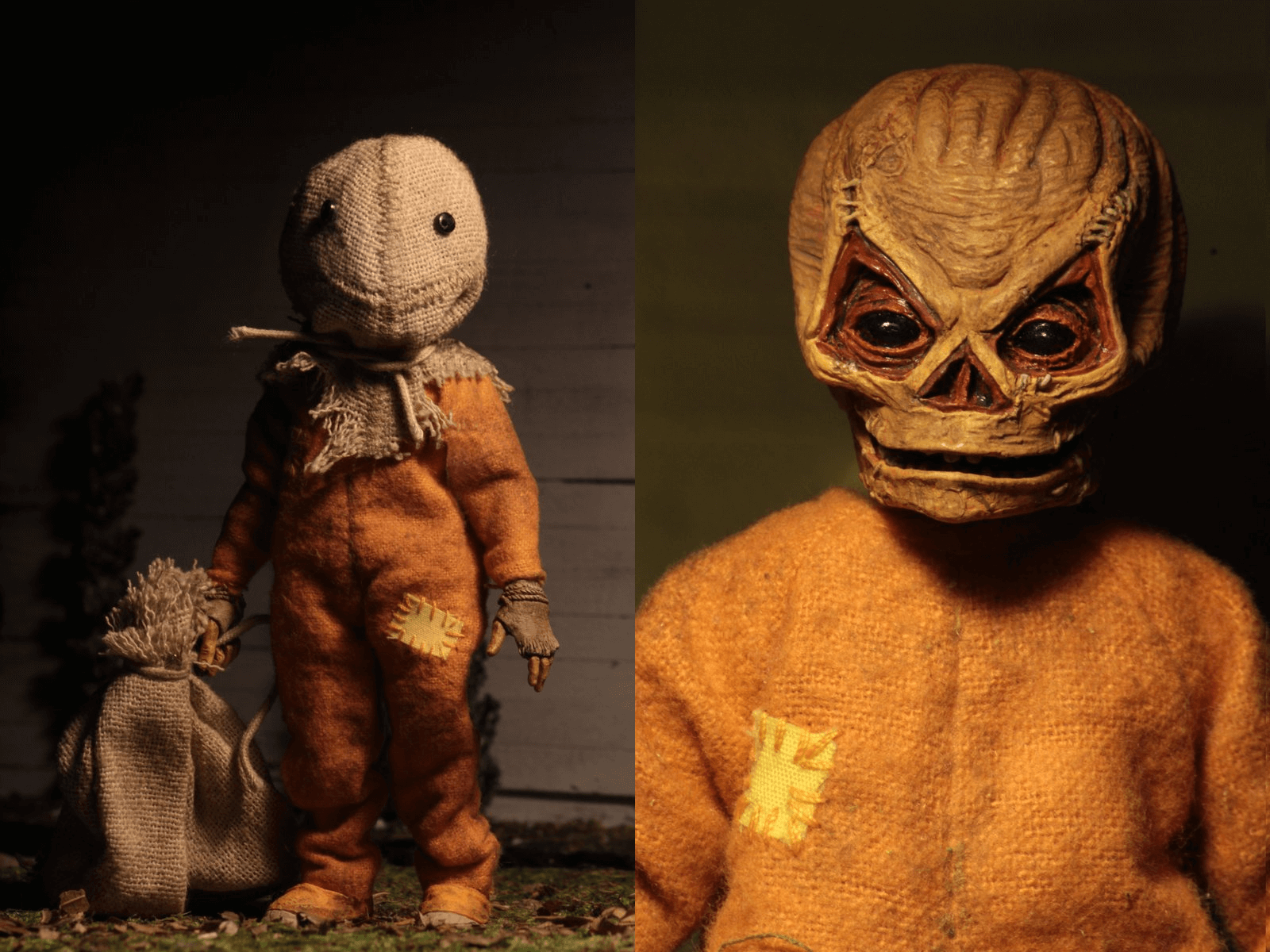 The Conjuring's Crooked Man was also spotted next to the previously announced figure of The Nun. Based on an old English nursery rhyme, the terrifying Crooked Man first appeared in The Conjuring 2 and has his own spin-off film in the works. These two figures are likely the first in what will become an ongoing series of figures based off The Conjuring universe, so expect to see an Annabelle action figure from NECA in the near future as well.

[relatedArticle-1]

Additionally, Guillermo del Toro's Academy Award-winning film The Shape of Water will receive a figure of the Amphibian Man, continuing the product line based on the director's Signature Series, which thus far has included The Devil's Backbone, Pan's Labyrinth, and a special edition figure of del Toro himself. Accessories will include removable shackles, an alternate head, and adisplay base.

[blockquote-10]

The Shape of Water Amphibian Man action figure is set for a release in the third quarter of 2019 with a retail price of $34.99.

John Carpenter's They Live will see a couple releases from NECA as well, with prototype Male and Female Aliens spotted in the company's display. Both figures appear to have real cloth clothing and an "Obey" TV set is also prominently displayed. Perhaps this will be a two-pack bundle coming in the future? No release date or other information is available at this time.

Last up, we have a figure of the serial killing psychiatrist Dr. Decker from Clive Barker's Nightbreed with a Mego-style cloth suit and briefcase full of his assorted knives. Little else is known about this particular figure at this time.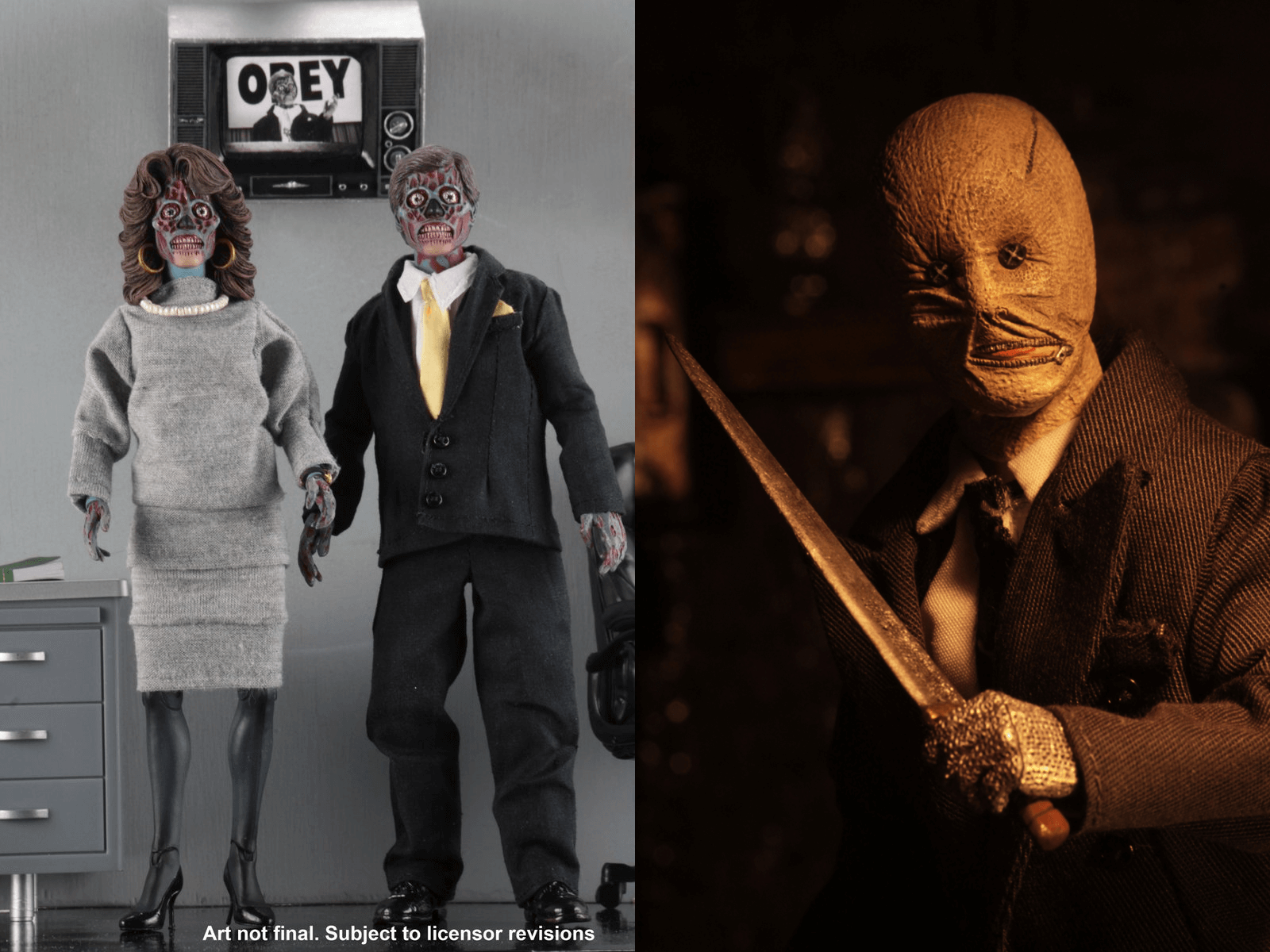 Mezco
Toy company Mezco will be adding Sabrina Spellman from Netflix's Chilling Adventures of Sabrina to its Living Dead Doll collection. Sabrina will come with her trusty sidekick, Salem. Additionally, Living Dead Dolls based on The Shining's Jack Torrance and the Grady Twins were shown off at the company's booth. As always, these creepy dolls will be the talking piece of your collection, good or bad, since they are creepy as hell.
Mezco will also be releasing figures based off the upcoming Addams Family animated film slated for release in October as a part of its "Five Points" line. Figures shown off at the New York Toy Fair included Gomez Addams, Uncle Fester, Lurch, and Cousin It. Surprisingly, there was no trace of series favorites Morticia or Wednesday Addams. 
Finally, Mezco showed off a couple new premium format figures as a part of its One:12 Collective. Horror figures on display included Hellboy, Pennywise from 2017's It, as well as a Male Alien from They Live. All three figures look amazing and are very well modeled and detailed.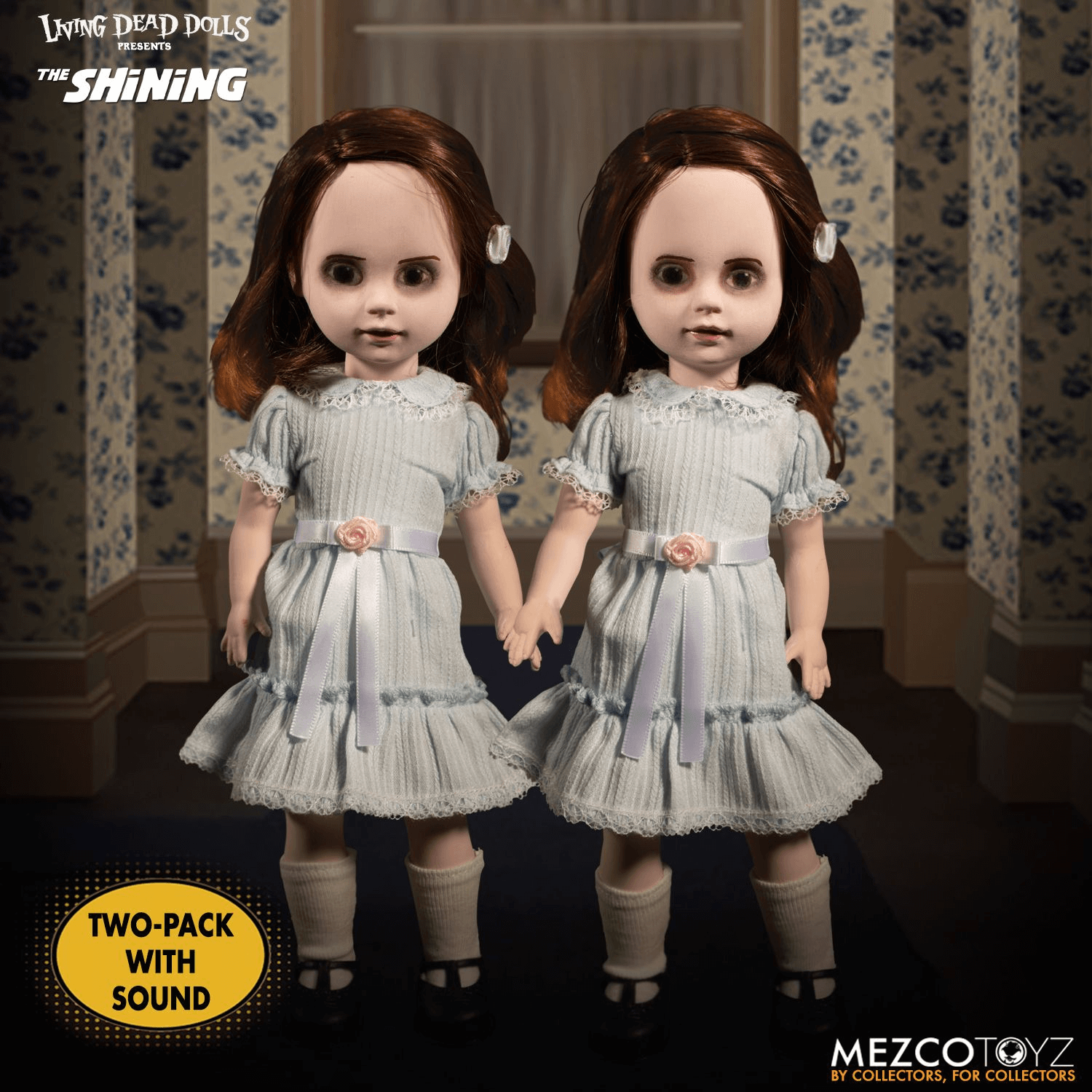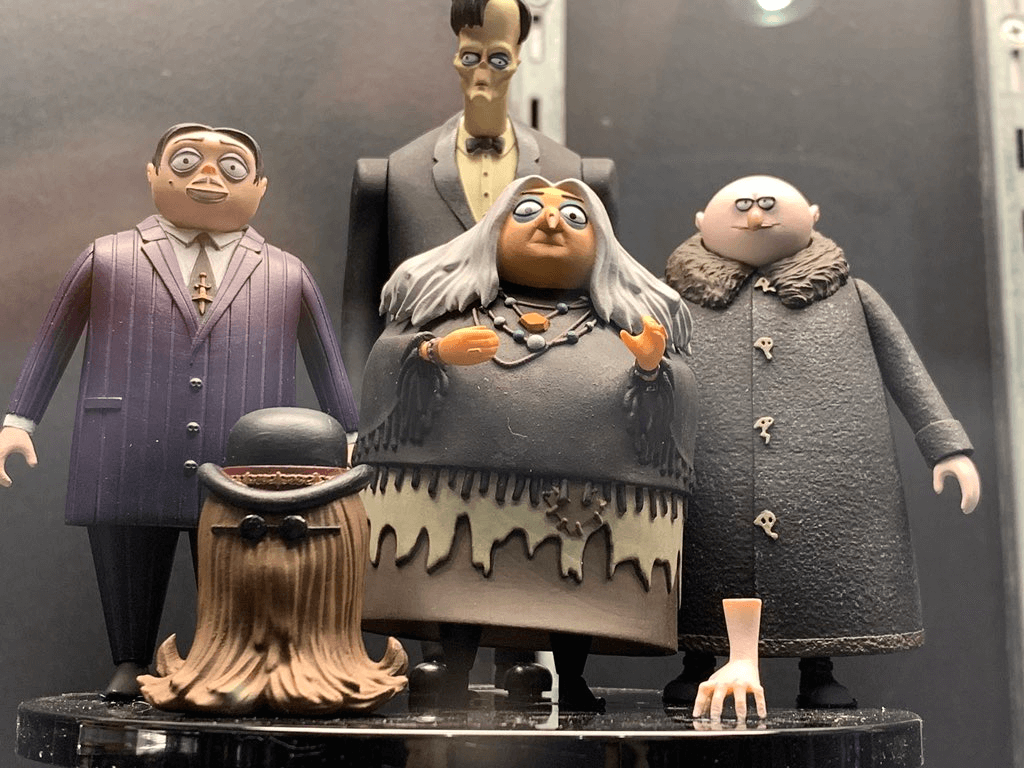 McFarlane Toys
Todd McFarlane had a few surprises of his own to show off at New York Toy Fair. Teased via Twitter early last week, it was confirmed that McFarlane Toys has acquired the license to make figures based on the popular fighting game Mortal Kombat. While no figures or  prototypes were available to show, a mock-up display confirmed that the first two figures from this line will be series staples Scorpion and Sub-Zero.
Other mock-ups also confirmed figures will be made of the Doom Slayer from id Software's legendary first-person shooter franchise, DOOM. Also worth mentioning are new figures from Fallout and The Elder Scrolls V: Skyrim, with a Vault Suit and Power Armor figure as well as Alduin the World Eater being shown in a mock-up photo. All of the figures will be in McFarlane's standard 7" size, although there are no release dates available at this time.
While the announcements of these figures are certainly welcome, it would seem their release might still be quite far away considering only mock-ups were on display at the event. Check out a photograph of the mock-ups below, as shared on Twitter by user @FakeEyes22.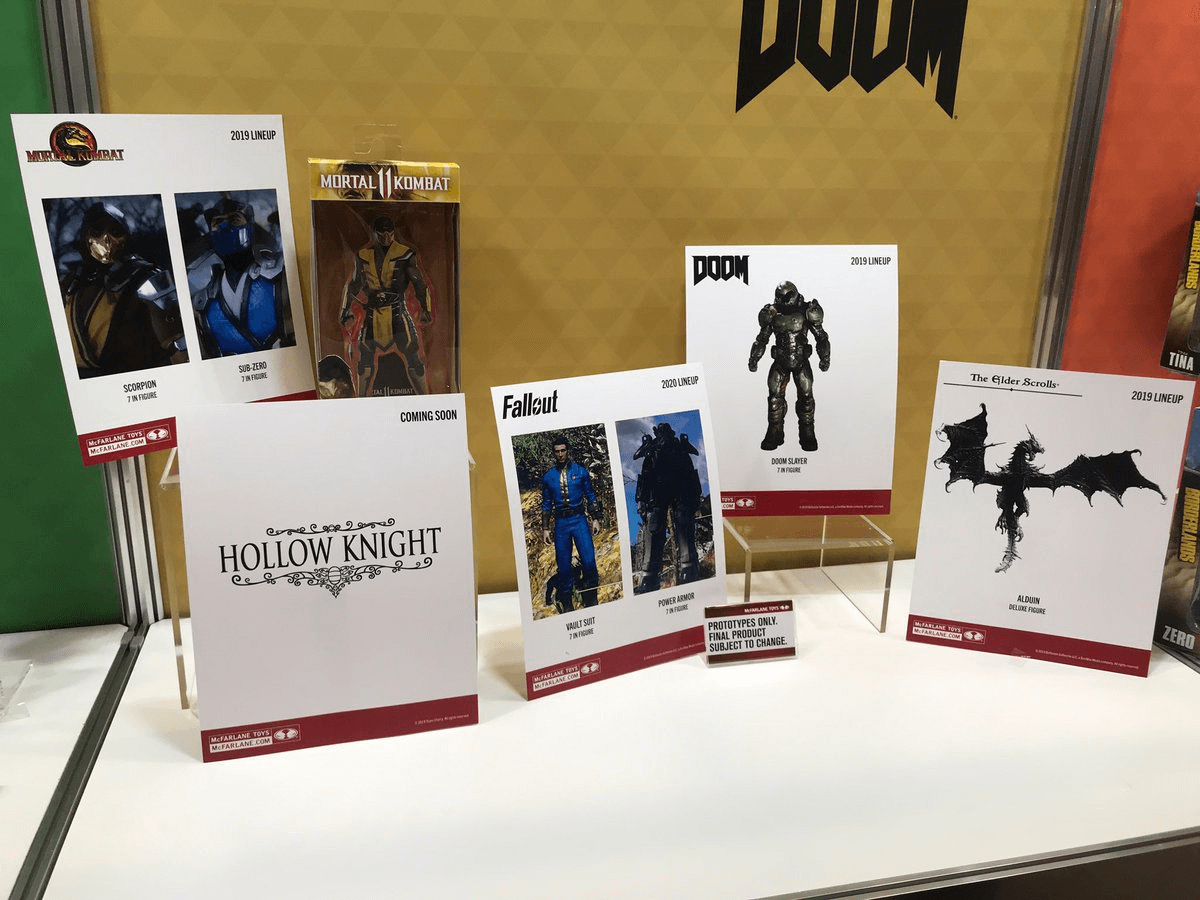 Funko
Another company that brought its A game to the New York Toy Fair is Funko, especially with respect to its ever-popular Pop! line. Funko had a huge number of announcements in numerous horror franchises including Alien, Castlevania, Jaws, Ghostbusters, Hellboy, Pet Sematary, and The Addams Family.

Funko's line of Alien merchandise continues to expand with the addition of new Pop! figures, a keychain, and a Vynl duo two-pack. The coolest reveal is probably Ripley holding Jonesy the cat, although that particular Pop! will be a Funko website exclusive, which usually means limited quantities that sell out quickly. Still, there's a nice variety of items here to help celebrate the franchise's 40th anniversary.

[blockquote-11]

Castlevania is also getting its own Funko line based on the popular Netflix animated series with the entire main cast on offering here. We are big fans of Castlevania here at Dead Entertainment and inevitably some of these will make their way into our personal collections.

[blockquote-12]

Next, Funko is sinking its teeth into Jaws with a variety of Pop! figures based on the classic 1975 shark film. The main cast is all here as well as Jaws himself, with one variant featuring the fatal diving tank it its mouth.

[blockquote-13]

In light of the newly announced Ghostbusters sequel that may feature some of the original cast, Funko is going all-in on the franchise with a number of new Pops, Five Star figures, Mystery Minis, pencil toppers, and even Pez dispensers. The amount of collectibles announced is honestly a bit overwhelming, with a huge number of retailer-exclusive variants. The full list of what's coming can be read below.

[blockquote-14]

Hellboy is even getting a Pop! of its own for its devilish protagonist, as portrayed by David Harbour in the upcoming reboot.

[blockquote-15]

Next on the list is Pet Sematary, particularly the original film, which is getting a Pop! figure two-pack of undead Gage Creed and Church the cat in celebration of its 30th anniversary.

[blockquote-16]

Finally, The Addams Family will be getting its own series of Pop! figures with a number of retailer-exclusives. See the full details below.

[blockquote-17]

That about wraps up Funko's latest offerings from the New York Toy Fair, with a number of new lines that will surely pique our interests given the upcoming revivals of many of the above franchises that are coming in the next year or two.
Super7
In conjuction with Funko, Super7 showcased a ton of new properties that will become part of its Reaction line. These figures are done in a cool 3 3/4" retro style that is more akin to action figures from the 1970s and '80s. New horror or horror-related properties being made into Reaction figures include They Live, Teen Wolf, and Robocop.
Super7 will also be creating figures based on the 1986's Aliens, including Ripley, Hicks, Hudson, Vasquz, Newt, and a torn-in-half Bishop. The company had previously released Reaction figures based on the original film, but it is nice to see them offering new releases for other films in the series.
One other surprise from the New York Toy Fair was the announcement of a new Toxie figure from Troma's The Toxic Avenger. This figure will be done in a "Masters of the Universe" style and is based on his appearance from the short-lived The Toxic Crusaders animated television show from 1991. It's a pretty bizarre choice, but we're not complaining. Troma and Toxie hold a special place in our hearts here at Dead Entertainment and we're excited to get our hands on this one.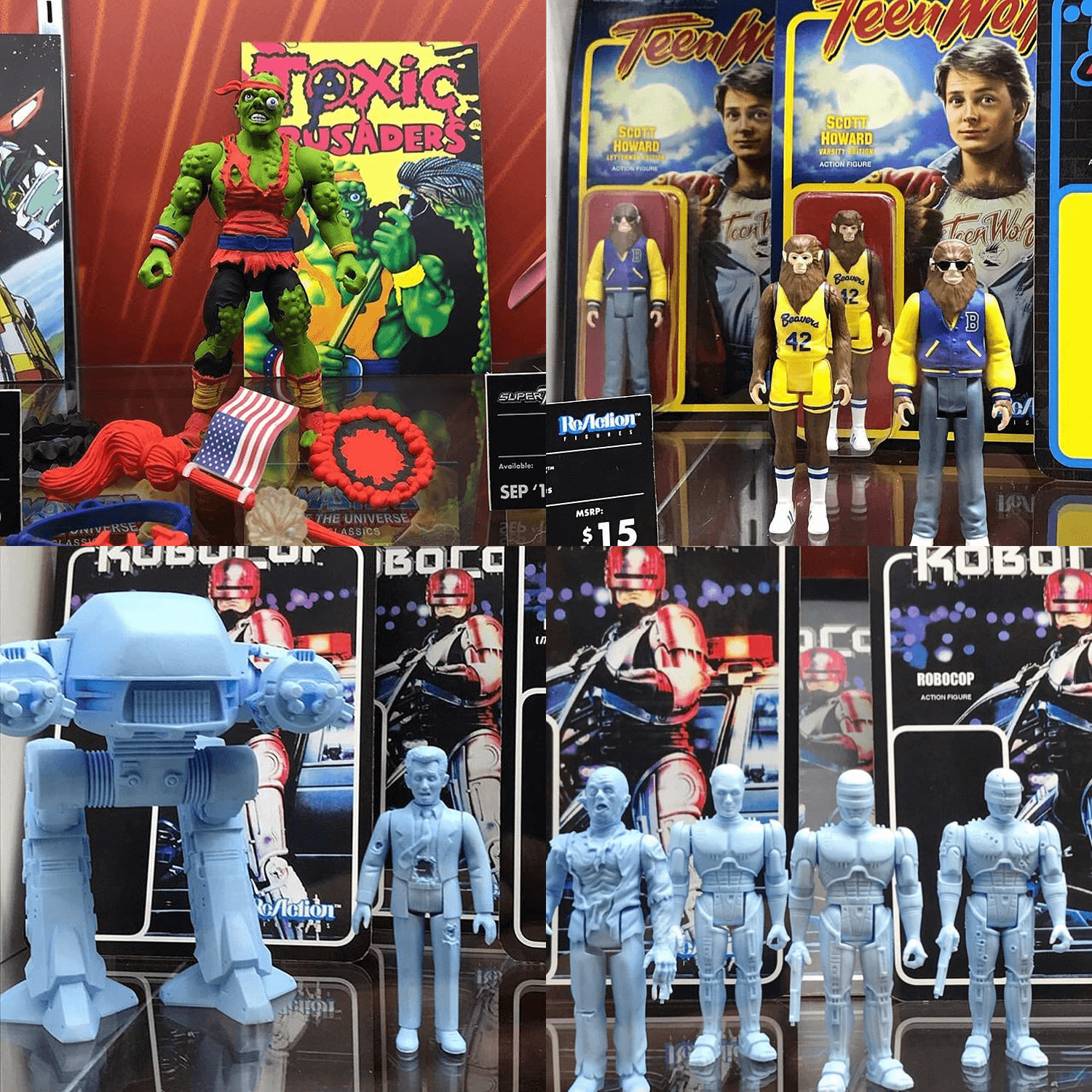 SD Toys
Over at the SD Toys booth, a couple of Jaws dioramas were spotted, one based on the classic movie poster while the other was a recreation of the final battle aboard the Orca. Few other details are available at this time, but they're worth mentioning and keeping an eye out for in the future. These displays are also a great alternative for collectors not as fond the previously-mentioned Funko Pop! figures. Check out the photos below from @FakeEyes22 on Twitter, just make sure you don't need a bigger boat.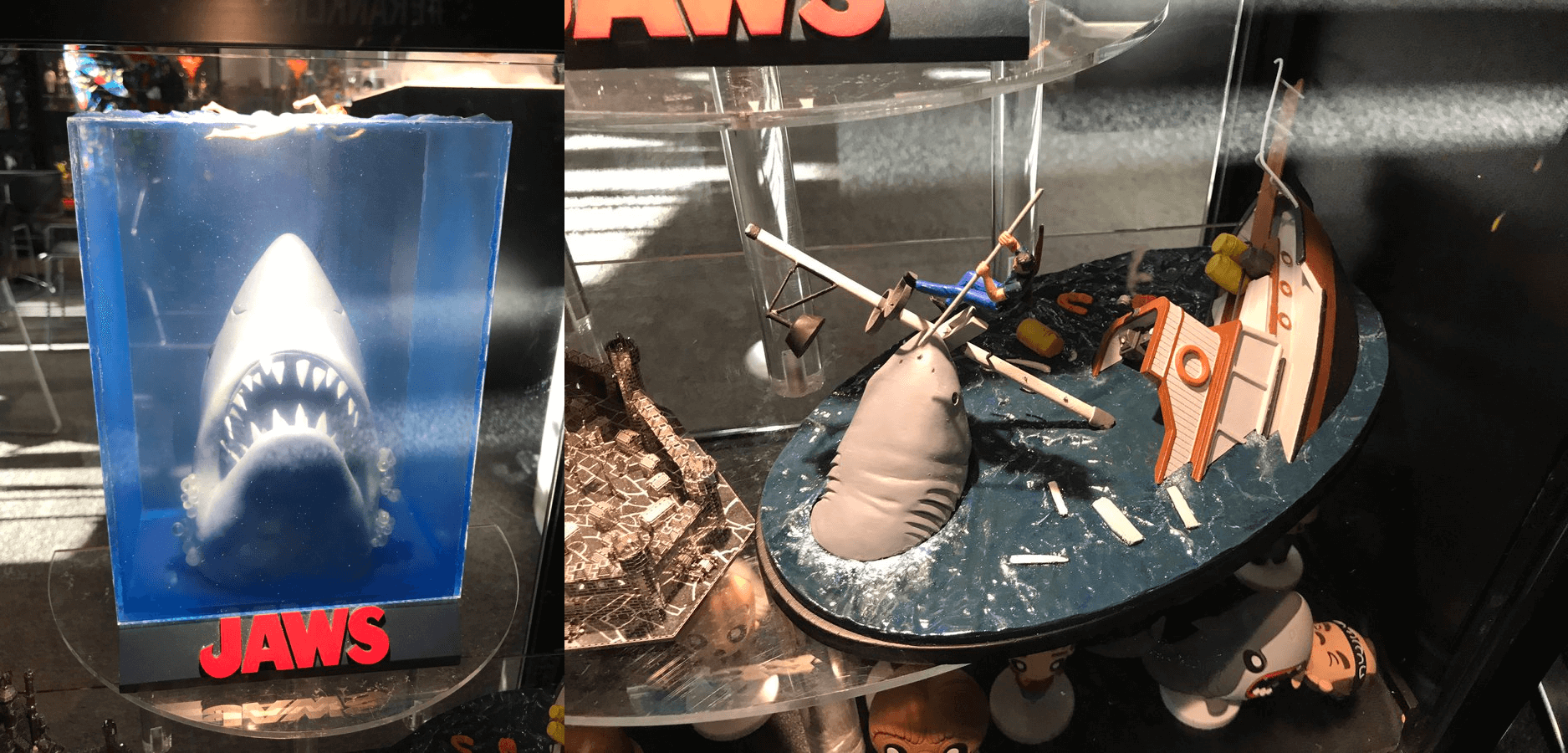 Final Thoughts
There you have it. That's the bulk of the great horror offerings on display from this year's New York Toy Fair. Which company had the best showing? Which of the announced figures are must-haves for your collection? Stay tuned for the latest in horror action figure and collectibles right here on Dead Entertainment.