E3 2018 Wrap-Up: Everything To Get Excited For
A complete look at all the latest in horror gaming following this week's E3 presentations.
By Chris Morse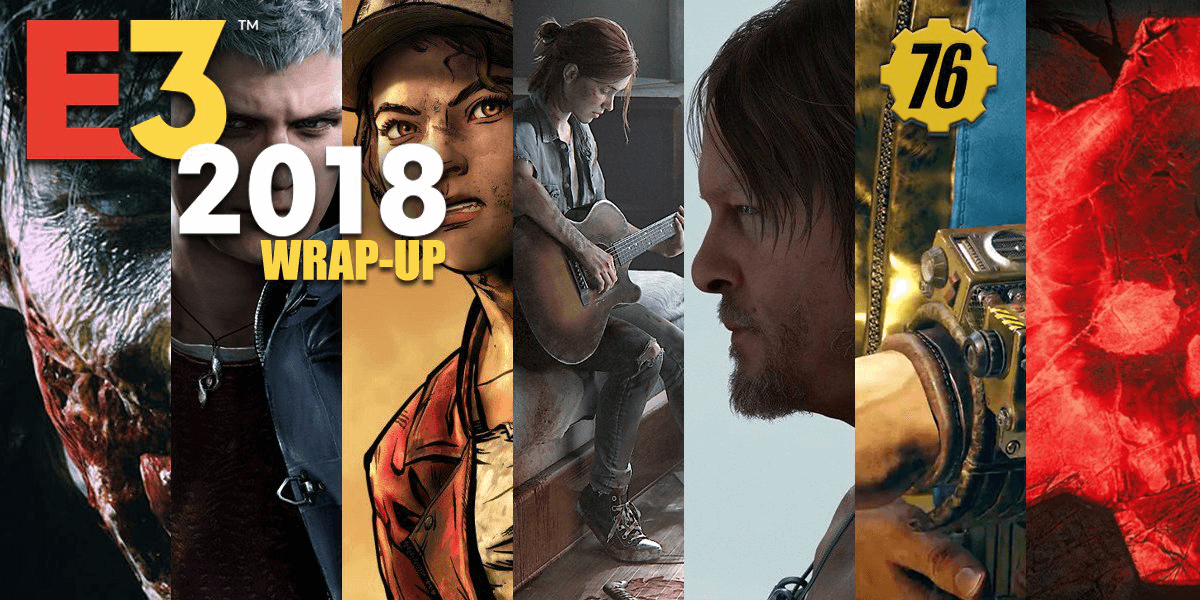 E3 2018 is finally winding down and it's been a whirlwind of new trailers and exciting announcements, along with quite a few surprises. We don't blame you if you haven't been able to keep up with it all, so we're here to give you the rundown on what happened and what there is to be hyped for in the next year or so of video game releases. We've had press conference after press conference since the weekend, so let's get started, shall we?
EA Play
While Electronic Arts did not delve too much into the world of horror, they did unveil a surprising little gem called Sea of Solitude. This game, which got its very first trailer here at E3, is all about loneliness and what a prolonged plunge into it can do to a person. The major takeaway here is that it can turn you into a monster. The trailer showed off a very unique and visually-stunning game which is due out in early 2019.

[relatedArticle-0]
Microsoft
The first surprise to come out of the Microsoft show, although we kind of hinted that it might be coming, was the unveiling of Devil May Cry 5. The surprise here is that we are back to the kind of high-energy action that made this franchise put a smile on our faces over a decade ago. This game looks like an absolute blast and we are excited to be able to get our hands on it next spring.

[relatedArticle-1]

Next up in the world of horror, or monsters at least, was a new FromSoftware title from the minds behind the Dark Souls franchise. Their latest endeavor, set in 1500's Japan, is called Sekiro: Shadows Die Twice and had a very impressive trailer debut. There is no exact release window for this one yet, but we are sure to hear about it more in the months to come.

[relatedArticle-2]

The next installment of the Gears of War franchise was also unveiled at the Microsoft show, simply titled Gears 5. The new trailer had plenty of monsters and quite the cinematic feel. This game picks up right after Gears of War 4 and is due out sometime in 2019. It will only be available on the Xbox One and PC.

[relatedArticle-3]

Capping off the horror presence at Microsoft's presentation was an announcement trailer for Dying Light 2, along with an additional gameplay reveal. This first-person survival game featured more human enemies than anything else, adding an interesting wrinkle to what is otherwise a zombie franchise. There is no planned release date yet, but we'll be sure to provide updates as this game inches closer to completion.

[relatedArticle-4]
Bethesda
This presentation started with a bang, kicking down the door on DOOM Eternal, the studio's follow-up to their 2016 Doom franchise reboot. Bethesda really welcomed us to hell for this one, showing off gruesome environments and a world desperately in need of some serious demon ass-kicking. More details to come at QuakeCon 2018 in August.

[relatedArticle-5]

The Bethesda show was great for gamers as a whole, with a lot of goodies and a formal announcement for The Elder Scrolls VI, but a bit less exciting all around for those of us itching for more horror reveals. Fallout 76 was at least shown in more detail, where it was revealed that it is indeed an online survival RPG. This game looks like a blast, quite literally with the nuclear weapons players can use on each other, and will be coming out this year on November 14th.

[relatedArticle-6]

However, bonus points for Wolfenstein: Youngblood and Bethesda's always-important message of "Fuck Nazis."
Square-Enix
For such a great E3 all around, the Square-Enix show was a massive dud. It consisted of a half-hour presentation of short trailers and basically nothing in the way of surprises. Speaking of basically nothing, there was nothing noteworthy to be announced there for us horror enthusiasts, which is somewhat expected since RPGs are more their thing. However, even as an RPG fan, this author was pretty unimpressed with the offerings of Square-Enix this year.
Ubisoft
Again, not much in the way for horror at Ubisoft's Monday E3 presentation. There were a few interesting titles, such as Assassin's Creed Odyssey and Beyond Good & Evil 2. It wasn't a bad show, but the titles unveiled there are of little interest to our coverage here at Dead Entertainment. Fortunately, Sony made up for that in a big way.
Sony
The Sony presentation wasted no time and dropped us right into the brutal world of The Last of Us: Part 2. The stunning trailer blended cinematics with a first look at its gameplay, leaving us with the chilling message that "they should be terrified." A beautifully-ironic statement to end on, given all of the brutal violence we got to witness during the bulk of the trailer. All we have to say is "wow" on this one. You won't want to miss playing this.

[relatedArticle-7]

This was the moment everybody here at Dead Entertainment had been waiting for: Capcom's reveal of the Resident Evil 2 remake. It's been a 3-year wait and we are not disappointed with what we saw Monday night. Not only did the Sony live stream offer a cinematic reveal of the title, Capcom also went ahead and released a full trailer that shows off even more. We absolutely cannot wait to get our hands on this on January 25th, 2019.

[relatedArticle-8]

The last major horror highlight of the Sony presentation was a closer look at Hideo Kojima's next title, Death Stranding. You can describe this one as bizarre, artistic, or in any number of other ways, which is trademark Kojima. The trailer teases a beautiful open world chock full of relentless symbolism, blending cinematics with a little bit of gameplay, probably leaving us with more questions than we had going into this. This game looks breathtaking nonetheless and we can't wait to see more.

[relatedArticle-9]
Nintendo
Naturally, the Nintendo presentation on Tuesday did not contain anything related to horror. Big surprise there, but hey, how about that Super Smash Bros. Ultimate reveal? It was a fun time all around at E3 for Nintendo, but it was nothing newsworthy for us horror fanatics here at Dead Entertainment. This author would be flat-out lying if he said he wasn't picking up at least one of the games they showed off, however.
Other Tidbits
With a teaser trailer released ahead of E3, Telltale's The Walking Dead is heading towards its final season, consisting of 4 new episodes. The PC Gaming Show featured a few minutes of gameplay as well, showcasing everything you would expect from a narrative-driven title from Telltale. This was nothing mind-blowing, but we're looking forward to witnessing how Clementine's story comes to a close. This author will start a riot if they kill her off after all this.

[relatedArticle-10]

After months of cinematic character reveals, OVERKILL Studios finally got serious at E3 and revealed a gameplay trailer for their upcoming 4-player co-op title, The Walking Dead. This first-look had a lot of polish and showcased a variety of different weapons. This should be a fun one for fans of the franchise. This game is due out later this year in early November.

[relatedArticle-11]

Days Gone was not touched upon much at E3, aside from a short commercial in the middle of Sony's presentation, but its new trailer and release date were revealed before the convention anyway. This makes sense because we've seen this game in action during the two previous years' E3 presentations, so we are not really missing much here. You'll be able to play this one on February 22nd, 2019, exclusively on the PlayStation 4.

[relatedArticle-12]
Summary
That should wrap up our E3 wrap-up quite nicely. This was an incredible week for us gamers and horror fans alike, giving us a ton of new games to look forward to over the next year or so. The upbeat, stylized action of Devil May Cry 5 and the reveal of another Doom game were definitely surprises, while the extended look at The Last of Us: Part 2 and the reveal of the Resident Evil 2 remake were absolutely stunning. We think the Sony presentation stole the show because of those two titles alone.
There were no new consoles to announce this year at E3, leaving us with games, games, and more games, and we were not disappointed one bit. Share your E3 highlights with us in the comments below or on any of our social media channels. We look forward to hearing your thoughts on this year's show.