Our "Chop 'til You Drop" 2019 Holiday Horror Gift Guide Has Arrived
As is tradition, the entire Dead Entertainment team has compiled our top picks for you.
By Chris Morse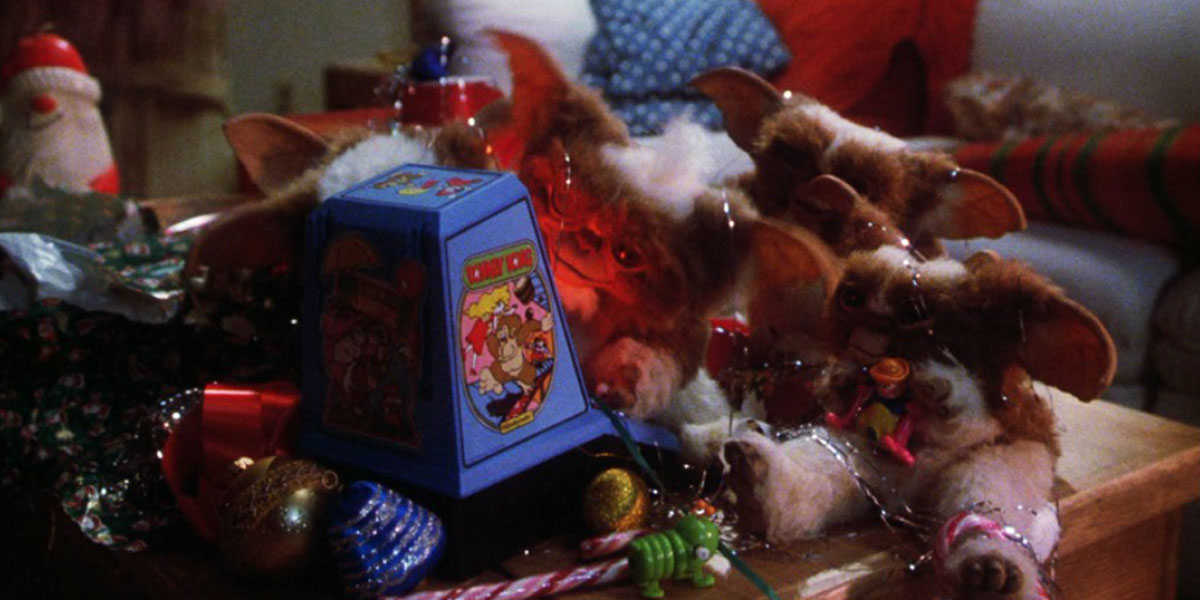 With Thanksgiving making way for December, it's time to start your holiday shopping (or finish it, depending on who you ask). Either way, Dead Entertainment is here to help you get the job done with our horror-related picks for 2019. Just like last year, which still has some quality ideas even now, we have assembled our list with recommendations from our entire writing team to offer you as many options as possible.
Of course, many of our gift picks represent our beloved horror genre but you will find a nice variety of items to pick from nonetheless. We know we would be happy to unwrap any of the below gifts ourselves this Christmas. With Black Friday being upon us and all, as of publishing time at least, initial readers may find even better deals than the regular prices listed below, so let's get some shopping done together!
Chris Morse - Owner, Editor-in-Chief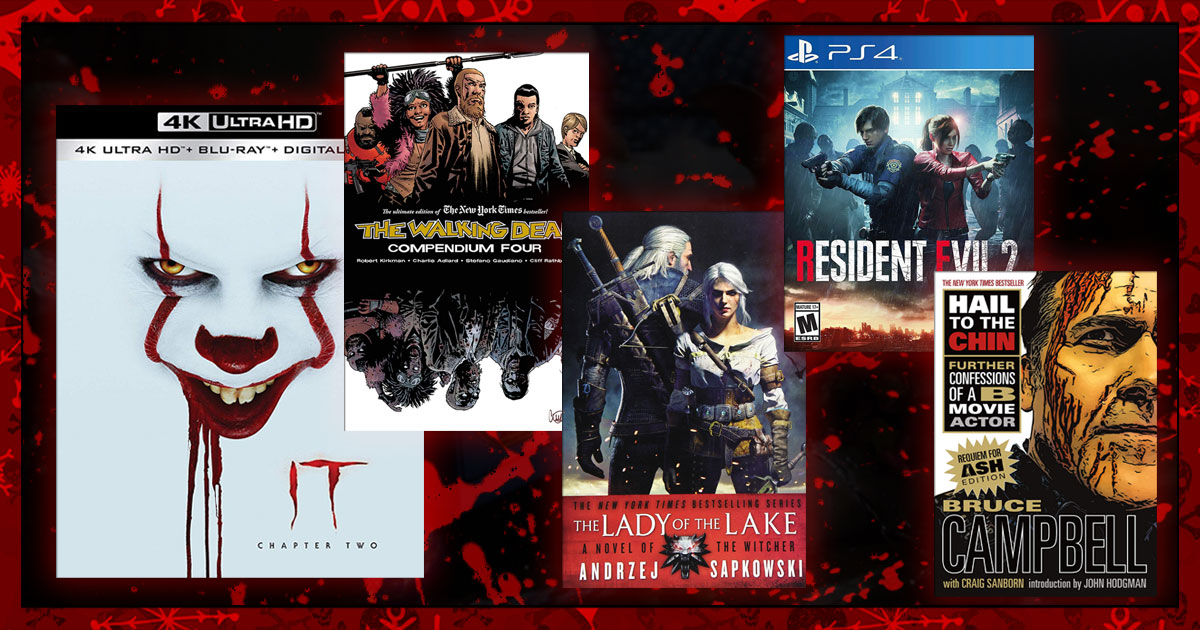 It: Chapter Two 4K Ultra HD Blu-ray - $29.99
One of the big horror movie releases of the year was Andy Muschietti's It: Chapter Two, which is due out on home video December 10th. The above linked item is the premium 4K Ultra HD version, but the film is also available in standard Blu-ray and DVD formats so you can easily grab up the version of your choice for the horror fan in your life. This is one gift you should have no trouble floating out the money for this holiday season.
Bruce Campbell's Hail to the Chin: Further Confessions of a B Movie Actor - $13.99
Evil Dead icon Bruce Campbell recently released an updated version of his memoir, which includes brand-new stories from his more recent projects, such as the Ash vs Evil Dead TV show. The fan-favorite actor may have retired from his on-screen role of Ash Williams, but his book is nonetheless a must-add to any horror fan's collection. Help a collector in need by wrapping this one up for them this year.
Resident Evil 2 Remake - $25.00
We have no doubt there are some Resident Evil fans out there who are late to the party on Capcom's latest remake. Help get them up to speed by slipping Capcom's Resident Evil 2 under the tree this Christmas. As told in our review, this game is a stellar revival of classic survival horror and does not disappoint one bit. If you know anybody who hasn't picked it up yet, you know what to do. The price is right too!
The Walking Dead Comics (Compendium 4, Compendiums 1-3 Box Set) - $38.98, $180.00
You may have heard that Robert Kirkman's long-running The Walking Dead comic series came to an abrupt end earlier this year, but not without completing the iconic story of Rick Grimes along the way. Last year, we recommended the series' 15th Anniversary Box Set as a potential gift idea, which we are again including here just in case, but the final fourth compendium collection recently came out and this will take the reader right up through the very last issue. If I didn't already have the entire series, this would surely be on my own personal list so know that it comes highly recommended!
The Witcher Book Series (Books 1-5, Season of Storms) - $63.64, $12.85
With a hotly-anticipated Netflix series on the way, the holidays are a good opportunity for anybody to get caught up on the monster-hunting fantasy series that started it all, The Witcher. Although there are a number of short stories and smaller releases out there, this collection of the six main novels is sure to immerse any fan of the series during the long wait for the show's second season. Whether the person you are buying for is new to the franchise or already loves the acclaimed video games, give the gift of reading this Christmas and you won't regret it one bit.
Ray Morse - Creative Director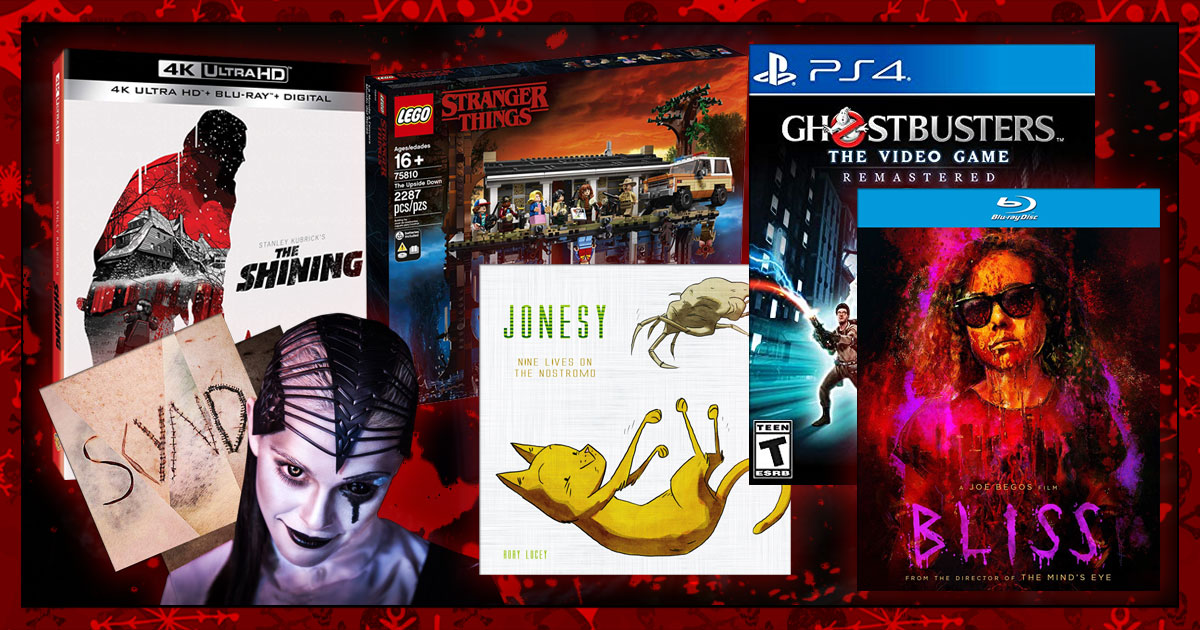 LEGO Stranger Things: The Upside Down - $199.99
Where to begin with this one? I suppose, for starters, if you were a child of the '80s or '90s, you can recall an afternoon at some point in your youth laying on your living room floor with an enormous pile of LEGO bricks before you, with your wildest imagination at the wheel. Back then, the company focused on simple themes like knights and castles, pirates and sea vessels, islanders and treasure, outer space exploration, western standoffs, and more. While this was certainly more than enough to capture our minds on a rainy Saturday afternoon, we could not have dreamed of what LEGO would have in store for us in the decades to follow.
Fast-forward to 2019, where you can peruse an entire aisle dedicated to LEGO at your local store and find building kits for everything from Star Wars to Ghostbusters. Rather than focus solely on its targeted age demographic, LEGO decided to grow with the children who once set the stage for a giant war between their pirate and astronaut Minifigures and began licensing nostalgic properties that would not only interest an adult collector, but also open up the doors for generational bonding between parent and child.
Our connection to our youth is strong and, frankly, one that is immensely marketable. The creators of the hit Netflix series Stranger Things knew exactly this when venturing forward in crafting the blueprints for what would go on to be a near mirror-image of growing up in the '80s, or at least how we perceive it in our memories. Resonating with millions worldwide, it quickly became Netflix's hottest properties and, as one would assume, a hot seller across a wide variety of merchandise.
Enter LEGO. In an almost unprecedented move, the company produced a 2,287 piece building kit dedicated to the show's feature attraction: The Upside Down. Packed to the brim with series-accurate detail and a cast of Minifigures to capture the series' characters perfectly, LEGO's "The Upside Down" is a must-own prize for the show's rabid fanbase but also builders who like a bit of a challenge in their sets, as it provides one of LEGO's most unique and engrossing assemblies to date that is sure to send you back to that rainy Saturday afternoon in a time long since lost.
The Shining 4K Ultra HD Blu-ray - $21.99
With a nip of winter finally settling in on this late November morning, a trip to one of Stephen King's most notorious landmarks, the Overlook Hotel, is always a welcome decision. If you are anything like me, spending an evening with the Torrance family has become a timed tradition and what better way to check in on ol' Jack, Wendy, and Danny than with the beautiful 4K Ultra Blu-ray remastered edition of The Shining.
With the film looking better than it ever has previously, the disc includes an assortment of immersive bonus features such as Vivian Kubrick's documentary "The Making of the Shining," View from the Overlook: Crafting The Shining, The Visions of Stanley Kubrick and Wendy Carlos, and a commentary track by Steadicam Inventor/Operator Garrett Brown and Historian John Baxter. This should be, without question, on any horror fan's holiday wish list.
Bliss Blu-ray - $21.72
Known for his films Almost Human and The Mind's Eye, filmmaker Joe Begos has quickly carved himself a nice spot within the horror genre and continues to stun in his 2019 outing, Bliss. Set in the sleazy underside of modern day Los Angeles, Begos opts to explore the spiraling life of a visionary painter as she struggles with morality, substance abuse, and death in order to overcome her creative block and complete her masterpiece.
On paper, this might seem like a concept that has been tackled time and time again, but rest assured that Bliss is a visually-stunning, acid trip-enducing thrill ride. It not only has you captivated from the initial seconds of the opening credits until the very end, but also takes the tried-and-true vampire subgenre and injects it with a rush never felt before.
On a personal note, this film is without a doubt my favorite genre film of the year and I couldn't recommend it more. Additionally, a warning to people who suffer from epilepsy, it might be best to avoid this one as the style of editing, lighting choices, and overall experience could potentially trigger seizures in people who are photosensitive.
Ghostbusters: The Video Game Remastered - $49.99
Originally released in 2009, Ghostbusters: The Video Game reunites the four original cast members after twenty years as a spiritual sequel to Ghostbusters II. After a tremendous amount of attempts to get the would-be Ghostbusters III off the ground, the game developers at Terminal Reality reached out to Sony Pictures to secure the rights to bring everyone's favorite boys in gray back for one last call. With original Ghostbusters writers Dan Aykroyd and Harold Ramis on board, the team forged ahead, refusing to let any roadblock stand in their way of getting this long-awaited game out to their fans in time for the 25th anniversary of the first film.
Ten years later, the game is still heralded as one of the best film-to-video-game adaptions of our time and is regarded as the official sequel us Ghostheads were deprived of (at least until this announcement). Unfortunately, in that same time frame, the previous consoles have long since been retired and new eras have begun, leaving classics like Ghostbusters: The Video Game relics of the past. Thankfully, this wasn't the case for long, as the fine folks at Saber Interactive thought the game was worth giving a second life and have since remastered the classic for modern day consoles. A ghost no longer, the only question remaining is: Who you gonna call?
Jonesy: Nine Lives on the Nostromo - $10.59
In space, no one can hear you meow, unless, of course, you are a member of the USCSS Nostromo crew made famous in Ridley Scott's 1979 science fiction horror film, Alien. This full-color illustrated book offers a cat's eye view of all the action from the film as you follow a day in the life of Ellen Ripley's fierce feline, Jonesy. With original art by illustrator and school teacher Rory Lucey, this parallel take on the classic storyline is sure to put a smile on fans of the series and should serve as quite a nice introduction to science fiction and horror for generations to come.
SKYND (Chapter I, Chapter II) - $1.99/each
Before I get into this recommendation, I would like to preface it with a note that we here at Dead Entertainment have a firm stance on keeping true crime separate from horror on account of not wishing to compare actual tragedies to entertainment.
With that being said, humans are a complicated and fascinating species, filled with raw emotion, passion, curiosity, and to some degree basic animal instincts surging within us. Every day we as a society go through the motions of life, often unfazed by the world around us, but when an unexpected force dares to shatter the calm, our worldview can be forever changed. Disruptions to the norm can garner our attention like no other.
A shining example of letting our minds give in to our wildest curiosities would be our natural and perhaps morbid curiosity toward real life tragedies brought on by the evil of our society. Of course, this fascination with exploring such crimes exists through a variety of mediums, through literature, nonfiction, art, film, or music. Some of our most celebrated works of art have roots buried deep in the darker side of our history and is an interest shared by creatives of all sorts.
This brings us to the electronic-infused, industrial duo SKYND. Lead by the frontwoman of the same name and long-time producer and multi-instrumentalist, Father, the pair expertly blends dark, gothic-like, rhythmic offerings with a subject matter that explores the depths of the evils that humanity has been and continue to be capable of. Focusing specifically on notorious cases of true crime such as Richard Ramirez, Gary Heidnik, and Jim Jones, SKYND uses its music to uniquely illustrate these moments of historical significance with an unflinching approach that artfully sheds light on these gruesome atrocities, sating even the most morbid of curiosities.
This pair of three-song EPs, titled simply Chapter I and Chapter II, are small but easily digestible and are each accompanied by their own music videos, which can be found on the group's YouTube channel. These incredibly-beautiful and often horrifically-detailed visual companions offer the viewer/listener a well-rounded examination of some of the most vicious horrors of our reality that will haunt your mind for days to come. A great gift for that morbid person in your life.
Jay Gervais - Senior Contributor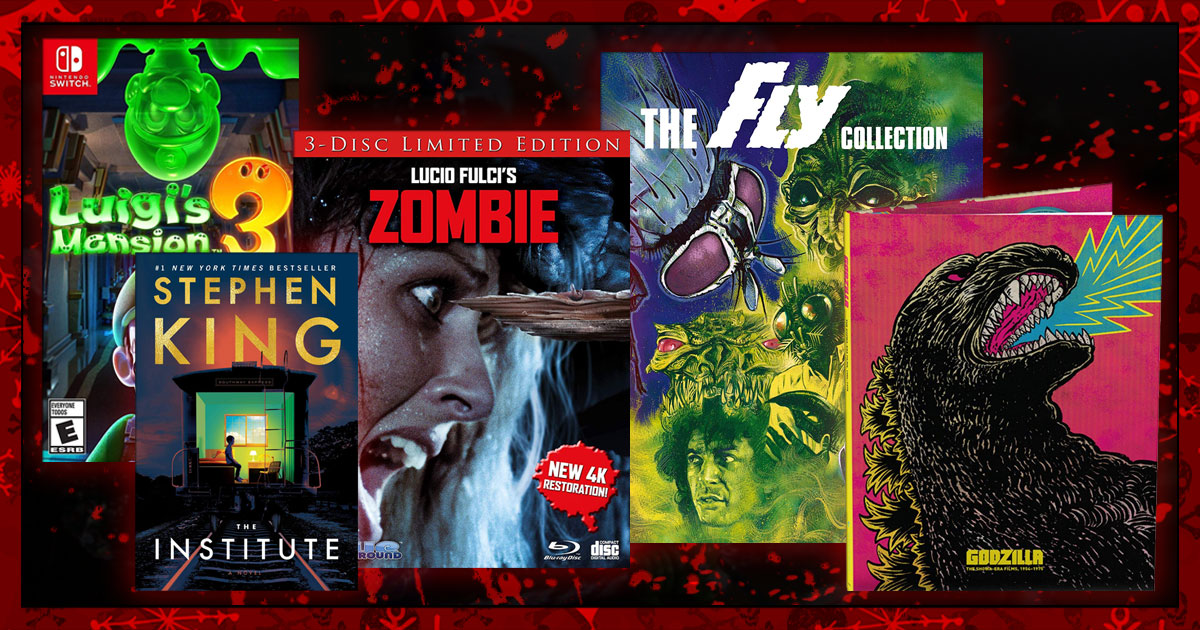 Godzilla: The Shōwa Era Films, 1954-1975 - $112.49
Make that Godzilla fan in your life ecstatic this holiday season with this monster box set from The Criterion Collection. This ultimate collection stomps its way through a total of fifteen Godzilla films from the years 1954 to 1975, with classics like the legendary original film all the way to 1975's Terror of Mechagodzilla! In-between those, you can find other gems like Godzilla vs. Mothra, Godzilla vs. Hedorah, and Ghidorah, the Three Headed Monster, just to a name a few out of a list that is sure to get that ultimate fan in your life quite excited.
The Fly Collection - $59.37
Take another dive into the plasma pool with this buzzing collection from Shout! Factory, released through its Scream Factory brand, featuring all five films from the The Fly franchise from the 1958 original film to the 1986 Jeff Goldblum-led remake and its terrifying sequel. We may not know much about so-called insect politics, but that Jeff Goldblum fan (who isn't, really?) in your life will love you forever when they unwrap this fine collection on Christmas Day!
Zombie: 40th Anniversary 3-Disc Limited Edition - $32.35
It's somewhat of an inside joke that I'm not much of a fan of Lucio Fulci films, but it's kind of hard not to like his classic 1979 movie Zombie, which celebrated its 40th anniversary back in August. What better way to mark the occasion than picking up Blue Underground's 3-disc Blu-ray set that boasts a new 4K restoration of the film? Two discs highlight the movie and special features while the third disc is the film's soundtrack by Fabio Frizzi! A pretty fine deal considering what you get for the price, but this present isn't really for you, right?
Luigi's Mansion 3 - $59.99
Our not-so-heroic scaredy-cat Luigi is back in an all-new adventure with Luigi's Mansion 3 for the Nintendo Switch. Can our reluctant hero, with the help of Professor E. Gadd and his Poltergust G-00, save the day and ultimately his friends and family? We assume no responsibility if the process of unwrapping this gift also unleashes some scary ghosts in your humble abode… Just kidding! Luigi's Mansion 3 released just a couple months ago to generally favorable reviews, so this one is probably on your special someone's list!
Stephen King's The Institute - $16.19
Looking for a cheap and affordable gift but something amazing at the same time? Look no further with Stephen King's latest book, The Institute. This is sure to make any fan of the renowned author happy this Christmas if they have yet to add this book to their collection. As you may recall, a limited television series was unsurprisingly ordered back in September, so why not read what it's all about ahead of cozying up on the couch to watch the upcoming show?
L.B. Lubomski - Contributor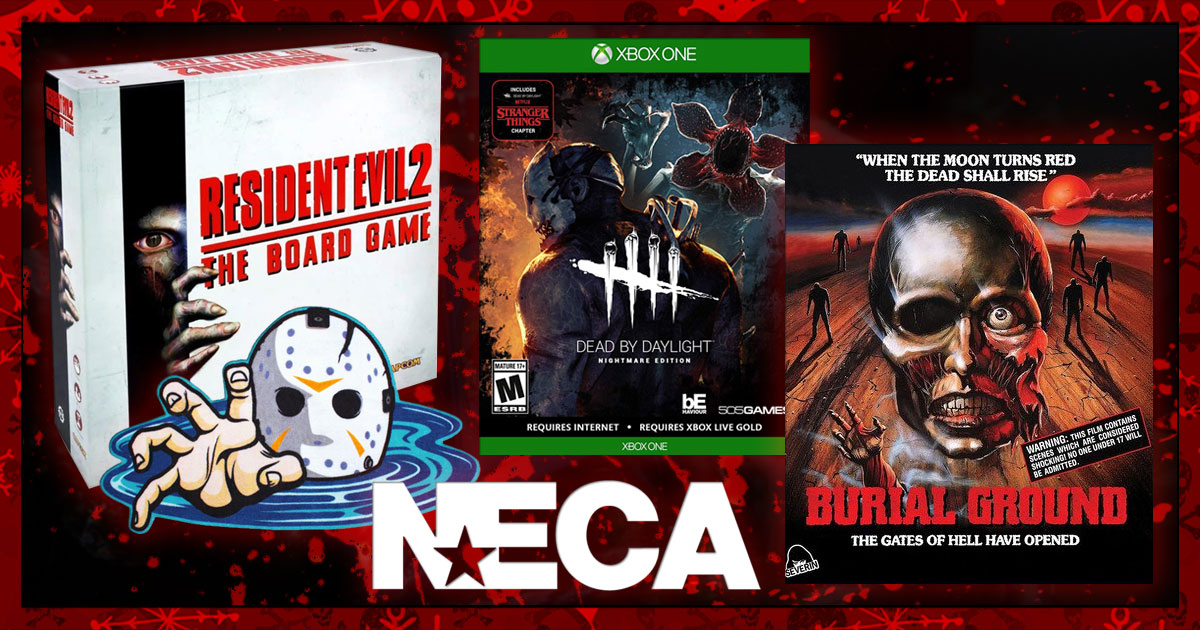 Resident Evil 2: The Board Game - $100.00 for base game
This was a big year for the Resident Evil franchise following the universal acclaim and strong sales of the Resident Evil 2 remake. However, another version of the survival horror classic was also released, this time in cardboard form via Steamforged Games. Resident Evil 2: The Board Game is a must-have for fans of the series, as it provides a ton of rich content that allows players to reenact the game's campaigns or create their own. The base game, which will set you back around $100, also comes with 24 detailed miniatures. There are numerous expansions and add-ons for this game as well, providing added value and replayability for the favorite board game lovers in your life.
Creepy Co.'s Horror Rugs: Jason "Lake Lurker" Rug - $39.99
As an avid collector of horror merchandise, I'm always on the lookout for something unique to add to my apartment. I have tons of action figures, posters, masks, and other collectibles already. That's why when I saw the recently released collection of rugs from Creepy Co, my interest was immediately piqued. These scary 3x3 rugs are the perfect accent pieces for any horror aficionado's domain, showcasing a love for the genre and being utilitarian all at the same time! The coolest rug to me is by far the "Lake Lurker" featuring Jason Voorhees, but the other three still have their charm as well.
Burial Ground Blu-ray - $19.89
Of course, I have to recommend another Italian zombie classic this year. Burial Ground, aka Nights of Terror, is a grindhouse gem from 1981 featuring some of the coolest scenes I've ever had the pleasure of watching in a zombie flick. The story focuses on slow-moving but extremely smart zombies who are accidentally resurrected by a researching professor. A group of vacationing couples in the area end up trapped inside a luxurious countryside mansion fighting for their very survival. The movie has a ton of awesome kills and that classic '80s Italian music, cinematography, and charm.
However, the best part about the movie is actor Peter Bark, a 25-year old (at the time) playing the teenage, creepy, and mentally challenged son of one of the couples. It's as awkward as it sounds and honestly adds another layer of hilarious sleaze that you'd come to expect from the time period. Along with Zombi 2, Burial Ground has to stand as one of the finest example of the Italian cinematic zombie craze caused by Romero's Dawn of the Dead. This film is one of my absolute favorites and one I find myself showing to new people and re-watching for myself time and time again.
Dead by Daylight - $39.99 (Nightmare Edition)
This game is an asymmetrical 4v1 multiplayer survival horror game that pits four survivors against one supernatural killer. Survivors must sneak around repairing generators to open the level's exit while avoiding being sacrificed in a twisted game of cat and mouse. First released in 2016, the game has maintained continuous popularity and now has over 17 pieces of downloadable content, featuring not only original killers but licensed ones including Leatherface, Freddy Krueger, Michael Myers, Evil Dead's Ash Williams, and more. It's a really fun game that has stayed relevant and managed to keep a dedicated player base coming back for more.
Numerous different versions of Dead by Daylight exist on physical media, although there is not currently a bundle that includes everything thus far released. I recommend the newest release coming out on December 10th. Dubbed the "Nightmare Edition," it will include the base game as well as downloadable content chapters "Curtain Call" and "Shattered Bloodlines," along with the most recent crossover with Stranger Things. Five additional cosmetic packs are also included in the bundle. This is a game sure to provide dozens of hours of entertainment and would make an excellent gift for any horror gamer.
NECA Action Figures - Starting at $24.99
NECA always kills it and 2019 was no exception. The company kept busy with a slew of horror releases all year long. From its newest Toony Terrors line to releases in the ongoing Alien, Predator, Friday the 13th, and A Nightmare on Elm Street franchises, there is always something from NECA sure to please any horror fan.
I personally am an avid collector and saw my collection grow rapidly with the additions of Ultimate Friday the 13th Part V Roy Burns, Ultimate Friday the 13th Part V Jason Voorhees, Trick 'r Treat Clothed Sam, and many, many more. The Corpse Pamela Voorhees "Lady of the Lake" figure will also be releasing soon, hopefully in time for the holiday season.
The point is that NECA action figures rock and cover so many different properties, so you should have no problem finding something your loved ones will value for years to come.
M.T. Bates - Contributor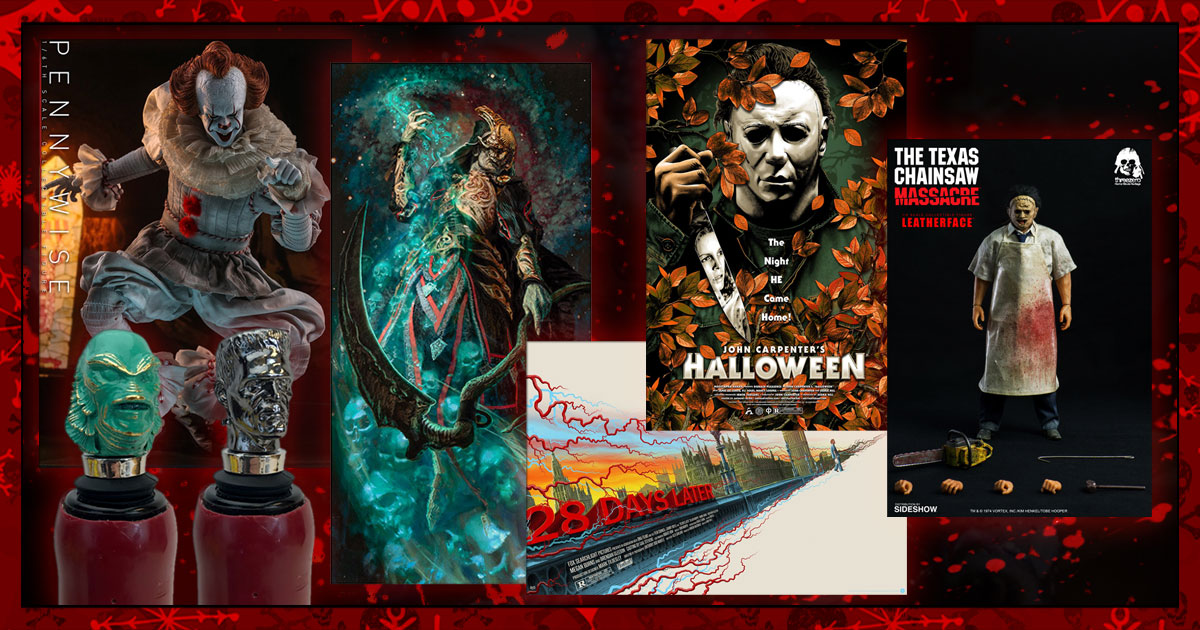 Another Christmas season is upon us, which means you once again have to go on the hunt for those perfect gifts for the horror fan in your lives. How many times can you give them a new horror Blu-ray box set, a recently-released NECA figure, or any of the usual fanfare? Look, there is nothing wrong with that stuff. They are great go-to gift ideas, but I think it is time to step up your gift giving game and show that gore-loving outcast in your life how you really feel. This year, dig a little deeper into that wallet and give the gift of convention!
Horror Conventions - Ticket prices vary
What horror fan wouldn't love a ticket to a neighboring horror convention (and even a hotel room for the night/weekend if you are so inclined)? There are great events all over the country that any fan would geek out at the chance to go to. Here is a list of choice conventions that span the country for your consideration:
Days of the Dead on February 7th-9th in Atlanta GA.
HorrorHound Weekend on March 20-22nd in Indianapolis, IN
Monster Mania 45 on March 13-15th in Cherry Hill, NJ
Texas Frightmare Week on May 1-3rd in Dallas, TX
Living Dead Weekend on June 12-14th in Monroeville, PA
Fresh Kills Con on July 19-21st in Niagara Falls, Canada
For a more complete list, check out PromoteHorror.com.
Hot Toys Pennywise Sixth Scale Figure - $267.00
Maybe the above gift idea isn't your speed, but you still want to find something so badass that you hands-down win Christmas? Look no further than pre-ordering the impressive Sideshow Hot Toys Pennywise Sixth Scale Figure! This would be an outstanding gift idea if it didn't have a February 2021 release date, so think of it as an amazing present to give in around 2 years. You can thank me then!
Court of the Dead "Death Ascending" Art Print - $100.00
The later release date of the above item doesn't mean there isn't anything over at Sideshow for the horror fan in your life. The company's Court of the Dead line of statues and art prints are a sight to behold, like this new framed art print dropping in the next few weeks, "Death Ascending."
Threezero Leatherface Sixth Scale Figure - $168.00
Perhaps you need a present with a little more meat on it? How about a beautiful sixth-scale Leatherface from Texas Chainsaw Massacre? Stock is low on these, so I wouldn't take a chance by waiting too long.
Grey Matter Art Prints (Halloween, 28 Days Later) - $50.00, $45.00
How about something in the middle of the road, price-wise? Well then, how about showing my friends over at Grey Matter Art some love? Take your pick between an original Halloween print or an insanely-awesome 28 Days Later print. You can't go wrong with either one and any horror fan will proudly hang these on their wall.
The Creature & Frankenstein Bottle Stopper Box Set - $25.00
So maybe you aren't trying to break the bank this holiday season. Look, I got you covered and as long as the gift receiver in question is a wine drinker, these Universal Monster wine stoppers are sure to put a smile on their face (and yours at only $25).
Michelle Kaotic - Contributor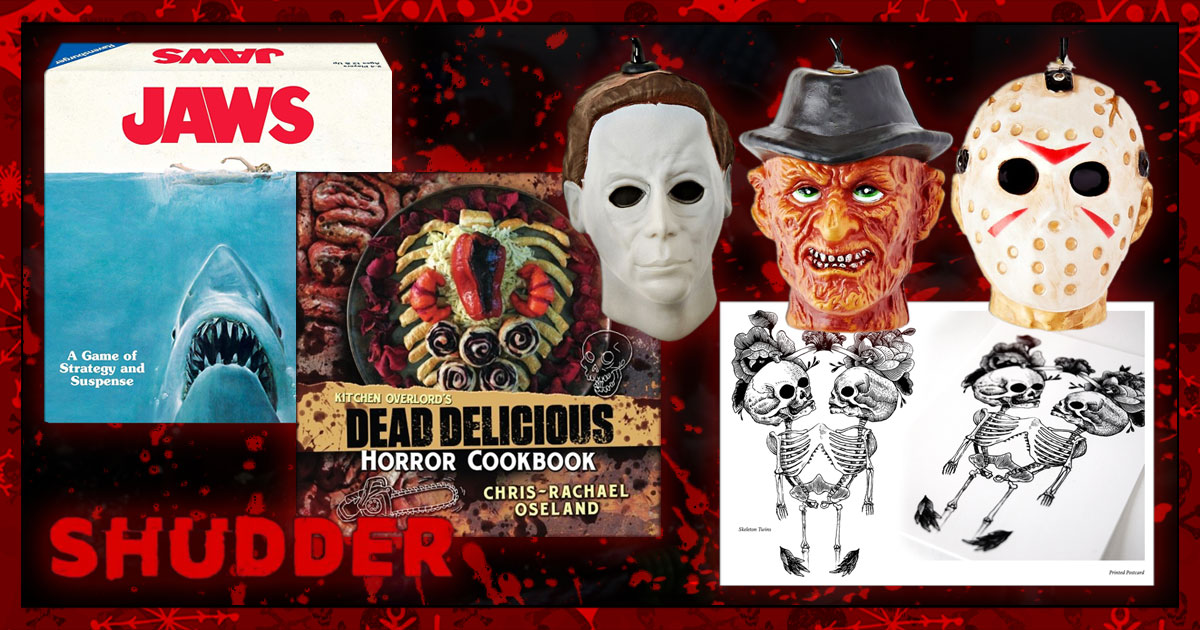 Deck the Tree with Horror String Lights - $26.99/set
Step aside green-and-red bulb lights. Horror fans can now trim their tree with their favorite slashers. Spencer's is offering a wide variety of horror icon string lights, including Freddy Krueger, Jason Voorhees, Trick 'r Treat's Sam, Pennywise, Michael Myers, and even Ghostbusters. Each set of detailed lights vary from 6 feet to 9 feet long and rely on 3 AA batteries that are included. As a bonus, the Jason and Michael sets play music while lit. These are a great way to add a little horror to your tree, as well as a fine addition to your Halloween decorating in October.
LadyMorgan's Shop - $2.00 and up
If you are looking for alternative artwork, look no more. Head over to Redbubble, where you can find Lady Morgan's shop. Her artwork is a mix of horror, occult, goth, and the bizarre. The Brooklyn, NY artist specializes in everything from Ouija, skeletons, and gothic styling to animals, tattoos, and custom commissions.
Being on Redbubble, her designs can be purchased on numerous items such as prints, clothing, stationary, duvets, postcards, and dozens more. I personally own a large collection of her artwork and recommend her projects to anyone who is looking for something unique. You can check out her full portfolio right here.
Kitchen Overlord's Dead Delicious Horror Cookbook - $22.99
When it is your time to host Christmas dinner and you're a horror fan, what better way to entertain than with some visually-pleasing gore-inspired meals and treats? The Dead Delicious Horror Cookbook is chock full of 110 blood-splattered pages containing easy-to-follow detailed instructions. It features over 60 recipes, including various gluten-free, vegan, and paleo dishes to satisfy even the pickiest of eaters.
Ravensburger Jaws Board Game - $22.49
You won't need a bigger boat to take on the mighty great white shark in Ravensburger's double-sided Jaws board game. For 2-4 players, the game allows you to choose to be one of the main characters from the film, swimmers, or the shark itself. When you are done saving lives around Amity Island, flip the board over and head out to sea on the Orca.
Shudder Subscription - Starting at $4.75/mo
Christmas dinner is over and you've played some games with the family, so now it's time to sit back and enjoy some holiday horror classics. Shudder promises to deliver, for a low monthly (or yearly) subscription fee, hundreds of films from the genre including originals and exclusives. They offer a 7-day free trial as a teaser to explore what the streaming platform has to offer.
No longer do horror fans have to limit their decorating or cooking to October. With these gift ideas, you can carry on the bewitching fun well into the holidays. Merry Christmas!
Wrap-Up
That's it for this year's holiday gift guide! If you have any of your own personal picks to add, feel free to comment below and share your ideas with the rest of our readers! From all of us here at Dead Entertainment, we wish you a fantastic holiday season and can't wait to do this again next year, the year after that, and so on!