It's Time to "Chop Til You Drop" with Our 2018 Holiday Gift Guide
This year's gift guide features picks from all across the Dead Entertainment staff.
By Chris Morse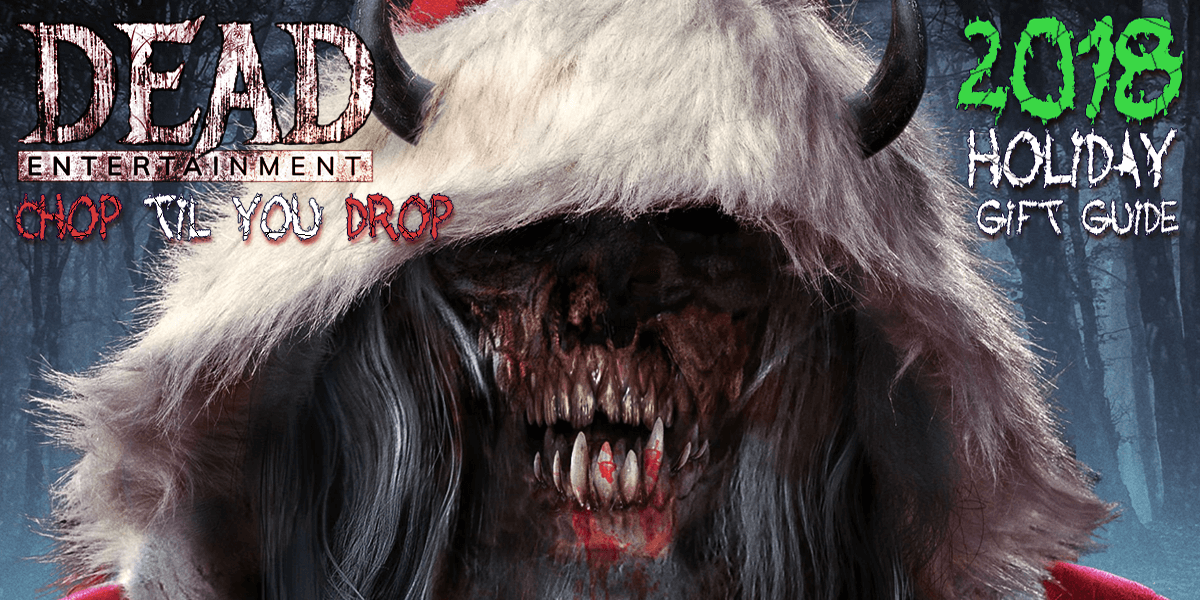 Let's face it, is anybody ever really finished shopping until the last minute? If you count yourself among those who still have room under their trees or more stockings to stuff, Dead Entertainment is here to help get you to the finish line with our top horror gift picks for 2018. This year, we are doing something a little different for our gift guide and featuring ideas from each of our website staff members, offering up a wide variety of picks to choose from to finish shopping for those horror fans you love.
It's been another great year for horror so we hope you enjoy the gift ideas, which should be a nice mix of new and classic items that someone in your life will surely be excited to unwrap. Without further ado, let's get to it!
Chris' Christmas Choices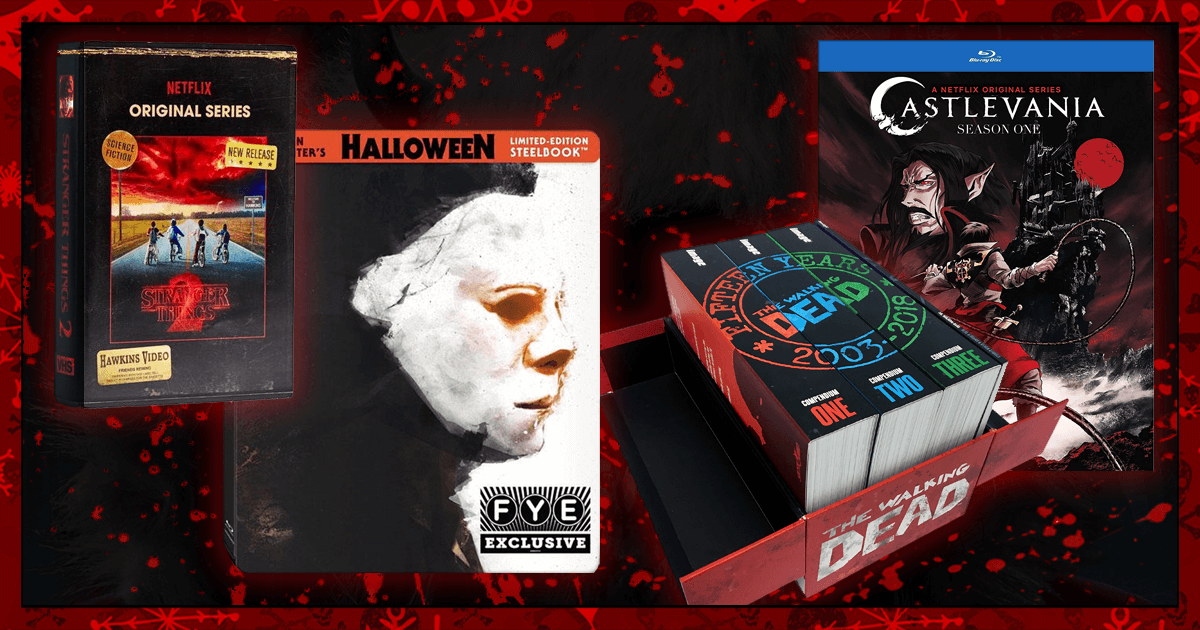 The Walking Dead Compendium 15th Anniversary Box Set - $151.84
This huge box set was recently released for The Walking Dead comic series' 15th anniversary and is something I picked up myself as an entry point into Robert Kirkman's source material for the popular TV show. In light of the AMC series changing it up so much with the departure of Rick Grimes, I figured it would be worth the time to see what the original direction of the story looked like. Needless to say, it's not a disappointment at all.
The box set contains the first three compendiums for the comic series, which is 144 issues in total. The series is now a few dozen ahead of this point but if you can make it to the end of this collection, surely there will be another set of volumes to catch up on before too long. It's may look a bit steep on the surface but the price per issue is very reasonable compared to buying them all one at a time. With this box set, you can give a fan of The Walking Dead in your life something really special to unwrap this year!
Stranger Things Season 2 (Blu-Ray + DVD) - $19.99
This home video release of Stranger Things 2 comes in a VHS-style packaging that is sure to take you on a trip down memory lane, much like our adventures in Hawkins up until this point. It's a Blu-ray/DVD combo pack of the second season of the hit Netflix show and would certainly look awesome on the shelf of anybody who is a fan of the series. This is your pretty basic release apart from the cool packaging but most of us would be hard-pressed to find somebody who isn't a fan of the show at this point so gift away!
Halloween (1978) Limited Edition Blu-ray Steelbook - $27.99
John Carpenter's legendary original Halloween film recently got this exclusive limited edition steelbook release from FYE and this item could easily be front and center on the shelf of any avid horror collector. Although the Blu-ray content itself mostly matches the previously-released 35th anniversary edition, the presentation and steelbook packaging makes this one feel like a premium release at a very reasonable price point. Any Halloween fan would be more than happy to unwrap this one.
Castlevania: Season 1 (Blu-ray) - $19.99
There's no denying that Netflix's Castlevania series has completely kicked ass so far. Its second season recently premiered to some very good impressions and this Blu-ray release of the first season would make a great gift for a fan who is surely going to keep following the show season after season. There's something special about keeping your favorite shows and movies on your shelf so consider sharing a little Belmont history with a loved one this holiday season.
Ray's Wrapped Goodies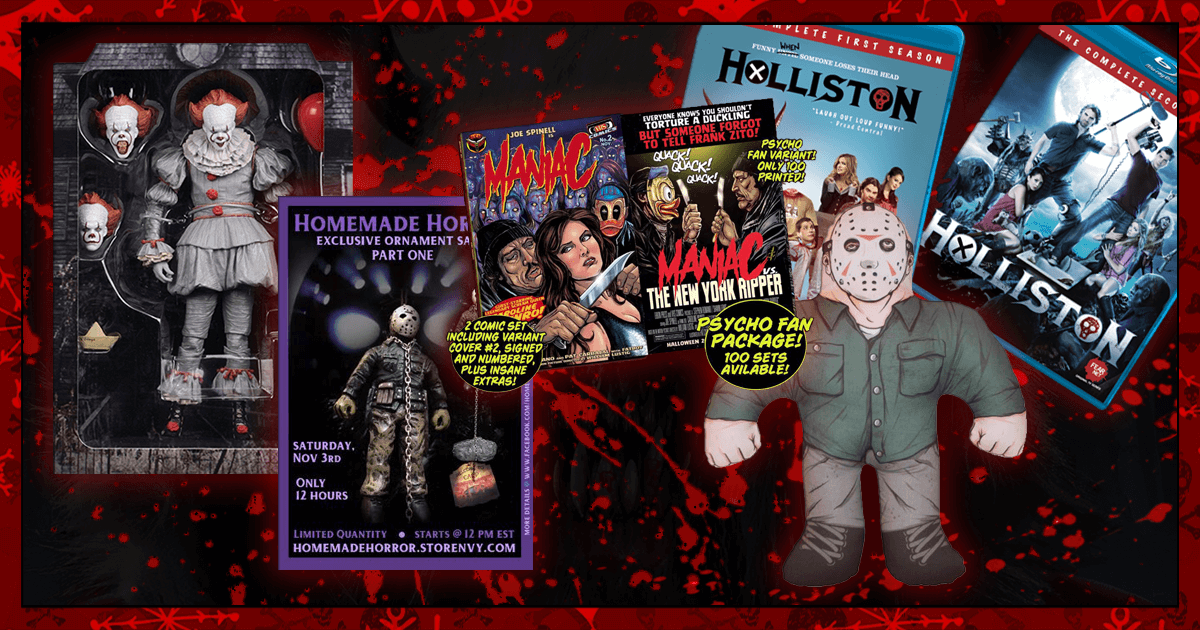 There is no doubt that nostalgia comes with the territory of being a horror fan and, with that, you will most certainly find your adult self attached to plenty of things from your youth. One thing in particular might be some of your Saturday afternoon daydreams while watching Friday the 13th or The Lost Boys, that one day there might be a toy manufacturer bold enough to see the value of bringing your favorite movie monsters to life in action figure form so that you could face them off against your other favorite plastic characters. In 1996, the company that would one day realize this dream and continue to dominate the market for years to come, NECA, was established and the rest is history.

NECA not only carries licenses to some of the hottest horror properties on the market (It, Halloween, Predator, Evil Dead, Friday the 13th, A Nightmare on Elm Street, and Child's Play, to name a few) but they also flex brand quality and innovation in their products while bringing your wildest collector's dreams to life. There is no better toy company out there if you're looking to bring a little horror to your holiday.

Eibon Press is an incredibly unique comic company that I recently discovered after learning they would be adapting William Lustig's gritty-as-hell 1980 feature film, Maniac. Catching a glimpse of the preview art showing the title character Frank Zito, famously portrayed by Joe Spinell, was enough to have me on their home page immediately. To my surprise, these talented folks were not new to the scene as they not only had previously developed comics for Lucio Fulci's Zombie and Gates of Hell, as well as one inspired by the 1978 film Laserblast. If that wasn't killer enough, they even have their very own original series called Bottomfeeder which "stars" Day of the Dead's Joe Pilato and can be described as something like Bad Lieutenant meets Humanoids from the Deep.

What makes these comics so special, outside of the array of stories they have licensed, is the presentation of the actual product. At Eibon Press, the days of purchasing an issue off the rack are long in the rear-view mirror. Sure, you can still purchase a "standard edition" of the comic book at a slightly above average cost but with it you'll receive an "Eibon Sleeve" which serves as a slipcase to keep your comic preserved, a sticker, and a trading card, but who wants only just that?! Eibon offers "Standard" to "Psycho Fan" packages that include all sorts of limited goodies to round out not only your comic long box but also satisfy your need for limited collector's items only available through the set you choose to order. It is truly the comic book company that was designed with fans in mind!

Horror Decor's "Horror Buddies" - $22.00

If you grew up a fan of wrestling in the '80 and '90s, or knew somebody who did, you probably had a wrestling match or two with Hulk Hogan, Macho Man Randy Savage, or Ultimate Warrior! Not with the actual legends, of course, but miniaturized versions of the characters in heavy duty plush form. Wrestling Buddies were all the rage and were used in pretty much every kid's dream scenario of being badass enough to one day walk down to WWF's squared circle. As a result, these plush dolls hold a very special and nostalgic place in our hearts. For the fine creators at Horror Decor, that nostalgia lead to the birth of one of horror's best mash-ups: Horror Buddies!

Yes, it's exactly what you think it is and all of the stars are here to battle: Freddy Krueger, Jason Voorhees, Leatherface, Chop Top, Farmer Vincent, Uncle Frank, Terror Dog, and even Rex from A New Nightmare! Each Horror Buddy is handmade and exactly what you never knew you needed in your life!

When Adam Green's Hatchet ripped its way into the innards of the horror community, it gave many of us fans hope that we finally had one of our own representing our interests. He set out to bring a new, old-school iconic slasher to the scene and he delivered body parts galore! Since then, Green has amassed quite the empire of films, television, writing, and music to keep even the savviest fans busy for months to come. If you are new to Green's world, I highly recommend purchasing both seasons of his horror sitcom, Holliston, checking out his masterpiece in tension, Frozen, and feed Arwen a treat while you're at it!

[relatedArticle-0]

Homemade Horror (Facebook, Twitter)

Gabe LaPeer, owner of Homemade Horror, is an incredibly-talented sculptor who has brought to life some of the most iconic characters, scenes, and items that span the history of the genre. Sporadically, throughout the year, he offers his horrific creations, which include figurines, magnets, ornaments, dioramas, and more, in flash sales that tend to sell out as quickly as they go live. During the holidays, he creates a unique ornament perfect for the most morbid of collectors.

There is a catch, however. Currently, you cannot purchase any of the items that he has for sale. As I mentioned above, LaPeer's creations are strictly available during his advertised flash sales. With the first round of this year's Holiday ornament, Maggot Head Lives! (pictured above), already sold out, the second and final sale to obtain 2018's famous camp killer holiday ornament is right around the corner. As a longtime supporter of Homemade Horror, I could not recommend following his social media accounts enough to best stay in the loop of his upcoming sales and new creation announcements.
L.B.'s Lit Up List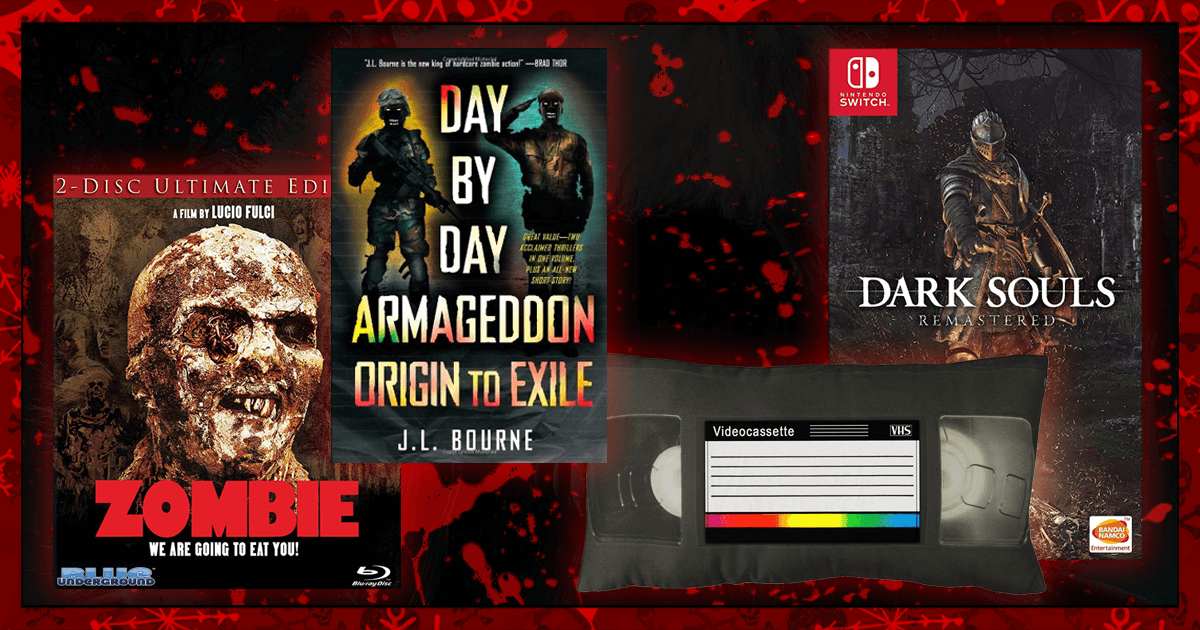 VHS Pillow - Black - $20.00
The VHS Pillow by Horror Decor is the perfect buy for the horror movie fan in your life. After all, who doesn't love a gift that is both comfortable and nostalgic? The pillow itself, which is designed to look like an old VHS tape, is 17" long by 9" high and features a velcro strip in the middle. The coolest part of the pillow is that dozens of different horror movie labels that can be purchased and placed on that strip. There is even a "rental variant" of the VHS Pillow available with some extra stickers on it that you might have seen back in the day at your local Blockbuster. I personally own the VHS Pillow and it resides on my gaming chair at all times, providing my lower back with a little extra lumbar support. Plus, it is always a conversation starter whenever someone new enters my room for the first time.
Zombie 2 (Blu-ray) - $24.89
We love our Italian zombie movies here at Dead Entertainment and for your money you can't go wrong with the one that started it all, Zombi 2, otherwise known as Zombie. This film was directed by Italian horror connoisseur Lucio Fulci, whose other works include the Gates of Hell trilogy (City of the Living Dead, The Beyond, and The House by the Cemetery), The New York Ripper, and A Cat in the Brain.
Marketed as a sequel to George A. Romero's Dawn of the Dead (released in Italy under the name Zombi), the film features an unforgettable soundtrack by rock band Goblin as well as some particularly famous scenes, including an underwater fight between a shark and a zombie, Spanish Conquistador zombies rising from their graves, and zombies spilling out into heavy (real) traffic across the Brooklyn Bridge. The two-disc ultimate edition of Zombi 2 is the perfect gift for both newcomers to this subgenre as well as the seasoned aficionados that have other classic Italian zombie films like Burial Ground or Let Sleeping Corpses Lie.
Dark Souls: Remastered - $39.88
Dark Souls has a reputation for being a difficult game with many players quitting early on out of frustration. While that is certainly true, those that don't stick around to continue their journey through Lordran are missing out on what is possibly one of the greatest gaming experiences of all time. This franchise, especially the original game, is a masterpiece of storytelling, level design, and general atmosphere. There is a very real sense that you as the player are traveling through a dying world filled with despair and desperation.
The Gods are gone, the fire is fading, and humanity has been cursed with the inability to embrace death. You will die time and time again but rise from the ashes each time with a little less of your humanity until there is nothing left but a hulking shell. The world, characters, and lore explored throughout Dark Souls will stick with you long after the credits have rolled. Just the story of Artorias the Abysswalker alone will have players emotionally invested in this digital world. Now remastered and available on the Nintendo Switch, PlayStation 4, Xbox One, and PC, there is no better time to jump into the series and discover for yourself the tragedy and majesty of the fading of the fire.
Day by Day Armageddon: Origin to Exile (Books 1 & 2) - $14.99
Everybody has that one friend who is a self-described bookworm and it seems like they've always got their nose in a new one every other day. As a result, it can be hard to know exactly what to get them since they go through so many different stories regularly. The Day by Day Armageddon series written by J. L. Bourne is the perfect solution to this problem. While not a well-known series by any means, it nevertheless is one of the most interesting horror novels that I have had the pleasure of reading over the years.
They are written in the style of a daily journal written by a soldier nicknamed Kilroy, starting before and later during a zombie apocalypse. Each day he sits down to chronicle his journey in written form from his initial days in defense of his bunker home to eventually having to flee the zombie-infested city as the U.S. government launches a tactical nuke at his hometown. We recommend the "Origins to Exile" collection which combines the first two books in the series into one convenient package. Bourne, a former career soldier himself, really sells the authenticity of his character in this uniquely-written format. It's definitely a stocking stuffer any horror fan will love.
Joey's AWESOME Ideas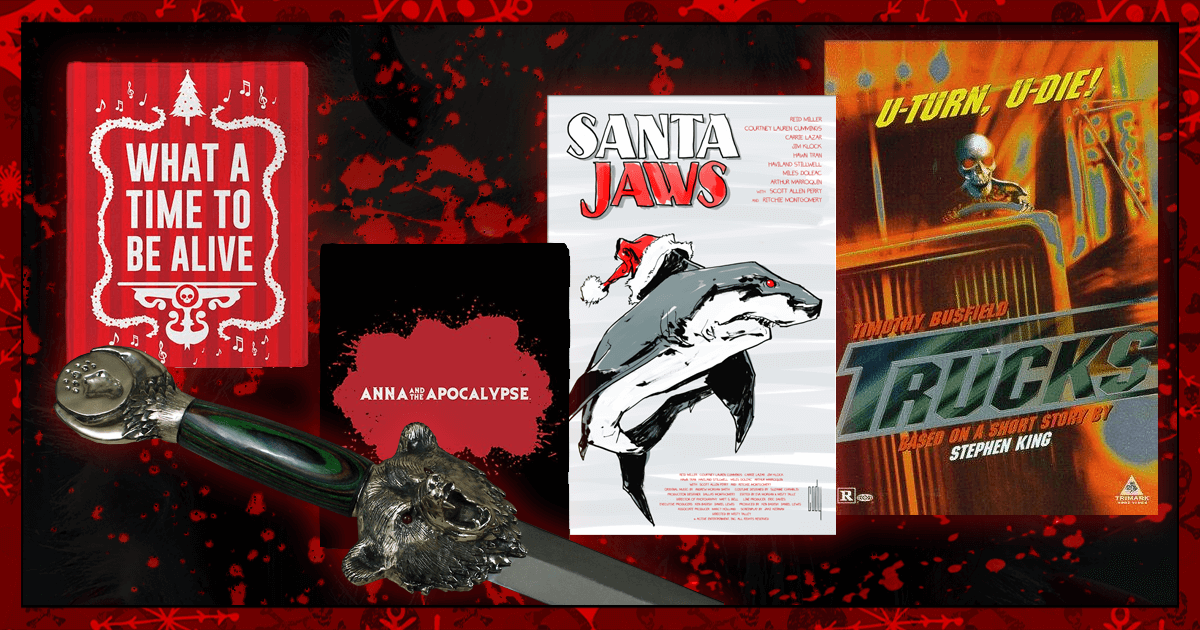 Trucks (DVD) - $6.59
I got this 1997 instant-classic as a gift a couple years ago from the fine purveyors here at Dead Entertainment and boy did I love it. Trucks has nothing to do with the holidays and EVERYTHING to do with utter 18-wheeled vehicular mayhem. I mean, come on, what could be better than self-aware, homicidal, trucks? Nothing. 11/10
"A mysterious force has taken hold… and the traffic is way out of control." – Fucking AWESOME.
Santa Jaws - Only requires your time
'Tis the season, right? The season for man-eating cartoon Santa Shark hybrids, that is. This movie is a wonderfully fun time for the whole family. Whether you're into the magic of Christmas creativity, coming of age films, or you just love the idea of ornament grenades, this will become a holiday go-to. I especially love the turkey launcher. 11/10.
You actually can't even buy this movie anywhere. I just want you to sit down with a loved one and stream it live from SYFY. Neither of you will regret this.
Anna and the Apocalypse Time to be Alive Blanket - $54.95
If you haven't heard about it yet, Anna and the Apocalypse is a Christmas Zombie Musical. That said, the whole thing is amazing. When you're talking about the dead, the irony of a blanket that says "what a time to be alive" is AWESOME. 11/10, would buy.
Bear Sword (Ursa Major) - Starting at $750.00
Bears are AWESOME. Swords kick ass. Want to know what is so AWESOME it kicks major ass – URSA MAJOR ASS? A bear sword. This thing rules, hands down. If you don't care about the cost, do yourself a favor and be AWESOME for the holidays. 11/10, would buy 110%. I am actually ordering one.
Bates' Bow-Tied Lineup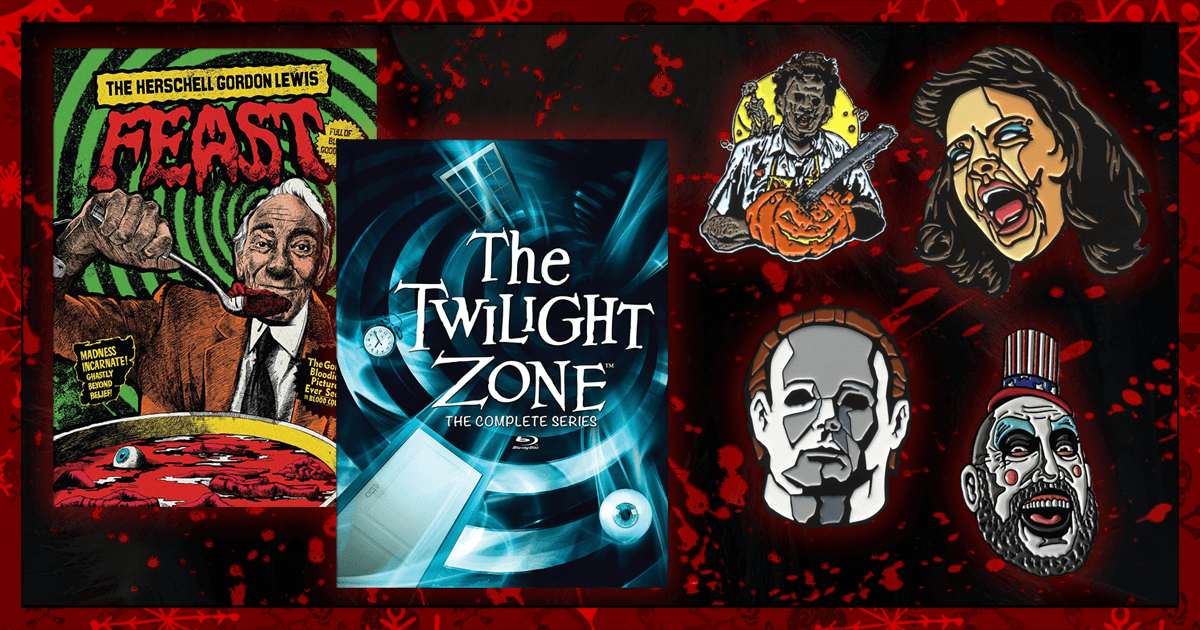 Blu-ray box sets are always appreciated for those who still collect them. Go into these next two purchases lightly unless you are sure that the recipient is an avid collector, otherwise they will most likely sit in a box or on a shelf… collecting dust, alone and forgotten with hours of awesome bonus content that will never be enjoyed.
Herschell Gordon Lewis Feast Box Set - $114.99
Here is a gem for fans of the Godfather of Gore! This is a set that slipped under the radar of most fans, I think, but for its cost that is not surprising. Nonetheless, the Feast box set is jam-packed with 14 movies, each with brand-new introductions by Herschell Gordon Lewis, plenty of interviews and commentaries, short films, and even a documentary. The set is beautifully presented and well made, giving you enough content to sink your teeth into for days. This is a true collector's set that would be the centerpiece to any horror fan's Blu-ray collection.
The Twilight Zone: The Complete Series Box Set - $67.40
With the announcement of the new revival, what better time to pick up the complete original series to remind you that nothing will come close to this glorious show? Who wouldn't want 24 discs of The Twilight Zone goodness? With this beautifully-presented box set, fans of the original show will no longer be without their favorite episodes. New transfers have allowed for better picture and audio quality, along with English subtitles (except for the special features). As of this writing, this set is under $70, which is a great deal for a set of this size.
Enamel Pins (Fright-Rags, Cavity Colors)
Everyone is always looking for stocking stuffers every year. Nothing is better than finding those perfect little gifts that fit neatly in a stocking. Why not change it up this year and get something to decorate the stocking with? Enamel pins are all the rage right now and with so many great companies producing them it is hard to pick which ones would look great on a stocking come Christmas morning.
Fright-Rags is always a top choice for enamel pins as they offer quite a variety from Die Hard, Evil Dead, Halloween, Creepshow, House Of 1000 Corpses, and more. If you can't find what you are looking for there, head on over to Cavity Colors as you are sure to find some pins there. Rob Zombie, Re-Animator, Ghoulies, Street Trash, Texas Chainsaw Massacre, Scream, Terminator 2, and more round out their impressive collection of pins. Think outside the box this year and stab those stockings with some choice enamel pins!
Jay's Jolly Gifts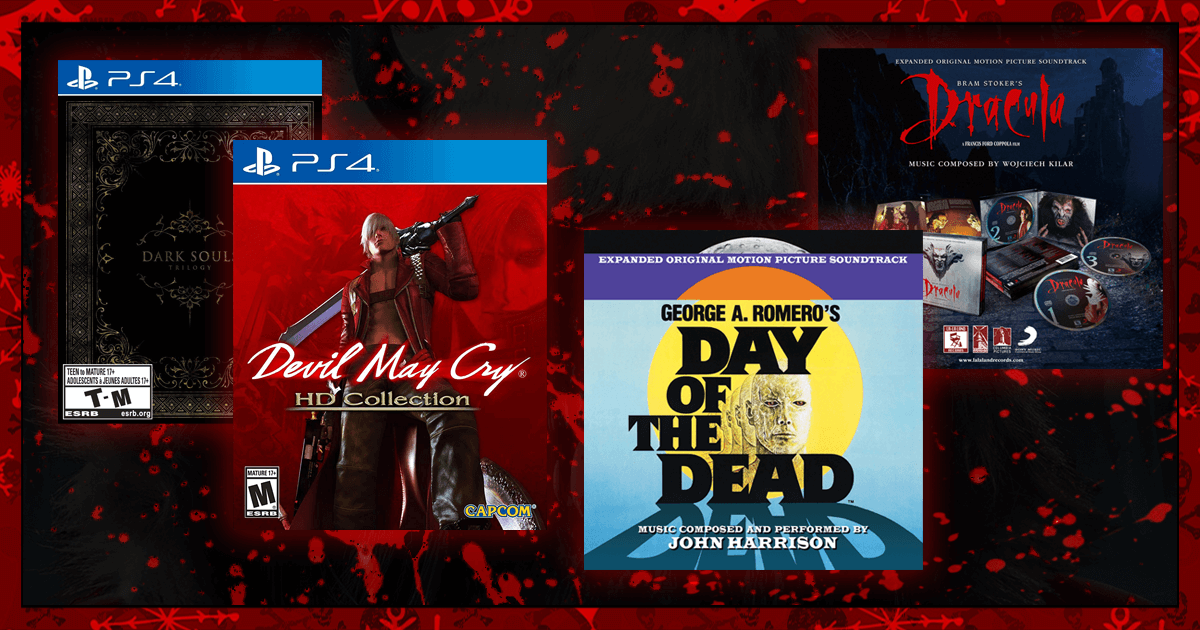 Devil May Cry HD Collection - $19.93
This one is sure to bring back some fond memories for fans, or start new ones for those unfamiliar with the series playing it for the very first time. Devil May Cry HD Collection includes Devil May Cry, Devil May Cry 2, and Devil May Cry 3. These three titles originally released way back in the first half of the 2000s for the PlayStation 2 and are all brought up to speed in this swanky HD collection. See for yourself why many regard this series to be one best hack-and-slash video games franchises ever.
Dark Souls Trilogy - $69.99
Dark Souls is a like a love-hate relationship taking a ride on a rollercoaster. There are great moments that make you want to scream in joy but often times you're trying to prevent yourself from snapping your controller in half. If you're hunting for a brutally-challenging experience, look no further. This one is sure to satisfy your appetite in every way. Experience the Dark Souls trilogy as it was meant to be played in this spectacular collection. Just be prepared to die.
Bram Stoker's Dracula – Limited Edition (3-CD Set) - $34.98
Quench your thirst for great music this holiday season with Wojciech Kilar's score to Bram Stoker's Dracula, which was a renowned 1992 film by Francis Ford Coppola (The Godfather, Apocalypse Now). If you're tired of the same old holiday jingles, Kilar's stellar music ought to complement a warm fire and a glass of red "wine" nicely. This limited edition 3-CD release by La-La Land Records is a must-buy holy grail for film music aficionados and fans of the film alike.
Day of the Dead – Limited Edition (2-CD Set) - $19.98
It only took nearly 28 years, but John Harrison's score for 1985's Day of the Dead, the third in George A. Romero's original zombie trilogy, finally received the expanded treatment it deserved back in 2013. All of the cues from the film are here and were tirelessly remastered from newly found masters of the score long assumed to be lost. From the thumping main title theme to that infamous scene of Rhodes' demise, relive all of your favorite moments from the film with this awesome limited edition 2-CD release of John Harrison's score for Day of the Dead.
Michelle's Merry Picks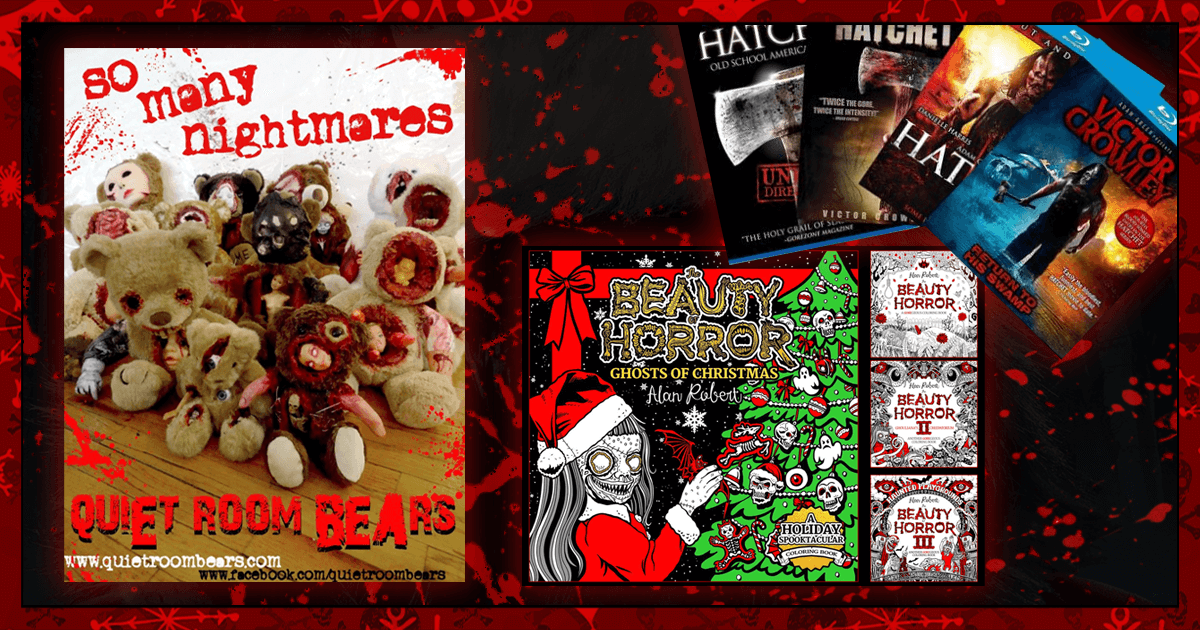 The Beauty of Horror: Ghosts of Christmas Coloring Book - $9.20
The holiday season can be extremely stressful with the malls being crowded, irate drivers on the road, and cooking for hours to entertain a house full of dinner guests. What better way to relax than to slip away with a cup of eggnog and pass the time with some markers coloring a few holiday-themed pages, especially with a spooktacular twist?
Alan Robert brings his love of horror and skills of cartooning to the pages of his latest adult coloring book, The Beauty of Horror: Ghosts of Christmas. The book's 64 pages contain all your favorite holiday sights, except with added fangs, claws, and terrified faces – everything for the horror fan who likes some relaxing downtime during the busy holiday season. 
You can also pick up Alan's other titles in The Beauty of Horror series on Amazon.
Quiet Room Bears by Lee Howard (Facebook, Etsy)
If you have a horror movie fan on your shopping list, why not give them something they can cuddle and grip tightly while they're watching their favorite scary movie? For 17 years, Lee Howard has been putting his unique bloody touch to your everyday plush and turning them into one-of-a-kind, individually-numbered characters known as the Quiet Room Bears.
Each bear is dismembered and reassembled, but with doll parts, toys, other bear parts, plastic bugs, and even blood to create a truly one-of-a-kind collectible. Each bear is branded with a session number on its backside and no two bears are alike. Lee ships worldwide and the item comes wrapped in a bloody burlap sack before it's delivered to your door.
Lee is also an accomplished artist who sells his sketches and art prints on his Etsy shop alongside the bears he currently has available. You can catch him at conventions throughout Ontario with a collection of his artwork and unique bears. Check out his Facebook page, which is linked above, for upcoming appearances.
Hatchet Series (Full Franchise Autographed Blu-ray Set) - $60.00
From Honey Island Swamp to your living room, bring Victor Crowley home for the holidays. The horror community was first introduced to Victor in 2006's Hatchet, which revitalized Kane Hodder's career. The film and its three sequels revolve around a deformed boy named Victor (Hodder) who was accidentally killed by his father while trying to save him during a Halloween prank gone terribly wrong. Every year, Crowley rises from the dead and kills anyone who dares to enter his swamp.
The series has featured cameos by countless horror icons, such as Robert Englund, Tony Todd, Derek Mears, Danielle Harris, Felissa Rose and the list continues. Head over to Ariescope Pictures website to grab the series now. Every film you purchase from the website comes autographed by Adam Green.
Wrap-Up
That's it for this year's holiday gift guide! If you have any of your own personal picks to add, feel free to comment below and share your ideas with the rest of our readers! From all of us here at Dead Entertainment, we wish you a fantastic holiday season and can't wait to do this again next year.