Creator Spotlight: Mister Sam Shearon's Art is to Die For
Today, we take a look at a man of many talents in the worlds of horror and heavy metal.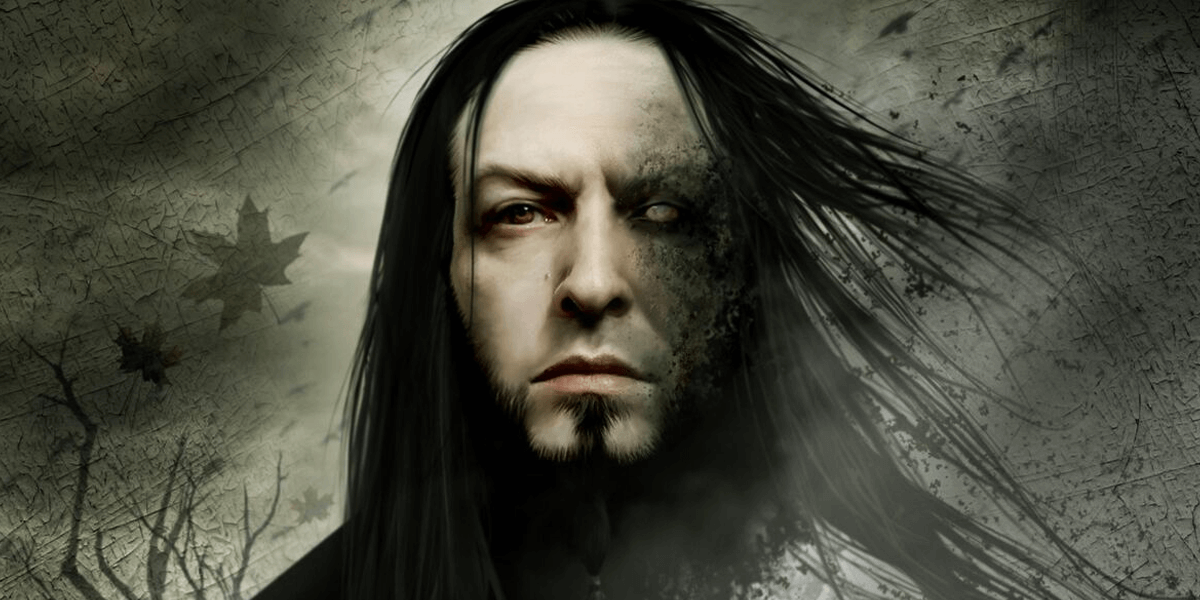 Today we are taking a look at the artwork of an extremely talented individual making a name for himself in the worlds of art, horror, and heavy metal. Each installment of this column focuses on an independent creator within the genre who has great ideas and big dreams, some of which Mister Sam Shearon had already achieved in his impressive career.
Born in Liverpool, England, Shearon has been living in Los Angeles, California on and off over the last thirteen years. His passion for all things macabre came from personal experience, having lived in a Victorian house he was convinced was haunted during his youth. These experiences led him to explore other dark topics concerning the unknown, especially crytozoology, and he found himself creating art during frequent visits to museums and art galleries. His passion for things that go bump in the night is reflected heavily in his artwork, which he has been doing professionally for many years. Everything from Bigfoot and horror author Edgar Allan Poe, to original bio-mechanical monstrosities, is all on the table.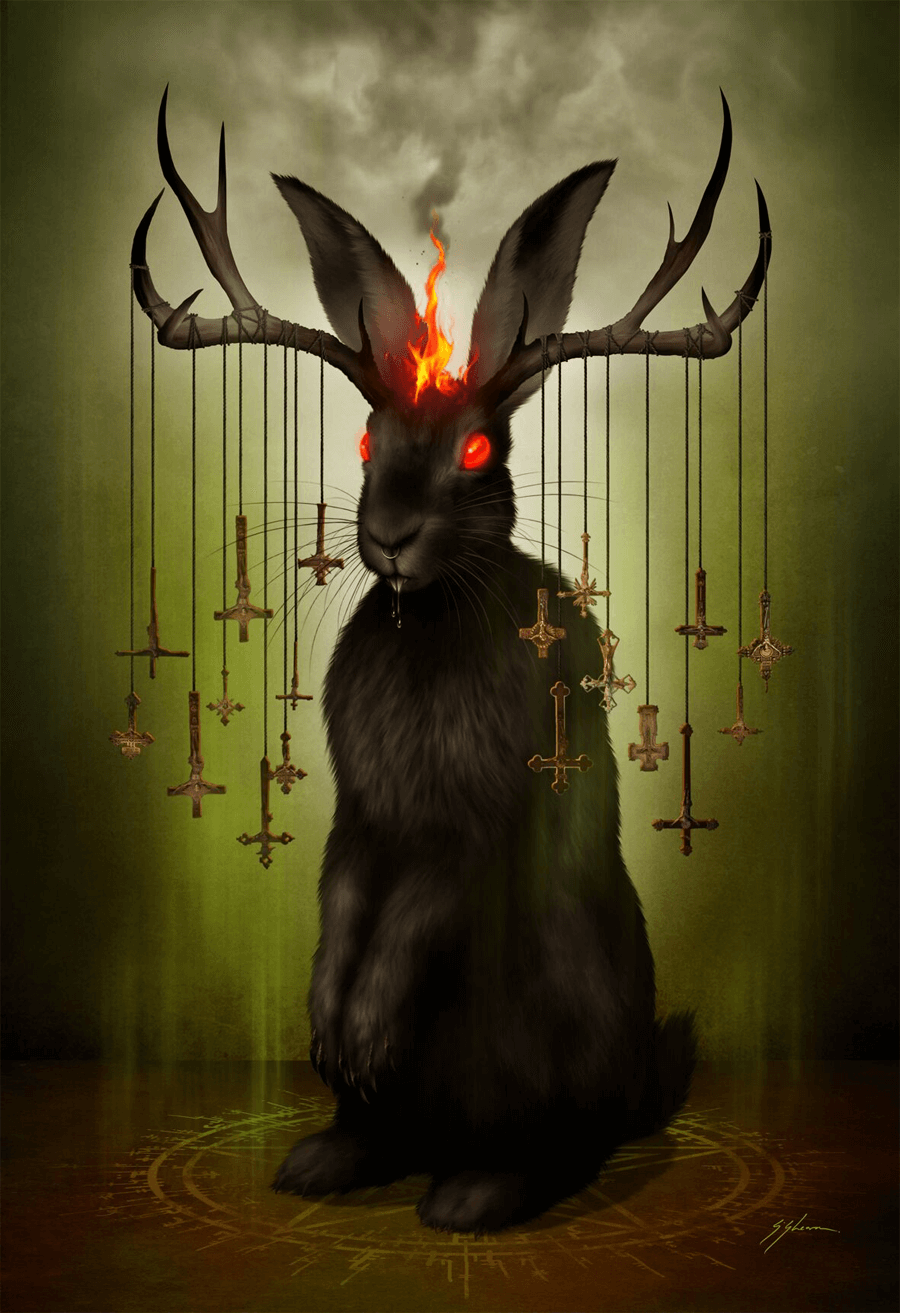 Besides his original art prints, Shearon is actively involved in creating commercial pieces for books and comics, as well as the music industry. He has created covers and illustrations for comic distributors such as BOOM! Studios, IDW Publishing, and Seraphim Ink, designing for properties such as Hellraiser, The X-Files, and the works of H.P. Lovecraft. In the music world, he has worked with numerous heavy metal bands to create album artwork, merchandise, and touring posters, including Ministry, A Pale Horse Named Death, Rob Zombie, Rammstein, and more. He has even worked on guitar graphics for ESP, Schecter, and Dean Guitars.
We were fortunate enough to find some time to talk with Shearon about his career thus far and where he is heading in the future. He proved to have plenty of interesting discussion to share, and he had more than a few surprises for us! As it turns out, he is much more deeply embedded in the horror community than we knew, having appeared in various horror shorts as well as in music videos and even on band albums! While primarily known for his art, after checking out the full interview below, you'll want to keep your eye out for all of this multi-talented ghoul's upcoming projects.
---
L.B. Lubomski: Hi, Sam. Thanks so much for taking time out of your busy schedule to talk to us. You're a man of many talents, particularly as an artist. Why don't you start out by giving our readers some background information on yourself?
Sam Shearon: I'm a British artist born in Liverpool, England. However, I'm now based in Los Angeles. I grew up in a Victorian seaside town on the edge of the Irish Sea, a cold place of wind and grey skies, rain and clear fresh air... the total opposite of Los Angeles, which has taken some getting used to over the last 13 years! My parents own a stone Victorian building in my hometown of Lytham, St. Annes, haunted of course, with shadows and voices and things that go bump in the night – fertile ground for inspiration for any artist interested in the supernatural and the darker side to life and the afterlife.
I've held a long fascination with natural history and the unexplained. I've grown up visiting museums and galleries, often sitting underneath huge dinosaur skeletons with a pencil in hand. This interest in real monsters quickly developed into a love of the unexplained, and specifically cryptozoology, the search for unknown animals as yet unclassified or recognized by science. I've gone on to illustrate more than fifty book and film cover artworks on the topic of cryptozoology and the unexplained, everything from Bigfoot and lake monsters to giant eagles and prehistoric flying reptiles.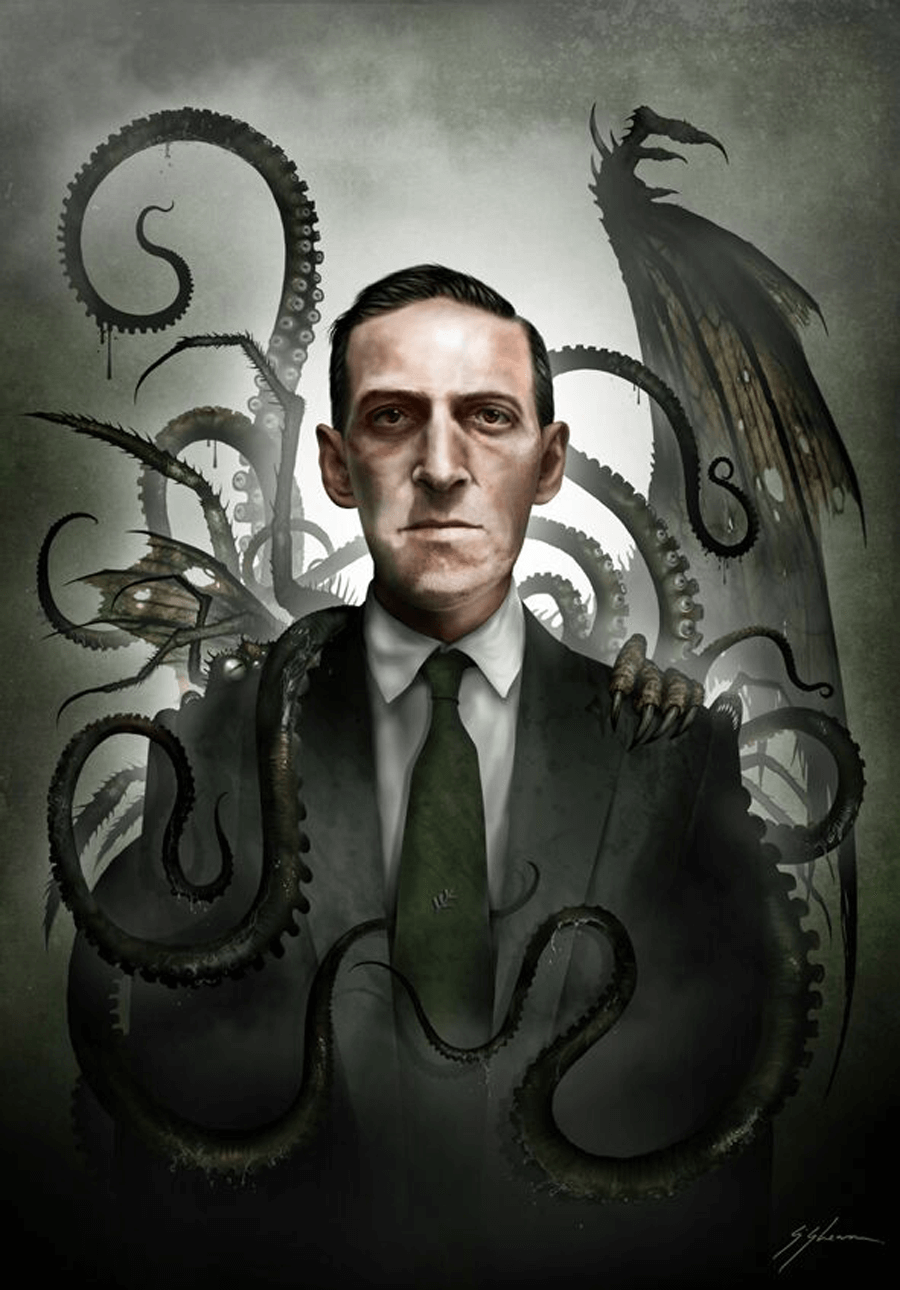 Aside from my love of the world's monster mysteries, ghosts, and UFOs, I'm also known as the artist behind many of the top rock and metal album covers and merchandise designs for bands such as Ministry, Rob Zombie, Rammstein, HIM, Slayer, Fear Factory, Biohazard, American Head Charge, Powerman 5000, Orgy, KISS, Iron Maiden, and A Pale Horse Named Death, to name just a few! To date, I've created more than 60 album covers.
Outside of my artwork and visual creations I've been known to lend my voice and acting skills to various projects. I've appeared in various music videos over the years, namely for singer/songwriter and close friend Jason Charles Miller, formerly of industrial rock group Godhead. My voice has also appeared on several tracks on the last Fear Factory album, Genexus, a bio-mechanical-Bladerunner-meets-Terminator concept album.
I've even performed on stage in theater as Dracula in North Hollywood. I first took to performing live on stage in Hollywood 2015, with a cast of 13 for Bram Stoker's Dracula. This was a run of 20 performances across the Halloween season with each show lasting two hours... quite a little marathon and well-received! I've since appeared here and there in various short films and can often be heard on various podcasts talking about the realm of the unexplained.
LB: Moving from such a small Victorian town in the English countryside to Los Angeles must have been quite the culture shock!
SS: It was an eye-opener for sure! The climate, the water, the usual differences... But the big one for me that I continue to dislike is the heat. I remember talking to Clive Barker, who is also from Liverpool, about how I miss the rain in England. He thought I was mad for not loving the sunshine and perpetual warmth! I guess I just miss fresh clean air and actual weather!
LB: Dead Entertainment followers may be familiar with your work from our previous coverage of Funko's Edgar Allan Poe Pop! figure. You graciously allowed us to use your portrait of Poe for that article's header image and it was a huge hit. What inspired you to create that particular piece? Are you surprised by the warm reception it has received from the community?
SS: Thank you again for choosing to use my work in the previous article and I'm super excited to see Edgar Allan Poe getting his own Funko Pop! figure! I wonder what he'd think if he were alive today?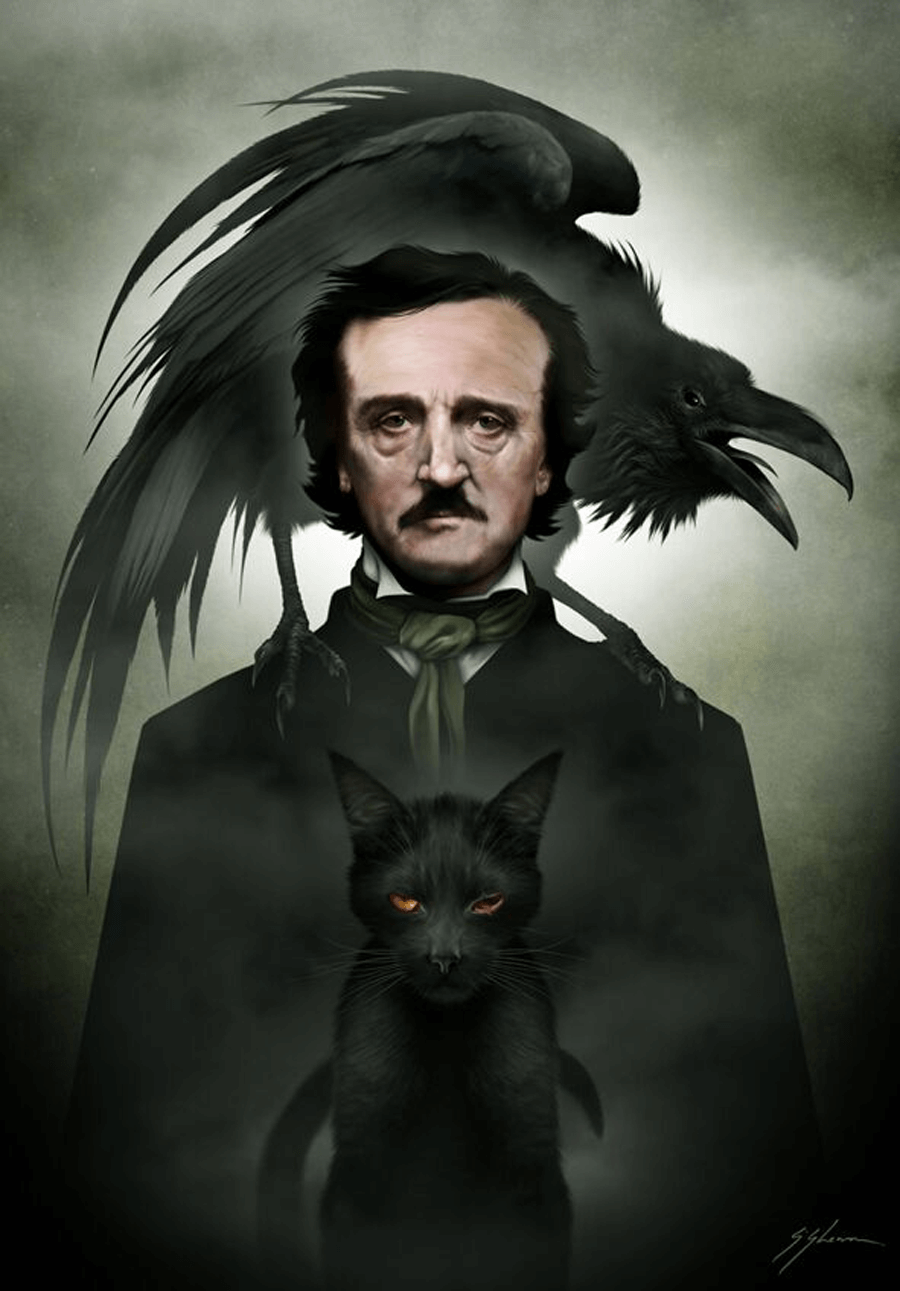 You can purchase this print with a 25% discount from Sam's store using the promo code POEPOEPOE.
LB: Considering he was one of the first authors to make his living based solely on his writing, I imagine he'd be a little flustered he's not making any money off of his own likeness!
SS: I created his portrait along with a companion portrait of H.P. Lovecraft, simply as I've never really seen a definitive modern depiction done in a more photorealistic way and felt that they both deserved to be remembered in the highest possible fashion. They are among the fathers of horror and science fiction, after all, and should be revered as such. I'm also planning a few more to add to this series, including some additional classic characters such as Bram Stoker, Mark Twain, Mary Shelley, Robert Louis Stevenson, and Aleister Crowley, among others on my list.
I would of course love to portray some of our more modern masters in both literature and film, though getting in contact with them and permission to do so is a little tricky here and there, as some of them are no longer with us, so the permission gets muddy. Some of the names on my list include: Stephen King, Anne Rice, George A. Romero, Tobe Hooper, Richard A. Matheson, Wes Craven, John Carpenter, and of course the legendary Doug Bradley and my dear friend Clive Barker.
LB: Speaking of which, I saw that your Poe artwork is a finalist in the digital art category for Beautiful Bizarre Magazine. Congratulations!
SS: Thank you so much! It was a thrilling surprise and I still can't quite believe it. It's an international prize with some incredible talent in the running, including some of my own personal favorites, so to be among those names is just mind blowing! I can't tell you how excited I am to be one of the 25 finalists out of thousands of entries.
The people's vote opens the 1st week in October so be be sure to sign up for updates on this prestigious Art Prize event!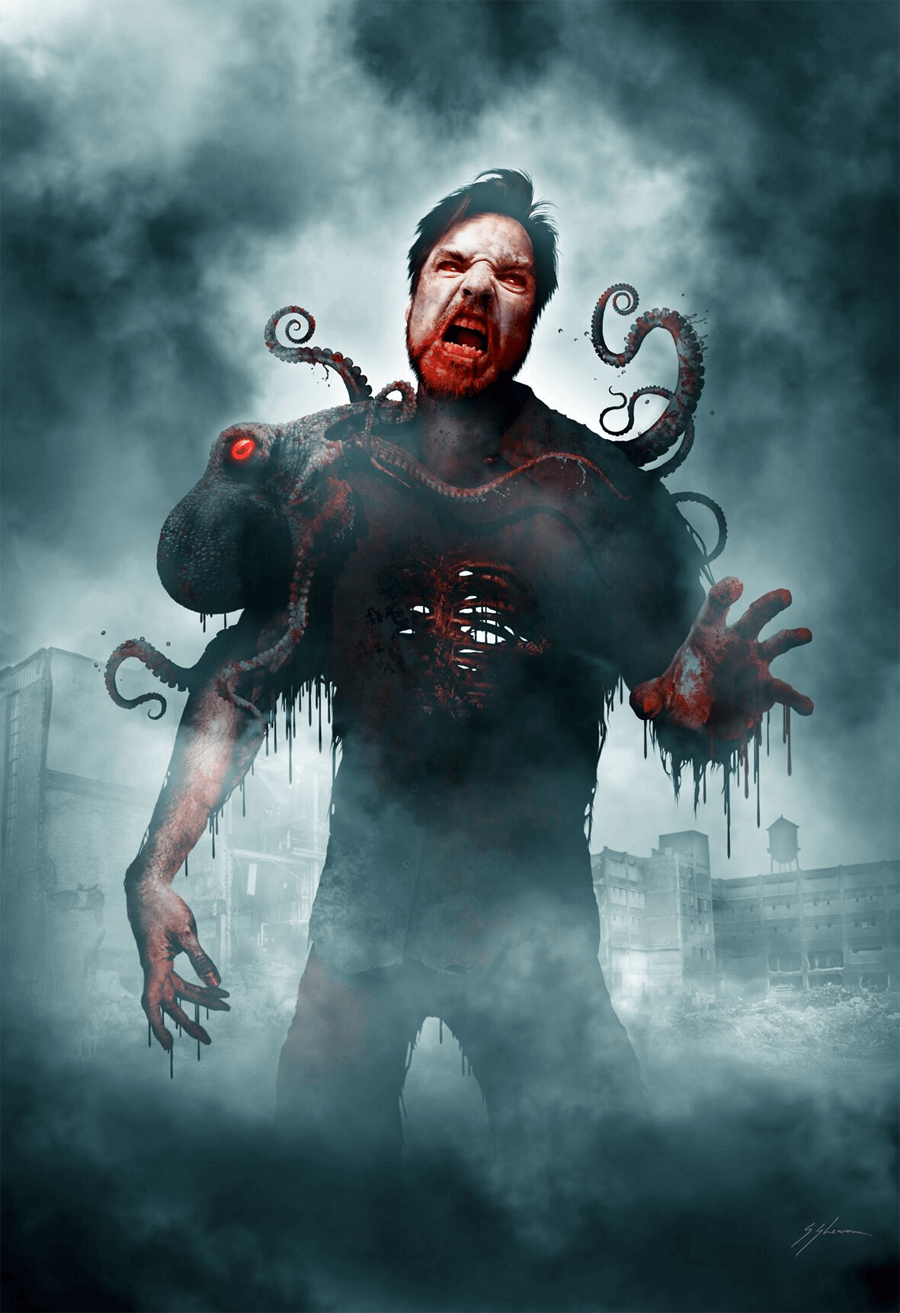 LB: Browsing through the rest of your portfolio, it is obvious horror has had a huge impact on your life. Your art is dark and ominous, often featuring the supernatural, occult, or other paranormal elements. The "Prints of Darkness" moniker on your website is definitely befitting. What is it about the genre that interests you so much? How did your love of horror first develop?
SS: I think like most people who enjoy horror or the supernatural and other darker aspects of "life," it's mainly a thrill for the unknown. There's nothing more terrifying than the unknown, the hidden, the dark... I personally get inspired by real events and especially when it's something that shouldn't exist... ghosts, monsters, or unknown animals.
I think my love for it has always been a part of my life, again growing up in a creepy Victorian town and spending most of my childhood visiting museums, looking at old cases of insects and bones, human mummies… ancient books and artifacts.
I have a huge collection of what my dear friends affectionately refer to as "weird shit." I have a large taxidermy collection, sporting over 50 animals including foxes, badgers, goats, cobras, ravens, squirrels, deer, and lizards. The list goes on. I also collect antique Ouija or spirit boards and antique medical books, I'm fascinated by the illustrations and how they used to get so much wrong!
LB: I've noticed that you refuse to do any copyrighted character portraits unless specifically contacted by the license holders to do so. While this is an obvious choice from a legal standpoint, does it ever discourage you as a professional artist that you're unable to create art of iconic slashers like Jason Voorhees? If you could secure the rights, which iconic horror character would you love to bring to life?
SS: I see a lot of artwork out there depicting everything from Jack Skellington to Michael Myers or the Alien franchise, and it leaves a bad taste in my mouth because most of these are not licensed artworks that people are making a living from, while the creators see nothing. I mean, tribute artwork is fine. Maybe people are okay to do a very short limited run or perhaps a parody of some kind, but when they're making bank on someone else's creation, it really pisses me off. So, on principle I don't like creating something that I don't own unless officially hired to do so by the creator or license holder.
If I could pick anyone to portray, however... Jason Voorhees, in his various forms, is one of my favorite characters! But I'd love to do Leatherface – the whole family actually! I'm very fond of the Hellraiser universe and would love to officially explore that some more, but I'm more inclined to create my own monsters these days. I love making other people look good, creating covers to sell their works, their books, and their DVDs, but I'm more focused on building my own franchise currently – so stay tuned!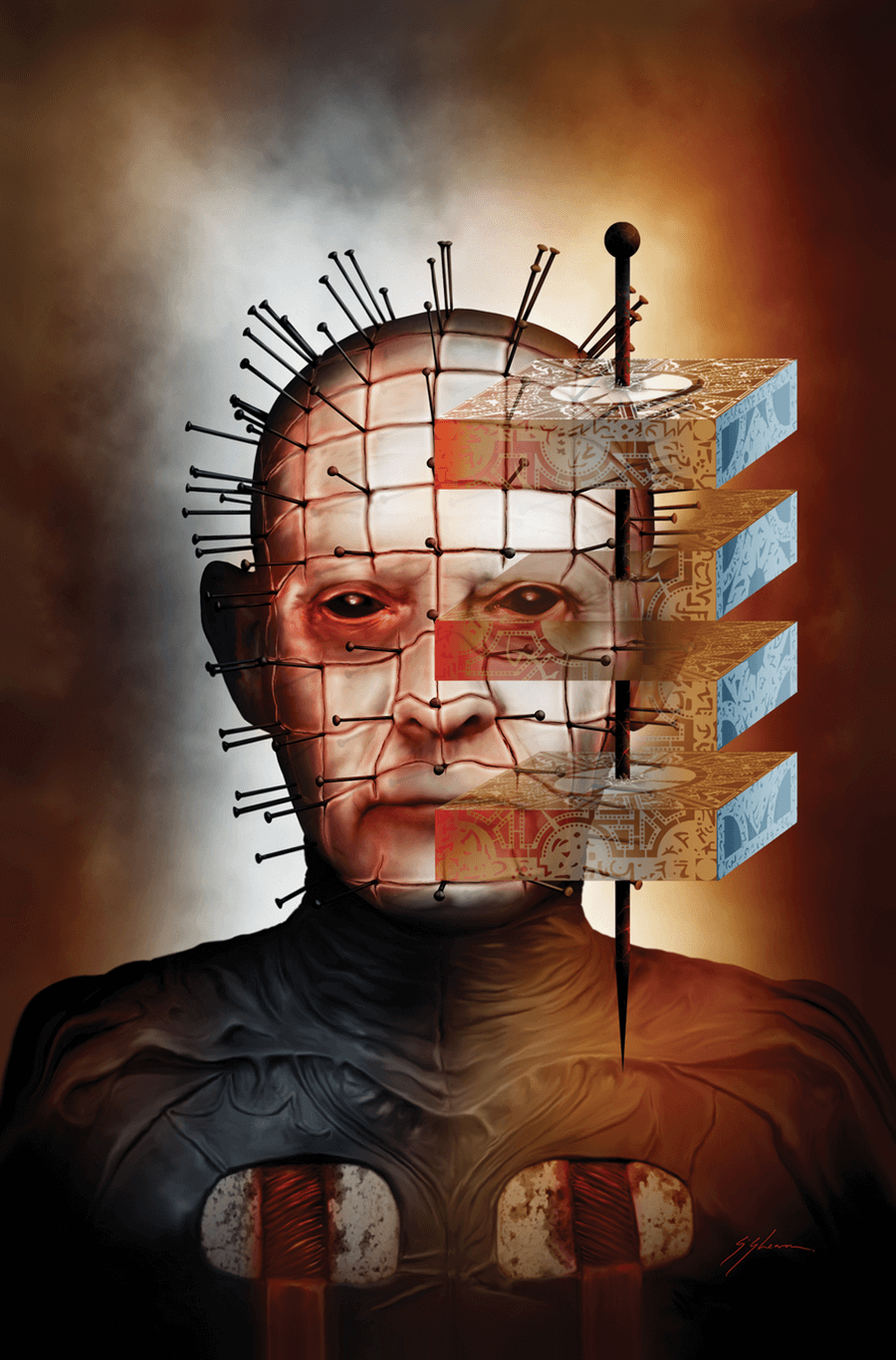 LB: While you may not have had a chance to draw Freddy or Jason yet, you still have worked with some real horror royalty! In 2014, you created the comic cover for the first issue of Clive Barker's Hellraiser: Beastiary through BOOM! Studios. What was it like working on such an iconic horror property and being commissioned to draw Pinhead?
SS: As I say, I love Hellraiser and I'd already been creating artwork for Clive Barker for his Books of Blood series, so when this came across my table, to illustrate Pinhead himself, it was a dream come true... A huge tick on my bucket-list and something I would again love to explore further.
In my opinion, there's only one Pinhead and that is legendary actor Doug Bradley. There just simply is NO other. I've met Doug; we've talked about Hellraiser in the past and what the future holds for the franchise, and of course HIS role. I only wish a studio such as Blumhouse would helm a full feature Hellraiser standalone movie, with Master Doug Bradley in the role as the "Hell Priest" himself. Hell, I'd happily direct it! Clive, Doug, and I are all from Liverpool, so there's something aligned there already surely! (laughs)
LB: Hey, I'd be down to see that. It can't be any worse than the last few movies churned out just to keep hold of the license. Can you give us a little insight into the technical aspects of creating your artwork? What is your creative process like? Where do you draw inspiration from? How long from concept to completion does it take to finish a piece? Do you work primarily in the digital or physical medium?
SS: Generally speaking, all of my work eventually finds its way into a computer, whether sketched and scanned or created within a digital art program such as Photoshop. I love to sketch and ink things out and will work from those once scanned in, repainted digitally, and then fully executed on screen before being sent to print. A little known fact also is that I've never used, nor do I own a Wacom or drawing tablet of any kind. I use a mouse for everything I paint or draw digitally.
The duration of creation on each piece really does vary from project to project. Some can take a day and others a month, sometimes six.
In terms of inspiration, I draw mainly from my collections of taxidermy or antique books. I love to read classic horror and see where my mind takes me. Clive Barker is indeed a big influence, but other favorite artists of mine include Simon Bisley, Ashley Wood, and Ryan Brown. I attend San Diego Comic-Con each year to draw live and sign books. This year was my eleventh year in a row signing with IDW Publishing.
I love to see what's popular, what the benchmark is... who's working on what and whether there's a gap or something missing from the world of horror, science fiction, and fantasy that I might fill.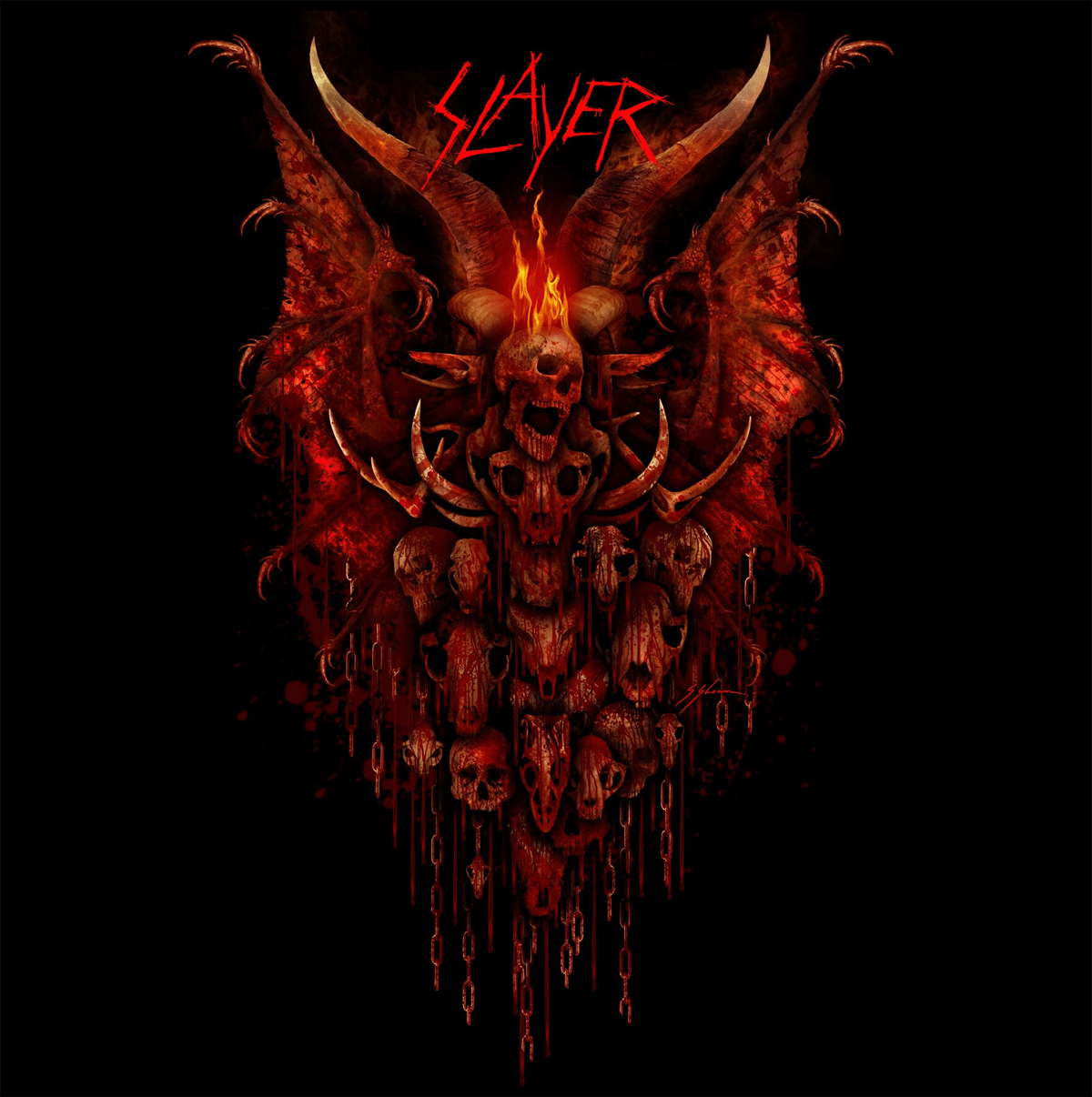 LB: I've also read that you have worked with some big names, not only in horror fiction but the music industry as well. You've created album artwork and merchandise for some excellent bands such as Ministry, Slayer, Rob Zombie, Rammstein, Fear Factory, and more. You have even worked with guitar companies on designs like ESP, Dean, and Schecter. How did you first get started in the music industry? Do you have any particularly fond memories of working with these musical acts?
SS: As a teenager, I would go to gigs, see shows, follow bands, collect records, and then either love or hate the artwork that went with their packages and/or merchandise. But one thing I began really gaining an interest in my mid 20s was the possibility of one day creating this artwork myself. To be a part of something I loved and not only give some creative love back to the band, but do them justice in terms of how I feel they should visually be represented by way of an album sleeve, tour poster, or T-shirt design.
To me, music isn't just the audio experience. It very much goes hand in hand with how we see the world and what that whole "world" feels like. Especially if it's a concept band with a subject matter that runs deep in its thematic foundations, such as A Pale Horse Named Death. APHND are comprised of the members and also both drummers for their former band, Type O Negative. As a huge fan of these musicians I wanted to create something that not only paid homage to their origins, but something that the fans of the former band would also accept as entirely new and on its own ground... Original, but with a heavy dose of nostalgia!
I've created all three of their album sleeves and a stack of merchandise designs for the band over the last ten years. They've since referred to me as their "Sixth Beatle," a title I accept with great pride.
With the advent of MySpace in the mid 2000s, you could suddenly reach out to bands directly whereas before you'd have to contact the record label, find the contact details of their manager, and so on… if they even had one! It was tougher back then, as there was no social media to really speak of. But these days, it's even easier with everyone on Instagram, Facebook, amd Twitter... some even have Snapchat. It's crazy!
I've worked with some incredible people while being in LA over these past 13 years... with some stories I simply cannot repeat!
However, one of my favorite memories includes walking around the Donington Download Festival in England one year. This is an open air rock/metal festival I've been attending every year since I was 18. Not only was I now in a professional position as a rock artist, trusted and respected to have a main stage laminate pass, able to walk behind the main stage to the dressing rooms and view the shows from the sound booth, but my work was everywhere that year, all over the festival, on posters, stage backdrops, and T-shirts. It was a thrilling experience. I figured, "Well, I must be doing something right!"
I'd previously created album artwork for Rob Zombie and I'd also previously met him, but there he was in the backstage area, so we had a little chat after his performance on the main stage. Rob is a truly inspiring artist/creator himself and a really nice guy. Humble and polite but brutally honest, he's a true artist and inspiration in terms of getting things done! I have only the highest respect for him in terms of his professional stance as a creator and businessman. Rob Zombie is one creator that never seems to cease in his flow, a truly inspiring artist himself.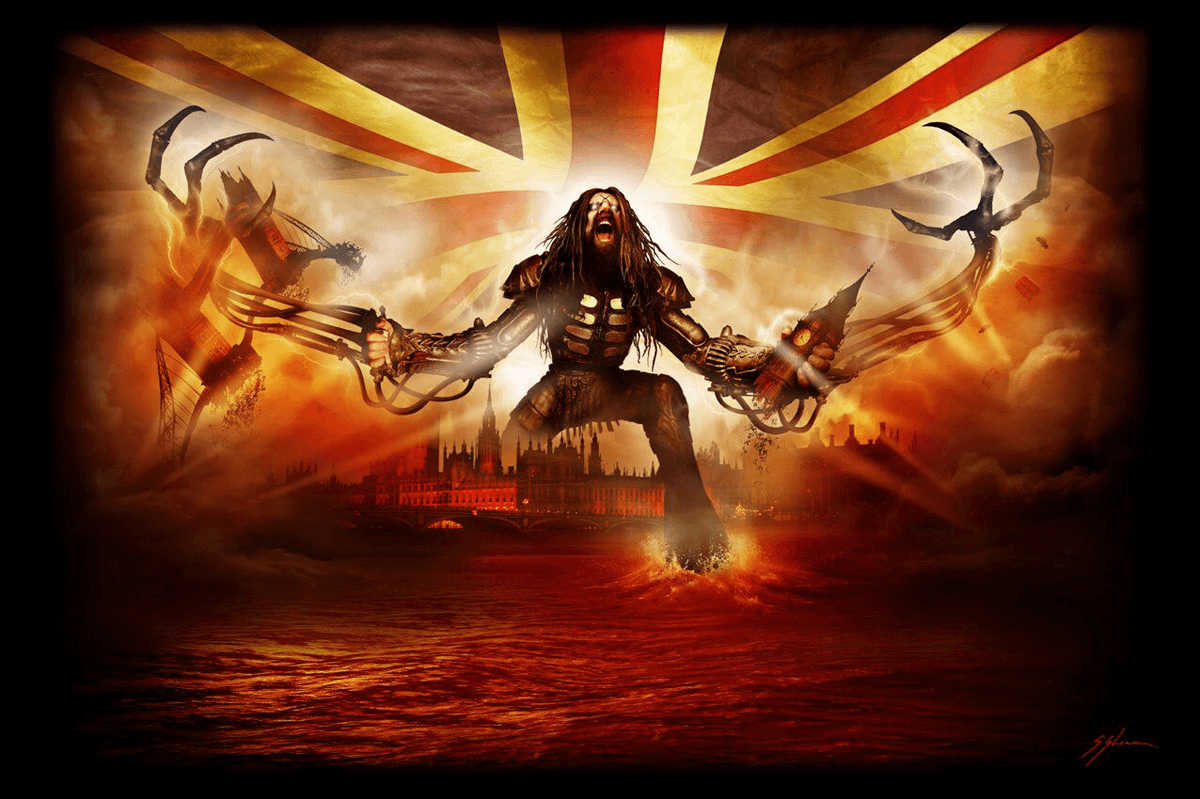 I'm honored to have created several things for the undisputed King of Rock-Horror in the past: his "X-Head" portrait featured in Hellbilly Deluxe 2 and the giant "RobZilla" poster that marked his return to the UK after 16 years, among other things, and of course I would love to create with him again at some point.
His younger brother's band, Powerman 5000, was also performing that year on the main stage. I'd just created their whole new album sleeve package for the record Builders of the Future, so that was surreal to see them both there as I'd created for them both previously.
Later that day, I ended up on the side of the stage with American Head Charge, whose backdrop was also my artwork. I'd also done their album, Tango Umbrella. Then there was Kill Devil Hill featuring Rex Brown from Pantera and Johnny Kelly from Type O Negative... and again, the entire backdrop of the stage was my artwork. Phil Anselmo came out and sang a song with them. It was surreal. I rarely blow my own trumpet or name-drop, but this was an occasion that really blew my mind!
Across the way, there were huge pasted-up posters on the walls surrounding the festival, featuring the album artwork I'd created for the band Ministry. I kept seeing people wearing various band T-shirts walking around the festival featuring artwork that I'd also created. I was just in awe of the entire Download festival... my artwork was literally everywhere. I remember thinking it felt like a dream and saying to myself, "What the hell is going on?!"
Other memories include spending three weeks with Al Jourgensen of Ministry at his then home in El Paso, drinking every day and night while writing and creating various projects with him, floating around in his pool with a beer in one hand or listening to him sing in his home recording studio. He's quite a genius when it comes to wordplay and songwriting, so it was a dream to see him create on the fly in his own home. Some of our projects have yet to see the light of day, but are still in the works!
I think one of my fondest and most unexpectedly surreal memories was spending an evening with Marilyn Manson at his apartment in Hollywood until 6 AM. It was just a small handful of friends of his and me – maybe four or five of us. I'd been invited back to his place after we'd spent a couple of hours talking about art galleries in Paris while at Jeordie White's (Twiggy's) birthday party.
Soon after we arrived at his Hollywood apartment, which sported a portrait of Billy Zane on the kitchen wall, Manson showed me his own gorgeous water color artworks he'd painted. He then showed me his antique Nazi art and photography book he'd just acquired and a bible signed by James Brown!
I also had the pleasure of hearing some of his new album while it was still in process. Such a great host with a warm welcome into his home. I greatly appreciated that night, though after drinking the fridge dry until 6 AM, I'm not sure I remember entirely "everything" that happened. All in all, Marilyn Manson has to be one of my all-time favorite, genuinely unique artists and I would, of course, love to work with him and share some more creative thoughts in the future.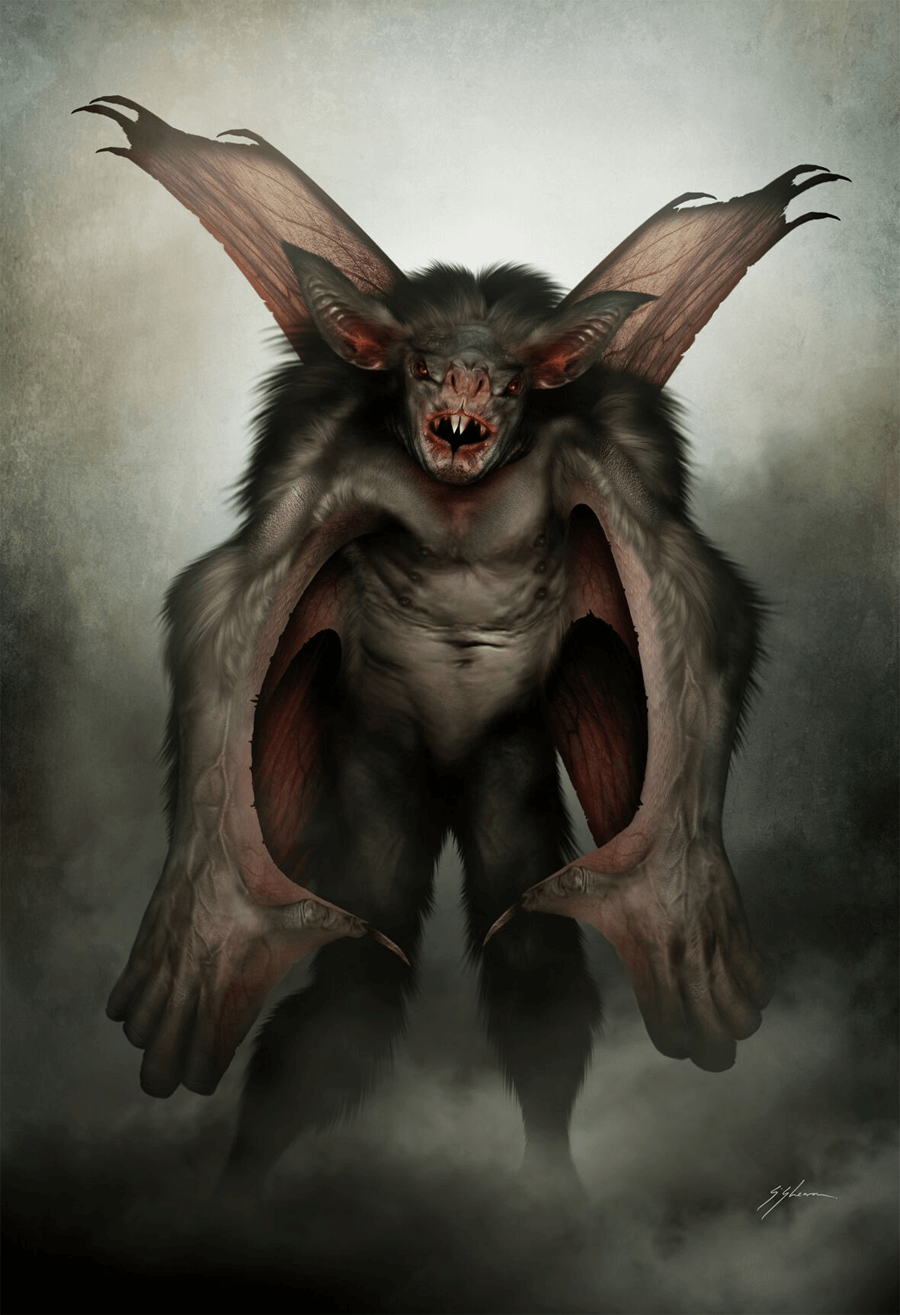 LB: Wow! As a musician myself, that's quite the impressive array of rockstars you've gotten a chance to hang out with! I've opened for and met my share of bands over the years, but nothing quite like that! I'll admit to being a bit jealous. Any chance we will see you in some horror films in the future?
SS: I'm sure I'll appear here and there in further music videos and films, though I'm currently considering creating more of my own. I already have a pretty huge project on the table with some major studios, so it's just a waiting game as to how much time I can play with once that's green lit. Once that starts to breathe, I might not have room to!
As mentioned before, I've done theater, music videos, and a few short film guest appearances over the years, but I'm leaning towards applying myself more in the realms of other performing arts, including music. I know enough people in the industry now to pick band members from, or at least have an album packed with special guests, so who knows?
One thing is for sure: I would want my music videos to be very much part of that package. As I said before, the whole experience must go hand in hand as a complete audio-visual offering for the user.
LB: This might be a tough question considering your large body of work, but what piece of artwork or accomplishment are you most proud of?
SS: That really is a tough question, it's almost impossible to say. I'd have to carve them out into groups: my album work, my cryptozoology book artwork... Hmm, tough to call!
I've created Slayer posters, Rammstein merchandise, and KISS comics, but I have to say, my favorite band to create for visually has to be A Pale Horse Named Death, fronted by Sal Abruscato with Johnny Kelly on drums. I've created more for that band than any other client. Sal and Johnny both drummed for the band Type O Negative, which was fronted by the late, great Peter Steele, along with Kenny Hickey on guitar and Josh Silver on keys. That gang of Brooklynites really laid the foundations for my musical tastes and dress sense from my early teens and onwards to this day.
Without any of those guys, I honestly don't think I'd be the man I am today. To now be working with them and to be considered as an integral part of their band only strengthens my love and appreciation for the art of visuals and music being partnered if not fused as one.
I'm honored and proud to have created for Clive Barker and for Stan Lee, and to have illustrated books for The X-Files, 30 Days of Night, and Judge Dredd. I've done so much and yet I feel like I've only just started. To quote Mary Shelley, "The beginning is always today!"
LB: Sam, thank you again for chatting with us. Is there anything else you'd like to say to the fans?
SS: Have a great Halloween and watch this space. I have such sights to show you!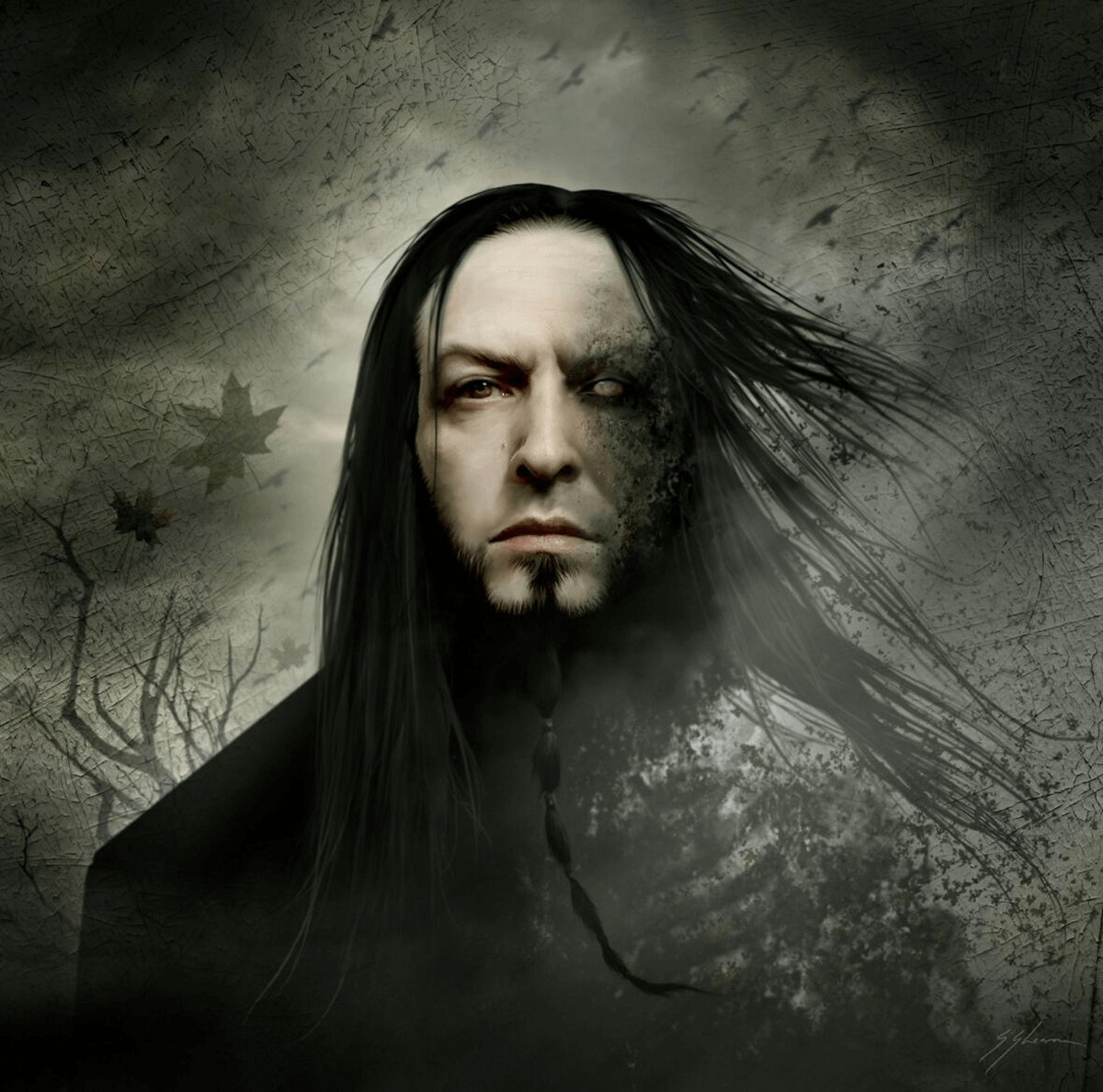 ---
And there you have it, a man of many talents deeply rooted in the horror and music community. Shearon has already accomplished so much, yet is not satisfied to sit still for long. We eagerly await all of his future projects and expect big things to come from him in the future!
Make sure to check out the official links below to stay up to date on everything Mister Sam Shearon is up to. If you like his artwork, his prints are available for sale, including the awesome Edgar Allan Poe print that turned us on to him in the first place. He also has a Patreon where you can support him with a monthly donation and get access to unique monthly prints not available elsewhere. Finally, of course, follow him on his social media accounts to stay up to date on all the latest from him.
Official Store: MisterSamShearon.bigcartel.com
Patreon: Patreon.com/MisterSamShearon
Instagram: Instagram.com/MisterSamShearon
Facebook: Facebook.com/MisterSamShearon
Twitter: Twitter.com/Sam_Shearon