NECA is Killing it at the New York Toy Fair
Re-Animator gets the NECA treatment to headline this Toy Fair round-up.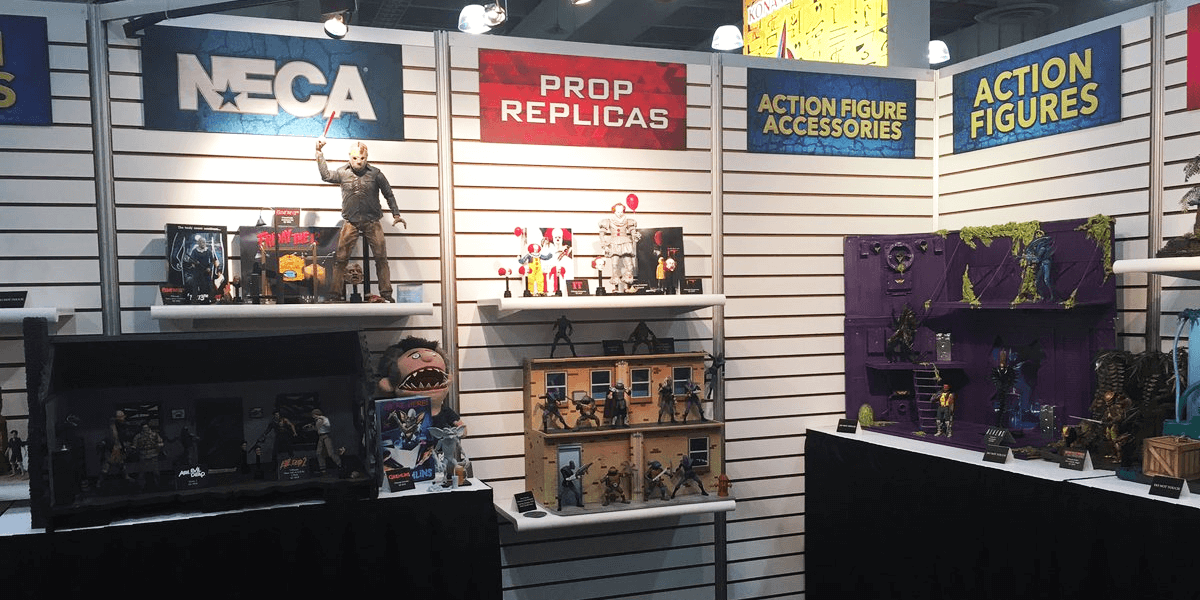 The American International Toy Fair (often called the New York Toy Fair) occured over the weekend. As one of the biggest toy tradeshows each year, all of the major toy manufacturers are in attendence, including one of my personal favorites, NECA. Over the weekend, they showcased some new horror action figures that horror fans are going to want to add to their collection.
Dr. Herbert West, Re-Animator
Dr. West, everyone's favorite Lovecraftian mad scientist from Re-Animator, is getting a premium treatment. While we got a small preview of this figure back around the start of the New Year, the full details have now been released. Dr. West is one of the first figures in NECA's new line of stylized clothed action figures. What this means is that the clothing on these figures are made of actual fabric, not plastic, and can even be taken off in order to recreate different scenes and poses. The accessories that come with this figure are what most excite me, however. I can't wait to try my hand at recreating some of the movie's iconic scenes. The Dr. West figure is set to release sometime in August with an MSRP of $33.99 USD.
"As a clothed action figure, Herbert stands 8" tall and is dressed in his lab coat. He comes with a bottle of reanimation reagent, syringe, bloody shovel, Rufus the cat, and a tray containing the severed head of the last guy who tried to steal his invention. Resealable clamshell packaging."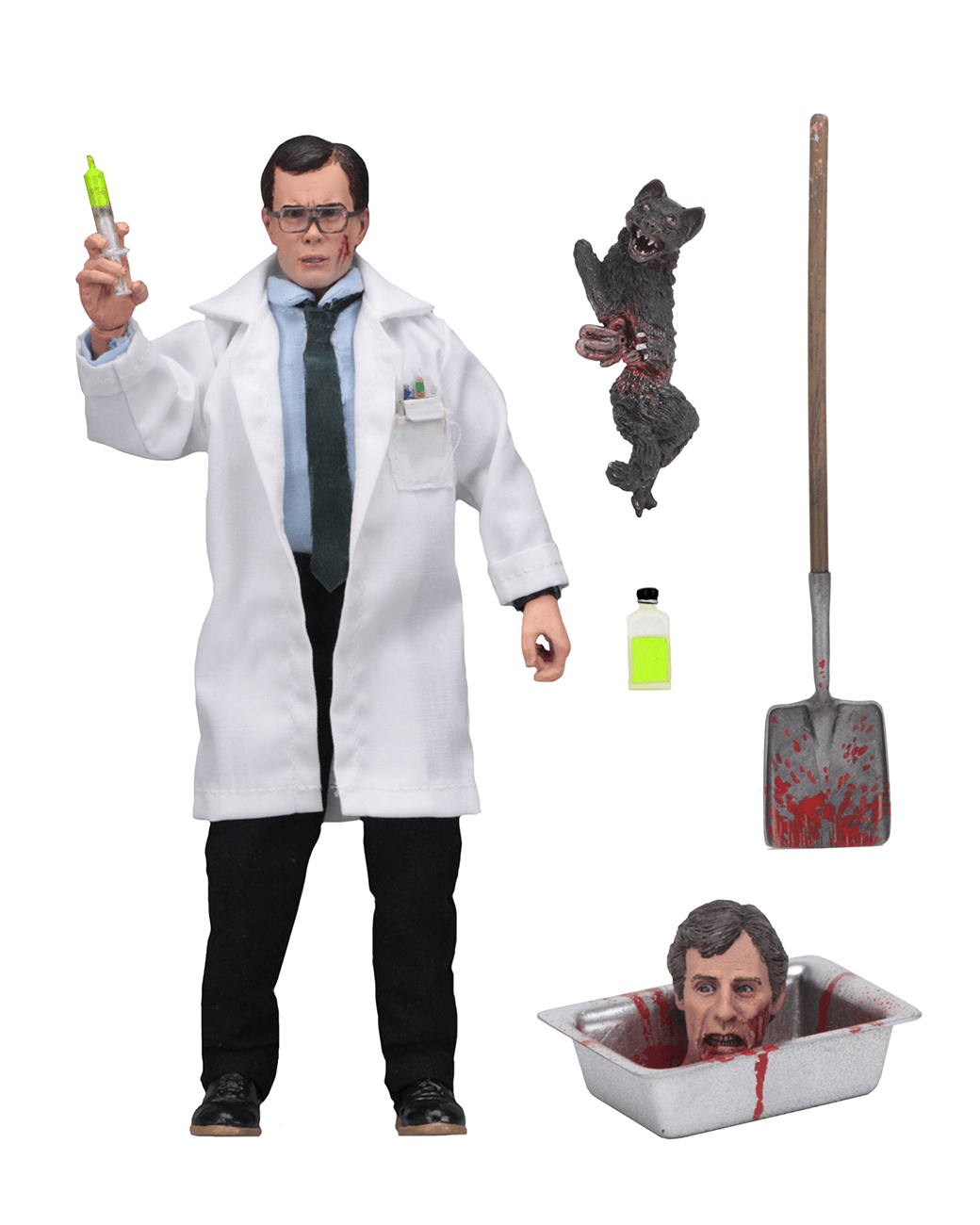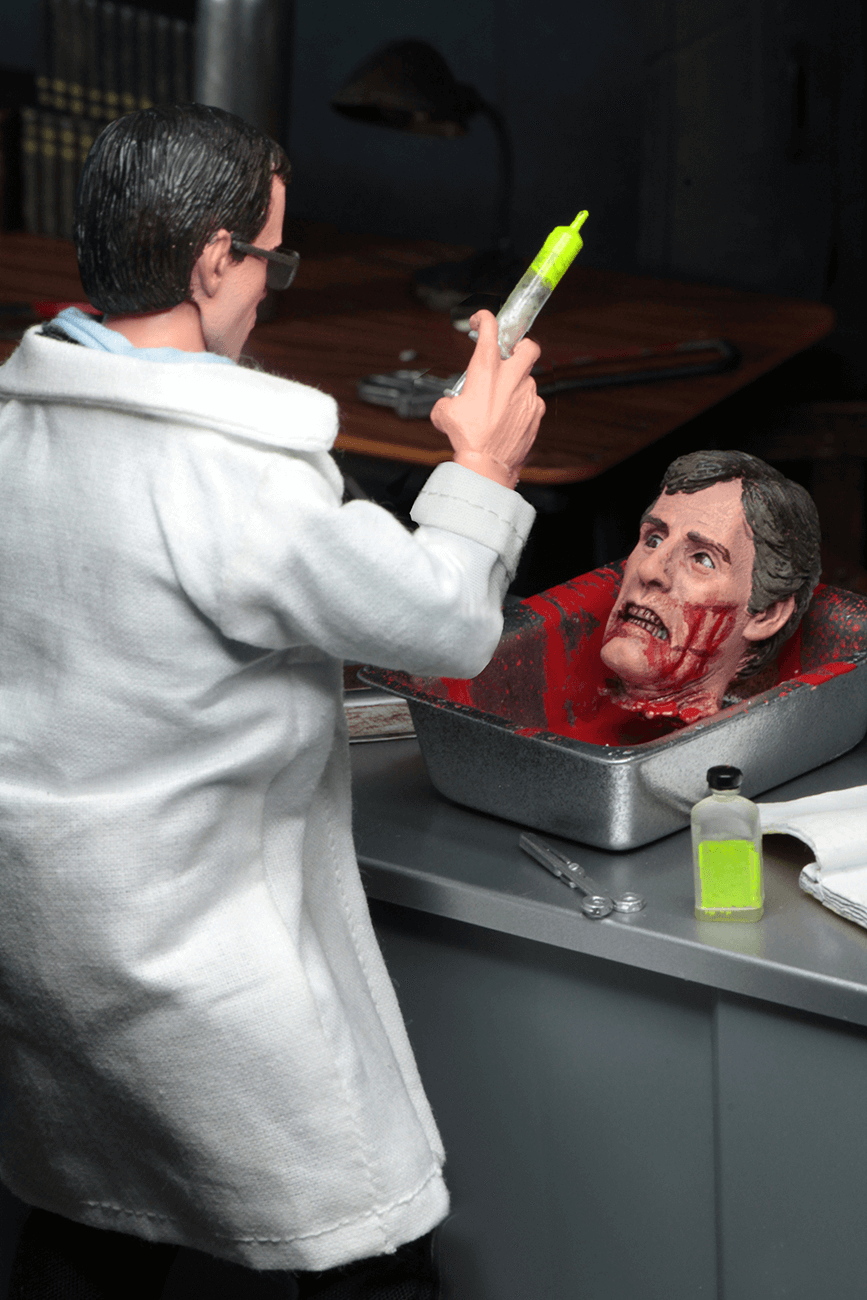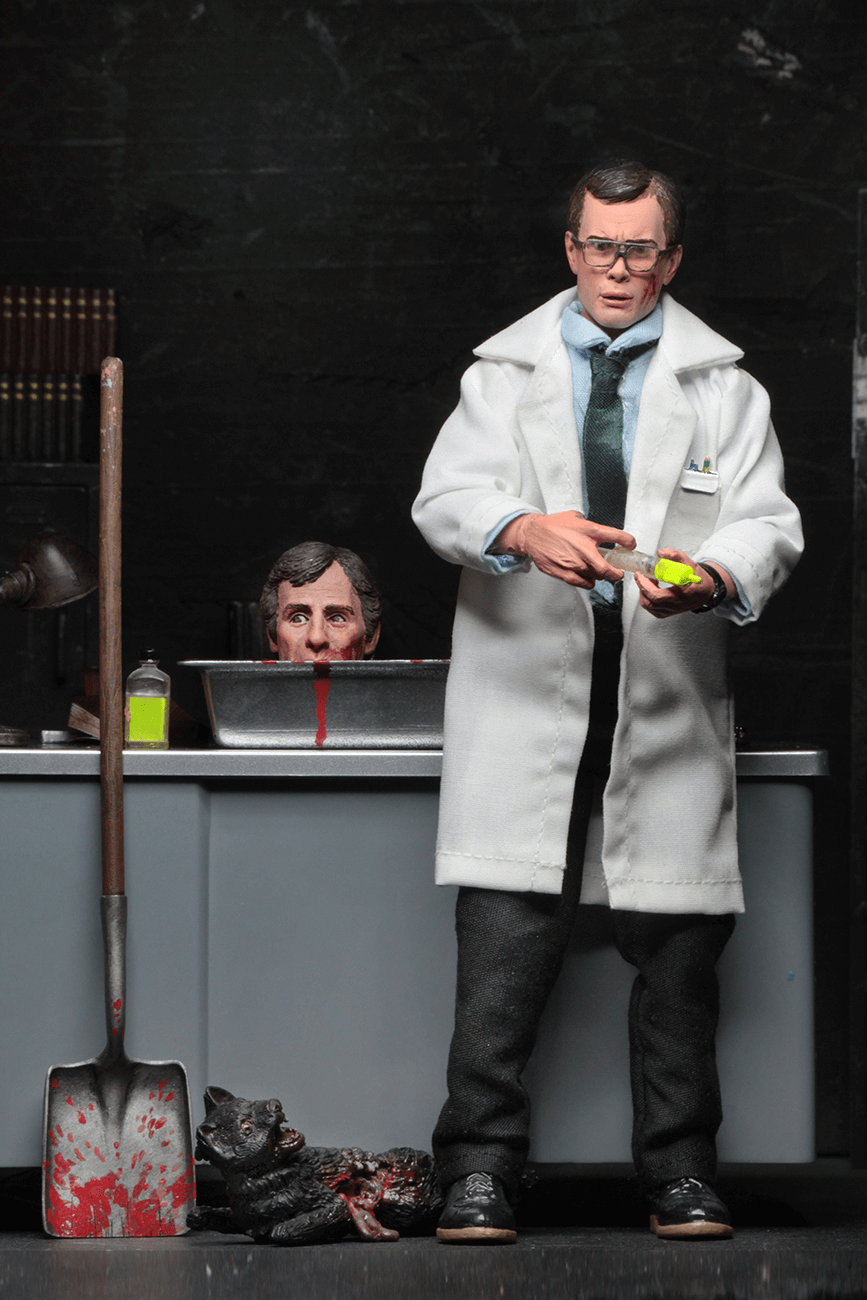 Captain Blake, The Fog
Next up, we have Captain Blake, the ghostly antagonist from John Carpenter's The Fog. The announcment of this figure was a pleasent surprise and it's nice to see Carpenter's "middle child" between Halloween and The Thing get some much-deserved love. In particular, I really like Blake's glowing red eyes on this figure, although I wish he had a few more accessories. The Captain is set for release in October with an MSRP of $31.99 USD.
"Bolt your doors… lock your windows… there's something in the fog! From John Carpenter's 1980 horror film The Fog, the vengeful ghost of Captain Blake joins NECA's clothed action figure line. Blake is dressed in tattered fabric uniform and comes with a sword accessory that fits in a sheath at his belt. Blister packaging with resealable protective clamshell features new artwork created just for this release."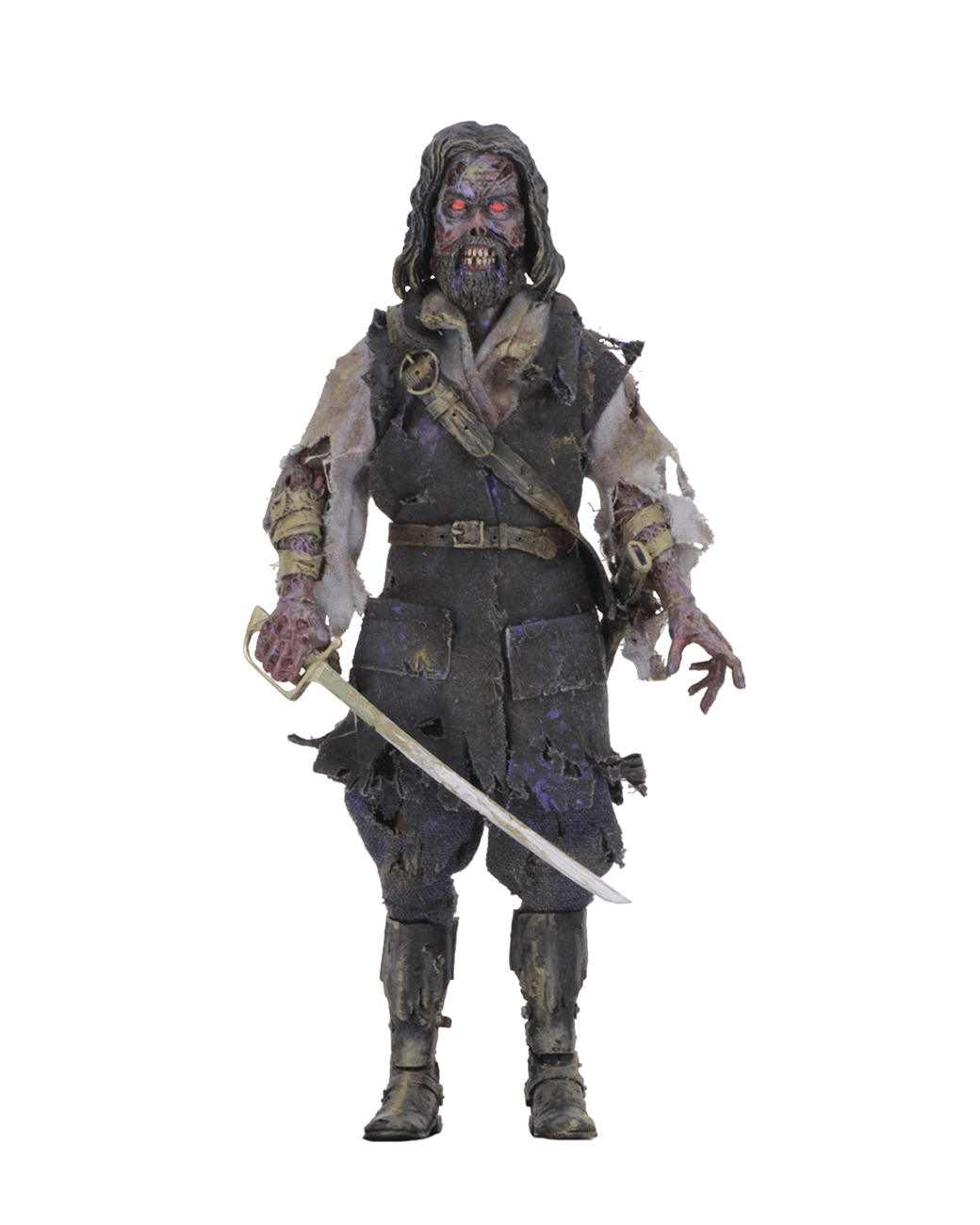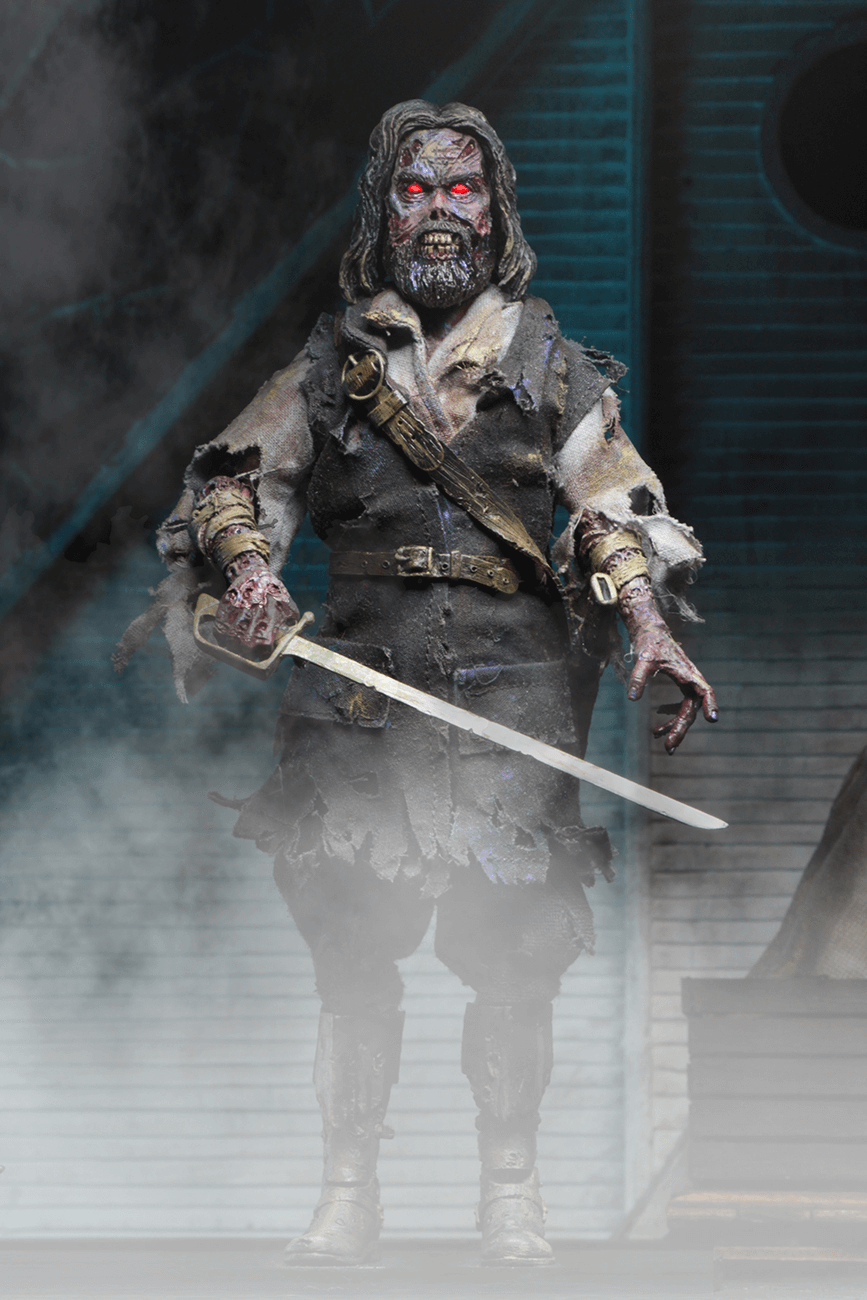 Freddy Krueger (Tuxedo), A Nightmare of Elm Street 3: The Dream Warriors
Among the new upcoming releases, we also have the dream demon himself, wearing this super-snazzy tuxedo from his third outing. The details on this particular figure blow me away and I cannot wait to add it to my collection. The addition of the Elm Street replica house (which actually lights up) is only the icing on the cake to an otherwise must-have action figure. Freddy is set to release in July with an MSRP of $31.99 USD.
"From the cult classic Nightmare on Elm Street movies, this clothed action figure is based on Freddy's tuxedo appearance in Dream Warriors! Freddy stands 8" tall and is fully poseable. He's dressed in a fabric tuxedo with red and green striped bow tie and pocket square, and comes with a replica model of the Elm Street house that lights up. Blister packaging with resealable protective clamshell features custom artwork created by Nathan Thomas Milliner just for this release!"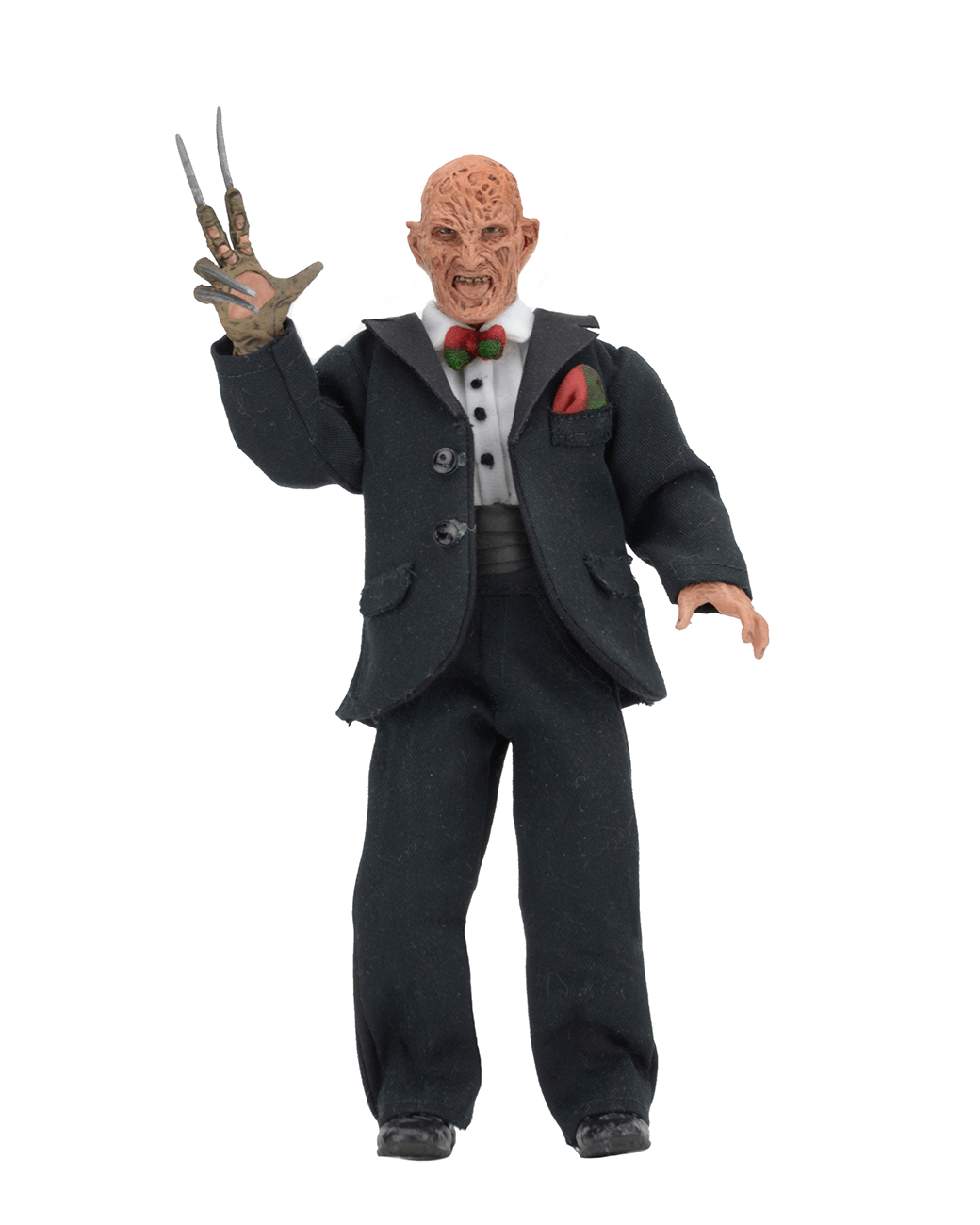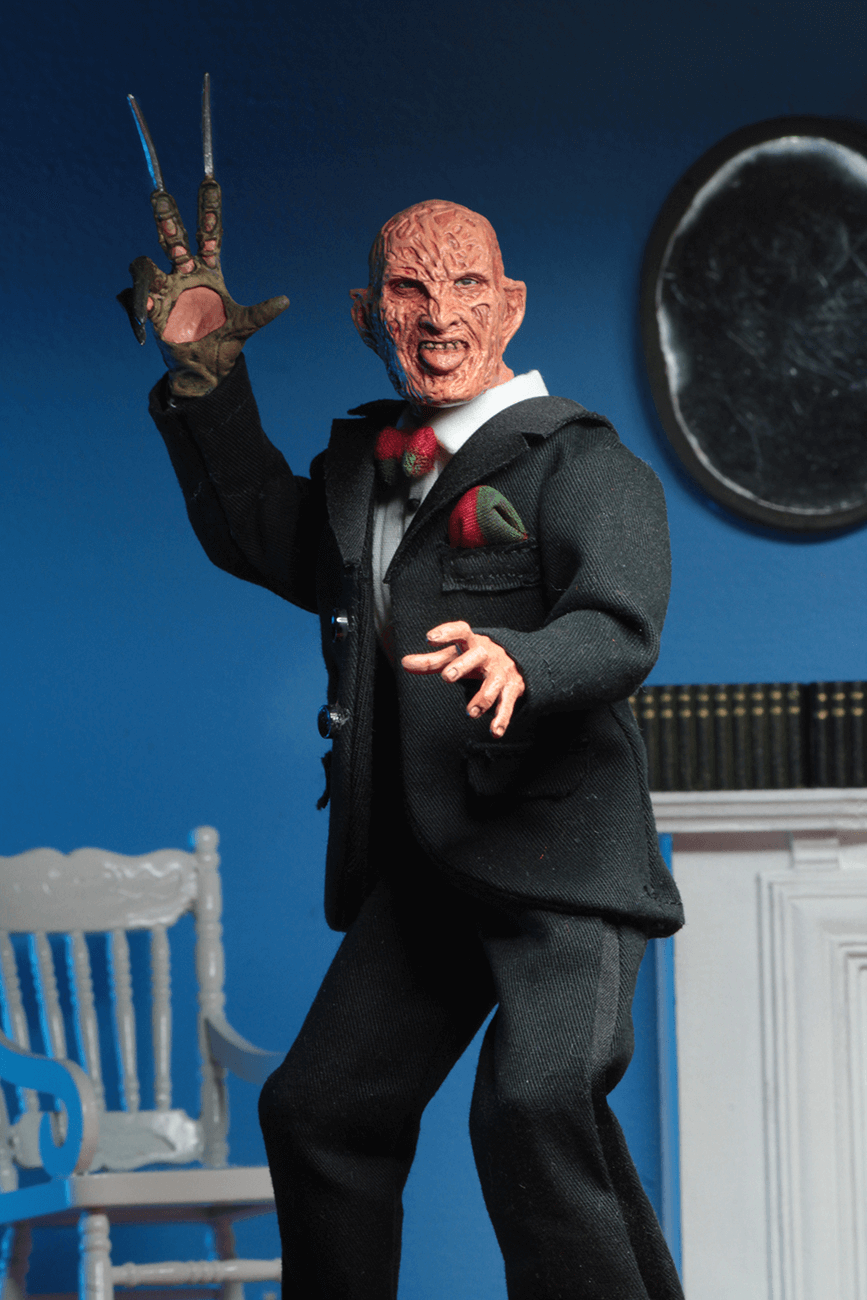 Last, but certainly not least, we have two different versions of everyone's favorite clown, Pennywise. Whether you're a die-hard fan of the original 1990 miniseries or prefer last year's remake, NECA has got you covered!
Pennywise, IT (2017)
First up, we have the latest version of Pennywise the Dancing Clown from last year's remake of Stephen King's It, which we previewed a few weeks back. This is another figure that we've gotten a few teasers of over the last few months and, just as we thought, NECA is throwing in a ton of accessories and interchangeable parts. However, unlike the other figures showcased in this article, Pennywise doesn't appear to be getting the fabric clothing treatment. We hope you're not too afraid of clowns to add this scary action figure to your collection. As for me, I'll be floating into my wallet to pay for this bad boy when he is released in August.
"From the acclaimed 2017 horror film IT, drawn from the pages of Stephen King's original novel, NECA presents the definitive version of Pennywise in action figure form! Based on Bill Skarsgård's portrayal of the nightmare-inducing clown, this 7" scale figure has been painstakingly detailed to be as accurate to Pennywise's ornate costume as possible. To recreate the most terrifying scenes from the movie, the fully articulated figure features three interchangeable heads, interchangeable hands, red balloon and paper boat. Comes in collector-friendly deluxe window box packaging with opening flap."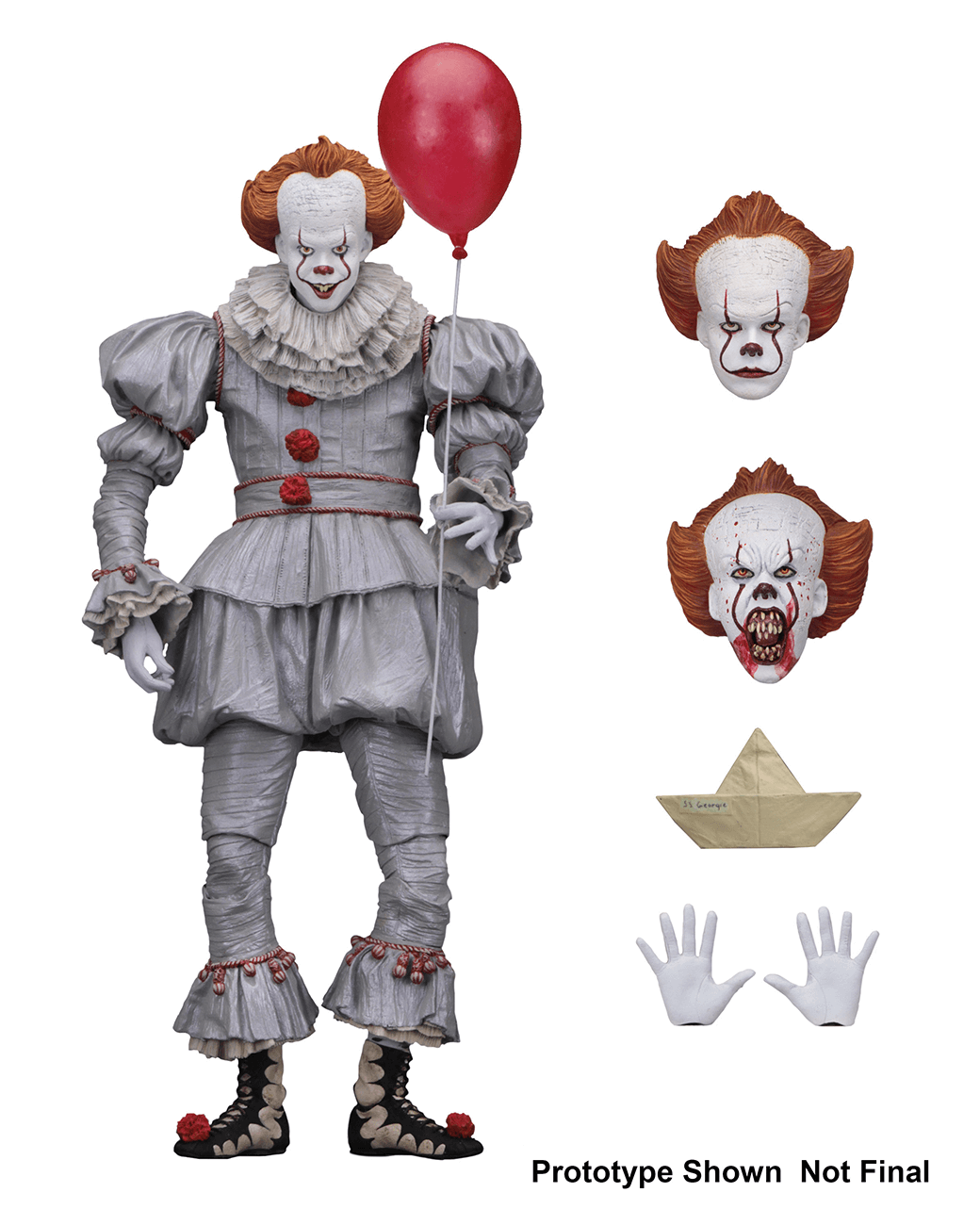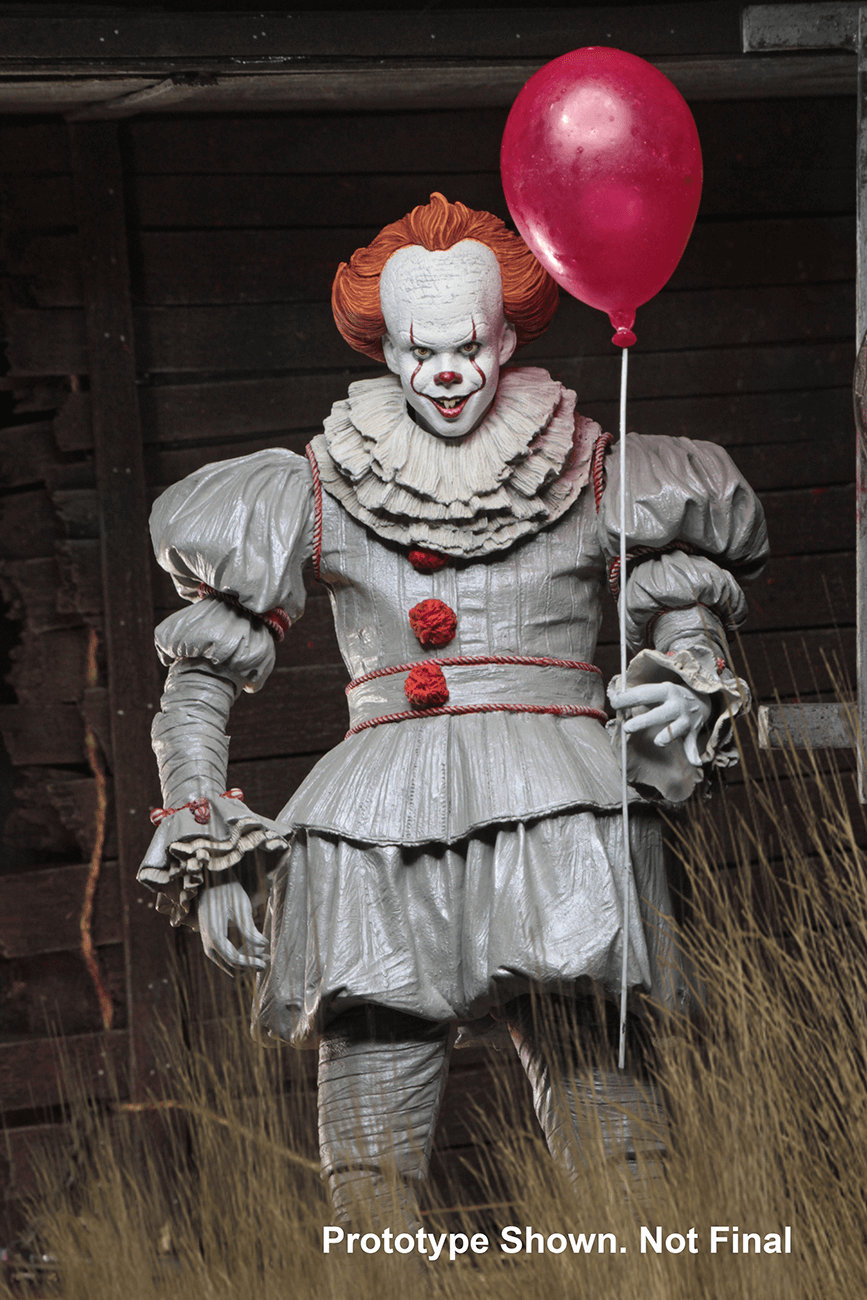 Pennywise, IT (1990)
Finally, we have the original Pennywise as portrayed by Tim Curry in the TV miniseries. I was very happily surprised that they decided to release this version, as it holds a special place in my childhood (mainly my nightmares) from having watched it many years ago. Once again, NECA provides us with a plethora of different parts, including four different heads, proving that they are not only true horror fans, but one of the best toymakers in the business who give us fans exactly what we want time and time again.
"NECA is thrilled to present one of our most frequently requested action figures of all time! From the revered 1990 horror mini-series Stephen King's IT, Pennywise the killer clown takes action figure form. Based on Tim Curry's portrayal of the terrifying clown, this 7" scale figure is faithful to his on-screen appearance and packed with detail and accessories. Pennywise is fully articulated and features a total of four interchangeable heads, plus alternate monster hands, noisemaker, bunch of balloons and paper boat. Comes in collector-friendly deluxe window box packaging with opening flap."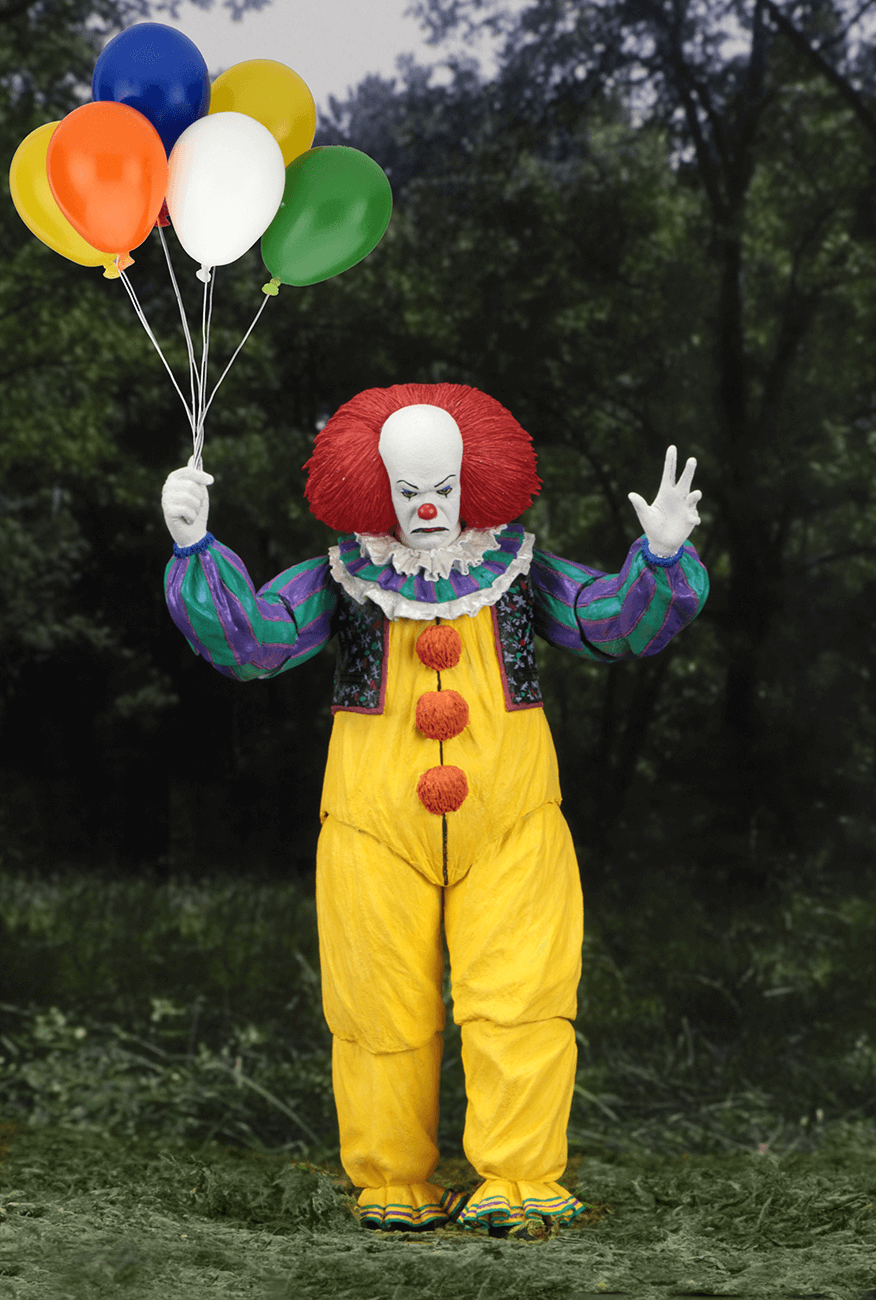 That about wraps up the new goodies coming from NECA over the next several months. While I'm certainly excited to pick these up, both my wife and my wallet are a little bit more skeptical. Which of these upcoming figures are your favorites? Let us know in the comments below and stay tuned to Dead Entertainment for more horror collectible news and reviews!